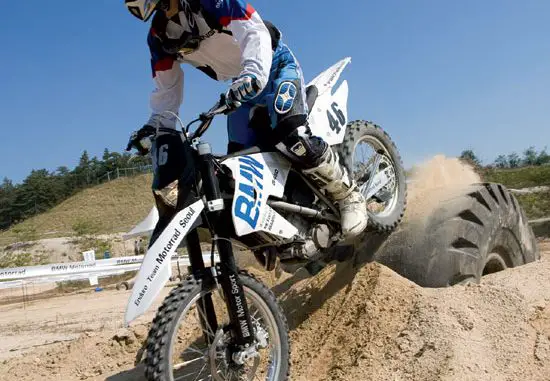 You are here: Home — 2009 Models — 2009 BMW Motorcycle Models
2009 BMW G450X
Back to 2009 BMW Motorcycle Index Page
Click photos to enlarge.
They make great desktop images.
– 2009 BMW G450X

2009 BMW G450X
The Revolution is Here

What makes the G 450 X so unique? It's the way it's engineered. Quite simply, there is technology on this machine that is totally revolutionary. First off, the countershaft sprocket and swingarm are on the same pivot, which keeps chain tension uniform at all times for better power delivery. The clutch is smaller and mounted directly on the crankshaft which means less heat and stress on the plate. A feisty, fuel injected, easy-starting engine that's mounted forward in a stainless steel, cradle-less frame puts serious, power to the ground, while an extra-long swingarm creates unstoppable traction. Add a gas tank under the seat for a lower center of gravity, no linkage Ohlin's shock, and a forward-mounted airbox, and this is a 450 cc thumper that stands alone as the most original machine to hit the dirt in years.
The new BMW G450X Sport Enduro is a unique motorcycle that completely redefines enduro riding. That's because it's been designed from the ground up to deliver the sort of off-road traction dreams are made of, with a brand new single-cylinder engine and a revolutionary swing-arm design. The result is a bike that is quite simply unstoppable. After extensive testing, the G 450 X is ready, willing and able to take on the toughest competition around.
The G 450 X incorporates a swing-arm pivot point that shares it's axle line with the drive sprocket. This ensures that the length of the drive – and as a result, the efficiency of the transmission – is not affected by the compression and rebound of the suspension. It also saves space, meaning there is room for a swing-arm that is significantly longer than on other bikes with a comparable wheelbase, for maximum ground contact and traction on every surface. The design also allows the engine to be placed further back, which means the vehicle's mass is now more concentrated over it's centre of gravity.
To be truly unstoppable, you need outstanding grip, which means maximum ground contact at all speeds and on all surfaces. The frame on the G 450 X features a fully adjustable Marzocchi upside-down fork with 300 millimetres of travel, which effortlessly handles even the bumpiest terrain. At the rear is a fully adjustable Ohlines monoshock suspension system, also fully adjustable and with 320 millimetres of travel. All this sophisticated engineering has been introduced with one aim and one aim only – making you and your machine unstoppable
Developement
Developed on the 2007 European enduro racing circuit, the all-new competition-oriented BMW
G450X Sports Enduro made a convincing debut to the market in 2008 with BMW Motorrad factory
team rider Simo Kirssi clinching both the 2008 German and European Cross Country
championships in October aboard BMW's newest enduro model.

The G450X Sports Enduro gives BMW Motorrad presence in a brand new displacement category in
the increasingly popular enduro segment. A clean-sheet design bred with competition in mind, the
heart of the G450X is a BMW-designed single-cylinder DOHC engine incorporating state-of-the-art
materials, fuel-injection, liquid cooling, crankshaft-mounted clutch, balance shaft and electric start.

With 50 horsepower and a wet weight close to 120kg/265lb., the power-to-weight ratio of the
G450X will make for outstanding off-road performance. Equipped with a 3-way catalytic converter, a
competition exhaust will also be available.

The new G450X Sports Enduro is poised to delight "hard core" enduro enthusiasts worldwide and
debuts with an MSRP of $8,198.00 in the USA and $9,400.00 in Canada
2009 BMW G450X – Specifications
USA MSRP: $8,198.00* USD Destination charge (not included in MSRP): $495 USD
Canada MSRP*: $9,400.00 CDN
Engine
Type Liquid-cooled single-cylinder
Bore x Stroke 98 mm x 59 mm
Displacement 449 cc
Horsepower 41 bhp @ 7000 rpm
Torque 32 lb/ft @ 6500 rpm
Compression Ratio 12.0 :1
Valve Gear DOHC chain driven
Valves 2 x 40 mm intake / 2 x 33 mm exhaust
Valves / Cylinder Four
Engine Oil Capacity 1.1 quarts
Engine Management Digital Motor Electronic (DME)
Fuel Requirement Premium Unleaded
Fuel Tank Plastic cell w/enclosed pump & filter
Fuel Capacity 1.8 U.S. gallons
Charging System 280 Watts @ 14 Volts
Battery 12 Volts 7 Amps/hour
Cooling System Single Radiator, 50/50 water/anti-freeze mix

Drivetrain
Primary Drive 1:2.618
Clutch Multiple plate in oil bath
1st Gear Ratio 2.46:1
2nd Gear Ratio 1.71:1
3rd Gear Ratio 1.35:1
4th Gear Ratio 1.04:1
5th Gear Ratio 0.88:1
6th Gear Ratio N/A
Final Drive System Chain
Final Drive Ratio 15 / 48 tooth sprockets

Frame and Suspension
Frame Stainless Steel Precision Tube
Front Suspension UPSD fork 45 mm
Front Travel 11.8 inches
Rear Suspension Direct Mounted Ohlins Shock
Rear Travel 12.6 inches

Brakes
Brake System Brembo single front and rear disc
Front Brakes Brembo 2 piston floating caliper
Front Rotor 10.2 inch single rotor
Rear Brake Brembo single piston floating caliper
Rear Rotor 8.7 inch single rotor
Actuation Method Hydraulic, DOT 4 fluid type

Wheels and Tires
Front Wheel 1.60 x 21 wire spoke
Rear Wheel 2.15 x 18 wire spoke
Front Tire 90/90 x 21
Rear Tire 140/80 x 18

Dimensions
Overall Length 86.6 inches
Overall Width 31.7 inches
Wheelbase 58.0 inches
Ground Clearance Info. Unavailable
Seat Height 35.9 inches
Steering Angle 61.8 degrees
Front Wheel Trail 4.7 inches
Weight – Dry 245 lbs. excluding accessories
Weight – Wet 267 lbs. excluding accessories
Maximum Load 617 lbs. GVWR

Standard Colors
Code Price Description
N35 N / C Racing White

*Actual price determined by dealer. Price excludes taxes, license, options and handling charge.
Prices and specifications subject to change without notice.
2009 BMW G450X – Canada Specifications
MSRP*: $9,400.00 CDN

See specifications above