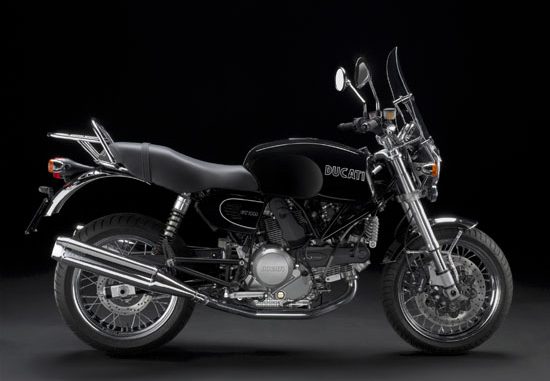 You are here: Home — 2009 Models — 2009 Ducati Motorcycle Models
2009 Ducati GT1000 Touring
Back to 2009 Ducati Motorcycle Index Page
Click photos to enlarge.
They make great desktop images.
– 2009 Ducati GT1000 Touring

2009 Ducati GT1000 Touring
JOURNEY WITH STYLE
Based on the GT 1000 in black with a white stripe, the new Touring version has its classic looks accentuated by chrome front and rear fenders, a protective screen and a chrome luggage rack. Sophisticated and practical, the GT 1000 Touring is the ideal bike for those who want to travel in classic and comfortable Ducati style.
CLASSIC GT
Created as a tribute to the essential beauty of Ducati GT models of the 1970s, the GT 1000 Touring is powered by an air-cooled 2-valve Desmo twin-cylinder engine, which delivers fluid and smooth performance. Expertly crafted in Italy, the special chrome fenders coordinate perfectly with the 70s style chrome spoked wheels and chrome rack.
TOURING COMFORT
The GT 1000 Touring is perfect for longer journeys as well as for every day use. Its balance of two-up comfort and the performance of the L-Twin engine are complemented by the practical touring screen, which offers protection for both rider and passenger. High handlebars ensure a comfortable and reassuring riding position and the seat, which features the Ducati logo in white across the back, is wide and perfect for long journeys, either solo or with a passenger. Both the rider and passenger footpeg positions are designed to ensure a relaxed ride with maximum comfort. The top hoop of the chromed rack also offers your passenger a comfortable grab-rail.
COLOUR
The GT 1000 Touring is available in a classic black livery with a white stripe and stunning chrome wheels.
RANGE MODELS
The Ducati SportClassics offer a range of designs that will satisfy the style of any rider who has the soul of a Ducatista. The GT 1000 – A bike to be ridden every day, with a balance of two-up comfort and Desmo performance. The GT 1000 Touring – The Touring soul of the GT 1000 comes to the fore in this model, which has a timeless appeal. The Sport 1000 S – A pure sport bike, with a classically styled sport fairing and seating for two.

CLASSIC STYLE AND MODERN SPORT PERFORMANCE
At the International Motorcycle Exhibition of Cologne Ducati launched, in addition to the new black colour scheme for the GT 1000 and Sport 1000 S, a special edition of the GT: the GT 1000 Touring.
Based on the GT1000 and sporting the new colour scheme of black with white stripe, this special 'Touring' version comes pre-equipped with elegant, 70's style chromed front and rear fenders, a comfortable chrome passenger grab-rail and a journey-useful screen. Attractive and practical, the GT 1000 Touring is ideal for those looking to enjoy miles of open roads in classic style.
Every Ducati SportClassic model captures the essential beauty, timeless style and emotion of Engineer Fabio Taglioni's original Ducati sport bikes of the 1970s. While retaining the best of the past, they have been developed using the latest technology and engineering, creating thoroughly modern motorcycles that live up to today's standards of road-going performance.


THE SPORTCLASSICS – ENGINEERED FOR PERFORMANCE
The GT and Sport are both powered by the outstanding Desmo 1000 Dual Spark engine. The torquey air-cooled 90º L-Twin is the perfect match to power bikes with a sporting soul. The cylinders, with their traditional cooling fins and classic 'L' configuration, are direct descendents of the original Taglioni design. Slim and exposed for all to see, the latest 2 valve Desmo system, fuel-injection and computer controlled engine management ensure that the 1000 Dual Spark engine is powerful, dependable and thrilling to ride.

TRELLIS FRAME AND WIRE-SPOKE WHEELS
The SportClassic design takes advantage of the beauty of the signature Ducati tubular Trellis frame. The renowned strength and rigidity of the ALS 450 tubing has been further improved with complex triangulation and using the engine as a 'stressed member.'
The beauty of wire-spoke wheels grace Ducati road bikes once again. Starting with an alloy hub, the wheels use 36 chromed stainless steel spokes. 17" alloy Excel rims, famous in racing circles for their lightweight performance and durability, are used on the Sport 1000 S while the GT 1000 is fitted with classic 17" chrome rims. Mounted to the rims are modern interpretations of classic sport tyres, replicating the original patterns, but with modern radial construction techniques and rubber compounds. The alloy hubs mount dual 320mm brake discs up front and a 245mm disc in the rear, both using lightweight black Brembo floating calipers to provide extra stopping power. Braking performance is further enhanced by classic black, steel-braided brake lines.

FEATURES:

FUEL INJECTION – Marelli electronic. 45mm throttle body. A compact Magneti Marelli 5AM engine control unit manages the fuel injection and ignition of the GT's 1000 DS engine. This contains the hybrid power circuits and a re-programmable Flash EPROM. An innovative feature is the use of a Stepper Motor for automatic control of idling speed, fitted on the throttle body, and advanced PICO fuel injectors.
DUAL SPARK – The "Dual Spark" design, due to its "double flame front" offers more complete combustion, increased power especially in the mid-range, reduced ignition advance and greater fuel economy.
SEAT – Lowered, well-padded seating for two.
WHEELS – The classic beauty of chromed spokes and rims

ENGINE – Desmo 1000, 2-valve, Dual Spark, air-cooled L-twin
LOGO – Original 1970s style Ducati logo
CONTROLS – Comfortably raised tubular handlebars and timelessly styled instruments.
2009 Ducati GT1000 Touring – USA Specifications
MSRP: $TBD USD

CHASSIS
Frame Tubular steel trellis frame
Wheelbase 1425 mm / 56.2 in
Rake 24°
Front suspension 43 mm upside-down fork
Front wheel travel 120 mm / 4.7 in
Front brake 2 x 320 mm semi-floating discs, floating caliper 2-piston
Front wheel Spoke wheel with chromed plating steel rim 3.50 x 17
Front tyre 120/70 R 17
Rear suspension Twin preload adjustable shock absorbers
Rear wheel travel 133 mm / 5.2 in
Rear brake 245 mm disc, 1-piston floating caliper, 2- sintered pads
Rear wheel Spoke wheel with chromed steel rim 5.50 x 17
Rear tyre 180/55 R 17
Fuel tank capacity 15 L (of which 3.5 L reserve) / 3.9 US gal (of which 1 US gal reserve)
Weight * 185 kg / 407 lbs
Seat height 828 mm / 32.6 in
Instruments Electronic panel: speedometer, rev counter, warning light for low oil pressure, indicators for high beam, fuel reserve, turn signals, LCD clock, immobilizer
Warranty 2 years unlimited mileage
Body colours (frame/wheels) Black with white stripe (Black / Chrome)
Versions Dual seat
* = The weight excludes battery, lubricants and, where applicable, cooling liquid.

ENGINE
Type L-twin cylinder, 2 valves per cylinder Desmodromic; air cooled
Displacement 992 cc
Bore x Stroke 94 x 71.5 mm
Compression Ratio 10.01:1
Power* 67.7 kw – 92 hp @ 8000 rpm
Torque* 67.3 lb-ft – 9.3 kgm @ 6000 rpm
Fuel injection Marelli electronic fuel injection, 45 mm throttle body
Exhaust Double tubing with air gap chromed exhaust system
Emissions Euro3

TRANSMISSION
Gearbox 6 speed
Ratios 1st 37/15, 2nd 30/17, 3rd 27/20, 4th 24/22, 5th 23/24, 6th 24/28
Primary drive Straight cut gears; Ratio 1.84:1
Final drive Chain; Front sprocket 15; Rear sprocket 39
Clutch Wet multiplate with hydraulic control
* = Data calculated using an inertia dynamometer


2009 Ducati GT1000 Touring – Canada Specifications
MSRP $TBA CDN
TBA

2009 Ducati GT1000 Touring – UK Specifications
MSRP: £0
Model not available in the UK
MEDIA PRESS RELEASE
(translated from Italian to English)
DUCATI Intermot TO THE NEW MONSTER IN 1100 AND TOURING 1000 GT. An interesting EVEN MADE FOR SECURITY INITIATIVE

Cologne (Germany) on October 7, 2008 – An exhibition of 800 square meters (Pavilion 8 stand F59) hosts the universe Ducati'08 edition of the Intermot in Cologne. Motorcycles, accessories and apparel: many really news for 2009 presented by motorcycle home in Borgo Panigale appointment to this important international exhibition.
Undisputed queen of the German event is the latest performance of "naked" for excellence, the Monster 1100, the fruit of genius and Italian technology "made in Borgo Panigale."

Dedicated to those who love the most, this jewel of style, performance and sportsmanship is equipped with an engine cylinder 1100 cc Desmodromico 2 valves, famous worldwide for the unique character and its qualities of torque and acceleration.

Featuring a new and beautiful swingarm monobraccio, one component at the highest level and an increase of cycling adequate power and sportiness, the new Monster 1100 – probably would be more correct to say "The absolute Monster" – is at the top of range Monster, which completes its renewal after 15 years of successes.
Another interesting novelty of this exhibition is the new 1000 GT Touring, evolution in terms of components and accessories of the Gran Turismo family Sport Classic, made of shiny black livery, with windscreen, luggage racks and a set of chromed shares of series that make this motion even more engaging and pleasant.
The new colors dell'Hypermotard 1100 and the Multistrada 1100 S, proposed in pearl white livery complete previews Ducati present at Intermot this is where the entire product range of Italian motorcycle home.
Intermot is also the first public opportunity to be able to celebrate the recent victory of the title iridescent Superbike 2008 – drivers and constructors – won by Troy Bayliss last Sunday at the French circuit of Magny Cours. Obviously, the motion of Troy, as well as the MotoGP Casey Stoner, have a role to absolute protagonists stand in Cologne.

"We have decided to strengthen our presence here in Cologne – said Gabriele Del Torchio, CEO Ducati, during the opening press conference – because we believe this important event that opens the exhibition season halls of Europe. A significant presence that will also be a demonstration of our commitment and our commitment to customer German and reiterate our intention to increase its presence in Germany, for Ducati, is the second most important market in Europe. That is why we decided to present here in the world, the Monster 1100 and the new GT Touring "
Gabriele Del Torchio has also commented on the results of the first half of 2008 stating that: "Despite a trend of the market contraction of the motorcycle in the world, with Europe going down by more than 7%, Ducati, thanks to its policy of product and the quality of its distribution network has grown by about 8% over the previous year. "
During the opening press conference was also presented a major safety campaign that will give Ducati a paraschiena for each bike sold in Europe
"We are among the signatories of the campaign promoted by the European Community" to save 25,000 lives. " – Said Gabriele Del Torchio at the comment – Ducati, along with its sales network, believes a lot in security, it does so when constantly develops new motion, it does so in its proposals for technical and environmental protection. To make this even more concrete commitment we have decided that from today, every motorcycle sold in Europe will be accompanied by a paraschiena high quality that not only meets the approval requirements set by law, but raises the level of security for all Ducati. "