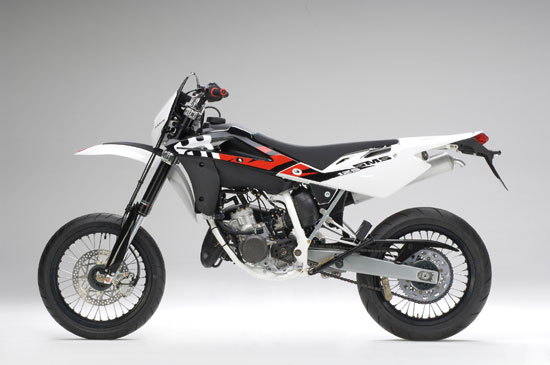 You are here: Home — 2009 Models — 2009 Husqvarna Motorcycle Models
2009 Husqvarna SM125
Back to 2009 Husqvarna Motorcycle Index Page
Click photos to enlarge.
They make great desktop images.
– 2009 Husqvarna SM125

2009 Husqvarna SM125
The SM 125 has become an icon for sixteen-year-olds, a sales phenomenon and a new fashion. It is the starting point for those who want to experience the thrills of off-roading but who also want a bike that is perfectly suited to everyday use. Easy to ride, light and manoeuvrable, the 2009 version of the SM 125 has everything it takes to become leader in its class.
The SM 125 is available in either red and white colour scheme or the more sophisticated black version. The white frame and black anodised wheels make the two-stroke look more like the bigger four-stroke version. The highly successful 125 engine has seen improvements "borrowed" from racing models and has been tuned to improve pick-up and offer more output in the low to mid range power band.

The SM 125 features integrated ECS (Electronic Carburetion System) that administers exactly the right amount of fuel (both the air/petrol and oil mix) and that was developed in collaboration with Dell'Orto. The control unit also governs the ignition system. While keeping costs under control and sales prices competitive, this brings the two-stroke 125 engine to Euro 3 standards yet keeps all the advantages that two-stroke engines offer: lightness, performance and low running costs.

As regards suspension, the SM 125 now has specially designed PaioIi forks to enhance the performance characteristics of the model and to compliment the shock absorber.

The new digital instrumentation displays speed, time, mileage, rpm and has a trip-meter as well as the normal warning lights (indicators, full beam, dipped beam, service due etc.).