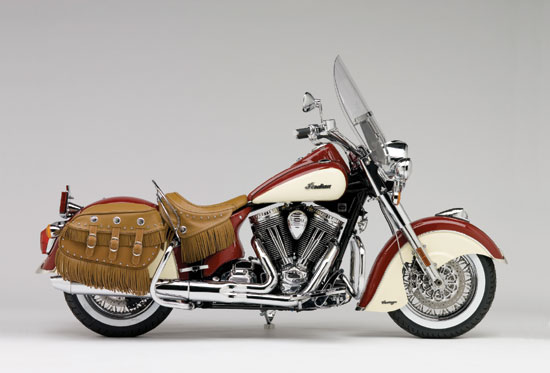 You are here: Home — 2009 Models — 2009 Indian Motorcycle Models
2009 Indian Chief Vintage
Back to 2009 Indian Motorcycle Index Page
Click photos to enlarge.
They make great desktop images.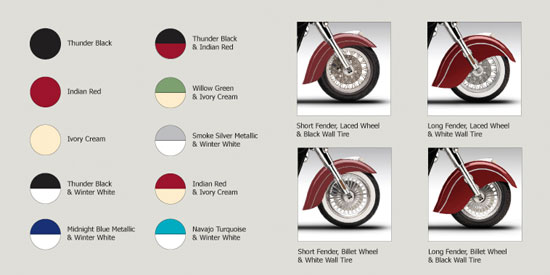 2009 Indian Chief Color and Wheel Options
– 2009 Indian Chief Vintage

2009 Indian Chief Vintage
It began in Springfield, Massachusetts, over a century ago. George Hendee, a champion bicycle racer, and Oscar Hedstrom, a gifted inventor, gave America its first motorcycle. They distilled into that bike
everything that was great about America – a desire for freedom, a love of open spaces and a pioneering attitude. You could swing your leg over the machine they created and ride off on it into the sunset. Now, 108 years after the first Indian Motorcycle® came to life, those legendary motorcycles that graced the highways and lonely back roads of the greatest country on earth, have been re-born.
Since 1901, Indian Motorcycle has been known for innovative technology and unparalleled
craftsmanship. We are dedicated to remaining true to that legacy and to building the highest-quality,
handcrafted motorcycles. Each Indian Motorcycle is a labor of love.
The heart of American Motorcycling is alive and well…

The 2009 Indian Chief® Motorcycles are designed and engineered to be powerful works of art. Each Indian Chief® features a factory built 105 cubic inch PowerPlusTM engine with electronic fuel injection. The head turning PowerPlusTM engine unites style and technology while delivering the heart-pounding torque and pavement ripping power you expect from America's motorcycle company.
From the tip of the Chief's deep-valanced front fender to the ergonomically designed, genuine leather seat, every detail of the motorcycle strikes a perfect balance between the legendary heritage of Indian
and the comfort, style and performance you demand in a quality machine.
Key Features

STYLING
– Chromed tear drop Halogen Headlamp
– Auxilliary driving lamps
– Die cast console – color matched
– Black and polished engine with chrome covers
– Chromed spoke wheels
– Available billet wheels
– Two into one stainless steel exhaust system with three way catalytic
converter and chromed shields
– Available short skirt fenders and dual tone paint
– Metal tank badge
– Chrome fender tips (not pictured)
– Chrome brake calipers (not pictured)
– Chrome engine guards (not pictured)

POWERTRAIN
– Air cooled, pushrod Power Plus 105ci engine
– Closed loop, sequential, port injection with heated oxygen sensors
– Six speed transmission

CHASSIS
– Seat: Solo seat with passenger pillion, available in black, tan and red
leather with fringe
– Chrome grab rail
– 5.5 gallon fuel tank
– oating rotors and 4 piston calipers in
oating rotor and two piston caliper in the rear.
– Two accessory 12 V outlets
– Tinted windshield
– Saddle bags available in black, tan, or red leather with fringe

ELECTRICAL
– Tank mounted analog speedometer and multi function
digital display
– Charging system 42 Amps
– Lamps: Tear drop head lamp, glass front fender light, auxilliary
spot lights
– There are no electrical relays in the system

2009 Indian Chief Vintage – Specifications
MSRP: $35,499* USD

DIMENSIONS
Note: All specification subject to change
Length 100.5"
Width 40.5"
Height 50.5"
Seat Height Laden 26.69"
Seat Height Unladen 27.89"
Wheelbase 68.4"
Dry Weight
(will vary for each model)
738 lbs
Running Order Weight 773 lbs
Rake Steering Head/Trail 34°/5.92"
GVW – Gross Vehicle Weight 1260 lbs

ENGINE
Engine Type Power Plus 105, Air-Cooled
Displacement 105 Cubic Inches
Bore x Stroke 3.966 x 4.25
Compression Ratio 9 to 1
Engine Torque 100 ft*lbs (TBD)
Fuel System Closed Loop Sequential Port Fuel
Injection

DRIVETRAIN
Primary Drive Chain
Gearbox Six Speed
Gear Ratio (overall)
1st 10.441:1
2nd 7.090:1
3rd 5.172:1
4th 3.984:1
5th 3.193:1
6th 2.771:1
Final Drive Belt

CHASSIS
Frame High tensile steel, monoshock
Suspension/Front Diameter 41 mm/Travel 108 mm
Suspension/Rear Single shock/travel 73 mm
Brakes/Front Dual Caliper with Floating Rotors
11.5" Diameter
Brakes/Rear Single Caliper Floating Rotor
11.5" Diameter
Tires/Front 130/90-16 White Wall
Tires/Rear 150/90-16 White Wall
Wheels Wire spoked
Exhaust System Two Into One Stainless Steel With
Chromed Shields
ELECTRICAL
Electrical Instruments Tank mounted analog speedometer and
muti function digital display
Charging System 42 Amps
Lamps Tear drop head lamp, glass front fender
light, auxillary spot lights.

WARRANTY
2 Years

PRICING
$35,499 delivery, set up and local taxes not
included

STANDARD COLORS
Thunder Black

AVAILABLE COLORS
$199 Indian Red
$899 Thunder Black & Winter White
$899 Midnight Blue Metallic & Winter White
$899 Thunder Black & Indian Red
$899 Willow Green & Ivory Cream
Indian Red & Ivory Cream
Navajo Turquose & Winter White

STANDARD EQUIPMENT
Long Fenders
Metal Tank Badge
Solo Seat w/ Passenger Pillion, Black
Leather
Vintage Leather Saddlebags, Black
Tinted Windshield
Leather Fringe
Chrome Grab Rail
Chrome Fender Tips

AVAILABLE EQUIPMENT
Short Fenders
Black Wall Tires
$999 Billet Wheels
$99 Red Leather Seat & Saddlebags
$99 Tan Leather Seat & Saddlebags
* Does not include delivery, setup and local taxes

Prices and specifications subject to change without notice.
Media/Press Releases (3):
Media/Press Releases 1:
2009 Indian Chief Motorcycles delivered to dealer network
January 8th, 2009:
Indian Motorcycle opens first 7 dealerships
Kings Mountain, NC—The long-anticipated introduction of the all-new 2009 Indian Chief motorcycle has arrived. After almost five years of investment, product development, testing, and dealer development, Indian Motorcycle is pleased to announce that the first shipment of limited production 2009 Indian Chiefs has been shipped to seven dealerships across the nation. Indian Motorcycle accessories, apparel and gifts are also available. Founded in 1901, the legendary Indian brand remains America's first motorcycle. Chairman Stephen Julius and President Steve Heese have orchestrated the re-launch of Indian. Under General Manager Chris Bernauer, the Indian Motorcycle team has delivered a line of powerful machines that are worthy of the Indian Motorcycle name. Stephen Julius said the following in response to this remarkable achievement "We have reached an incredible milestone in the history of Indian Motorcycle. Indian Motorcycle is once again a premium motorcycle manufacturer dedicated to engineering and styling excellence. We have assembled a dynamic team, developed an outstanding product, and are selling motorcycles in beautifully branded Indian showrooms."
Media/Press Release 2:
FIRST INDIAN MOTORCYCLE DEALERSHIP IN THE NATION—INDIAN MOTORCYCLE CHARLOTTE–CELEBRATES GRAND OPENING

October 4, 2008, Lowell, North Carolina—A beautiful sunny day, live music and food fueled over 4,500 Indian motorcycle enthusiasts from across America and around the world as they celebrated the opening of the first Indian dealership in modern times. The historic event marked a new beginning for Indian Motorcycle Company, which has been under new ownership since late 2004.
The day-long celebration began with factory tours at Indian Motorcycle headquarters in Kings Mountain, North Carolina. Scheduled to begin at eleven, the line started forming shortly after eight and thus the tour began early. By four in the afternoon, nearly 3,000 had visited the factory, completely overwhelming Indian factory staff and tour guides. Troopers were called in to help direct traffic off I-85, which had a backup at Exit 2.

A scheduled 12:30 pm "backroads" ride to Indian Motorcycle Charlotte became an escorted ride down I-85 to Exit 22, with motorcycles stretching over two miles. Festivities at the dealership began earlier in the day with live music, food and beverage sales that benefited the Gaston County Shrine Club. It was a day of renewing connections with friends from far and wide and all in attendance seemed very impressed with new Indian Chiefs.

Stephen Julius, Chairman of Indian Motorcycle Company, addressed the gathered crowd mid-afternoon calling it "an historic day in the renaissance of Indian Motorcycle. We want to extend a very warm welcome to Indian motorcycle owners, who have kept the faith for all these years". In addition, he recognized Harley-Davidson, calling that company "a source of inspiration for us." He also publicly thanked Chris Bernauer, GM of Indian, and his team of engineers and craftsmen responsible for development of the new Indian.

"Indian Motorcycle Charlotte has this wonderful facility that is a fitting showcase for the unique spirit and pride associated with the Indian Motorcycle brand. We are thrilled to be the very first Indian dealership in America" said Mark A. Moses, Owner and General Manager "and we look forward to offering this legendary motorcycle to those enthusiasts who share our passion for all things Indian."
The Charlotte dealership is a 11,300 square foot facility, with over half of the space devoted to showroom, conference room, offices and the balance to a pristine 4-bay service area, parts and accessories, and inventory storage.

The new 2009 Indian Chief is an ultra premium luxury cruiser produced in limited numbers. Indian Chiefs are available in four basic levels of trim with a range of color and accessory options. Prices will start at $30,999. No more than 750 2009 Indians models will be built, with plans to increase production in the second year. All Indian Chiefs are assembled by highly skilled two-man teams, who also personally sign each motorcycle's build certificate.
Media/Press Release 3:
News Brief: 2009 Indian Chief Motorcycle
May 18th, 2008
Indian Motorcycle releases pictures and specifications for the 2009 Indian Chief

Kings Mountain, NC—The long-anticipated introduction of the all-new 2009 Indian Chief motorcycle
is approaching. As the launch date draws near (although it is yet to be announced), more details
about the renaissance of this iconic American motorcycle brand are being revealed. This much is
clear: the new Indian Motorcycle Company is taking a wholly different and measured approach to
engineering, development and marketing of the new Indian Chief.

Founded in 1901, the legendary Indian brand remains America's first motorcycle and is highly
revered. Chairman Stephen Julius and President Steve Heese have orchestrated the re-launch of
Indian. Under General Manager Chris Bernauer, an eleven-year veteran of Harley-Davidson, the
Indian Motorcycle team has maintained a sharp focus on product development, design and
engineering excellence.

"We're very excited about the new Indian Chief which are, in every way, both true to the legacy of
the Indian brand and representative of the highest level of engineering expertise" according to Mr.
Bernauer. "Indian aficionados everywhere will be pleased with these superior motorcycles which
effectively blend timeless Indian design with contemporary motorcycle performance."

For the past few years, Indian Motorcycle's engineering staff, led by VP of Engineering Nick Glaja,
have logged thousands of hours developing, evaluating and refining each and every engineering
detail. Rigorous testing continues until each component has proven its durability and performance.
There will be no rush to market. Mr. Glaja, also a motorcycling industry veteran, was Principal
Engineer of Powertrain Technology at Harley-Davidson before joining Indian.

Mr. Glaja says "Our goal was quite simple: to focus on the premium nature of this brand and build
the finest Indian motorcycle ever. We took a 'clean sheet' approach to the engineering of this world
class American legend to ensure a solid engineering platform. Benchmarks were set high and we
believe our customers will be very happy."

At the heart of the process has been an unrelenting emphasis on quality and craftsmanship. No
details have been overlooked or considered too minor to be discussed and evaluated. The final
assembly of each Indian Chief takes place at Kings Mountain by a team of technicians known for
the passionate pursuit of their craft.


An overriding sense of reverence pervades Indian headquarters. There is an enormous sense of
pride in being a part of the rebirth of Indian Motorcycle and that feeling translates into an attention
to detail and genuine care for each and every component. Assembly is both loving and
methodical, with obvious care taken to produce the finest Indian motorcycles the world has ever
seen.

The new Indian Chief motorcycles are rightfully positioned as premium products and will be
produced in limited numbers, with the focus on outstanding quality, performance and exclusivity.
Limited production will ensure the highest level of quality is maintained and owners will be certain
to enjoy the enduring value of an extraordinary new Indian Chief as well as true appreciation of
ownership exclusivity.

The new Indian motorcycles are designed and engineered to be powerful works of art. The 2009
Indian Chief features a redesigned 105 cubic inch PowerPlus V-Twin powertrain with electronic
closed loop sequential port fuel injection. A new charging system provides increased capacity for
the EFI.

Engine cylinders are Nikasil plated, eliminating the need for cast-iron liners. A new crankshaft
eliminates "scissoring". The exhaust system is a new design with integrated 3-way catalytic
converter and heated oxygen sensors. All body parts are e-coated and the frame and swingarm
are e-coated and powder coated for enhanced corrosion protection.

A six-speed transmission delivers power through the belt drive to 16-inch wheels out back.
Stopping is achieved via Brembo 4-piston calipers, with 11.5" dual rotors up front. Standard 5.5-
gallon tank helps extend cruising range. Seats are all-leather and built to exacting specifications.
But specs don't even begin to tell the story of what it's like to ride an Indian. It's simply aweinspiring.
For 2009, Indian will offer four Chief models: Chief Standard, Chief Deluxe, Chief Roadmaster and
Chief Vintage. As befits these limited-edition masterworks, base prices will range from $30,999 for
the Standard to $31,999 for the Deluxe and $33,999 for the Roadmaster to $35,499 for the Chief
Vintage. Primary differences between models are in levels of trim, seating configurations, fender
design, paint combinations, and included accessories. (Individual spec sheets and images are
included separately in this kit.)

The exciting reality for all motorcycle enthusiasts is that the 2009 Indian Chiefs are so much more
than the sum of their parts. Each model is an integrated whole, the result of superior engineering
and a reflection of achievement well beyond incremental improvement. The 2009 Indian Chiefs are
all-new and a dramatic extension of the Indian Motorcycle legacy, certain to take their place in
motorcycle history.

Given the ultra premium nature of the Indian Motorcycle brand, Indian will be very selective in
judging the quality and number of dealers. By the end of 2008, it is expected that no more than
thirty dealerships will be in place—primarily in top motorcycle markets. A new stand-alone
dealership design of 10,000 square foot will be the flagship in major markets, although it is likely
that these new structures will not be completed until sometime in 2009.


At present, Indian dealers are already staged for opening for Atlanta, Charlotte, Chicago, Detroit,
Denver, Minneapolis, and Los Angeles, with an additional twelve applications being processed. It
should also be mentioned that the emotional appeal, value and power of the Indian brand will soon
result in the launch and merchandising of the highest quality line of motorcycle apparel and
accessories in the industry. Indian Motorcycle Apparel will launch the line this summer. Items will
be available for purchase through dealerships, online at www.indianmotorcycle.com and at
specialty retail stores.

In subsequent years, Indian plans to expand its dealer network to additional markets. Superior
engineering, quality and performance, the incredible history and present-day cache of the Indian
brand, the exclusivity factor, an obsession with customer satisfaction and a commitment to long
term slow-growth and success are expected to serve Indian Motorcycle Company well into the
future.