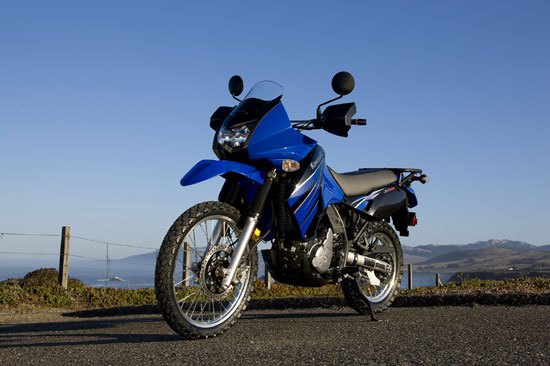 You are here: Home — 2009 Models — 2009 Kawasaki Motorcycle Models
2009 Kawasaki KLR 650
Back to 2009 Kawasaki Motorcycle Index Page
Click photos to enlarge.
They make great desktop images.
– 2009 Kawasaki KLR 650

2009 Kawasaki KLR 650
Exploring has never been less stressful, or so comfortable
Whether your path takes you through urban chaos, mountain serenity or desert enchantment, the Kawasaki KLR™650 motorcycle is the platform world travelers have chosen for over 21 years. With its legendary reliability, long distance fuel efficiency, usable performance and startlingly low price tag, the Kawasaki KLR650 is simply a smart choice for today's rider.
The rugged and proven 651cc motor is the foundation of the KLR650's globetrotting prowess. An all-around performer, the single-cylinder four-stroke engine provides quick throttle response and healthy low-end grunt – ideal for tight trails or dealing with traffic snarls. Equally impressive, the KLR's composure at highway speeds makes long distance travel a pleasure.
Matching the engine's abilities every step of the way is the KLR650's suspension. The 41mm fork with 7.9 inches of suspension travel up front and UNI-TRAK® linkage system with 7.3 inches of wheel travel in the rear combine to make the KLR650 a fun, functional commuter during the week and an adept back road blaster on weekends.
Braking duties are handled by a dual-piston caliper gripping a 280mm petal-style disc at the front and a 240mm petal-style disc squeezed by a single-piston caliper at the rear. This suspension and brake package boosts the KLR650's on-road performance, without diminishing its versatile off-road capabilities.
Helping make the KLR650 a worthy touring companion is an expansive, saddlebag-friendly, rear luggage rack that can be fitted with a tail trunk. A large 6.1-gallon fuel tank and exemplary fuel economy mean the KLR650 can cover an amazing amount of ground between fill-ups.
That fuel range can translate into a long day in the saddle, so good wind protection is a must. This important job is handled by the frame-mounted bodywork, which includes a tall windscreen and large shrouds. Rider comfort is enhanced further by the seat design and plush urethane foam. A high-capacity 36W alternator pumps out enough juice for a high-output headlight and has the extra capacity to power the add-on electronic gadgets no touring rider can live without.
The KLR650's competent on-road performance continues once the pavement stops. A tough engine guard keeps loose rocks and gravel at bay while its U.S. Forest Service-approved spark arrestor grants the KLR650 access to any terrain open to licensed vehicles. Add the optional Kawasaki tank and saddle bags and you have a recipe for long-distance exploration, beckoning KLR650 owners to enjoy on and off-road adventures.
Authentic Kawasaki Accessories are available through Kawasaki dealers.
Features
Long Distance Minded 651cc Four-stroke Single
– Cam timing and tuning combination aid in producing a broad user-friendly powerband
– Smooth bends on the one-piece exhaust pipe permit exhaust efficiency at all rpm
– Light, silent cam chain contributes to a quieter engine
– Double engine balancer helps engine run smoothly from idle to redline for less fatigue on long rides
– New piston ring design helps prevent oil consumption
– Oillevel window permits easy and accurate inspection
Four-valve Cylinder Head
– Compact combustion chamber allows increased compression ratio with less detonation yet provides maximum valve area for optimum flow
– Boosts low-end torque and its easy breathing means power at all rpm
– Secondary air (ASV) system helps reduce harmful exhaust emissions
Liquid Cooling
– Thin and lightweight Denso radiator fitted with a lightweight and thin cooling fan for maximum cooling efficiency, even when speeds are low
– Maintains consistent engine temperatures for long engine life and sustained power during hard use
– Allows tighter engine clearances for quieter running
– Includes a temperature gauge
Fully Transistorized Ignition
– Fully transistorized ignition unit precisely controls timing no matter how fast the rpm changes
– Long, trouble-free lifespan
Electric Starter
– Easy and convenient starting
Handlebar-mounted Choke
– Convenient location makes starting and warm-up easier
Five-speed Transmission
– The engine's broad torque curve means only five speeds needed for off-road sprinting and relaxed highway cruising
– O-ring drive chain for reduced maintenance and long chain service life
Capable Suspension
– Beefy 41mm front fork with 7.9 inches of travel is rigid and plush enough to tackle on- and off-road terrain and provide all day comfort to the rider
– High-mounted front fender for any adventure-touring situation
– Rear UNI-TRAK® suspension features a five-way preload shock absorber with four-way rebound damping and 7.3 inches of rear suspension travel
– Progressive rate provides a smooth, controlled ride
– D-section swingarm contributes to the bike's excellent traction
Strong Wheels
– 4mm spokes provide wheel stiffness, further enhancing handling performance and improving steering response
Chassis
– Semi-double cradle frame made of high-tech, round-section, high-tensile steel
– Detachable rear subframe provides access to the rear shock, airbox and carburetor for easy maintenance
– Large rear cargo rack included
Engine Guard
– Protects engine from rocks and trail debris when the going gets tough
Front and Rear Disc Brakes
– Lightweight 280mm front and 240mm rear petal discs offer excellent braking
Lighting
– Dual-bulb headlamp offers great night illumination
– Rear taillight, parking light and the high-mounted turn signals improve the KLR650's visibility at night or in poor visibility conditions
Large 6.1-gallon Fuel Tank
– Generous capacity permits serious adventure touring
Additional Comfort and Touring Features
– Bodywork includes a large fairing contributes to increased wind protection
– Alternator output is 17A, with a total capacity of 36W to provide ample power for the headlight as well as add-on grip heaters and other accessories
– Easy-to-read instrument panel is mounted to the frame – contributing to lighter steering – and includes a large-face speedometer, tachometer, odometer, trip meter and water temperature gauge
– Urethane seat foam offers all-day comfort for long-distance riding
– Optional extended warranty

2009 Kawasaki KLR 650 – USA Specifications
MSRP: $5,599

Engine: Four-stroke, DOHC, four-valve single
Displacement: 651cc
Bore x stroke: 100.0 x 83.0mm
Compression ratio: 9.8:1
Cooling: Liquid
Carburetion: Keihin CVK40
Ignition: Fully transistorized
Transmission: Five-speed
Final drive: Chain
Frame: Semi-double cradle, high-tensile steel
Rake / trail: 28 degrees / 4.4 in.
Front suspension / wheel travel: 41mm telescopic fork / 7.9 in.
Rear suspension / wheel travel: UNI-TRAK® single-shock system with 5-way preload and stepless rebound damping / 7.3 in.
Front tire: 90/90×21
Rear tire: 130/80×17
Front brake / rear brake: Single 280mm petal-type disc, two-piston caliper / single 240mm disc, single-piston caliper
Overall length: 90.4 in.
Overall width: 37.8 in.
Overall height: 53.1 in.
Ground clearance: 8.3 in.
Seat height: 35.0 in.
Curb weight: 432 lbs.
Fuel capacity: 6.1 gal.
Wheelbase: 58.3 in.
Color choices: Ebony
Sunbeam Red
Oriental Blue
MSRP: $5,599
Wholesale distributor: Kawasaki Motors Corp., U.S.A.
9950 Jeronimo Road
Irvine, California 92618
(949) 770-0400
www.kawasaki.com

2009 Kawasaki KLR 650 – Canada Specifications
TBA
2009 Kawasaki KLR 650 – UK Specifications
MSRP: £0
Not Available in the UK

*Prices and specifications subject to change without notice.