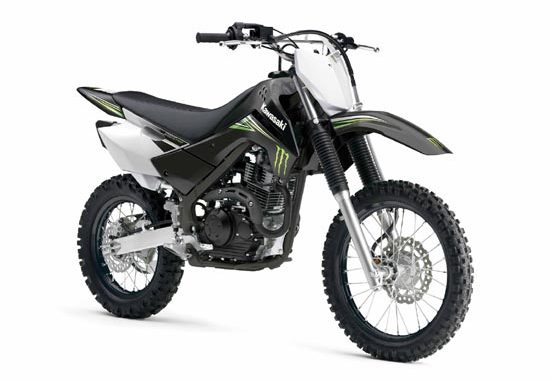 You are here: Home — 2009 Models — 2009 Kawasaki Motorcycle Models
2009 Kawasaki KLX140L Monster Energy
Back to 2009 Kawasaki Motorcycle Index Page
Click photos to enlarge.
They make great desktop images.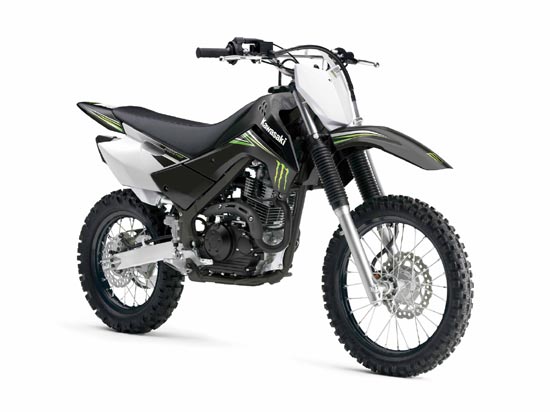 2009 Kawasaki KLX140L Monster Energy
– 2009 Kawasaki KLX140L Monster Energy

2009 Kawasaki KLX140L Monster Energy
Capable off-road performer with popular Monster Energy styling
Already noted for its exceptional capabilities and easy-to-handle nature, Kawasaki's KLX™140 Monster Energy® should be an even bigger hit with young riders and motocross fans. Black bodywork, frame and wheels, green hubs and Monster Energy graphics set this right-sized dirt bike apart from the pack. The 17" front and 14" rear wheeled KLX140 is designed to offer a comfortable seat height and be novice friendly for riders with a limited inseam, yet offer a roomy layout and enough performance to suit more-advanced riders.
Starting is an easy affair; just press the power switch and thumb the KLX140's start button for the fun to begin. Nobody likes a dead battery, so the power switch contains an internal LED which illuminates any time the power is on, this means there's never a doubt when the ignition is active. The KLX's accelerative performance can be attributed to the abundant power flowing from its air-cooled SOHC 144cc engine through the five-speed, close-ratio transmission.
Its manual clutch offers young riders the chance to master full control over shifting. To promote an easy learning curve, the clutch features a spring damper that provides a progressive, two-stage engagement and facilitates half-clutch use while riding at extremely slow or idling speeds. Additional benefits of this system are a more direct lever feel and increased clutch durability.
The high-revving, yet quiet, engine is wrapped in a high-tensile steel perimeter frame that is covered by KX™-like shrouds and aggressive body work. The 140's controls, from the grips to the narrow footpeg/frame relationship combined with large footpegs that make it easier for the rider to move around with a minimum of effort complete the KX-inspired design theme.
Suspension duties are handled a 33mm front fork with spring rate and damping settings specific to the KLX140, and the UNI-TRAK® linkage equipped rear shock features 5-way preload adjustability. To provide more options for growing riders, the more-advanced shock from the KLX140L fits the standard KLX140.
RK EXCEL aluminum rims and high-grade die-cast hubs are another sign this is a serious off-road bike. A large 220mm front disc and 27mm twin-piston caliper at the front and 186mm rear disc provide serious stopping power. Both utilize petal shaped rotors, which help clean the brakes and reduce unsprung weight for better performance.
Not catering to existing playbike rules, the KLX140 delivers an ideal blend of small stature and big potential that simply equals fun for kid to adult riders.
Authentic Kawasaki Accessories are available through Kawasaki dealers.




Features
Monster Energy Edition
– Special Monster Energy graphics package
– Black bodywork, frame and wheels
– Green hubs highlight special Monster Energy graphics
144 cc air-cooled, single-cylinder engine
– Reliable and easy to use lightweight engine is both simple to operate and to maintain
– Bore and stroke of 58.0 x 54.4mm
– Engine revs easily and allows riders to use the full rpm range of the engine up to the rev limiter at 10,500 rpm
– Exhaust pipe is curved to achieve optimum length for good power character yet remain unobtrusive
– Quiet muffler is equipped with a USFS approved spark arrester, meaning the KLX140L can access designated public off-road riding areas
– Oil-moistened air-filter is washable, reusable, easily accessed and highly effective in dusty situations
Electric start
– Starting is via a (keyless) electric starter button on the handlebar
– Orange LED light activates when the power button is depressed, indicating that power is "ON"
– Digital CDI ignition helps ensure quick, reliable starting
Carburetor
– Oval piston-valve Keihin PB20 carburetor features several Kawasaki-original modifications to provide stable fuel delivery under rough off-road conditions
– Partitions in the float chamber keep the fuel from sloshing excessively and an umbrella around the main jet traps fuel when jumping
– Dual air vents help provide a stable fuel supply and eliminate hesitation, even when the bike is at extreme lean angles
– Needle valve is suspended on a spring which acts like a shock absorber
– Float is rubber instead of plastic
Close-ratio transmission
– Close gear ratios help the acceleration performance of the KLX
– Like the KX™ models, the shift lever features a ball bearing to ease shifting and has a folding tip for less damage in a crash
Progressive manual clutch
– Manual clutch offers young riders the chance to master clutch engagement and gear shifting
– A spring damper in the clutch gives it a 2-stage engagement that permits half-clutch use when riding at extremely low rpm or idling speeds and helps provide direct clutch feel and better durability
Box-section perimeter frame
– Ready for the off-road abuse, the highly rigid, KX-inspired high-tensile steel perimeter frame also uses the same upper tubes as the KLX250S
– Aluminum swingarm offers light weight, strength and a hairline finish like on the KX machines
– KX-style chain adjusters allow precise adjustment of the chain
Superior suspension
– 33mm telescopic front fork has spring rates and damping settings specific to each model
– Intended for a higher average speed, the KLX140L features a rear shock with piggyback reservoir with fully adjustable preload, 4-way compression damping and 22-way rebound damping
KX-style wheels
– Strong, high-grade die-cast hubs that offer the same durability as those found on the KX
– Durable, lightweight RK EXCEL aluminum rims on the 19/16-inch front/rear wheels
Petal disc brakes front & rear
– Front 220mm petal disc and large-bore 27mm twin-piston caliper (same size as those on the KX450F/250F) for strong and easy-to-control braking
– Rear brake uses a 186mm petal disc gripped by a 27mm single-piston caliper
– Rear brake master cylinder features a large-volume, unitized reservoir that contributes to stable braking and helps ensure sufficient fluid pressure is maintained – even when the brake pad wears down
– In addition to helping reduce unsprung weight, the wave shapes of the petal discs help clean the brake pads for more efficient braking performance
Ergonomics
– Combination of the flat surface of the frame's box-section, long footpegs mounted close to the bikes' centerline and no kick-start lever add up to good grip and a high level of machine control available to the rider
– Footpeg/frame relationship is modeled after the KX for maximum leg grip
– Handlebar is rubber-mounted for reduced vibration transferred to the rider's hands
– Two-piece upper triple clamp and handle clamp fosters easy aftermarket handlebar installation
– Raised pattern on half of the surface of the grips just like the top-class MX racers
– Two-tone seat cover has a slip-resistant top surface for good grip when seated and smooth sides for excellent rider mobility when standing
Sharp, aggressive bodywork styling
– Box-section perimeter frame, with advanced styling similar to that found on the KX racers
– Two-piece shrouds with ventilation holes inspired by the top-of-the-line KX race machines
– Fuel tank cover provides a flush transition from tank to shroud, and contributes to the high level fit and finish
– Eye-catching box muffler design protrudes as little as possible from behind the side cover, and features a plastic muffler end-cap that offers a surface cooler to the touch than steel
2009 Kawasaki KLX140L Monster Energy – USA Specifications
Engine: Four-stroke, SOHC, two-valve single
Displacement: 144cc
Bore x stroke: 58.0 x 54.4mm
Cooling: Air
Carburetion: Keihin PB20
Compression ratio: 9.5:1
Ignition: CDI
Transmission: Five-speed with wet multi-disc manual clutch
Final drive: Chain
Frame: High-Tensile steel, box-section perimeter
Rake / trail: 27 degrees / 3.8 in.
Front suspension / wheel travel: 33mm telescopic fork / 7.1 in.
Rear suspension / wheel travel: UNI-TRAK® linkage system and single shock with piggyback reservoir, fully adjustable preload and 22-way rebound damping / 7.1 in.
Front tire: 70/100-19
Rear tire: 90/100-16
Front brake: Single 220mm petal disc with a dual-piston caliper
Rear brake: Single 186mm petal disc with single-piston caliper
Overall length: 74.6 in.
Overall width: 31.1 in.
Overall height: 42.3 in.
Wheelbase: 50.6 in.
Ground clearance: 10.0 in.
Seat height: 31.5 in.
Curb weight: 209.4 lbs.
Fuel capacity: 1.5 gal.
Color: Ebony
MSRP: $3,299
Wholesale distributor: Kawasaki Motors Corp., U.S.A.
9950 Jeronimo Road
Irvine, California 92618
(949) 770-0400
www.kawasaki.com

2009 Kawasaki KLX140L Monster Energy – Canada Specifications
ENGINE
Type 4-stroke, Single
Displacement 144 cc
Bore and Stroke 58.0 x 54.4 mm
Compression Ratio 9.5:1
Valve System SOHC, 2 valves, screw type adjusters
Carburetion Keihin PB20
Ignition Digital DC-CD
Cooling Air
Lubrication Forced lubrication, wet sump
Starting Electric

DRIVETRAIN
Transmission 5-speed, return
Primary drive Gear
Final drive Chain
Primary reduction rati 2.880 (72/25)
Gear ratios: 1st 2.666 (40/15)
2nd 1.894 (36/19)
3rd 1.473 (28/19)
4th 1.181 (26/22)
5th 1.000 (24/24)
Final reduction ratio 3.923 (50/13)
Clutch Wet multi-disc, manual, cable operation

FRAME
Type Perimeter, box section, high-tensile steel
Wheel Travel: Front 180 mm
Wheel Travel: Rear 180 mm
Tires: Front 70/100-19
Tires: Rear 90/100-16
Caster (Rake) 27°
Trail 96 mm

SUSPENSION
Front 33 mm conventional fork
Rear Uni-Trak with gas charged piggy-back shock

BRAKES
Rear: Type 184 mm petal disc
Caliper Single-piston
Front: Type 220 mm petal disc
Caliper Dual-piston

DIMENSIONS
Overall Width 790 mm
Overall Height 1075 mm
Wheelbase 1285 mm
Ground Clearance 255 mm
Seat Height 810 mm
Dry Weight 90 kg
Fuel Capacity 5.8 L
Overall Length 1895 mm

DETAILS
Good Times Protection Plan 24 or 36 months (Kawasaki GTPP coverage begins after standard limited warranty expires)
Warranty 6 months
Colour Lime Green
MSRP TBA



*Prices and specifications subject to change without notice. The specifications mentioned here apply to and have been achieved by production models under standard operating conditions. We intend only to give a fair description of the vehicle and its performance capabilities but these specifications may not apply to every machine supplied for sale. Kawasaki Heavy Industries, Ltd. reserves the right to alter specifications without prior notice. Equipment illustrated and specifications may vary to meet individual markets. Available colours may vary by market.