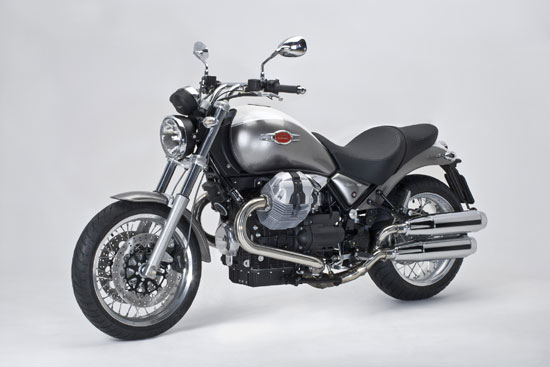 You are here: Home — 2009 Models — 2009 Moto Guzzi Motorcycle Models
2009 Moto Guzzi Bellagio
Back to 2009 Moto Guzzi Motorcycle Index Page
Click photos to enlarge.
They make great desktop images.
– 2009 Moto Guzzi Bellagio

2009 Moto Guzzi Bellagio
ONE MOTORBIKE, ONE PLACE, ONE STYLE.

The new Bellagio symbolises the depth of the relationship between Moto Guzzi and its surrounding territory. This relationship is so strong that the immense beauty of the Lariano area affects both the ideas and creativity of man and in a sense leads him to create works of natural beauty in all his endeavours.

This empathy between the local environment and human inventiveness can be clearly seen in the new Moto Guzzi Bellagio that identifies a place known the world over for its beauty with the free spirit of those that revel in motor cycling. Individuality and sheer style are embodied in a reserved, but sophisticated design that displays highly advanced innovative technological solutions balanced with a trendy image.

The CARC (Reactive Shaft Drive System) is a good example of this advanced technology. This system transforms the might of the new 940 cc engine into silky smooth acceleration making this machine Moto Guzzi's most powerful naked bike. Other indicators are seen in the presence of the progressive rear suspension system, in the Brembo floating caliper brake system that act on 320 mm discs, in the rear shock absorber and the fully adjustable forks. These technical high quality solutions favour active safety, set a dynamic equilibrium and provide such riding pleasure that the Bellagio is the new point of reference in the category. The Bellagio has the temperament of a naked under the skin of a custom machine. The spoked wheels, drag bar, rear-set saddle and forward positioned footpegs are just a few examples of the details of a style that concentrates weight on the rear wheel giving the impression of a bike that is fixed to the ground, ready to take off at the drop of a hat.

The new 940 cc engine is more than capable of making this machine fly. While the engine is docile and vibration-free, it puts out huge power with immense torque from even very low revs. This power can be heard in the legendary engine note emitted from new twin silencers that sing a song called Bellagio.
FEATURES:

New 940 cc engine
Progressive rear suspension system

Brembo floating caliper brake system that act on 320 mm discs
Ffully adjustable forks
Sparkling pearlescent white colour schemes that will be available on the Bellagio as the base for an elegant twin colour scheme to contrast with the chrome finish on the frame.
A new two-up saddle and new lower rear suspension settings add even further to the Cruiser image.
2009 Moto Guzzi Bellagio – USA Specifications
MSRP: $0 USD

Not Available in North America

2009 Moto Guzzi Bellagio – Canada Specifications
MSRP $0 CDN
Not Available in North America

2009 Moto Guzzi Bellagio – UK Specifications
MSRP: £TBD

Technical Data
Engine Four-stroke V 90 twin
Cooling Air cooled
Capacity 935.6 cc
Bore and stroke 95 x 66 mm
Compression ratio 10
Timing 2 valves per cylinder commanded by light alloy cam acting on rocker arm and mechanical tappets
Timing diagram Intake valve opening 24 ° before upper TDC.
Intake valve closing 52 ° after lower TDC.
Exhaust valve opening 54 ° before lower TDC.
Exhaust valve closing 22 ° after upper TDC.
measured with rocker arm/valve play
Maximum power output 55 KW at 7,200 rpm
Max Torque 78 Nm at 6,000 rpm
Fuel supplì Multipoint sequential electronic injection, Magneti Marelli IAW phased, alfa-n system; 2 Ø 40 mm throttle bodies with Weber IW 031 injectors
Starter Electric
Ignition Digital electronic with Magneti Marelli IAW 15RC inductive discharge
Exhaust system 2 stainless steel pipes connected to 1 expansion chamber connected to two chromed steel silencers; 3-way catalyser with Lambda probe.
Homologation Euro 3

Transmission
Gearbox 6 speed – constantly engaged cogs with integrated flexible couplings
Gear ratios 1st 17/38 = 1 : 2.235
2nd 20/34 = 1 : 1.7
3rd 23/31 = 1 : 1.348
4th 26/29 = 1 : 1.115
5th 31/30 = 1 : 0.968
6th 29/25 = 1 : 0.862
Lubrication Forced lubrication with lobe pump and pressure regulator
Primary drive Helicoidal gears, ratio 24/35 = 1 : 1.458
Final drive Shaft drive, ratio 12/44 = 1 : 3.667
Clutch Dry mechanically operated twin plate

Chassis
Frame Very rigid high tensile steel tubular twin cradle
Wheelbase 1,570 mm
Rake 165 mm
Steering angle 28°
Front suspension Marzocchi Ø 45 mm adjustable front forks
Front wheel travel 140 mm
Rear suspension Single swingarm with progressive action – single rebound adjustable shock absorber with easy to operate pre-load setting knob
Rear wheel travel 120 mm