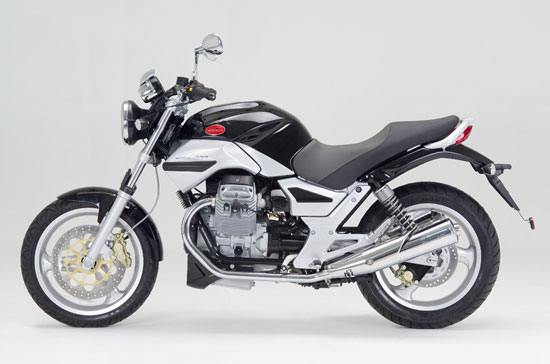 You are here: Home — 2009 Models — 2009 Moto Guzzi Motorcycle Models
2009 Moto Guzzi Breva V750
Back to 2009 Moto Guzzi Motorcycle Index Page
Click photos to enlarge.
They make great desktop images.
– 2009 Moto Guzzi Breva V750

2009 Moto Guzzi Breva V750
Fine weather on all roads.

It is no coincidence that it bears the name of a wind which blows away the clouds and is a synonym for fine weather. The design is modern, captivating from the first glance, but unmistakably a Moto Guzzi. Accurately designed and finished, it stands out for the soft lines of the anatomical tank, the touch of class given by the three-spoke wheels and the mettle of the sub-fairing pillar. And it's more than just skin deep.
Breva 750 is easy and instinctive to ride, inspiring immediate confidence in the rider. Its compact size, ergonomic riding position and easy handling are all precious characteristics in city traffic, but the Breva 750 is also fun to ride on mixed roads, solo or with a passenger.
Merit of the short wheelbase and mechanics, with the highly effective double cradle frame in high tensile steel and steering geometry designed to facilitate entry into bends and rapid direction changes. Riding pleasure is enhanced by the electronic injection, providing smooth progressive power and constant efficiency.
The engine is environmentally friendly, adopting a more efficient catalytic converter with a higher concentration of noble metals, in compliance with Euro3 and CARB standards. The colors and graphics are also new (Corsa Red and Guzzi Black), for a model also appreciated by female riders, for whom there is an optional low seat, just one in a rich range of accessories designed to make your Moto Guzzi even more personal.


The name of the small of house Guzzi Motion indicates the name of a lariano wind that sweeps clouds and is synonymous of beautiful time. Contemporary, winning since the first look, but unmistakably Guzzi Motion, Breva 750 makes itself to admire for the soft lines of the anatomical tank, for the touch of class of the circles to three razze, for the grinta of aims them sottocarena. Easy to guide and instinctive, he gives confidenza quickly to who knows them in saddleback thanks to the compact dimensions, the corrected position of guide and the great ease of handling, he renders than it agile in the city and funny traffic to lead on the mixed distances, to face by themselves or in brace. The merit is from subdividing to interasse the content, that it facilitates the income in curve and the changes of direction repentini, and to the solidity of the chassis to double crib, in high-tensile steel, than determined a great precision of guide assisted from the ready and fluid answer of the propeller fed to injection electronic. The intrinsic facility and the contagious sympathy of its line, render it loved also from the feminine public, for which it has been dedicated the saddleback lowered in option, that it enriches the nourished range of accessories dedicated to Breva 750. The liveries rispecchiano the two spirits of the motion, with traditional the Black Run Guzzi and Rosso to place side by side the glares trendy of bicolored black/silver.
2009 Moto Guzzi Breva V750 – USA Specifications
MSRP: $7,790 USD

ENGINE
Type 90° V-Twin, four-stroke
Cooling system Air cooled
Displacement 744 cc
Bore and stroke 3.15″ x 2.9″ (80 mm x 74 mm)
Compression ratio 9.6 : 1
Timing system Two overhead valves moved by light alloy push-rods
Valve timing Intake open 18° B.T.D.C.
Intake close 50° A.B.D.C.
Exhaust open 53° B.B.D.C.
Exhaust close 15° A.T.D.C.
with valve clearance 0.03″ (1 mm)
Maximum power 35.5 kW at (48.28 HP) 6,800 rpm
Maximum torque 54.7 Nm at 3,600 rpm
Fuel system Weber-Marelli electric injection
Starting system Electric
Exhaust system Three-way catalyzer with Lambda sensor

TRANSMISSION
Gearbox 5 speed
Internal ratios 1° 11/26 = 1:2.3636
2° 14/23 = 1:1.6429
3° 18/23 = 1:1.2778
4° 18/19 = 1:1.0556
5° 25/22 = 1 : 0,88
Lubrication By lobes with pressure pump
Oil: AGIP RACING 4T 5W/40
Primary drive By helical gears, ratio 16/21 = 1:1.3125
Secondary drive Shaft drive, ratio 8/33 = 1:4.825
Clutch Single disc dry with cush drive

CHASSIS

Frame Detachable tubular duplex cradle in special high-strengh steel
Wheelbase 57″ (1,449 mm)
Trail 4.3″ (109 mm)
Rake 27,5°
Front suspension Marzocchi hydraulic telescopic fork, Ø 1.57″ (40 mm)
Front wheel travel 5.1″ (130 mm)
R Front wheel travel Swinging arm in light cast alloy with two dampers, preload adjustable
Rear wheel travel 3.74″ (95 mm)
Braking system Brembo Serie Oro
Front brake Single stainless steel floating disc, Ø 12.6″ (320 mm), four piston calipers
Rear bracke Single steel disc, Ø 10.24″ (260 mm)
Wheels Spoke light alloy
Front rim 3.00″ x 17″
Rear rim 3.50″ x 17″
Front tyre 110/70 17 54 H
Rear tyre 130/80 17 65 H

ELECTRICAL EQUIPMENT

Voltage 12 V
Battery 12 V – 14 Ah
Alternator 12 V – 350 W

DIMENSIONS

Length 86.2″ (2,190 mm)
Width 28.74″ (730 mm)
Height 46.26″ (1,175 mm)
Seat height 31.1″ (790 mm)
Ground clearance 6.9″ (176 mm)
Steering lock 32° each side
Dry weight 401 lbs (182 kg)
Fuel tank capacity 4.75 gallons (18 liters)
Reserve 1.32 gallons (5 liters)
COLOURS: Red, Black

MSRP $7,790
Two-year factory warranty and 24-hour Roadside Assistance come standard.
* Technical specifications of Breva 750 may change without notice.
2009 Moto Guzzi Breva V750 – Canada Specifications
MSRP $9,995 CDN
ENGINE
Type 90° V-Twin, four-stroke
Cooling system Air cooled
Displacement 744 cc
Bore and stroke 3.15″ x 2.9″ (80 mm x 74 mm)
Compression ratio 9.6 : 1
Timing system Two overhead valves moved by light alloy push-rods
Valve timing Intake open 18° B.T.D.C.
Intake close 50° A.B.D.C.
Exhaust open 53° B.B.D.C.
Exhaust close 15° A.T.D.C.
with valve clearance 0.03″ (1 mm)
Maximum power 35.5 kW at (48.28 HP) 6,800 rpm
Maximum torque 54.7 Nm at 3,600 rpm
Fuel system Weber-Marelli electric injection
Starting system Electric
Exhaust system Three-way catalyzer with Lambda sensor

TRANSMISSION
Gearbox 5 speed
Internal ratios 1° 11/26 = 1:2.3636
2° 14/23 = 1:1.6429
3° 18/23 = 1:1.2778
4° 18/19 = 1:1.0556
5° 25/22 = 1 : 0,88
Lubrication By lobes with pressure pump
Oil: AGIP RACING 4T 5W/40
Primary drive By helical gears, ratio 16/21 = 1:1.3125
Secondary drive Shaft drive, ratio 8/33 = 1:4.825
Clutch Single disc dry with cush drive

CHASSIS

Frame Detachable tubular duplex cradle in special high-strengh steel
Wheelbase 57″ (1,449 mm)
Trail 4.3″ (109 mm)
Rake 27,5°
Front suspension Marzocchi hydraulic telescopic fork, Ø 1.57″ (40 mm)
Front wheel travel 5.1″ (130 mm)
R Front wheel travel Swinging arm in light cast alloy with two dampers, preload adjustable
Rear wheel travel 3.74″ (95 mm)
Braking system Brembo Serie Oro
Front brake Single stainless steel floating disc, Ø 12.6″ (320 mm), four piston calipers
Rear bracke Single steel disc, Ø 10.24″ (260 mm)
Wheels Spoke light alloy
Front rim 3.00″ x 17″
Rear rim 3.50″ x 17″
Front tyre 110/70 17 54 H
Rear tyre 130/80 17 65 H

ELECTRICAL EQUIPMENT

Voltage 12 V
Battery 12 V – 14 Ah
Alternator 12 V – 350 W

DIMENSIONS

Length 86.2″ (2,190 mm)
Width 28.74″ (730 mm)
Height 46.26″ (1,175 mm)
Seat height 31.1″ (790 mm)
Ground clearance 6.9″ (176 mm)
Steering lock 32° each side
Dry weight 401 lbs (182 kg)
Fuel tank capacity 4.75 gallons (18 liters)
Reserve 1.32 gallons (5 liters)
COLOURS: Red, Black

MSRP $9,995
Two-year factory warranty and 24-hour Roadside Assistance come standard.
* Technical specifications of Breva 1100 may change without notice
2009 Moto Guzzi Breva V750 – European Specifications
MSRP: £TBD

MOTORE
Tipo : bicilindrico a V di 90°, 4 tempi
Raffreddamento : ad aria
Cilindrata : 744 cc
Alesaggio e corsa : 80 x 74 mm
Rapporto di compressione : 9,6 : 1
Distribuzione : 2 valvole in testa comandate da aste in lega leggera e bilancieri
apertura valvola aspirazione 18° P.P.M.S.
chiusura valvola aspirazione 50° D.P.M.I.
apertura valvola di scarico 53° P.P.M.I.
chiusura valvola di scarico 15° D.P.M.S.
valori validi con gioco di controllo tra bilancieri e valvole di 1 mm
Potenza massima : 35,5 kW (48,28 CV) a 6.800 giri/minuto
Coppia massima : 54,7 Nm a 3.600 giri/minuto
Alimentazione : iniezione elettronica Weber-Marelli IAW15RC
Avviamento : elettrico
Impianto di scarico : catalizzatore a 3 vie con sonda Lambda
Omologazione : Euro 3

TRASMISSIONE
Cambio : 5 marce
Valore rapporti cambio : 1° 11/26 = 1:2,3636
: 2° 14/23 = 1:1,6429
: 3° 18/23 = 1:1,2778
: 4° 18/19 = 1:1,0556
: 5° 25/22 = 1:0,88
Lubrificazione : a sbattimento
Trasmissione primaria : a ingranaggi, rapporto: 16/21 = 1:1,3125
Trasmissione finale : a cardano, rapporto: 8/33 = 1:4,825
Frizione : monodisco a secco con parastrappi

CICLISTICA
Telaio : tubolare a doppia culla scomponibile in acciaio ad alto limite di snervamento
Interasse : 1.449 mm
Avancorsa : 109 mm