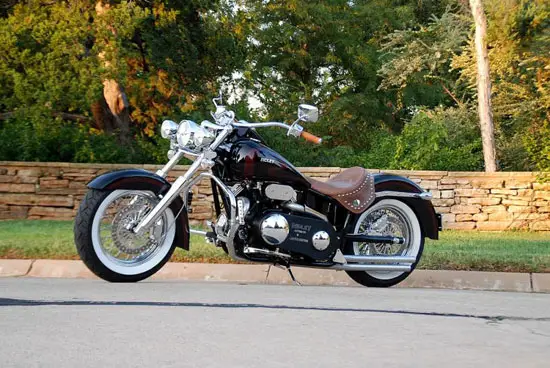 You are here: Home — 2009 Models — 2009 Ridley Motorcycle Models
2009 Ridley Auto-Glide Limited Edition
Back to 2009 Ridley Motorcycle Index Page
Click photos to enlarge.
They make great desktop images.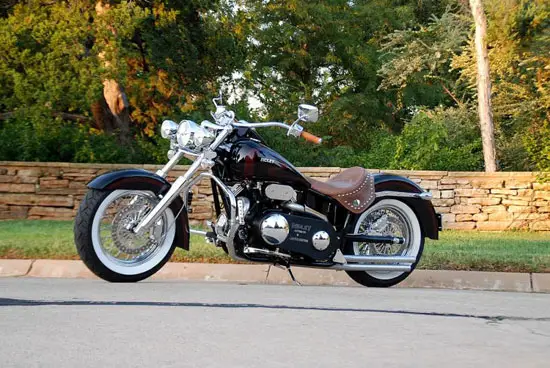 2009 Ridley Auto-Glide Limited Edition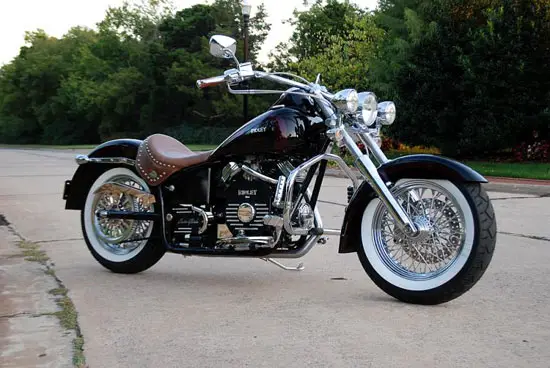 2009 Ridley Auto-Glide Limited Edition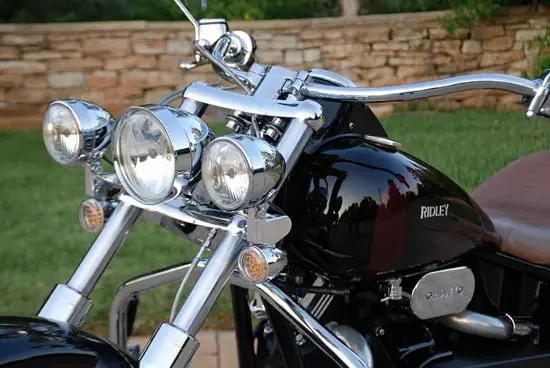 2009 Ridley Auto-Glide Limited Edition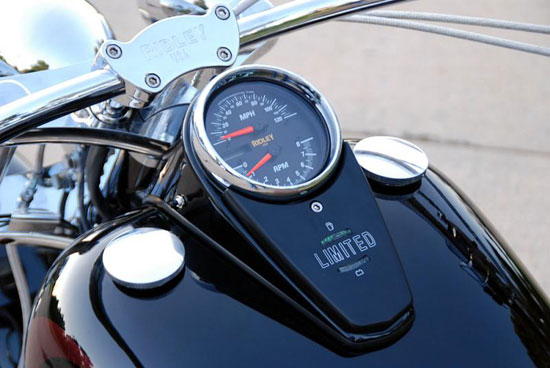 2009 Ridley Auto-Glide Limited Edition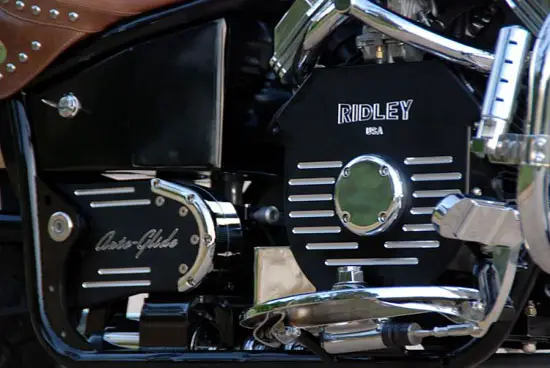 2009 Ridley Auto-Glide Limited Edition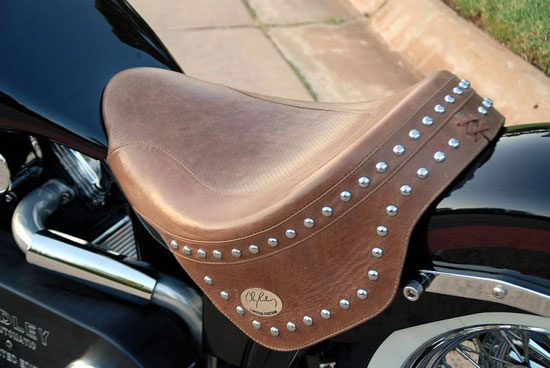 2009 Ridley Auto-Glide Limited Edition


– 2009 Ridley Auto-Glide Limited Edition

2009 Ridley Auto-Glide Limited Edition
Personality is the vital spirit of this years' Auto-Glide Limited. The custom styling and unique features set the '09 Limited apart from the rest. It is the first ever Ridley to feature an electronic fuel gauge. That along with its custom black and black cherry paint, and tan leather seat make this a true collectors piece.

Ridley Motorcycle Company will soon introduce its new line of fully automatic transmission motorcycles for 2009. The first model to be introduced is the '09 Auto-Glide Limited Edition. With last years Limited Edition model's wild success, the new year model is expected to have an even greater demand.

For the past several years, Clay Ridley, founder of Ridley Motorcycle Company, has personally designed one model that includes many features not found on other production models. The 2009 model is no exception. Ridley's design features the brands first ever model to include an electronic fuel gauge, which has been requested by Ridley Owners since 1995.

"After the 2008 Limited Edition design sold out so quickly, our dealers demanded a follow up model. I believe the '09 model tops last years design and that demand for it will be even greater" said Clay Ridley about his signature model.

The Limited Edition models date back to 2001 when Ridley designed the first 33 HP three-quarter scale model known as the Signature Series One. Demand for that model caused it to sell out before the company began producing the model. Other Limited Edition models included the 2002 Signature Series II, 2003 Vicious Cycle (42 HP, three quarter scale), 2005 L.E. (first belt drive Auto-Glide model), and last year's 2008 Auto-Glide Limited (first tank mounted electronic dash and black engine).

In 2008, Clay Ridley's model was limited to a production of only 20. The average Limited model spent less than 30 days on the dealer's floor before selling. Most dealers reported full MSRP for the model.

The new Limited model is similarly styled with the signature "R" accent on the tank and newly added fender accents in Black Cherry which add a subtle and very classic look. To help accent the paint, Ridley has included a bomber brown leather seat and brown "slim fit" hand grips.

The tank mounted dash is a self calibrating speedometer and tachometer with odometer and resettable trip meter. Below the instrument cluster is an LED fuel gauge and battery volt meter. Both right and left fuel caps are still accessible for filling the individual, but joined 4.2 gallon stretched tanks.

Included on the Limited are chrome driving lights, beachbar handlebars, a chrome roadbar with highway pegs, front and center mounted chrome horn, chrome and rubber floorboards, LED turn signals, 60 spoke chrome rims, and white wall tires. The look is absolutely timeless

Features & Benefits

FEATURES
– Ridley 750 V-Twin
– Type II Automatic Transmission

– 4.2 Gallon Stretched Fuel Tank
– Mechanical Parking Brake

– Right Side Final Drive
– Fuel Gauge

– Beach Bar Handlebars
– Slim Fit Hand Grips

BENEFITS
– Twist & Go Centrifugal Clutch
– Low Center of Gravity

– Low 24.5″ Seat Height
– Limited Production Model


OPTIONS

– Slim Clear Windshield

– Slim Gradient Windshield

– Leather Windshield Bag

– Chrome Roadbar

– Highway Pegs

– Passenger Pegs

– Passenger Backrest w/ Luggage Rack

– Luggage Rack Leather Bag

– Passenger Pinion Pad

– Leather Saddlebags

– Boss Bag Genuine Leather Saddlebags

– Touring Seat (black or gray)

– Black Touring Seat w/ Studs

– Two-Up Seat (black or gray)

– Touring Seat w/Backrest (black or gray)

– Black Limited Edition Seat

– Black Hand Grips

– Motorcycle Cover (black)


2009 Ridley Auto-Glide Limited Edition – USA Specifications
MODEL PRICING
Base Model MSRP : $21,250
Delivery : $650
MSRP : $21,900
ENGINE
Manufacturer : Ridley®
Configuration : 90° V-Twin
Displacement : 750
Cooling System : Air
Compression Ratio : 8.5 : 1

DRIVE SYSTEM
Transmission Type : Automatic CVT
Clutch Type : Centrifugal
Engagement RPM : 1100 RPM
RPM @ 85 MPH : 3600 RPM
Primary Drive : Belt
Final Drive : Belt

SIZES & WEIGHT
Dry Weight : 460 lbs. / 209 kg
Wheelbase : 66″ / 167.6 cm
Overall Length : 97″ / 246.4 cm
Seat Height : 24.5″ / 62.2 cm

BRAKES
Brake Type : Hydraulic (DOT 5)
Front Brake : Four Piston
Rear Brake : Four Piston




Availability
Production assignments are currently being set.