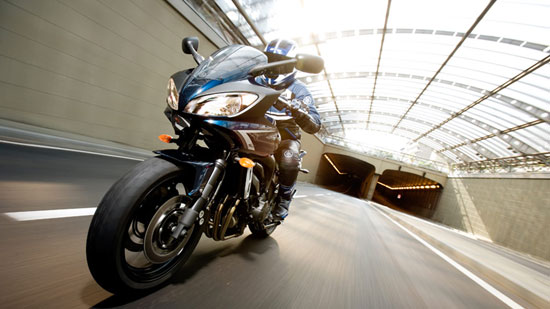 Back to 2009 Yamaha Motorcycle Index Page
Click photos to enlarge.
They make great desktop images.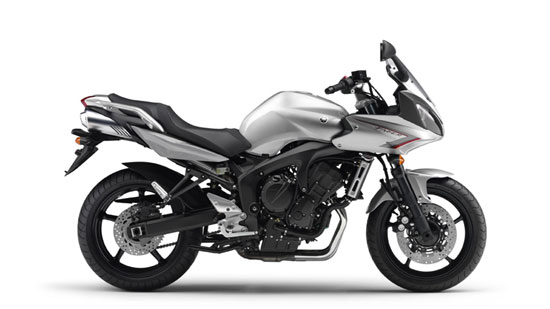 2009 Yamaha FZ6 (UK White model)


– 2009 Yamaha FZ6

2009 Yamaha FZ6
This do-it-all street fighter is built for exhilarating performance and easy-living functionality.
The 2009 Yamaha FZ6 is a brilliant all round motorcycle that combines exciting performance and great style with an incredible level of riding comfort. One of the most affordable rides in the 600 class, the FZ6 is truly a best buy in the Yamaha line-up.
Brilliant handling, impressive power and a stunning design,
the FZ6 has everything that most riders demand in a sporting motorcycle and more. Tourer, commuter, or sports bike, the FZ6 does it all. An exciting R6S based engine provides plenty of power while 4-piston front brakes slow it down in a hurry. Whether carving a back road or winding your way through city traffic, the FZ6 provides the kind of fun and excitement that motorcycling is famous for … all at a very affordable price.
Elevate your standards.
The FZ6 is a multipurpose tool that gets you there in style and comfort. It has a clean, light look and a supersport-based engine that's smooth-running and packs a powerband as broad as the FZ6's capabilities.

Hit overdrive
You don't do the same thing every day of your life, so why would you want a motorcycle that's only designed to do one thing? You need a motorcycle with a design brief as varied as your lifestyle. That's the FZ6 Fazer S2 – do your usual stuff Monday to Friday, then when you need to get away, just strap on a kitbag and away you go, loving the high-revving horsepower, supersport-quality handling and weather-beating upper fairing.
2009 Yamaha FZ6 Highlights:
– Fuel Consumption * 17kpl/48mpg(Imp)
– YZFR6S based powerplant
– Evolution of function and style

Key Features:
– Multipurpose, go-anywhere do-anything middleweight; the FZ6 is just as happy taking you to work, for a brisk sport ride or on a weekend tour.

– Style and performance: Controlled-Fill die-cast aluminum frame, a high-tech half fairing and an undertail exhaust are just a few of the FZ6's upscale components.

– Super-light and compact fuel-injected YZF-R6S engine is tuned for enhanced mid-range performance as well as strong revvability.

– The FZ6 achieves fuel economy up to an estimated 40 mpg** with a fuel tank that holds 5.1 gallons of gas.


2009 Yamaha FZ6 Features:
Engine:
R6″S" based, ultra-compact, 600cc, liquid-cooled, DOHC, 16-valve, slant block inline four powerplant. Virtually all the internal engine components are R6″S" spec including crankshaft, con rods, valve sizes, bore & stroke etc.
Specially designed, one-piece cylinder and upper crankcase assembly provides superior engine rigidity and reduces weight.
"Liner less" cylinder has special ceramic composite plating applied directly to the aluminum cylinder block for greater heat dissipation, reduced frictional losses, reduced oil consumption and lighter weight.
Lightweight forged pistons feature carburized connecting rods for superb strength and reduced reciprocating mass. The result is excellent engine response.
Hollow side-driven camshafts with computer perfected valve timing help create a very narrow engine. The key difference between the R6″S" and FZ6 engines is the camshafts in the FZ6 have different cam profiles and slightly different intake tracts for more low to mid range power.
One-piece cylinder and upper crankcase assembly provides superior rigidity and reduce weight.
Compact slant-block engine uses stacked gearbox shafts to create a shorter engine (front to back) which allows for optimum engine placement in the frame for a balanced weight distribution and great handling.
"Tri-Axis" 6-speed transmission has been optimized to accommodate the engine character of the FZ6. The secondary reduction ratio is 46/16 (Vs. a reduction ratio of 48/16 for the R6S). Gear widths, splines and engagement dogs are optimized for smooth shifting under power.
"Tri-Axis" or stacked transmission design creates a more compact engine front to back that allows for optimum engine placement in the frame for optimized balanced weight distribution and incredible handling.
"Group-Type" Mikuni 36mm throttle body fuel injection provides outstanding throttle response and excellent fuel economy. This system uses fewer sensors than the R6″S" while also being lighter and more compact.
Group fuel injection divides the four cylinders into two groups (1 & 4 and 2 & 3) with two injections of fuel for every 720 degrees of crank rotation (the R6″S" system utilizes a sequential injection for each cylinder).
Compact "high dynamic range" injectors use 4-hole / 2-direction spray type injectors. A high powered, compact 32 bit CPU controls the injection process. For 2007 the FI settings and mapping were revised for improved performance in the most often used speed ranges.
Progressive type throttle pulley and direct coupler type TPS (throttle position sensor) provides easy throttle control without the annoyance of FI surging.
6.3 litre airbox is "optimized" to take full advantage of the downdraft intake system.
Air Induction System (AIS) reduces harmful hydrocarbon and carbon monoxide (HC & CO) emissions.
4 into 2 into 1 into 2 stainless steel exhaust system features a stylish under seat muffler that is a one piece unit with dual outlets. A special resin cover protects the muffler and keeps hot components away from the rider and passenger.
A special connector pipe joins the header pipes between cylinders #2 and #3 pipes to provide outstanding low to mid range torque.
The exhaust system utilizes a total of 3 honeycomb catalytic converters to reduce harmful emissions such as CO, HC, CO2 and NOx into less harmful by products. The result is very clean running engine that easily surpasses the new EU3 European emission standards.
A heater type oxygen sensor has been installed in the exhaust system to provide continual info back to the ECU which in turn provides the optimum fuel/air mixture for impressive performance with reduced emissions.
High capacity radiator with ring-type cooling fan insures maximum cooling efficiency.
Liquid cooled oil cooler maintains consistent oil temperatures for extended engine and lubricant life.
Maintenance-free transistor controlled digital ignition ensures fast starts and optimum engine performance.
Chassis:
High tech, C.F. (controlled fill) die cast twin spar main frame is used. There are no welding points on this frame, since it bolts together. A rigid type engine mounting system is used to increase overall chassis rigidity for great handling and also to reduce the weight of the actual frame.
Front / rear weight distribution is 51% front and 49% rear for light, responsive handling.
Detachable steel rear sub frame provides easy access to the rear shock and reduces costs in the event of a "loop-out".
Extra long extruded box section aluminum swingarm provides maximum rear wheel traction and a light handling feel that the FZ6 is famous for.
Conventional 43mm cartridge style forks provide great handling and excellent ride comfort. Plastic protectors help prevent tube damage due to stone chips. Wheel travel is 130mm (5.1″).
"Link less" rear suspension means the rear shock mounts directly to the frame and swingarm without the use of linkages. The rear suspension system has been designed to provide a rising rate feeling without the additional weight of linkage arms and pivot points. The shock features 7-way spring pre-load adjustability. Wheel travel is 130mm (5.1″)
Dual 298mm floating front disc brakes are squeezed by 4-piston, ultra rigid R6″S" inspired monoblock calipers. Braking performance is impressive and lever feel is excellent. "Trifurcate type" front brake hose reduces weight (Trifurcate type brake hose means there is one brake hose from the master cylinder and it splits at the front fender area and crosses over to the second caliper).
245mm rear disc brake with Nissin single piston caliper provides excellent stopping power.
Sporty FZ1 inspired ½ cowl offers great wind and weather protection. An inner panel around the instrument area provides a clean, quality image for the "cockpit". The fairing also features a stylish 'conventional" windshield design.
Stylish 19.4 liter (4.3 Imp. gal.) fuel tank (3.6 liters is the reserve portion) features an in-tank electronic fuel pump.
Lightweight R6 style, 5-spoke mag wheels fitted with Z rated radial tires reduce unsprung weight for incredible handling performance.
One-piece seat design offers excellent rider and passenger comfort.
FZ1 based multi-function instrument assembly. Features include an analog tach, digital speedo, dual tripmeters, fuel reserve tripmeter, clock, fuel gauge and water temperature as well as a selection of warning lights. The back lighting can be adjusted to suit rider preferences.
Conventional handlebar design provides a comfortable riding position and also allows easy handlebar replacement.
R1 inspired dual "cat eye" halogen headlights cast a bright beam of light. (Note: Only one headlight – RHS- lights on low beam. Both lights light on high beam)
Details:
Locking helmet holder
Convenient passenger grab rails
Inner rear fender reduces splash and provides that sporty appearance.
5-position adjustable front brake lever
Rider footrest brackets are rubber mounted to reduce vibration
Super convenient center stand makes chain adjustments and tire changes a snap
Heavy duty "O" ring chain
Low maintenance sealed 12 amp hour battery

2009 Yamaha FZ6 – USA Specifications
MSRP* $7,290 (Deep Blue) Available from December 2008
$7,290 (Raven) Available from December 2008


Engine
Type 600cc liquid-cooled inline 4-cylinder; DOHC, 16 valves

Bore x Stroke 65.5 x 44.5mm

Compression Ratio 12.2:1

Carburetion Group Fuel Injection, 36mm throttle bodies

Ignition TCI

Transmission 6-speed w/multi-plate clutch

Final Drive O-ring chain


Chassis
Suspension/Front 43mm telescopic fork, 5.1-in travel

Suspension/Rear Single shock; adjustable preload, 5.1-in travel

Brakes/Front Dual 298mm floating disc; 4-piston calipers

Brakes/Rear 245mm disc; single-piston caliper

Tires/Front 120/70-ZR17

Tires/Rear 180/55-ZR17


Dimensions
Length 82.5 in

Width 29.5 in

Height 47.6 in

Seat Height 31.3 in

Wheelbase 56.7 in

Rake (Caster Angle) 25.0°

Trail 3.8 in

Fuel Capacity 5.1 gal

Fuel Economy** 40 mpg

Wet Weight 459 lb


Other
Warranty 1 Year (Limited Factory Warranty)


2009 Yamaha FZ6 – Candian Specifications
MSRP: C$9,299
Engine Liquid-cooled, DOHC, 16-valve, inline four
Displacement 600cc
Bore and Stroke 65.5 x 44.5mm
Compression Ratio 12.2:1
Maximum Torque 6.4 kg-m (46.3 ft-lb) @ 10,000 rpm
Fuel Delivery Mikuni 36mm throttle body F.I.
Estimated Fuel Consumption* 17kpl / 48mpg (Imp.)
Lubrication Wet sump
Ignition Digital TCI
Transmission 6-speed

Suspension (Front) 43mm cartridge fork
Suspension (Rear) Link-less Monocross
Brakes (Front) Dual 298 mm discs
Brakes (Rear) 245 mm disc
Tires (Front) 120/70 ZR17
Tires (Rear) 180/55 ZR17

Length 2095mm (82.5")
Width 750mm (29.5")
Height 1,210mm (47.6″)
Wheelbase 1440mm (56.7″)
Rake / Trail 25° / 97.5mm
Ground Clearance 145mm (5.7″)
Seat Height 795mm (31.3")
Fuel Capacity 19.4 litres (4.3 Imp. gal.)
Wet Weight 207kg (455.4 lbs.)
Colour(s) Metallic Purplish Blue
Metallic Black
2009 Yamaha FZ6 – UK Specifications
MSRP: 5,299.00 £ ABS 5,599.00 £ excludes road taxes & 1st registration
Engine –
Engine type: Liquid-cooled, 4-stroke, forward inclined parallel 4-cylinder, DOHC
Displacement: 600 cc
Bore x stroke: 65.5 x 44.5 mm
Compression ratio: 12.2:1
Maximum power: 72.0 kW (98 PS) @ 12,000 rpm
Maximum torque: 63.1 Nm (6.44 kg-m) @ 10,000 rpm
Lubrication system: Wet sump
Carburettor: Fuel injection
Clutch type: Wet, multiple-disc
Ignition system: TCI
Starter system: Electric
Transmission system: Constant mesh, 6-speed
Final transmission: Chain
Fuel tank capacity: 19.4 L
Oil tank capacity: 3.4 L


Chassis –
Chassis: Aluminium die-cast, diamond shaped
Front suspension system: Telescopic forks
Front travel: 130 mm
Rear suspension system: Swingarm (monocross)
Rear travel: 130 mm
Front brake: Double discs, Ø 298 mm
Rear brake: Single disc, Ø 245 mm
Front tyre: 120/70 ZR17M/C (58W)
Rear tyre: 180/55 ZR17M/C (73W)


Dimensions –
Length (mm): 2,095 mm
Width (mm): 750 mm
Height (mm): 1,210 mm
Seat height (mm): 795 mm
Wheel base (mm): 1,440 mm
Minimum ground clearance (mm): 145 mm
Dry weight (kg) 186 kg / ABS: 191 kg


*/** Fuel economy estimates are based on US EPA exhaust emission certification data obtained by Yamaha and converted into Canadian measurements. Your actual mileage will vary depending on road condition, how you ride, maintain your vehicle, accessories, cargo and operator/passenger weight.

Specifications, appearance, and price of product are subject to change without notice.