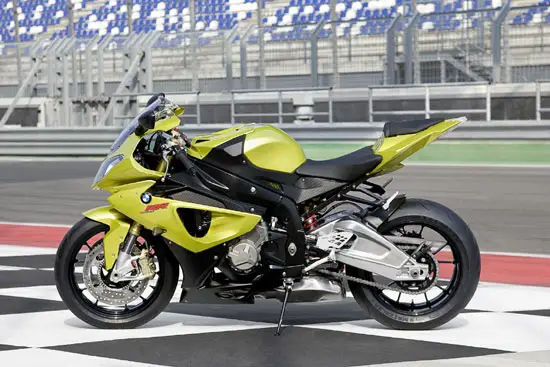 Back to 2010 BMW Motorcycle Index Page
Click photos to enlarge.
They make great desktop images.
– 2010 BMW S1000RR

2010 BMW S1000RR
When we build a superbike, we have no time for second best. We now present the very latest in racing power. With an aluminium bridge, radial brakes, a super sporty tail-up nose-down design, hot colours and the ultimate combination of electronic rider assistance systems: the first genuine racing ABS, whose features include a front-wheel-only mode, dynamic traction control (DTC) which permits varying degrees of slip, depending on the lean angle. The more the rider hangs off, the more upright the bike and the longer the lines on leaving the curve. Never before was it so easy to keep so much power under control. This is just as true on public roads as it is down on the racetrack. The RR label shows that it is a full-blooded racing bike, even though it can also be ridden with a number plate attached. To top it all off is an engine which is our absolute pride and joy. And our motorsports team agree wholeheartedly.
A motorcycle designed for the race track, built to deliver acceleration that takes your breath away.
The DoubleR is a genuine race bike, even though it can also be ridden with a number plate attached. To top it all off is an engine which is our absolute pride and joy. And our Motorsport team agree wholeheartedly.

The new BMW S 1000 RR is a highly innovative straight-four supersports from BMW Motorrad now making its world debut.

This true milestone in the world of sports machines combines engine output of 142 kW (193 hp) with overall weight of just 204 kg (450 lb) including fuel (183 kg/403.5 lb dry weight, 206.5 kg/455.3 lb overall with Race ABS).
Specifications of this calibre make this supersports machine not only an absolute highlight in terms of its power-to-weight ratio and performance, but also, equipped with Race ABS and DTC Dynamic Traction Control, a new benchmark in terms of riding dynamics, safety and innovation.

Team BMW Motorrad Motorsport has been playing an active role in the World Superbike Championship since the beginning of the 2009 racing season, the new S 1000 RR setting the foundation for the production-based racing machines ridden by BMW Motorrad's two works riders Troy Corser and Ruben Xaus.

After spending its inaugural development season challenging the 2009 World Superbike Championship with factory riders Ruben Xaus and two-times world champion Australian Troy Corser, the new S1000RR exceeded expectations, finishing the series with a gratifying seventeen top-ten finishes. The S1000RR is now poised to arrive in BMW Motorrad showrooms in January of 2010.
The S1000RR will debut with an MSRP of $17,300, a price that includes Race ABS, Dynamic Traction Control (DTC) and Gear Shift Assist as standard equipment. The only option available on the S1000RR will be the Alarm System, priced at $265.
Combining an all-new high-performance engine with lightweight construction, sophisticated chassis dynamics and race-engineered brake and suspension components, the BMW S1000RR will set a new benchmark for ultra-high performance motorcycles – on both the racetrack and the road.
The 999cc liquid-cooled, DOHC, sixteen valve, inline four-cylinder power unit is brand-new from the ground up, bred for racing, developing a maximum output of 193 hp at 13,000 rpm (rev-limited to14,200 rpm) and maximum torque of 82.5 lb-ft at 9,750 rpm.
With overall weight of just 206.5 kg including fuel and Race ABS the S1000RR will also take its place as the lightest motorcycle equipped with ABS in the supersports category.
The combination sets a new standard in its class with a power-to-weight ratio of just 1.06 kg (2.34 lb) per horsepower with Race ABS.
The new BMW S1000RR has been designed not only to compete in the World Superbike Championship, but to take its place among the élite of supersports motorcycles.

Features and Specifications
You've gotta have it!
Speed has to be kept under control. And motorcycle control is exactly what we have been constantly reinventing over the last 20 years. The S 1000 RR represents a milestone in electronic rider safety: ultra-lightweight ABS (2.5kg), which can be used in conjunction with the extremely efficient DTC dynamic traction control (available as an optional extra) – quite unique for 2009.
Racing ABS for all conditions
You couldn't wish for a more discreet ABS; it has fine control intervals, is virtually imperceptible in its operation, and is light enough to satisfy fans of low-weight bikes.

DTC – transparent traction control you can rely on.
This dynamic feature reacts reliably and efficiently to speed, lean angle, and operating mode (rain, sport, race, or slick). It was specifically designed to be as effective on the road as it is on the racetrack.

Radially mounted Brembo brake callipers
This is how today's superbikes decelerate. Not only do brake disks mounted directly on the wheel rims look good, they also reduce unsprung mass.

A superlative engine.
An extreme bore/stroke ratio (80×49.7mm) and rocker arm-actuated valves for great stability at high engine speeds, compact construction and lightweight design – a genuine powerhouse which demonstrates its considerably ability at all output levels.

A design that doesn't just look good
Intelligently positioned slits behind the fairing minimise turbulence to allow the rider to maintain a relaxed head position, optimum air-flow around rider and bike ensures stability at top speed, while efficient flow-through makes for maximum cooling. Combined with plenty of eye-catching design features – that's the way to do it.

Sporty seat positioning.
If you want to be fast, you have to adopt a relaxed racing posture. The way you sit must allow you to concentrate on the essential aspects of motorcycling – maximum enjoyment and perfect control. The looser you are on the bike, the easier everything else will be. Gone are the days when you had to bend yourself flat. Today's modern posture means you are actually sitting more in the bike than on it.
Overview of technical highlights:

– Best-in-class performance and supreme riding dynamics in the supersports segment.

– Engine output 142 kW (193 hp) at 13,000 rpm, peak torque 112 Nm (82.5 lb-ft) at 9,750 rpm.

– Weighing 206.5 kg (455.3lb) in road trim and with a full tank, this is the lightest supersports in the 1000-cc class with Race ABS.

– Best power-to-weight ratio in this class of just 1.05 and, respectively, 1.06 kg (2.31 and, respectively, 2.34 lb) per horsepower without/with Race ABS.

– Optional Race ABS for outstanding brake performance and safety. Weight of the entire system just 2.5 kg (5.51 lb), while other systems of a similar kind weigh up to 10 kg.

– Optional DTC Dynamic Traction Control in conjunction with Race ABS for optimum performance and maximum active safety when accelerating.

– Only supersports machine with Race ABS and DTC Dynamic Traction Control.

– Various riding modes available at the touch of a button for wet surfaces, regular road requirements, race tracks with sports tyres and race tracks with slicks.

– All-round set-up, coordination and balance of Race ABS, DTC Dynamic Traction Control and engine management for all four riding modes.

– High-speed, extra-sturdy valve drive with individual cam followers and titanium valves.

– Innovative exhaust system with a small and short rear-end muffler, pre-silencer and electronically controlled interference pipe flaps as well as a fully controlled exhaust gas manifold and two fully controlled three-way catalytic converters.

– Optimum gas dosage combined with maximum functional reliability ensured by E-gas (ride-by-wire), incorporating two bowden cables (opening and closing cable) leading to the throttle butterfly adjuster.

– Windshield with four patented openings to reduce air swirl and offer the rider significant protection from buffeting at high speeds.

– Fulfilment of all environmental standards with the potential to meet future emission requirements ensured by two fully controlled catalytic converters and digital motor electronics.

– Damper elements with a wide range of adjustment on the spring base, the inbound and rebound stroke, as well as the greatest damping reserves, particularly for racing.

– New, clearly defined, simple and straightforward options to adjust the suspension and running gear.

– Aluminium tank unique in this segment for further reduction of overall weight.

– Supreme handling combined with best-in-class high speed and braking stability.

– Multi-functional instrument cluster with racing features such as a laptimer. The rider is able to set all functions directly from the ends of the handlebar.

– New generation of switches with optimised ergonomics.

– Supreme aerodynamics and sporting ergonomics ideal for both the tall and short rider.

– Optional HP Gearshift Assistant for shifting up without operating the clutch and without the slightest interruption of torque and pulling power.

– Wide range of equipment, special features and options naturally offering full BMW quality (and homologated for road use).

– Alpha Racing Performance Parts: wide range of motorsport and tuning accessories for circuit racing the BMW S 1000 RR.
– DoubleR Collection: single-piece leather suit, helmet, boots and gloves, all colour-matched to the BMW S 1000 RR.
The Challenge for BMW Motorrad.
To successfully enter the World Championship with a Superbike today, a manufacturer needs a production model with the right kind of overall concept consistently applied in all areas. The essential factors, therefore, are supreme power, a wide range of engine speed, fast revving capacity also over a long period, optimum chassis stiffness, and perfect set-up of the engine.
Other features absolutely essential more than ever particularly in the top league of supersports motorcycles are simple and straightforward rideability, light-footed handling, absolutely outstanding all-round performance as well as safety features such as rider assistance systems like ABS and traction control giving the customer precisely what he needs.
Developing the RR, BMW Motorrad has entered completely new, unchartered terrain. Clearly, this meant a huge range of new challenges and responsibilities for the entire Development Team, but also gave the Team enormous motivation in seeking to set new standards.
The specific targets in developing the S 1000 RR were therefore clear:
– To achieve output and performance of the highest standard.
– To make the suspension absolutely stable, with top handling and supreme traction.
– To give the new machine that unmistakable, dynamic design of BMW Motorrad.
– To reduce the weight of the motorcycle to an absolute minimum.
– To ensure top quality typical of BMW .
Unique against the competition.
Over the years and decades, the principle of combining a straight-four power unit with an aluminium bridge frame has been consistently developed and has become the dominating technical concept particularly in the supersports segment. The reason, quite simply, is that a motorcycle of this kind offers significant benefits in terms of riding dynamics, long-distance endurance, and straightforward production.
Precisely this is why the new S 1000 RR also applies this concept with its proven fortes and advantages. But even while the S 1000 RR, in its concept teaming up a straight-four power unit and an aluminium bridge frame, may appear at first sight to have similarities with some competitors, the Development Team at BMW Motorrad has succeeded in enhancing the existing status of this concept in virtually every respect.
As a result, the S 1000 RR offers not only a wide range of USPs in terms of technology, performance, and design, but also, through its particularly compact overall layout, clearly demonstrates the high school of European engineering in the supersports four-cylinder segment.
Maximum performance and riding dynamics.
The consistent concept of the RR supersports is borne out in particular by the truly fascinating, innovative high-performance technology and incomparable riding dynamics of this new machine. The result is an exceptional combination of supreme riding precision and agility, on the one hand, with unparalleled engine power and performance, on the other, providing an overall package truly unique in the market.
Never before has a BMW motorcycle been conceived and built more consistently for supersports riding in terms of its concept and overall construction. But at the same time the new S 1000 RR retains many of the virtues so typical of every BMW to this day: Extreme sportiness and riding dynamics combined with supreme everyday riding qualities, playful handling together with supreme riding stability, outstanding performance combined with unparalleled active safety, as well as dynamic, unmistakable design in conjunction with optimum ergonomics and aerodynamics.
Free choice of engine characteristics as well as Race ABS and DTC Dynamic Traction Control
The new S 1000 RR also excels through features and qualities typical of BMW such as a long running life, superior quality of production and optimum environmental compatibility thanks to the use of the most advanced exhaust management with two fully controlled three-way catalytic converters also able to fulfil future standards and requirements.
Active safety when braking is significantly enhanced by Race ABS developed especially for the S 1000 RR as a genuine supersports and available as an option straight from the factory. A further most significant feature likewise contributing to active safety of the highest standard is DTC Dynamic Traction Control also available as an option and masterminded electronically for supreme precision and practical value.
Facing various riding conditions such as wet roads ("Rain"), regular road conditions ("Sport"), a race track with supersport tyres ("Race"), or a race track with slicks ("Slick"), the rider also has the choice of various engine characteristics and set-ups available at the touch of a button. And last but not least, Race ABS and Dynamic Traction Control are combined with the respective riding modes and coordinated with one another to ensure a supreme standard of performance and safety all in one.
Valve drive for maximum engine speeds, with single cam followers and titanium valves.
The primary objective in developing the new S 1000 RR was to create a supersports with supreme engine power combined with optimum rideability for the highest conceivable standard of all-round performance.
The water-cooled four-cylinder inline power unit chosen to provide these qualities is brand-new from the ground up, developing maximum output of 142 kW (193 hp) at 13,000 rpm and revving up to a maximum speed of 14,200 rpm. Maximum torque of 112 Nm (82.5 lb-ft), in turn, comes at 9,750 rpm.
The two intake and exhaust valves per cylinder made of extra-light titanium are operated by very small and equally light single cam followers. In conjunction with the short sprocket driving the camshaft via an intermediate gear, this ensures supreme revving qualities at the highest speeds as well as exact maintenance of valve timing combined with very compact dimensions.
The use of extremely small and light cam followers furthermore gives the engineer greater freedom in choosing the ideal valve lift curves and, accordingly, in selecting optimum performance characteristics on both road and track.
All engine components are particularly compact and light, limiting weight of the overall engine without ancillaries to 59.8 kg (131.8 lb) and keeping the entire power unit very slim and slender.
Innovative exhaust system with interference pipe butterflies for optimum power and performance.
Made completely of stainless steel, the exhaust system featured by the S 1000 RR is designed consistently for optimum power and performance. It works according to the 4-in-2-in-1 principle with four individual manifolds of equal length first merging into two pipes beneath the engine block and then extending into a large-volume pre-silencer. From there the exhaust emissions flow through a very short and dynamically designed rear-end silencer to the outside.
A homogeneous power and torque curve ensuring optimum rideability is acknowledged as the requirement for sporting performance on the road and fast lap times on the track. Precisely this is why the exhaust system featured on the S 1000 RR comes with two fully controlled interference pipe butterflies housed in two connection pipes for the two outer and two inner manifolds, in the immediate vicinity of the exhaust ducts. As a function of various parameters such as engine speed and the position of the throttle butterfly, an adjuster opens or closes these flaps, allowing exhaust gas to flow freely between the two manifolds or, respectively, interrupting the flow of gas. This coordinates the sequence of oscillations in the exhaust gas mass flow, reducing exhaust gas counter-pressure at the decisive point (like on a racing muffler) and increasing the cylinder charge accordingly.
This factor alone makes a significant contribution to the very high standard of homogenous overall performance offered by the S 1000 RR.
Lightest supersports with Race ABS.
The new RR offers the highest standard of technology also on its suspension and running gear. Weighing just 206.5 kg or 455.3 lb in road trim and with a full tank, BMW 's new supersports is by far the lightest machine of its calibre displacing 999 cc and featuring Race ABS brakes.
One of the features that ensures this light weight is the aluminium bridge frame integrating the engine tilted to the front at an angle of 32° as a load-bearing element for optimum torsional stiffness on minimum weight. The front wheel runs on an upside-down fork with a fixed tube measuring an ample 46 milli­metres or 1.81″ in diameter, while a torsionally stiff swing arm made of aluminium holds the rear wheel in position.
The spring and damping action required is provided by a central spring strut pivoting on a guide lever.
The rear frame section of the S 1000 RR is a welded light-alloy structure belted to the mainframe, combining low weight with superior stability and a high standard of robust strength particularly important to riders and teams on the race track.
Putting the rider right in the centre.
The rider's seating position leaning forward towards the front wheel for an active style of riding is simply ideal for the sporting rider with his particularly dynamic style.
Developing the S 1000 RR, BMW Motorrad has given particular attention to the superior ergonomics of the machine, providing ideal qualities for both small and tall riders and therefore focusing consistently on the rider's individual requirements. The tank section is as slender as on a 600-cc machine, giving the rider the assurance of excellent control and handling at all times.
In the process of developing the S 1000 RR, BMW Motorrad focused not only on a lightweight structure, but also on minimum, highly compact dimensions as an absolutely essential requirement.
To give the S 1000 RR an extremely slender front silhouette but at the same time to ensure a highly efficient flow of cooling air, the engineers at BMW Motorrad had to show all their skill, since, with cylinder bore measuring 80 millimetres or 3.15", the power unit of the RR has the largest cylinder bore in this segment with a correspondingly wide cylinder head.
Technical challenges of this kind as well as a development period of just four years made the S 1000 RR the ideal project for consistent, all-out use of CAD (Computer-Aided Design) technology as well as the most advanced calculation methods, for example for the machine's aerodynamics.
As the bottom line, the S 1000 RR is the absolutely ideal motorcycle for the customers of BMW Motorrad looking for new, unprecedented standards and qualities in the supersports segment.

2010 BMW S1000RR – USA Specifications
USA MSRP: TBA USD

Engine
Type Water-cooled 4-stroke in-line four-cylinder-engine, two camshafts, four valves per cylinder
Bore x stroke 80 mm x 49.7 mm
Capacity 999 cc
Rated output 142 kW (193 hp) at 13,000 rpm
Max. torque 112 Nm at 9,750 rpm
Compression ratio 13.0 : 1
Mixture control / engine management Electronic intake pipe injection/digital engine management including knock sensor (BMS-K-P)
Emission control Catalytic- 2 Closed-loop 3-way catalytic converter, emission standard EU-4 ready

Performance / fuel consumption
Maximum speed Over 200 km/h
Fuel consumption per 100 km at constant 90 km/h 5.7 l
Fuel consumption per 100 km at constant 120 km/h 5.9 l
Fuel type Unleaded premium, octane number 95-98 (RON), automatic knock control
Electrical system
Alternator three-phase alternator 350 W
Battery 14 V / 10 Ah, maintenance-free
Power transmission
Clutch Multiple-disc clutch in oil bath, anti hopping clutch, cable operated
Gearbox Constant mesh 6-speed gearbox
Drive chain

Chassis / brakes
Frame Bridge-type frame, cast aluminium, load-bearing engine
Front wheel location / suspension 46 mm Upside-down fork, rebound and compression adjustable
Rear wheel location / suspension Cast aluminium swing arm, Continuously adjustable rear inbound-rebound damping, high and low speed
Suspension travel front / rear 120 mm / 130 mm
Wheelbase 1,432 mm
Castor 95.9 mm
Steering head angle 66,1 °
Wheels Cast aluminium
Rim, front 3.50 x 17″
Rim, rear 6.00 x 17″
Tyres, front 120/70 ZR 17
Tyres, rear 190/55 ZR 17
Brake, front Twin disc, floating brake discs,radial-fixed 4-piston calipers, diameter 320 mm, 5 mm thickness
Brake, rear Single disc brake, one-piston floating caliper, diameter 220 mm, 5 mm thickness
ABS DTC**: DTC 4 mode dynamic traction control adjustment, only avalibale with Race ABS, disengageable
Race-ABS*: 4 mode Race-ABS adjustment, disengageable

Dimensions / weights
Length 2,056 mm
Width (incl. mirrors) 826 mm
Height (excl. mirrors) 1,138 mm
Seat height, unladen weight 820 mm
Inner leg curve, unladen weight 1,810 mm
Unladen weight, road ready, fully fuelled 1) 204 kg (206.5 kg incl. Race-ABS)
Dry weight 2) 183 kg
Permitted total weight 390 kg
Payload (with standard equipment) 187 kg
Usable tank volume 17.5 l
Reserve approx. 4.0 l
1) According to guideline 93/93/EWG with all fluids, fuelled with at least 90% of usable tank volume
2) Unladen weight without fluids

2010 BMW S1000RR – Canada Specifications
Canada MSRP: $17,300 CDN

Engine:
Type:
o Water-/oil-cooled 4-stroke in-line four-cylinder-engine, two overhead camshafts, four
titanvalves per cylinder
Bore / stroke:
o 80 mm x 49.7 mm
Capacity:
o 999 cc
Rated output:
o 142 kW at 13,000 rpm
Max. torque:
o 112 Nm at 9,750 rpm
Compression ratio:
o 13.0 : 1

Mixture control / engine management:
o Electronic intake pipe injection / digital engine management including knock sensor
(BMS-K+)
Emission control:
o 2 closed-loop 3-way catalytic converter, emission standard EU-4, electronically controlled
interference pipe valves and controlled acoustic valve
Chassis / brakes:
Frame:
o Bridge-type frame, cast aluminium, load-bearing engine
Front wheel location / suspension:
o Upside-down telescopic fork Ø 46 mm, rebound and compression adjustable
Rear wheel location / suspension:
o Cast aluminium dual swing arm, continuously adjustable rear inbound-rebound damping,
high and low speed
Travel front/rear:
o 120 mm / 130 mm
Wheelbase :
o 1,432 mm
Castor :
o 95.9 mm
Steering head angle:
o 66.1°
Wheels:
o Cast aluminium wheels
Rim front:
o 3.50 x 17″
Rim rear:
o 6.00 x 17″
Tyres front :
o 120/70 ZR 17
Tyres rear:
o 190/55 ZR 17
Brake front:
o Dual disc brake, floating brake discs,diameter 320 mm, 4-piston fixed calipers, 5 mm
thickness
Brake rear:
o Single disc brake, one-piston floating caliper, diameter 220 mm, 5 mm thickness
ABS:
o Optional extra: 4 mode Race-ABS adjustment, can be switched off, Rain, Sport, Race,
Slick

Performance / fuel consumption:
Maximum speed:
o over 200 km/h
Fuel consumption over 100 km at constant 90 km/h:
o 5.7 l
Fuel consumption over 100 km at constant 120 km/h:
o 5.9 l
Fuel type:
o Unleaded super and premium, octane number 95-98 (RON)
(knock sensor; rated output at 98 RON)
Power transmission:
Clutch:
o Multiple-disc clutch in oil bath, anti hopping clutch, mechanically operated
Gearbox:
o Constant mesh 6-speed gearbox, spur toothing
Drive:
o chain
Electrical system:
Alternator:
o three-phase alternator 350 W
Battery:
o 14 V / 10 Ah, maintenance-free



Dimensions / Weight:
Length:
o 2,056 mm
Height (not inc. mirrors):
o 1,138 mm
Width (inc. mirrors):
o 826 mm
Seat height, unladen weight:
o 820 mm
Inner leg curve:
o 1,810 mm
Unladen weight, road ready, fully fuelled 1):
o 204 kg (206.5 kg incl. Race-ABS)
Dry weight 2):
o 183 kg
Permitted total weight:
o 405 kg
Payload (with standard equipment):
o 202 kg
Usable tank volume:
o 17.5 l
Reserve:
o approx. 4.0 l

Technical data relate to the unladen weight (DIN)
1) According to guideline 93/93/EWG with all fluids, fuelled with at least 90% of usable tank
volume
2) Unladen weight without fluids
Race-ABS* as SA* DTC** only available whith Race-ABS as SA**

Color possibilities:

Paintwork: Acid Green Metallic
Frame color: black
Rim color: black

Paintwork: Thunder Grey Metallic
Frame color: black
Rim color: black

Paintwork: Mineral Silver Metallic
Frame color: black
Rim color: black

Paintwork: Motorsport Alpine White non-metallic / Lupin Blue Metallic
/Magma Red non-metallic
Frame color: black
Rim color: black

2010 BMW S1000RR – UK Specifications
UK MSRP: £9,239.13 (OTR £10,950.00)
Engine
Type Water-cooled 4-stroke in-line four-cylinder-engine, two camshafts, four valves per cylinder
Bore x stroke 80 mm x 49.7 mm
Capacity 999 cc
Rated output 142 kW (193 hp) at 13,000 rpm
Max. torque 112 Nm at 9,750 rpm
Compression ratio 13.0 : 1
Mixture control / engine management Electronic intake pipe injection/digital engine management including knock sensor (BMS-K-P)
Emission control Catalytic- 2 Closed-loop 3-way catalytic converter, emission standard EU-4 ready

Performance / fuel consumption
Maximum speed Over 200 km/h
Fuel consumption per 100 km at constant 90 km/h 5.7 l
Fuel consumption per 100 km at constant 120 km/h 5.9 l
Fuel type Unleaded premium, octane number 95-98 (RON), automatic knock control
Electrical System
Alternator Three-phase alternator 350 W
Battery 14 V / 10 Ah, maintenance-free
Power transmission
Clutch Multiple-disc clutch in oil bath, anti hopping clutch, cable operated
Gearbox Constant mesh 6-speed gearbox
Drive Chain

Chassis / brakes
Frame Bridge-type frame, cast aluminium, load-bearing engine
Front wheel location / suspension 46 mm Upside-down fork, rebound and compression adjustable
Rear wheel location / suspension Cast aluminium swing arm, Continuously adjustable rear inbound-rebound damping, high and low speed
Suspension travel front / rear 120 mm / 130 mm
Wheelbase 1,432 mm
Castor 95.9 mm
Steering head angle 66,1°
Wheels Cast aluminium
Rim, Front 3.50 x 17″
Rim, rear 6.00 x 17″
Tyre, front 120/70 ZR 17
Tyre, rear 190/55 ZR 17
Brake, front Twin disc, floating brake discs,radial-fixed 4-piston calipers, diameter 320 mm, 5 mm thickness
Brake, rear Single disc brake, one-piston floating caliper, diameter 220 mm, 5 mm thickness
ABS DTC**: DTC 4 mode dynamic traction control adjustment, only avalibale with Race ABS, disengageable Race-ABS*: 4 mode Race-ABS adjustment, disengageable

Dimensions / weights
Length 2,056 mm
Width (incl. mirrors) 826 mm
Height (excl. mirrors) 1,138 mm
Seat height, unladen weight 820 mm
Inner leg curve, unladen weight 1,810 mm
Unladen weight, road ready, fully fueled 204 kg (206.5 kg incl. Race-ABS)
Dry weight 183 kg
Permitted total weight 390 kg
Payload (with standard equipment) 187 kg
Usable tank volume 17.5 l
Reserve approx. 4.0 l
2010 BMW S1000RR – TMW Exclusive