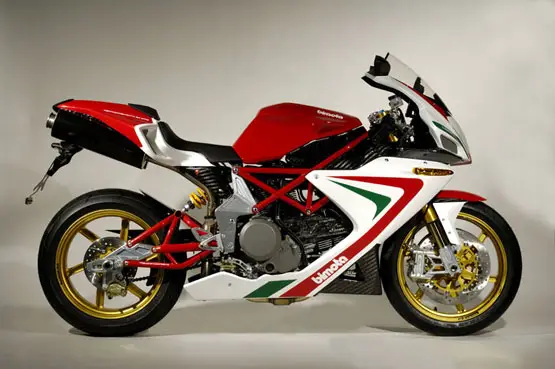 Back to 2010 Bimota Motorcycle Index Page
Click photos to enlarge.
They make great desktop images.
– 2010 Bimota DB5R

2010 Bimota DB5R
Light and Agile
The DB5R is the most extreme version of the DB5. With the R, the DB5,Äôs superb agililty and easy handling have reached new heights.
Lighweight and agile. Thanks to these two characteristics, this twin-cylinder sports bike with its classic Ducati 1100 DS engine produces a unique and emotive riding experience: lightning-fast corner entry and mid-corner speeds can be achieved, with super-precise lines and easy direction changes. Handling is the best you can ask for in a motorcycle born for the racetrack. Suspension is Ohlins – the front gets fully-adjustable (preload, rebound and compression) 43mm upside-down forks with TiN-coated stanchions, while the rear gets a fully adjustable (preload, rebound, compression and ride height) monoshock. These components work extremely well in such a lightweight chassis. The DB5R gets a taller ride height than the standard DB5 to make it turn in even quicker. This results in an even sportier ride.
The powerful and progressive brakes are Brembo, with a 320mm front discs (these are bigger than the standard DB5's 298mm discs) that are squeezed by four-piston radial calipers, which in turn are operated by a 19mm radial master cylinder. On the rear you'll find the typical 230mm disc with Brembo caliper. A pair of gorgeous forged aliminium OZ Racing wheels complete the package. These lightweight components reduce inertia to a minimum, letting you fly into corners and change direction faster than ever.
The brake and clutch levers that bend in a crash, preventing them from snapping off, further justify the 'R' in this Bimota's name. Then of course, there,Äôs the slipper clutch that works so well it lets the rider to brake and slam down the gears at the very last moment, and still the bike remains composed. The state-of-the-art slipper clutch makes it almost impossible to lock the rear wheel under the heavy V-twin engine braking.
The DB5R's bodywork is made entirely of carbon fibre, as are the airbox and engine covers. The lot is painted in red, green and white – the traditional colours of the Italian flag. This encapsulates the spirit of Italian sports bikes, as does the roar from the engine that sounds more glorious than ever thanks to the gorgeous titanium silencers.
2010 Bimota DB5R – Specifications
MSRP: $31,995 USD

ENGINE
Type: Ducati 1100DS
Configuration: 90 degree L-Twin
Displacement: 1079cc
Cooling: air/oil
Compression Ratio: 10.5±0.5:1
Valves per Cylinder: 2
Bore x Stroke: 98.0mm x 71.5mm
Redline: 9000rpm
Valve Angle: intake: 28 degree, outlet: 28 degree
Valvetrain Type: Desmodromic
Fuel Pump: Bitron 3.5bar, electronic
Throttle Body: 45mm
Air Filter: Foam
Exhaust System: 2 in 1 in 2, inox
Injection: Magneti Marelli
Lubrication: Wet Sump
Fuel Tank: 4.2gal/1.3gal reserve (16l/5l reserve)
TRANSMISSION
Type: Dry Clutch, multi-disc
Clutch: Slipper Clutch
Primary Drive: 32/59 teeth
Final Drive: 15/40 teeth
Gear Ratio: VI – 28/24; V – 24/23; IV – 22/24; III – 20/27; II – 17/30; I – 15/37
CHASSIS
Wheelbase: 56.1in (1425mm)
Swingarm Lenth: 20.3±0.8in (515±20mm)
Seat Height: 31.9in (810mm)
Footpeg Height: 14.6in – 15.32in (370mm – 385mm)
Handlebar Height: 33.9in (860mm)
Steering Stem to Seat Center: 25.2in (640mm)
Front Suspension: 43mm UD Öhlins TIN Coated Fork, fully adjustable (Pre-load, Compression, Rebound), travel 4.7in (120mm)
Front Wheel: 3.50 x 17.0 OZ Forged Alluminium
Front Brake: Double 320mm Brembo floating discs, Brembo Radial Caliper, 4-piston, 4-pad
Rear Suspension: Öhlins Monoshock, fully adjustable (Pre-load – External Hydraulic Device, Compression, Rebound)
Rear Wheel: 5.50 x 17.0 OZ Forged Aluminium
Rear Wheel Trail: 4.7in (120mm)
Rear Brake: 230mm Brembo Disc , 2-piston, 2-pad
Curb Weight: 375lb (170kg)