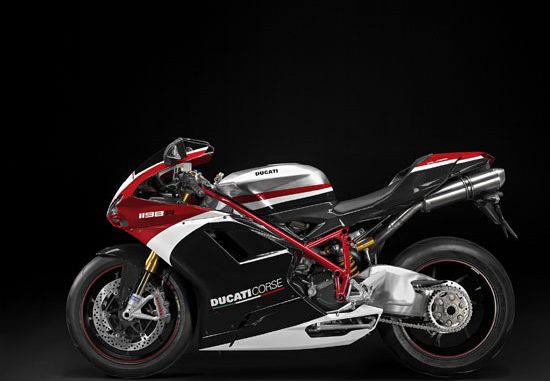 Back to 2010 Ducati Motorcycle Index Page
Click photos to enlarge.
They make great desktop images.
– 2010 Ducati 1198R Corse SE Special Edition

2010 Ducati 1198R Corse
Engineered by the stopwatch, designed by the race track.
The 1198 S Corse Special Edition marks the historic introduction of a new Ducati Corse logo and features a factory team-style aluminium fuel tank, bold Corse colour scheme and a race kit.
Features and Benefits
Concept
Superbike heritage
Ducati Superbikes, designed, engineered and built in Bologna, Italy, have always represented the pinnacle of Ducati motorcycle technology and racing success. For Ducati, racing and winning are a way of life and a way of thinking for our designers, engineers and everyone at the factory. Our unique engineering solutions are proven on the race track, where the only way to win is to have technical superiority and dependable performance.
Ducati have dominated World Superbike racing, winning more Riders' and more Manufacturers' World Championship titles and more individual races than any other manufacturer. Add these unequalled performances to the historic achievement of winning the MotoGP World Championship, and the results speak for themselves.
Engineered by the stopwatch
Ducati Superbikes are the most advanced, most powerful twin-cylinder motorcycles ever built. They are the product of a team of designers and engineers who have combined their Ducati MotoGP and World Superbike technologies to create the finest sportbikes in the world. From race-level engine specifications to World Championship-winning traction control, the results are pure excellence. The Ducati Traction Control (DTC) system further underlines our technology flow from racing to production and demonstrates how solutions developed for the track can be applied to enhance safer performance on the road.
Designed by the race track
Ducati Superbikes are race bikes, pure and simple. Their striking aerodynamic shapes create a natural riding position, confirmed by our development and factory team riders as the optimum for speed and agility. Performance is first and foremost in every detail.
Trademark Ducati features like the high tail section and compact front end combine with twin under-seat silencers and single-sided swingarm to express the sheer engineering beauty of aerodynamics and agility. Add the Testastretta Evoluzione engines as the hearts of the machines and the result is all-out performance Ducati Superbikes that look fast even when parked.
S philosophy
The 'S' version Superbike creates a dream package by taking everything that the 1198 model has and adding top-of-the-range suspension, lightweight chassis components and Ducati's impressive DTC traction control system.
The 'S' sets the standard for lightweight performance. On any sport or race bike, the most effective area to reduce weight is its 'unsprung weight'. These are components like tyres, brakes and wheels. Lighter wheels have a lower 'moment of inertia' that is beneficial with every direction change and application of the brakes. The 1198 S addresses this important area by mounting forged and machined wheels. Both front and rear are super lightweight and their benefit is immediately apparent. The weight saving is further enhanced with the application of a carbon fibre front fender.

Ducati Corse Special Edition
The winning of both the 2009 World Superbike and Superstock Manufacturers' titles is a fitting stage on which to present two exclusive and exciting special editions built to mark the historic introduction of a new Ducati Corse logo. The 1198 S Corse Special Edition and 1198 R Corse Special Edition are both equipped with factory team-style aluminium fuel tanks, Ducati Traction Control and a special celebratory Ducati Corse livery.
Engine
Desmodromics
The incredible valve performances of our engines are only possible because of Ducati's unique Desmodromic system, where valve closure is activated mechanically.
At high rpm it would be almost impossible for the valve to follow the steep closure profile of the cam lobe if it were relying upon a normal valve spring. With the Desmo system, the valve is closed mechanically with the same accuracy as it is opened, enabling steep cam profiles and radical cam timings.
This system is used on every single Ducati power unit including our world-beating Superbike and Desmosedici MotoGP engines.
Magnesium alloy covers
The weight-saving cam covers in magnesium-alloy are evident by their gold colour.
High-effieciency cooling
Its race-developed fairing design ensures perfect integration with the cooling system by providing efficient flow through the advanced, large surface area coolant radiator, which is assisted by lightweight, high flow electric fan assemblies and oil coolers.
Exhaust system
Incredibly lightweight, the exhaust system has been engineered with a power-increasing symmetrical 2-1-2 layout that uses 52mm-57mm diameter tubing with a wall thickness of 0.8mm (0.30in). It is equipped with a catalytic converter and two lambda probes for optimum engine mapping and Euro3 conformity. The system terminates with Ducati's trademark twin under-seat silencers, delivering that unmistakable signature sound of the big bore Desmo 90° L-Twin.
1198 Testastretta Evoluzione
The Testastretta Evoluzione engine is the crowning glory of our development and the perfection of the L-Twin engine. World Superbike dominance for almost two decades is the result of continual commitment to our twin-cylinder configuration. We now share the reward for that commitment with World Championship-winning technology constantly flowing from the factory race team into our production engines.
Volumetric efficiency through the four valves per cylinder is optimised with valve diameters at 43.5mm for the inlet and 35.5mm for the exhaust.

Vacural® crankcases
The 1198 Testastretta Evoluzione engines are the lightest ever used in Ducati Superbikes, thanks to Vacural® technology, a crankcase vacuum die-cast manufacturing process yielding weight reductions of 3kg (6.5lbs) compared to the 1098 Superbike cases. The process ensures consistent and precise wall thickness and increased strength from absolute material purity.
Power & torque curves
The 1198 engine produces 170hp (125kW) @ 9,750rpm and a class-beating 97lb-ft (13.4kgm) of torque @ 8,000rpm.
Crankshaft
The 1198 capacity is achieved using exactly the same 106mm x 67.9mm bore and stroke as the factory race bike.
Elliptical throttle bodies
To keep the highly efficient Testastretta cylinder heads breathing to their full potential, the injection system uses MotoGP-derived elliptical throttle bodies with an equivalent diameter of 63.9mm.
Race-derived detail
The 1198 engines all share the same attention to race-derived details.
Race-designed 1198 pistons have a distinctive double-ribbed undercrown to achieve high strength and reduced friction by using minimal piston wall surface area. Using technology developed for the Desmosedici MotoGP project, the design enables reliable operation of the 106mm diameter pistons when performing at high rpm.
Racing-type rocker arms are 'super-finished' for reduced friction and fatigue at high rpm.
The gearbox's carefully calculated specification allows the use of a high ratio 6th gear, fully enabling the speed increase achieved from additional performance modifications (suggested for track use only). Also with performance in mind and because of its high resistance to fatigue, the gears are machined from the same high-strength steel used in Ducati Corse race applications and are subjected to a shot-peening treatment that further ensures their strength.
Chassis
Trellis frame
Developed in cooperation with Ducati Corse, the lightweight Trellis frame features 34mm main section tubes with a material thickness of 1.5mm. The result is an incredibly rigid construction that remains one of Ducati's lightest frame solutions ever.
Through decades of racing and development, Ducati has proven that innovative chassis engineering and evolutionary frame advancements win races. The tubular Trellis frame, used on every Ducati motorcycle, is a signature design element.
This unique Ducati frame is light, rigid and beautiful thanks to its ingenious Trellis design and use of high quality ALS 450 tubing. Each tube is mitred and micro-fusion welded in a complex triangulated pattern and our incredibly strong L-Twin engine cases are functional 'stressed members' of the chassis.
Brembo Monobloc brakes
Machined from a single piece of alloy, Brembo's powerful Monobloc callipers achieve a higher rigidity and resistance to distortion during extreme braking. The resulting increase in hydraulic efficiency not only delivers incredible braking power, but also provides an enhanced and precise 'feel' at the brake lever. The twin Monobloc callipers each have four 34mm pistons that grip huge 330mm discs to help achieve spectacular brake performance. The weight of the discs has been kept to a minimum by employing racing-style narrow braking surfaces.
Superbike aerodynamics
Carefully designed for aerodynamic efficiency and to hug the sleek lines of the chassis, the Superbike bodywork enables the rider to blend effortlessly into the correct riding position.
Its race-developed fairing design ensures perfect integration with the cooling system by providing efficient flow through the advanced, large surface area coolant radiator, which is assisted by lightweight, high flow electric fan assemblies and oil coolers. Aerodynamically shaped air ducts positioned just below the headlamps are precisely calculated to provide ample air delivery to the pressurised airbox.
The lightweight bodywork contributes considerably to overall performance by reducing weight, protecting the Testastretta Evoluzione engine's power output, and assisting the rider to effortlessly 'tuck in' from the wind stream and reduce drag to achieve maximum straight-line track speeds.
Magnesium front sub-frame
Producing a front subframe in magnesium underlines the attention to weight-saving detail in the Ducati Superbike range. Its construction provides secure support for the headlamp, instruments and fairing, and the weight-saving around this high, forward position contributes considerably to overall 'feel' and control of the machine.
Ohlins forks
The high performance, fully adjustable 43mm Öhlins forks, which sport low friction titanium nitride-treated fork sliders, respond effortlessly to every imperfection in the tarmac. Beyond their advanced engineering solutions, one of the most important characteristics of Öhlins forks is their ability to communicate the condition and quality of the tyre-to-road contact patch, a feature that puts you in superior control.
Ohlins rear suspension
The suspension set-up at the rear features a fully adjustable Öhlins rear shock equipped with a ride enhancing top-out spring for outstanding drive and traction. An adjustable rear ride-height, independent of spring pre-load and other suspension settings, enables the perfect set-up for personal riding style or track conditions.
Ohlins steering damper
The front-to-rear Öhlins suspension package is completed with a control-enhancing Öhlins adjustable steering damper.
Aluminium fuel tank
The new beautifully formed factory team-style aluminium fuel tank comes in a bold red, white and black colour scheme. It weighs 1kg (2.2lb) less than the original tank and boosts the bike's fuel capacity by 2.5 litres (0.66 US gal) to 18 litres (4.75 US gal). The tank is formed in 2mm thick aluminium, brush finished and clear-coated to maintain a factory race tank feel and proudly displays the new Ducati Corse logo on top.
Marchesini 7-spoke wheels
The lightweight front wheels used on all Ducati Superbike models substantially reduces the moment of inertia, enabling a faster change of direction and enhanced acceleration and braking performances.
The 'S' and 'R' rides on beautiful black 7-spoke lightweight, forged-aluminium, machine-finished wheels by Marchesini, and are fitted with Pirelli Diablo Supercorsa SC at 120/70 ZR17 for the front and 190/55 ZR17 for the rear. These tyres have shoulder areas that maximize the contact patch and carcasses specially designed for stiffness under heavy braking and precision during high speed cornering. This precision in tyre construction enabled Ducati technicians to create extremely fine programs for the Ducati Traction Controls systems used on the bike.
Single-sided swingarm
The dual construction technique used for the single-sided swingarm allows the main operational components to use individual aluminium castings so as to ensure strength around the pivot points, wheel hub and suspension links, while lightweight, fabricated aluminium sections are used to complete the construction into a single, beautifully engineered component. The swingarm is finished in natural aluminium to match the new factory team-style aluminium fuel tank.
Equipment
Single-seat cover
All 1198 models are fitted with a passenger seat which can easily be changed in seconds with a single-seat cover supplied with the bike. The colour-matched part gives the bike an instant racing-style rear-end.
Race kit
Included with the bike is a race kit consisting of a slip-on carbon fibre muffler kit by Termignoni with a dedicated ECU and a Ducati Performance rear paddock stand.
Stopwatch
The digital display is programmed with a stopwatch function that, when enabled, can be triggered by using the high-beam flash button and each recorded time stored in a memory. After your journey or track session, the times or lap times can be recalled from the memory and scrolled through by using the instrumentation buttons on the left-hand switchgear.
Controls
Ducati Superbikes are equipped with adjustable levers that operate Brembo radial-type master cylinders with remote reservoirs. Add easy-to-use switchgear with stopwatch function and DTC and DDA management and it becomes clear that functionality plays a major role alongside performance.
Lighting
The horizontal twin headlamps, a signature Ducati style from the iconic 916, are modernised with the latest lighting technology. Two polyellipsoidal units light the way with a powerful beam while maintaining an aggressive look to the front of the machine in pure Ducati Superbike tradition.
The rear light employs a specially designed strip of LEDs enhanced by a high diffusion lens shaped into the sleek lines of the tailpiece. The same LEDs are intensified for brake lights.
The directional indicators also use the latest in LED technology for illumination. The frontal indicators are beautifully integrated into the rear view mirrors.
Mirror extension kit
All Superbike mirrors come with an optional spacer kit enabling an extension of 30mm over the standard mirror stem length.
DDA
The Ducati Data Analyser (DDA), which includes PC software, a USB-ready data retrieval card and instructions, enables you to review and analyse your performance and that of the bike's, and to make comparisons between various channels of information.
The system records numerous channels of data including throttle opening (A), vehicle speed (B), engine rpm (C), engine temperature (D), distance travelled (E), laps and lap times. It also automatically calculates engine rpm and vehicle speed data, enabling it to display gear selection (F) as an additional channel of information. An additional channel of information is now dedicated to recording the DTC index (G) which can then be viewed as a graphic trace and indicates the amount of DTC interaction during wheel-spin (Subject to model).
At the end of a ride or track session, up to 4mb of data can be downloaded ready to compare, analyse and get an inside view of the performance of both you and the bike.
Carbon fibre
Weight saving is further enhanced with the application of a carbon fibre front fender.
GP-derived instruments
This pure racing digital instrumentation originating from Ducati's MotoGP project has no switches or buttons to compromise its clean, minimalist lines. Instead, information additional to the default read-outs is managed from the left-hand handlebar-mounted switch gear, allowing the rider to scroll through and select from various menus.
The display, which has a bright white LED back lighting, presents rpm and speed, with the former displayed across the screen in a progressive bar graph. Optionally, the rpm and speed can be displayed in numeric values. Additionally, it displays lap times, DTC level selected (if activated on 1198 S, 1198 S Corse and 1198 R Corse) time, air temperature, coolant temperature, battery voltage, two trips and a trip that automatically starts as the fuel system goes onto reserve.
Warning lights illuminate to signify neutral, turn signals, high-beam, rev-limit, low oil pressure, fuel reserve, DTC intervention (if activated on 1198 S, 1198 S Corse and 1198 R Corse) and scheduled maintenance. The instrument display is also used as the control panels for the DDA (DDA kit supplied as standard on 1198 S, 1198 S Corse and 1198 R Corse) and DTC systems as well as listing lap times recorded by using the high-beam flash button as a stopwatch.

DTC
Ducati were the first manufacturer to introduce a true competition-level traction control system on a production motorcycle. The Ducati Traction Control (DTC) system further underlines Ducati's technology flow from racing to production and demonstrates how solutions developed for the track can be applied to enhance performance safety on the road.
DTC uses the same software logic developed and used by Ducati Corse for their World Championship-winning MotoGP and World Superbike motorcycles and offers a choice of eight settings developed by their professional test riders and racers.
Accessible from the left-hand switchgear and displayed on the digital instrumentation, the system offers a choice of eight profiles, each one programmed with a wheel-spin tolerance matched to progressive riding levels of skill graded from one to eight. While level eight administers a confidence-building, high level of interaction from the system by activating upon the slightest amount of wheel-spin, level one offers a much higher tolerance and, therefore, much less intervention for highly competent riders.

2010 Ducati 1198R Corse – International Specifications
MSRP: See Dealer

Chassis

Frame
Tubular steel Trellis frame in ALS 450
Wheelbase
1430mm (56.3in)
Rake
24.5°
Front Suspension
Öhlins 43mm fully adjustable usd forks with TiN
Front Wheel Travel
120mm (4.7in)
Front Wheel
7-spoke in forged light alloy 3.50 x 17
Front Tyre
120/70 ZR17
Rear Suspension
Progressive linkage with fully adjustable Öhlins monoshock with top-out spring. Aluminium single-sided swingarm
Rear Wheel Travel
127mm (5in)
Rear Wheel
7-spoke forged light alloy 6.00 x 17
Rear Tyre
190/55 ZR17
Front Brake
2 x 330mm semi-floating discs, radially mounted Brembo Monobloc calipers 4-piston, 2-pad
Rear Brake
245mm disc, 2-piston calliper
Fuel Tank Capacity
18l – 4.75gallon (US)
Dry Weight
168kg (370.3lb)

Instruments
Digital MotoGP derived unit with displays for: Speed, rev counter, lap times, time, air temp, coolant temp, battery voltage, A & B trips, fuel reserve trip, DTC level selected (if activated) scheduled maintenance. Warning lights for: Neutral, turn signals, high-beam, rev-limit, DTC intervention, oil pressure, fuel reserve. Plus: Integrated immobilizer system and management of DDA and DTC

Warranty
2 years unlimited mileage
Body Colour (Frame/Wheel)
Corse (red / black)
Versions
Dual seat
Seat Height
820mm (32.2in)


DDA
Standard equipment


DTC
Standard equipment


ABS
Not available on this model

Engine
Type
L-Twin cylinder, 4 valve per cylinder Desmodromic, liquid cooled
Displacement
1198.4cc
Bore x Stroke
106×67.9mm
Compression Ratio
12.7:1
Power
170hp (125kW) @ 9750rpm
Torque
97lb-ft 131.4Nm @ 8000rpm
Fuel injection
Marelli electronic fuel injection, elliptical throttle bodies
Exhaust
Lightweight 2-1-2 system with catalytic converter and 2 lambda probes. Twin stainless steel mufflers

Transmission
Gearbox
6 speed
Ratio
1=37/15 2=30/17 3=27/20 4=24/22 5=23/24 6=22/25
Primary Drive
Straight cut gears, Ratio 1.84:1
Final Drive
Chain; Front sprocket 15; Rear sprocket 38
Clutch
Dry multiplate with hydraulic control

Emissions
Standard
Euro 3
Media Press Release
DUCATI PRESENTS 2010 INNOVATIONS
Finally unveiled, world preview of the new and eagerly anticipated Multistrada 1200.
Also new for 2010: new "Corse" livery for the 1198, two new Hypermotard 1000evo models and technical advances in the Monster family.
As is tradition prior to the opening of the EICMA show, Ducati has officially revealed the innovations of its 2010 product range.
Dream bikes, the fruit of Italian ingenuity and creativity, and destined to become new points of reference on the international market, are ready to take the spotlight at EICMA 2009, the 67th edition of the International Motorcycle Exhibition, taking place at the Fiera Internazionale di Milano in Rho, from 10 – 15 November.
Before the unveiling of the 2010 line-up, the new Ducati Corse logo was presented to the international press, an evolution of the historic brand in the form of a new graphic, following on from the launch of the new Ducati logo at last year's EICMA show.
A press conference, eagerly anticipated and rich in content, took place immediately prior to the official opening of the trade show. Gabriele Del Torchio, President of Ducati Motor Holding, met with representatives of the international media to present the company's recent sporting and commercial results, confirming the Italian manufacturer's strength and performance, despite the difficulties that the sector is currently experiencing.
"In 2009 Ducati has faced a year of important challenges but also one of important opportunities," stated Gabriele Del Torchio, President of Ducati, during the conference. "The challenges arrive from a market that has entered a significant worldwide slump and where the segment in which we operate could have dropped by 35% by the end of this year. In this scenario Ducati knew how best to react, so much so that our shares have continuously grown and in 2009 we will register a record share of 7.2% on a worldwide level. This result was achieved by sticking strictly to the objectives we had set ourselves, in relation to the company's three fundamental pillars. Firstly, product, with the 2010 innovations the clearest demonstration of how we have followed an intelligent plan for continuous renewal. Then the distribution network, constantly renewed and reinforced to improve and expand the service. Thanks also to the recent opening of stores in Shanghai, Mexico City and in Vietnam, Ducati today distributes in 80 countries of the world. Last but not least, the brand. We continue to work on the recognition of our brand name, and above all, on the role that Ducati has as an ambassador of Italian style across the world, a factor that is of fundamental value to us."
Claudio Domenicali, General Director of Ducati Motor Holding, then presented the many new bikes lining-up in Ducati's 2010 Model Year.
"We are present at EICMA with a series of important innovations, in accordance with our strategic industrial plan," declared Claudio Domenicali, Ducati's General Director, while presenting the 2010 Model Year. "The new Multistrada 1200 provides Ducati with an important opportunity to penetrate what is, for us, a completely new market segment, with a totally innovative concept, in terms of performance, usability and technological content. Four bikes in one, with four different riding modes, traction control and electronic suspension but, most importantly, a true Ducati, in its style, design and advanced technology, derived directly from Ducati's racing experience on tracks across the world. The Hypermotard 796 e 1100 evo, the new "Corse" liveries for the 1198 S and 1198 R, as well as countless technical and style updates, complete the 2010 line-up of which we are so proud."
The undeniable star is the eagerly awaited Ducati Multistrada 1200, already in the running to take the prize for "best bike in show."
Faithful to the original intuition, which combined sport bike technology with comfort and versatility, Ducati now extends the concept further with a brand new Multistrada 1200 designed to satisfy the demands of all motorcyclists. Ducati have designed a motorcycle to tackle all kinds of journey and road surface using technology derived from the Bologna made race bikes in MotoGP and World Superbike.
A bike with no limits, that can transform itself to suit the rider's demands, from a supersport to a tourer for long journeys with a passenger and luggage, to an everyday bike which can breeze through the daily commute and also tackle off-road routes with the agility of an enduro; in other words, four bikes in one!
Ducati have once again pushed the limits of motorcycle design by adding Italian innovation to the elegance, style and technology which characterise the motorcycles that leave the Bologna factory.
All it needed was a heart, the perfect engine to fulfill the potential of this new design. The obvious starting point was the World Championship-winning engine, the Testastretta, used on the Superbike 1198. Engineers in Bologna have succeeded in harnessing the immense power of this engine, making it smooth and adaptable to any situation. The new Testastretta 11° engine is thus born, and represents a milestone in combining performance with usability.
2010 Special Editions celebrate the historic Ducati Corse logo change and two world titles in Superbike and Superstock. The 1198 S Corse Special Edition and 1198 R Corse Special Edition, both equipped with factory team-style aluminium fuel tanks, Ducati Traction Control and a special celebratory Ducati Corse livery, now complement the lightweight and agile 848 now in Dark colour scheme, the awesomely powerful 1198, and the high-spec 1198 S to complete the 2010 Superbike model line-up.
There are more exciting new products in the Ducati Hypermotard range that now becomes a fully-fledged family of bikes in 2010. No longer just one, but three versions, designed to suit different needs, but each with the same specific objective: to provide excitement and fun. So here is the new, agile Hypermotard 796, which joins the new and even more powerful Hypermotard 1100EVO as well as the extreme version, the as yet unseen Hypermotard 1100 EVO SP.
Hot on the heels of its early model year 2010 launch in October, the lightweight 796 is now joined by an evolution of the 1100 model that rolls out at an incredible 7kg (15.5lb) lighter and 5hp more powerful than the original.
And if further weight reduction and more punch wasn't already enough on a bike that was built to thrill, the Hypermotard 1100EVO SP pushes the limits even further with a model intended to perform on the track as well as the street.
The exciting introduction to the Monster family for 2010 are the ABS equipped versions of the 696 and 1100 (basic and S), the first time that Ducati has ever equipped the Monster family with a safety-enhancing anti-lock braking system.
Other 2010 introductions to the Monster family include new exhaust guards, which feature a longer shape and provide improved heat protection.
Brand new crankcases for the 696, which are an impressive 1.2kg (2.6lb) lighter and, furthermore, the user-friendliness of the controls has been improved with 4-point adjustable clutch and brake levers to suit all hand sizes.
In addition, Ducati presents many new accessories, special components and a new collection of Ducati clothing.