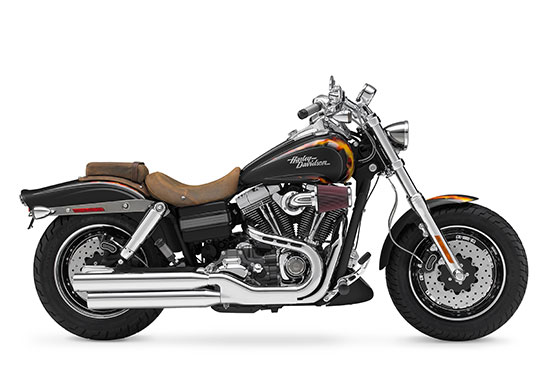 Back to 2010 Harley-Davidson Motorcycle Index Page
Click photos to enlarge.
They make great desktop images.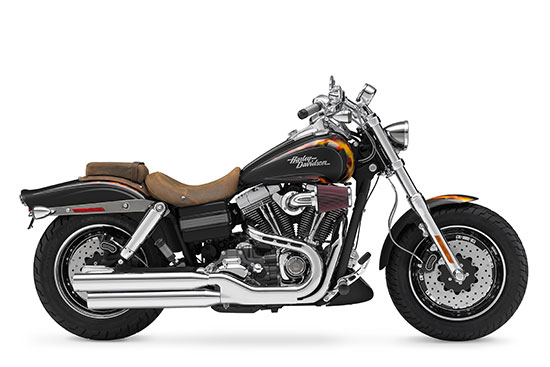 2010 Harley-Davidson CVO Fat Bob FXDFSE2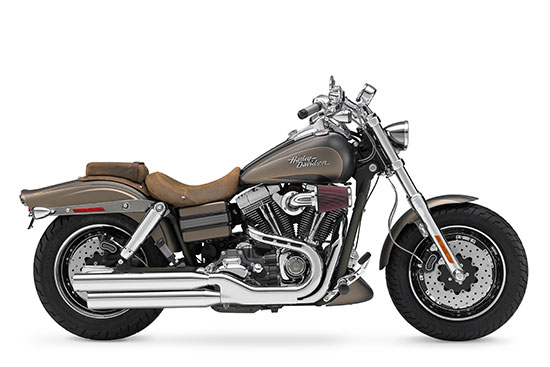 2010 Harley-Davidson CVO Fat Bob FXDFSE2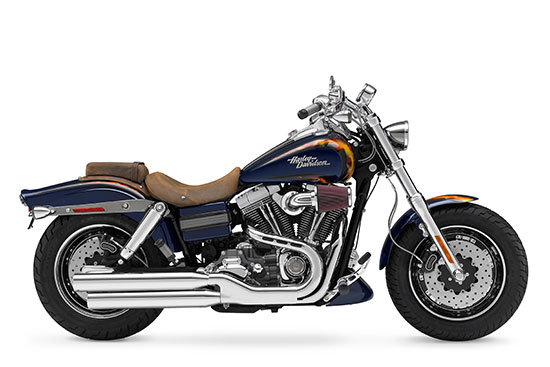 2010 Harley-Davidson CVO Fat Bob FXDFSE2


– 2010 Harley-Davidson CVO Fat Bob FXDFSE2

2010 Harley-Davidson CVO Fat Bob FXDFSE2
The Harley-Davidson® CVO™ Fat Bob® is a limited-production custom motorcycle that projects an agressive, super-duty presence behind a beefy front wheel, twisted Tommy Gun exhaust, bold paint and innovative custom styling.
The CVO Fat Bob is based on the Harley-Davidson Dyna platform, which pairs Big Twin performance with an extended FX front end, exposed twin rear shock absorbers, and an under-seat battery box.

Model Highlights

New Midnight Pearl plating process is featured on the dual headlamp shell, Tri-Bar LED tail light cover, timer and derby covers, horn cover and fender strut covers
New Two-piece chrome and Midnight Pearl console tops the fuel tank
New Brown distressed-leather two-piece seat is convertible from rider/passenger to solo configuration
New Chrome-and-rubber rear fender protectors
New Speedometer and tachometer with Diamond Black backfaces
New Diamond Black Collection footpegs, shifter peg, brake pedal pad, and grips
New Exclusive paint scheme in three new color combinations with color-matched chin spoiler, electrical box cover, battery cover, coil cover, and custom-color frame and swingarm

– Screamin' Eagle® Twin Cam 110™ Granite powder-coated powertrain with 110 Screamin' Eagle identifiers on cylinder heads
– Heavy Breather high flow intake with rain sock
– Tommy Gun 2-1-2 exhaust with blunt-cut mufflers
– Fang wheels with bolt-in inserts
– Black solid rotors
– Profile mirrors with solid stem
– Shor'tee chrome belt guard
Key Features
The Harley-Davidson® CVO™ Fat Bob® is a limited-production custom motorcycle that projects an agressive, super-duty presence behind a beefy front wheel, twisted Tommy Gun exhaust, bold paint and innovative custom styling.

Assembled at the Harley-Davidson Vehicle Operations facility in Kansas City, Mo., production will be limited to approximately 1,300 units.

The CVO Fat Bob is based on the Harley-Davidson Dyna platform, which pairs Big Twin performance with an extended FX front end, exposed twin rear shock absorbers, and an under-seat battery box.

– Polished shift linkage
– Slotted chrome sprocket
– Bullet-style turn signals with smoked lenses
– Braided stainless steel cables and lines
– Chrome Accessories
– Front and rear axle nut covers
– Valve stem caps
– One-piece riser
– Lower fork sliders and dust covers
– Triple clamps and headlight mount
– Voltage regulator
– Fork nut covers
– Wheel spacers
– Rear shocks and upper shock nut covers
– Dipstick
– Lowered front forks
– Forward controls
– Rider and passenger footpeg supports
– Handlebar clamp with tachometer mount
– Clutch and brake master cylinders
– Switch housings and hand levers
– Billet style shift lever and rear brake lever
– Rear brake rod
– Black high-torque 1.4kW starter
– High-performance clutch with hydraulic actuation
– Harley-Davidson® Smart Security System with siren
– Indoor storage cover with embroidered CVO logo
– Commemorative CVO ignition key with display box
2010 Harley-Davidson CVO Fat Bob FXDFSE2 – Specifications
USA MSRP: $25,299
Canada MSRP: See Local Canadian Dealer For Pricing
Engine
Engine4 Air-cooled, Twin Cam 110™
Valves Pushrod-operated, overhead valves with hydraulic, self-adjusting lifters; two valves per cylinder
Bore x Stroke 4.0 in. x 4.38 in. (101.60 mm x 111.252 mm)
Displacement 110 cu. in. (1803 cc)
Compression Ratio 9.15:1
Fuel System5 Electronic Sequential Port Fuel Injection (ESPFI)
Air Cleaner Heavy breather intake; high flow, forward-facing exposed filter
Lubrication System Pressurized, dry-sump

Drivetrain
Primary Drive Chain, 34/46 ratio
Final Drive Belt, 32/66 ratio
Clutch Hydraulically actuated, 9-plate, wet, with high performance spring
Transmission 6-Speed Cruise Drive®
U.S. Gear Ratios (overall):
o 1st 9.311
o 2nd 6.454
o 3rd 4.793
o 4th 3.882
o 5th 3.307
o 6th 2.790

Chassis
Frame Mild steel, tubular frame; rectangular section backbone; stamped, cast, and forged junctions; forged fender supports; MIG welded; color-matched to vehicle
Swingarm Mild steel, rectangular tube sections, stamped junctions; MIG welded; color-matched to vehicle
Front Forks 49 mm with dual-rate springs
Rear Shocks Fully Covered, Coil-over shock

Wheels6: Powder-coated, Chrome-plated "Fang" wheels
o Front 16 in. x 3 in. (406.40 mm x 76.20 mm)
o Rear 16 in. x 5 in. (406.40 mm x 127.0 mm)
Brakes:
o Caliper Type 4-piston fixed front, and 2-piston floating rear
o Rotor Type (diameter x width): Floating rotors
o Front (dual) 11.80 in. x .20 in. (300.0 mm x 5.08 mm)
o Rear 11.50 in. x .23 in. (292.10 mm x 5.84 mm)
Suspension Travel:
o Front Wheel 4.33 in. (109.98 mm)
o Rear Wheel 2.13 in. (54.10 mm)

Performance
Engine Torque6 (per SAE J1349):
o North America 113 ft. lbs. @ 3500 rpm (153.21 Nm @ 3500 rpm)
Lean Angle (per SAE J1168):
o Right 28.5°
o Left 31°

Fuel Economy7
(EPA urban/highway test) 36/53 mpg (6.53/4.44 L/100 km)

Electric
Battery (per Battery Council International Rating) Sealed, maintenance-free, 12V, 19-amp/hour, 270 cca
Charging Three-phase, 40-amp system (493W @ 13.5V, 2000 rpm, 540W max power @ 13.5V)
Starting 1.4 kW electric with solenoid shift starter motor engagement

Lights (as per country regulation):
o Headlamp (dual quartz halogen) 55-watt low beam, 60-watt high beam
o Tail/Stop Lights 3W/11W (2W/10W)
o Turn Signal Lights 28W (21W) self-canceling
o Indicator Lamps High beam, directional light bar, neutral, low oil pressure, engine diagnostics, turn signals, security system, 6-speed, low fuel warnings8, 9
Dimensions
Length 91.0 in. (2311.40 mm)
Overall Width 36.60 in. (929.64 mm)
Overall Height 45.50 in. (1155.70 mm)
Seat Height:
o Laden2 26.20 in. (665.48 mm)
o Unladen 27.90 in. (708.66 mm)
Ground Clearance 4.33 in. (109.98 mm)
Rake (steering head) 29°
Fork Angle 28°
Trail 5.53 in. (140.46 mm)
Wheelbase 63.60 in. (1615.44 mm)

Tires (Dunlop® Harley-Davidson Series, bias blackwall front and rear):
o Front – D427F 130/90B16 67H
o Rear – D427 180/70B16 77H
Fuel Capacity 5 gal. (18.93 L) (warning light at approximately 0.9 gal.)
Oil Capacity (w/filter) 3 qts. (2.84 L)
Transmission Capacity 1 qts. (0.95 L)
Primary Chain Case Capacity3 1 qts. (0.95 L)
Weight:
o As Shipped 692 lbs. (313.89 kg)
o In Running Order 719 lbs. (326.14 kg)
o Gross Vehicle Weight Rating 1085 lbs. (492.16 kg)
o Gross Axle Weight Rating:
o Front 390 lbs. (176.90 kg)
o Rear 695 lbs. (315.25 kg)

Color Options
Custom Colors
– Cryptic Black with Hellfire Flames
– Satin Pewter with Sandstorm Grind
– Opal Blue with Hellfire Flames

Pricing
U.S. MSRP $25,299
Warranty
Warranty7 24 months (unlimited mileage)
Service Interval First 1,000 miles (1,600 km), every 5,000 miles (8,000 km) thereafter
1 Vehicles depicted may differ from vehicles manufactured and delivered.
Specifications and prices listed may differ from specifications and prices
of vehicles manufactured and delivered. All product descriptions (including
depictions, specifications, dimensions, measurements, ratings and competitive
comparisons) are based on available information at the time of publication.
Although such descriptions are believed correct, errors and changes can
occur and complete accuracy cannot be guaranteed. Harley-Davidson may
make changes at any time to prices and specifications, and may change
or discontinue models, without notice and without incurring any obligation.
Attention: Vehicles in the configurations shown and many of the accessories
described in this catalog may not be available for sale or use in some locations.
Please check with your dealer for complete product details and the latest
information. All models feature 6-speed transmission (VRSC™ models and
Sportster® models are 5-speed) and carbon fiber belt final drive; multi-plate
clutch with diaphragm spring in oil bath; and 2-year unlimited mileage warranty.
2 Measurement reflects 180 lb. (81.7) kg operator weight.
3 Estimated from fuel economy tests on a sample motorcycle from the
corresponding family conducted by Harley-Davidson under ideal laboratory
conditions. Not all motorcycle models undergo fuel economy testing. Fuel
economy and mileage may vary among motorcycle models within a family. Your
mileage may vary depending on your personal riding habits, weather conditions,
trip length, vehicle condition and vehicle configuration and other conditions.
Break-in mileage may vary.
4 Recommended 91 octane or higher fuel (R+M)/2.
5 Primary case oil fill is 32 oz. or as needed to fill to bottom of diaphragm.
6 Standard and optional wheels may vary by country and region.
7 See motorcycle owner's manual for complete details.
8 Values shown are nominal. Performance may vary by country and region.
9 North America security system includes immobilizer; outside North America the
security system includes immobilizer and siren.
2010 Harley-Davidson CVO Fat Bob FXDFSE2 – Media/Press Releases
HARLEY-DAVIDSON CVO CREATES FOUR EXCITING MODELS FOR 2010

New CVO Street Glide and CVO Softail Convertible Debut Exclusive Features

MILWAUKEE (July 25, 2009) – Harley-Davidson Custom Vehicle Operations (CVO) will create four extraordinary motorcycle models for 2010, each an uninhibited expression of American motorcycle performance and style. Now in its 11th year, the mission of the CVO program is to design and build limited-production, factory-custom motorcycles for customers who appreciate brilliant chrome, exquisite paint, thundering power and the exclusivity of owning and riding a very special motorcycle.
Harley-Davidson will offer two all-new CVO models for 2010.
2010 CVO Softail Convertible: Designed to be a "two-in-one" touring-and-cruising motorcycle, the CVO Softail Convertible features a new compact fairing, leather saddlebags, a passenger pillion, and upright with backrest that are each quickly detachable. A new full-coverage rear fender, a five-inch digital speedometer with analog tachometer, Stinger chrome aluminum wheels and Ventilator high-flow engine air intake all debut on the CVO Softail Convertible.

2010 CVO Street Glide: The ultimate hot rod bagger from Harley-Davidson, the CVO Street Glide features new 18-inch front and rear "Agitator" contrast chrome wheels, hydraulic rear shocks with adjustable preload, a low-profile custom seat with matching passenger backrest, and a lowered-and-trimmed front fender. New full-depth extended saddlebags are flanked with filler strips incorporating LED stop/tail/turn lighting.

Two CVO models are reprised for 2010 with new paint and features:
2010 CVO Ultra Classic Electra Glide: This magnificent custom touring machine features a new flamed paint scheme, new LED saddlebag lights and LED King Tour-Pak brake/tail light. The seat and backrest have a new perforated leather insert. The backrest also now features adjustable lumbar support. New dimpled trim items and medallions are also included.

2010 CVO Fat Bob: Wide and muscular, the 2010 CVO Fat Bob debuts an exclusive new plating process called Midnight Pearl that is featured on the headlight shell, timer and derby covers, fender strut covers and other components. An all-new paint scheme is offered in three color combinations.
Each 2010 CVO model is powered by the fuel-injected Screamin' Eagle Twin Cam 110 V-Twin, the largest-displacement engine produced by Harley-Davidson, rated at up to 115 ft. lbs. of torque. This engine is only available from the factory in CVO models.
Harley-Davidson CVO motorcycles are produced in limited numbers by a team of highly skilled technicians in a special assembly area at the Harley-Davidson production facilities in Kansas City, Mo., and York, Pa. CVO models are customized using existing components from the Harley-Davidson Genuine Motor Accessories catalog, and with many all-new custom parts that are exclusive to CVO models. The CVO program is often used to introduce new custom components and techniques before they are offered as individual accessories. Harley-Davidson CVO motorcycles are backed by a two-year, unlimited mileage warranty.
Press Release #2
HARLEY-DAVIDSON ROLLS OUT NINE NEW MODELS FOR 2010

More Performance, Features and Value Across Six Motorcycle Platforms

MILWAUKEE (July 25, 2009) – Harley-Davidson roars into 2010 with nine new motorcycle models, the most expansive new-product introduction in the history of the Motor Company. Across six model platforms, Harley-Davidson achieves a fusion of tradition and technology in a motorcycle product line that offers more power, luxury, and style, and more value.
"This ambitious new motorcycle launch reaches to our riders with the incredible passion that Harley-Davidson has inspired for more than a century," said Bill Davidson, Harley-Davidson Vice President of Core Customer Marketing. "We are thrilled to offer our customers nine new models and a full selection of products for 2010 that lets their enthusiasm for enjoying great motorcycles continue at full throttle."
Highlights of the 2010 Harley-Davidson® line include:

As the new king of the Harley-Davidson Touring line, the Electra Glide® Ultra Limited model delivers the performance upgrade of a Twin Cam 103™ engine, and features standard equipment items previously offered only as accessories on regular-production Harley-Davidson Touring models.
The new Road Glide® Custom model looks lean and mean, with a slammed suspension, 18-inch front wheel and a new 2-into-1 exhaust system.

The Wide Glide® returns as an all-new Dyna® model done in old-school chopper style, with black laced wheels, a chopped rear fender, black "wire" sissy bar, 2-1-2 Tommy Gun exhaust and an optional flame paint scheme. Priced starting at $14,499, the Wide Glide is also a great new value.
The new Street Glide® Trike brings stripped-down, hot-rod styling to the three-wheel category, and joins the Tri Glide™ Ultra Classic® in an all new Trike family for 2010.

Dressed in satin chrome and denim black, the new Fat Boy® Lo presents a darker and lower interpretation of the motorcycle that still defines the fat-custom segment.

The 2010 Street Glide® model gets even more hot-rod soul, with updates that include a larger front wheel, slimmed-down exhaust, and a new tail light assembly. Street Glide takes a classic Harley-Davidson Touring profile to a low, light and lean extreme.

No motorcycle on the road today matches the modern street attitude of the three exciting models in the Harley-Davidson VRSC™ family: V-Rod®, Night Rod® Special and V-Rod Muscle®. The explosive performance of the liquid cooled Revolution® V-Twin engine keeps VRSC at the top of the power cruiser food chain in 2010.

The American motorcycle legend that is Harley-Davidson Sportster® features six models for 2010, including the $7,999 Iron 883™ introduced mid-year 2009 and four others priced less than $10,000.
Harley-Davidson Custom Vehicle Operations™ (CVO™), masters of shimmering chrome and bold paint, offers four new limited-production models for 2010. The CVO Softail® Convertible is a versatile urban touring motorcycle, while the CVO Street Glide is a high-performance hot-rod bagger. The CVO Ultra Classic® Electra Glide® and CVO Fat Bob® models are refreshed for 2010 with new paint schemes and styling details. All CVO models are powered by a Twin Cam 110™ engine, the largest displacement V-Twin offered by Harley-Davidson.