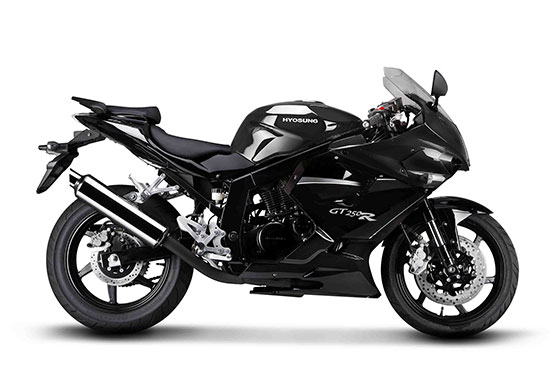 Back to 2010 Husqvarna Motorcycle Index Page
Click photos to enlarge.
They make great desktop images.
– 2010 Hyosung GT250R FI

2010 Hyosung GT250R FI
The 2010 GT250R raises the benchmark for lightweight sport bikes! With the all new electronic fuel injection, revised riding position, lightweight and stronger stylish top triple clamp, sleek newly designed tail section, the competition has its work cut out.
The GT250R is the first modern 250 sport bike in twenty years. The chassis is a dual lateral bar frame designed to reduce weight and lower the center of gravity. The GT250R shares the distinct styling of the GT650R featuring a 2 stage projection beam for greater visibility and VFD ("Vacuum Fluorescent Display" commonly used in luxury automobiles for the digital displays).
Features and Benefits:
Fuel Injection
Improved geometry improving the handling and stability
Upgraded tail section with a slimmer look
Easily removable rear fender
Clear tail light lens with LEDs
Improved seat
Redesigned triple tree

2010 Hyosung GT250R FI – USA Specifications
MSRP: $3,999/2-Tone $4,199 USD

Chassis Overall Length 82.5in
Overall Height 44.3in
Overall Width 28.3in
Wheel Base 56.5in
Ground Clearance 6.1in
Seat Height 32.7in
Brake F: 300Ø Semi floating double discs, 2 pistons calipers
R: 230Ø Single disc, 2 pistons caliper
Suspension F: 41Ø Upside down Telescopic
R: Swing arm with Progressive linkage Hydraulic Mono shock absorber (Preload adjustable)
Rake/Trail 25 degree/ 3.7in
Tyre F: 110/70 -17 54H / R: 150/70 -17 69H
Fuel Tank Capacity 4.5gal
Wet Weight 414lbs
GVWR 750lbs

Engine Type Air / Oil cooled 75° V-twin DOHC, 4-valve per cylinder
Displacement 249cc
Bore x Stroke 57 x 48.8
Compression Ratio 10.3 : 1
Fuel System Fuel injection
Lubrication Wet sump

Transmission Clutch Wet, Multiplate
Gear Constant mesh 5-speed (1down 4up)
Final Drive Chain

Warranty Year 2





2010 Hyosung GT250R FI – Canada Specifications
MSRP: $4,995 – Two Tone $5,195 CDN
Dimensions & Dry Mass
Length Width Height
2,080 mm 760 mm 1,120 mm
Wheel Base Dry Mass Seat Height
1,445 mm 168 kg 780 mm
Frame Type Perimeter Double Cradle
Engine
Type Four-stroke, oil/air cooled, DOHC, 8 VALVES, 75-degree V-twin
Fuel System Electronic Injection
Bore and Stroke 57 x 48.8mm
Displacement Starting System Ignition
249 cc Electric Electronic
Capacity
Fuel Tank 17 litres
Transmission
Gears Clutch
5 Speed Wet Multi-Plate
Chassis
Front Suspension Inverted 41mm
Rear Suspension Mono Shock Pre-load
Front Tyre 110/70-17 54H
Rear Tyre 150/70-17 69H
Front Brake Dual Discs full floating 300mm
Rear Brake Disc 230mm
Warranty
Two Year – Unlimited
Price
Orig. MSRP – $4,995 – Two Tone $5,195


2010 Hyosung GT250R FI – Press Release
Hyosung Motors America to take on the Japanese brands with fuel injected 250cc motorcycles.
NORCROSS, GA (10-13-2009) – Hyosung Motors America has formally announced the release of their 2010 GT250, GT250R and GV250 motorcycles. The latest models feature a number of improvements over last year – most notable is the addition of fuel injection.
"Since being introduced to this market, Hyosung 250cc motorcycles have consistently been technology and performance leaders," said Brian Rose, Western Regional Manager. "The bikes' looks, warranty and V-twin performance have always made them attractive. With more fine-tuning and the addition of fuel injection, we've made the decision even easier for 250cc sportbike and cruiser buyers."
Other functional and cosmetic upgrades include a redesigned tail section on GT models and a strengthened frame on the GV. All Hyosung 250cc motorcycles will continue to feature fuel gauges.
MSRP:
$3699 – GT250 Solid colors: White, Black, Red
$3999 – GT250R Solid colors: Black, Red
$4199 – GT250R Two-tone with Graphics: Black/Red, Black/White, Black/Silver
$3899 – GV250 Solid or two-tone: Black/Red, Black/Silver, Solid Black
More details, images and a dealer locator page can be found at www.hyosungmotorsusa.com.
ABOUT HYOSUNG MOTORS AMERICA
Hyosung Motors America is a division of S&T Motors, the largest motorcycle manufacturer in Korea. Started in 1978, Hyosung motorcycles, scooters and ATVs ranging from 50cc to 650cc are sold in Asia, Australia, North and South America and Europe. Hyosung Motors America is gaining recognition as the newest major player in the extremely competitive US motorcycle market.
Hyosung Gets Injected (Australian Press Release)

South Korea has been doing more than scanning the northern horizon for missiles in recent months: it's been busy preparing for the launch of its own missiles. The Hyosung motorcycle range has been given a major facelift and now features fuel-injection across the entire 250cc and 650cc V-twin 2010 model range.
The popular GV250 and GV650 Aquila cruisers retain their signature styling and robust, powerful engines, but now have the added benefit of EFI. The EFI system provides seamless power throughout the rev range and smooth idling from cold.
The GT250 naked sports commuter and the GT250R sports model also feature EFI. Completely restyled with aggressive new lines, LED stop/tail-lamp and clear indicator lenses, they are set to regain their place at the top of the 250cc sales charts.
EFI also takes a front row seat on the three-model 650cc GT range. The GT650 naked, the half-faired GT650S sport tourer and the GT650R sport all feature the new styling changes, plus improved braking with four-piston callipers gripping 300mm semi-floating discs on all three models.
Great news for learner riders too. The 250cc models are automatically learner approved, but so too are all four 650cc models. The LAMS approved 650cc EFI models now deliver 40kw, up from 25kw on previous models. The non-LAMS 650cc versions pump out a healthy 59kw.
"This is great timing for the Hyosung range. As Australia pulls out of its economic dip, we have a fresh new range for riders both new and experienced," said Hyosung Australia Brand Manager Simon Gloyne. "In 2006 and 2007 the Hyosung GT250R was the top selling 250cc road bike in Australia because of its massive package of features and performance for such a low price. Now that package has fresh styling and fuel injection across the entire range, we are aiming for the number one spot again."
The new styling and technical updates are additional to an already value packed range with all models featuring USD forks (except GV250), grunty V-twin engines and now EFI.
The EFI models go on sale this month, with the following recommended price (before statutory and delivery charges):
GT250 $5990
GT250R $6990
GT650 naked $7990
GT650S sport tourer $8590
GT650R $8990
GV250 $5990
GV650 $9990
LAMS is not available in WA. It is available in all other states now and Queensland from July 1, 2009.