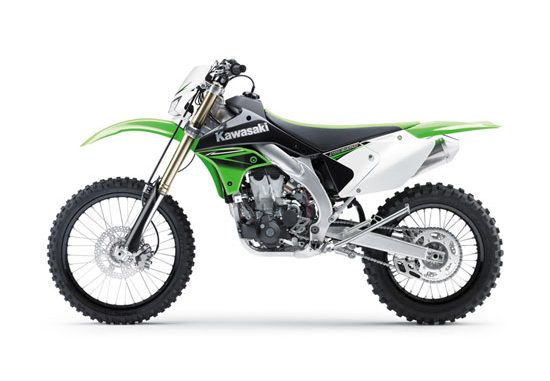 Back to 2010 Kawasaki Motorcycle Index Page
Click photos to enlarge.
They make great desktop images.
– 2010 Kawasaki KLX450R

2010 Kawasaki KLX450R
Features and Benefits:
2010 Kawasaki KLX450R Technology
Overview

Engine

The KLX450R's powerplant comes directly from our mighty KX450F motocrosser. To transform the liquid-cooled 449 cc KX450F power unit into an off-road racing winner, the highly acclaimed engine was tuned for maximum low- and mid-range performance. The result is a wide spread of responsive, high-traction torque and superior throttle control for low-speed maneuvering. The numerous modifications consider the variety of conditions riders face in open-course racing and also contribute enhanced durability and reliability to ensure that both man and machine reach the finish line.
Improved low and mid-range power characteristics for gutsy response when climbing hills, riding in the mud or in other poor-traction, low-speed conditions.
Flywheel mass is double that of the KX450F to provide ultra-smooth engine power characteristics.
Efforts were made to achieve the widest possible torque band, so that traction efficiency would be maximized for a greater part of the rev range.
The KLX450R's linear power curve features plenty of over-rev, giving riders ample latitude in choosing their shift intervals.
The functional design of the clutch lever assembly results in a straighter run for the clutch cable, offering smooth, low-effort operation. The clutch's excellent feel is especially welcome in the often tight and low-speed off-road racing environment.
Engine guards protect both sides of the engine (KX450F is right side only).
Works style aluminum skid plate completes the engine protection.
For efficient cooling during long enduros the radiator is fitted with a reservoir tank.
Lightweight, high-performance titanium intake valves ensure accurate valve timing even at maximum engine speed. Oxide membrane treatment resists wear.
Steel exhaust valves replace the KX's titanium units for improved durability.
Exhaust valve diameter is decreased by 1 mm for improved exhaust efficiency.
Aluminum valve spring retainers reduce reciprocating weight for reliable valve control at high-rpm.
Double valve springs also help ensure stable valve operation and allow a short cylinder head height.
Revised cam lift and timing boost low- and mid-range torque.
The camshaft lobes and tappet surfaces feature a soft-nitriding surface treatment for long wear and high-rpm reliability.
Quick-shifting, wide-ratio 5-speed transmission features ratios selected specially for off-road racing.
The transmission's gears are designed for high durability.
Digital, multi-map, AC-Capacitor Discharge Ignition uses the TPS signal and a 3D-ignition map to provide ideal ignition timing for various engine conditions. During acceleration and deceleration, the system makes adjustments to the 3D-ignition map, resulting in improved acceleration performance and smooth engine braking.
Accelerator Compensator circuit monitors changes in rpm and adjusts the ignition timing to prevent wheel spin and improve traction.
Lost spark control smooths the over-rev power by precisely cutting spark as the engine nears redline. Unlike conmventional systems, the KLX450R's spark gradually tapers off beginning approximately 1000 rpm before the rev limiter is reached so that power does not abruptly cut-out when the rev limiter is activated.
The multi-map ignition system features separate ignition maps for in gear operation and in neutral. In gear, the ignition timing raises idle speed in order to minimize the 4-stroke engine braking effect that can upset handling when entering corners. A neutral sensor engages a different timing map that reduces idle speed to a normal level which works in conjunction with the hot start lever to provide quick starting.
Phase-sensitive stator coil helps prevent kick-back during starting.
An electric starter was added. Having both electric and kick starters mean the bike can be quickly restarted if the engine stalls during an event.
High-capacity starter motor is compact, yet high-output ensures quick and reliable starts under all conditions.
The battery is located beneath the seat and behind the airbox.
Extra long headpipe ensures lots of low-down grunt in tight trails. The dual-weight centrifugal decompression system fitted to exhaust cam eases starting.
Keihin FCR 40 mm flat-slide carburetor is equipped with a Throttle Position Sensor (TPS) and an accelerator pump for quick throttle response.
New carburettor settings complement the engine changes.
The KLX450R is equipped with a hot start lever on the handlebar for easy starting when the engine is hot.
When the hot start lever is pulled, a small plunger at the front of the carburetor opens a passage that draws additional clean, unmixed air into the intake tract. The extra air leans out the fuel mixture to make starting a hot engine easier.
The airbox arrestor features a two-screen design. Space between the screens reduces resistance for improved intake efficiency.
The side covers share their design with the KX450F, although the holes have been eliminated to prevent the ingress of water.
The left-side cover features a two-piece construction with a special "door" that allows easy access to the air cleaner.
Torquey response in the low to mid-ranges is thanks in part to the all-new exhaust system.
Extra long headpipe ensures lots of low-down grunt in tight trails.
Large body muffler allows free exhaust flow for peak efficiency while keeping exhaust noise to respectable levels in multi-use parks.
U.S Forestry approved spark arrester ensures responsible riding.

Chassis

The KLX450R's slim aluminum perimeter frame – straight from the KX450F – is a composite structure comprising forged, extruded, and cast components.
The construction method for each frame component is chosen with consideration for weight and strength. This yields a very strong structure but of the lightest weight possible.
The frame's rigidity balance contributes to a package that is both quick-turning and light handling.
Like the KX450F, the frame widens at the ankles to offer the rider better grip and is narrower near the bend below the seat to allow a slim riding position.
The riding position is ideal for off-road racing.
The seat is wider than the KX450F's for comfort during long motos. The seat uses a slip-resistant top surface for good grip when seated and smooth sides for excellent rider mobility.
Two-piece radiator shroud design allows a hole where the shroud covers the upper frame spars, ensuring a narrow riding position at the knees. Compared to the KX shrouds, the KLX shroud design is optimized for a seated position.
The seat, tank and shrouds were designed to integrate perfectly, creating a single smooth surface for maximum rider mobility.
In order to ensure superb control and the best possible road-holding performance over a variety of terrain, suspension quality could not be compromised. The KLX450R shares the same top-of-the-line suspension as the championship-winning KX450F.
The Kayaba AOS (Air-Oil-Separate) inverted fork from the KX450F offers superb damping and steering precision. Where the KX settings maximize sprint and jumping performance, for the KLX, settings were chosen for light, easy handling characteristics. Oil and air are kept in separate chambers for stable damping performance during long motos.
Kayaba AOS (Air-Oil Separate) sealed cartridge inverted fork separates oil and air by using an internal damping cartridge within the fork similar to a shock absorber bladder. The sealed cartridge prevents the mixing of air and oil and provides consistent damping and improved adjustability.
The AOS cartridge resides in the upper portion of the fork with the fork spring underneath. As the fork compresses, a free-floating piston takes up the additional volume within the cartridge as fluid is displaced by the piston rod. A large hydraulic bottoming stop is located at the bottom of the cartridge and engages as the fork nears the end of its travel.
Compression damping adjustment is located on top of the fork while rebound damping adjustment on the bottom.
Low friction seals contribute to smooth fork action.
Fork is adjustable with 22 click compression damping screw at the fork cap and 20 click rebound damping screw at the fork bottom.
Front fork has long travel.
Low-friction fork seals contribute to smooth action.
The rear shock features dual compression damping adjustability, allowing high-speed and low-speed damping to be tuned separately. Shock compression damping is 22 click adjustable for low-speed while high-speed damping is 2-turns or more adjustable. Rebound damping features 22 click positions.
Rear spring is fully adjustable on its threaded collar.
The New Uni-Trak rear suspension system mounts the suspension arm below the swingarm, allowing a longer rear suspension stroke. The longer stroke in turn allows more precise rear suspension tuning.
Rear suspension action is initially soft, but becomes much firmer near full compression to prevent bottoming.
The alloy swingarm uses a cast front section, tapered hydroformed spars and forged chain pullers. The tapered shape of the spars allows clearance between the rear brake calliper and silencer when the rear suspension is fully compressed.
An 18″ rear wheel (KX450F: 19″) offers a wide selection of tires to choose from. High-traction Bridgestone MX tires are fitted.
Petal style brake discs front and rear help to reduce unsprung weight.
The wave shapes of the petal discs help clean the brake pads for more efficient braking performance.
Lightweight digital instrumentation includes a speedometer, twin tripmeter, odometer and clock.
Works-style Renthal aluminum handlebar (standard-type) saves 0.3 kg in weight.
Compact lighting package includes a 35 W headlight with lightweight plastic lens.

LED tail lamp is ultra-compact and energy efficient.
Lightweight plastic fuel tank has an 8 litre capacity (KX450F: 7.2 litres).
Fuel petcock is fitted with a reserve.
A side stand is fitted as standard equipment.

Colours
Lime Green
2010 Kawasaki KLX450R – USA Specifications
MSRP $NA USD

Not available in the USA

*Note: Specifications and pricing are subject to change.





2010 Kawasaki KLX450R – Canada Specifications
MSRP: $9,299 CDN
ENGINE
Type 4-stroke, Single
Displacement 449 cc
Bore and Stroke 96.0 x 62.1 mm
Compression Ratio 12.0:1
Valve System DOHC, 4 valves, shim under bucket actuation
Carburetor Keihin FCR 40
Ignition Digital AC-CDI
Cooling Liquid, twin radiators
Lubrication Forced lubrication, Semi-dry sump

DRIVETRAIN
Transmission 5-speed, return
Primary Drive Gear
Final Drive Chain
Primary Reduction Ratio 2.727 (60/22)
Gear Ratios: 1st 2.167 (26/12)
2nd 1.533 (23/15)
3rd 1.188 (19/16)
4th 0.950 (19/20)
5th 0.810 (17/21)
Final Reduction Ratio 3.846 (50/13)
Clutch Wet multi-disc, manual, cable operation

FRAME
Type Aluminum perimeter main frame, bolt-on aluminum rear section
Wheel Travel: Front 305 mm
Wheel Travel: Rear 315 mm
Tires: Front 80/100-21 (51M)
Tires: Rear 110/100-18 (64M)
Caster (Rake) 27.7°
Trail 122 mm
Steering Angle (Left/Right) 42° / 42°

SUSPENSION
Suspension: Front Kayaba 48 mm upside-down, cartridge-type, AOS telescopic fork with 22-way compression damping and 20-way rebound damping
Suspension: Rear Uni-Trak with fully adjustable spring preload, 22-click low speed compression damping, 2-turns or more high speed compression damping, 22-click rebound damping

BRAKES
Front Type 250 mm semi-floating petal disc
Caliper Dual-piston
Rear Type 240 mm petal disc
Caliper Single-piston

DIMENSIONS
Overall Length 2180 mm
Overall Width 820 mm
Overall Height 1255 mm
Wheelbase 1480 mm
Ground Clearance 320 mm
Seat Height 940 mm
Curb Mass 126 kg
Fuel Capacity 8.0 litres

DETAILS
MSRP $9,299
Colour Lime Green
Warranty 6 months
Good Times Protection Plan 24 or 36 months (Kawasaki GTPP begins after the standard limited warranty expires)
The specifications mentioned here apply to and have been achieved by production models under standard operating conditions. We intend only to give a fair description of the vehicle and its performance capabilities but these specifications may not apply to every machine supplied for sale. Kawasaki Heavy Industries, Ltd. reserves the right to alter specifications without prior notice. Equipment illustrated and specifications may vary to meet individual markets. Available colours may vary by market.