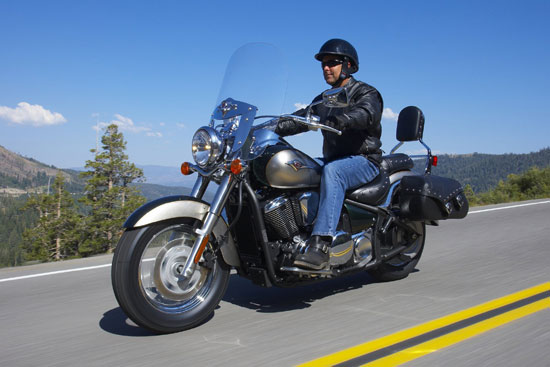 Back to 2010 Kawasaki Motorcycle Index Page
Click photos to enlarge.
They make great desktop images.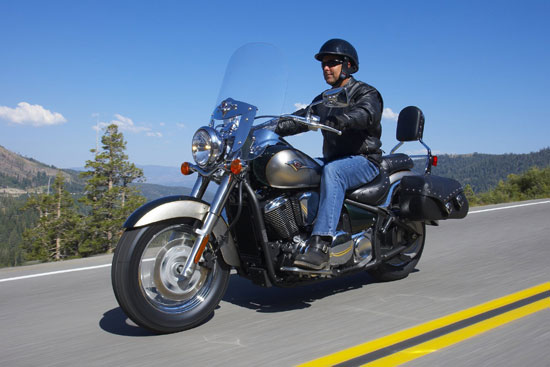 2010 Kawasaki Vulcan 900 Classic LT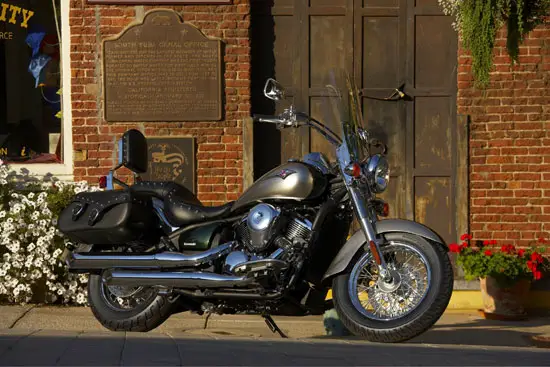 2010 Kawasaki Vulcan 900 Classic LT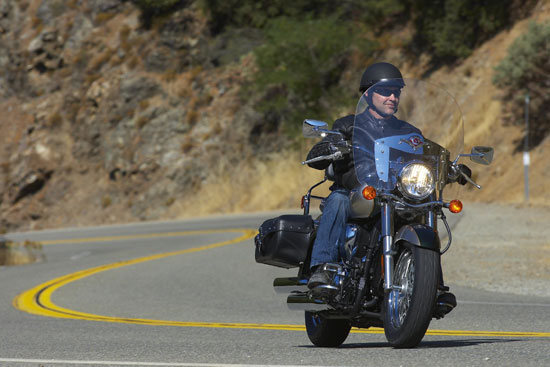 2010 Kawasaki Vulcan 900 Classic LT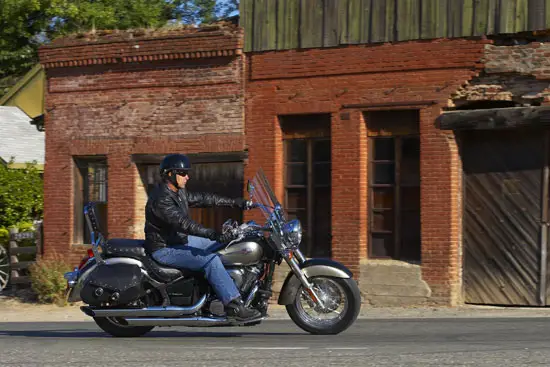 2010 Kawasaki Vulcan 900 Classic LT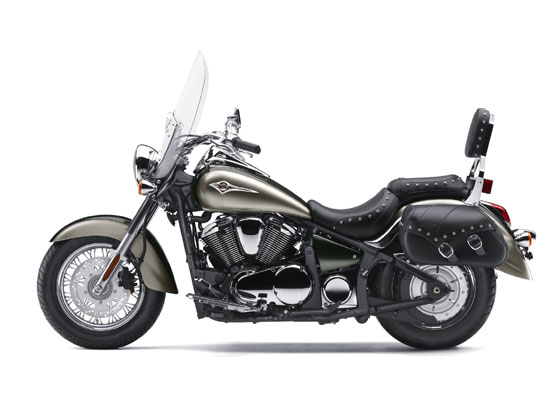 2010 Kawasaki Vulcan 900 Classic LT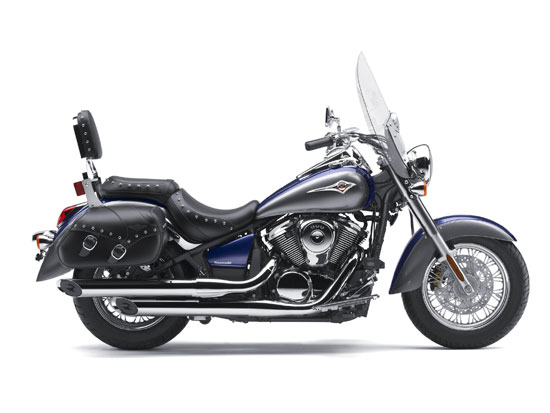 2010 Kawasaki Vulcan 900 Classic LT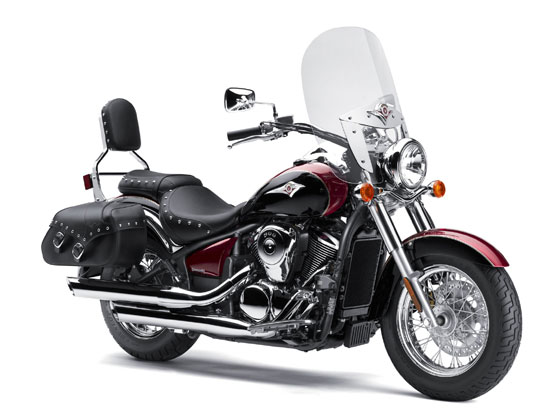 2010 Kawasaki Vulcan 900 Classic LT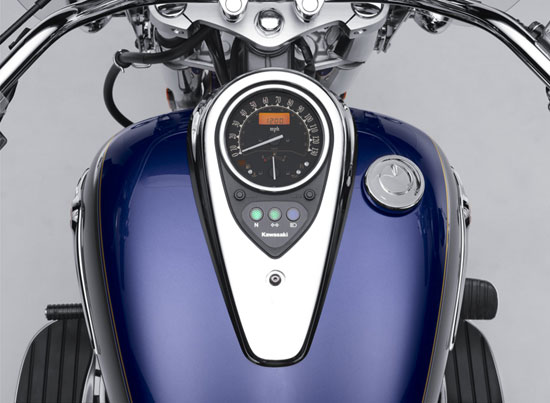 2010 Kawasaki Vulcan 900 Classic LT
– 2010 Kawasaki Vulcan 900 Classic LT

2010 Kawasaki Vulcan 900 Classic LT
This Stylish Traveler Won't Break The Bank
What is touring, really, but rolling down a really long boulevard? Kawasaki already has a winner in its class-leading Vulcan® 900 Classic cruiser. With its great looks and modern hardware, the 900 Classic starts out as an excellent midsize cruising platform, with power and style to spare. To prepare it for life on the highway, we did what American motorcyclists have been doing ever since the invention of pavement: The addition of top-grain leather saddlebags, a long-distance touring seat, a passenger backrest and an adjustable windshield provide everything you need to hit the road for days on end.

This mid-size Kawasaki offers the same excellent riding characteristics as the Vulcan 900 Classic — from the fuel-injected 903cc engine, which delivers exceptional roll-on acceleration, to the nimble chassis sporting classy, flowing cruiser beauty. Its eye-catching touring features only add to this winning mixture of agility and large-displacement power and torque — pleasing anyone who thinks touring represents the ultimate get-away.

At the core of the Classic LT's touring package are striking, top-grain, reinforced cowhide saddlebags. The leather is carefully selected to minimize flaws and deep-dyed to prevent scraping off the finish. The ideally-sized bags feature a slant-top opening held shut by two 1.5-inch wide leather straps fitted with chrome buckles and stealth quick-release fasteners. The rolled and riveted top lids, along with metal reinforced upper edges on the bags, help maintain shape and keep unwanted moisture out of the bags. An embossed Vulcan logo on the reinforced dual-panel lids and chrome-plated brass studs finish off the look of these bags.

A comfortable seat for both rider and passenger are a must on a tourer; the Classic LT has both, along with a backrest to keep the passenger relaxed and smiling as the miles tick by. Both the seat and the backrest are detailed with chrome-plated brass studs to match the bags. A thick, optically correct, acrylic plastic windscreen delivers smooth airflow around the rider and passenger, reducing wind fatigue and bug strikes over the course of the long rides the 900 Classic LT encourages you to take.
Once past the 900 Classic LT's handsome looks, owners will discover themselves enjoying a ride that was previously found only on larger cruisers. Applying lessons learned on the Kawasaki's Vulcan 2000, the Vulcan 900 models deliver exceptional roll-on acceleration, easy maneuverability, and performance equal to larger displacement competitors.

Breakdowns are a negative on any trip. The Vulcan 900 Classic LT utilizes a low-maintenance belt drive not only to help avoid undesired stops, but also to keep the pounds off and to keep the rear end rolling in high style. Speaking of rear-end styling, the 900 Classic LT sports a large, 180mm-wide rear tire — the largest in its category. The beefy tire's appearance accentuates the classic V-twin rumble courtesy of a single-pin crankshaft. It's this look and sound that suggest a much larger motorcycle.
However, the Vulcan 900 LT's big footprint shouldn't alarm potential riders. Its low seat and narrow chassis rails blend comfortably into the fuel tank, which translates into plenty of accessibility for shorter riders and comfort for those of all sizes. Wide handlebars ideally situated with the seat and floorboards, coupled to roomy passenger accommodations, make the Vulcan 900 Classic LT a real joy — whether it's just a run to the store or a multi-day haul across the country.

The Vulcan 900 Classic LT is available in the following two-tone color combinations: Candy Diamond Red/Ebony, Candy Imperial Blue/Metallic Moondust Gray, Metallic Dark Green/Metallic Titanium. Whatever color you choose, the Vulcan 900 Classic LT gets noticed by everyone it passes along the highway.

Authentic Kawasaki Accessories are available through Kawasaki dealers.

Features and Benefits:
903cc V-twin SOHC Engine
– Smooth and reliable engine tuned to deliver a healthy dose of torque at low rpm
– Gear-driven balancer allows use of single pin crankshaft without excessive vibration
– Rubber-mounted to reduce engine vibration at all speeds
Four-valve Cylinder Head
– Provides maximum valve area for optimum flow, creating more power and low-end torque
– Single overhead cam design is simple, lightweight and practical
– Long intake tracts narrow near the combustion chamber increase intake flow speed for more efficient filling, increased torque and better low-end response
Liquid and Air Cooling
– Finned cylinders and head and liquid cooling combination make for exceptional thermal control
– Maintains consistent engine temperatures for long engine life and sustained power
– Automatic fan helps keep things cool
– Includes temperature warning light
Automatic Cam Chain Tensioner
– Maintains precise valve timing with almost no maintenance
– Assures greater reliability
– Hidden from view to preserve the engine's clean, basic look
Dual Slash-Cut Mufflers
– Big slash-cut mufflers look great and contain emission reducing honeycomb catalyzers
Positive Neutral Finder
– Just lift the shift pedal from first gear at a stop to easily find neutral, every time
Electronic Fuel Injection
– Superb performance and rideability thanks to dual throttle bodies with sub throttles
– The ECU controlled sub throttles are located behind the main throttle valve, allowing the DFI® system to provide more precise throttle response, similar to a constant velocity carburetor
– Fine-atomizing fuel injectors produce a fine fuel mist for optimal acceleration, combustion and fuel consumption
Belt Drive
– Lower unsprung weight than a shaft drive to improve ride quality and suspension action
– Efficiently transfers power to the rear wheel
– Low maintenance and low noise
Double Cradle Frame
– Very rigid, large-diameter box section backbone allows a larger fuel tank, high stability and lightweight handling at low speeds
– Fork offset and frame geometry combine for light, low-effort handling at low speeds
– Long wheelbase contributes to highway stability
– Triangular swingarm has a hardtail appearance, but utilizes a single shock hidden beneath the seat
– Long and low chassis for minimal seat height, maximum visual impact

41mm Front Fork
– Excellent rigidity and 5.9 inches of travel
– 32 degree rake angle offers excellent straight line manners
– Classic look with wide fork pitch
Disc Brakes
– Both the 272mm front and 242mm rear rotors feature twin-piston calipers for great power and feel
Spoke Custom Wheels
– Chromed steel rims and spokes
– "Spool-style" polished aluminum front hub
Wide Rear Tire
– 180mm rear tire provides added stability while projecting a powerful image
– Wider tire than that found on most large-displacement cruisers
Tank-Mounted Speedometer with Turn Signal Indicators and Caution Lamps
– Provides riders the crucial information at a glance
– Compact design matches the bike's clean look
Push-to-Cancel Turn Signals
– No fumbling, just a simple push on the switch cancels the turn signals
Windscreen
– Robust, optically correct, acrylic plastic windscreen is shaped for smooth airflow
– Strong chrome plated steel supports enhance cruiser style
– Adjustable height
Saddlebags
– Carefully selected top grain cowhide with minimal flaw s and deep dyed for a long-lived finish
– Slant top opening lid, with two 1.5-inch wide leather straps, chrome buckles and quick release fasteners
– Dual panel lid construction with embossed Vulcan logo detail
– Half-inch diameter chrome plated brass stud accents
– Metal reinforced upper edge so bags hold their shape
– Rolled and riveted lid minimizes water entry
Low Stepped Seat
– Ultra-low 26.8-inch seat height allows riders to easily plant both feet on the ground at stops
– Laid-back riding comfort for two
– Detailed with half-inch diameter chrome plated brass studs
Passenger Backrest
– Classic tombstone shape
– Strong chrome plated steel supports
– Pad detailed with chrome plated brass studs

2010 Kawasaki Vulcan 900 Classic LT Technology
Overview

Engine

Engine gets an 8 millimeter longer stroke, boosting displacement to 903cc compared to the VN800's 805cc.
Designed to offer superior acceleration in the mid-speed range (where most riding is actually done), the powerful, liquid-cooled V-twin engine has the torque to out-accelerate smaller displacement bikes yet with a single downshift can keep up with bikes one displacement class larger.
Oversquare 88 x 74.2mm bore and stroke ensures punchy response and a broad spread of satisfying power. Free-breathing SOHC 4-valve heads deliver impressive performance throughout the rev range.
The cylinder head features the same combustion chamber and intake/exhaust porting design concept as that of the mighty VN2000.
Deeply chromed engine covers have curved upper surfaces. Their 3D design adds volume and gives a quality appearance.
Deep fins on the cylinder and cylinder head were designed to highlight the VN900's larger engine. Fin spacing and size where chosen to make the engine look big.
The edges of the fins receive a special NC treatment that makes them gleam in sunlight.
All the non-chromed parts of the engine were finished in a black powder coat.
The electronic fuel injection system, controlled by dual throttle valves, ensures silky smooth response and easy-to-control torque characteristics.
Automotive-type fine-atomising injectors improve performance, fuel economy and emissions.
An auto-fast idle system is equipped with an rpm feedback relay ensuring a fixed (ideal) engine speed in all starting conditions. (The feedback is used to control the sub-throttles to obtain the desired rpm.)
Curved intake tracts provide an extremely efficient path for intake flow. Ports narrow as they reach the combustion chamber, increasing intake flow speed for more efficient filling. The result of the highly intake efficiency is improved torque.
Long intake tracts extend well into the air cleaner box. The longer path improves low-end response.
Returnless-type pump inside the fuel tank prevents fuel starvation during hard braking or acceleration. No return fuel line increases reliability.
Redesigned crankshaft and gear-driven balancer are matched to the new longer stroke for smooth performance.
Like all Kawasaki V-twins, the VN900 engine uses a single crankpin for best strength and strong power feeling.
Lightweight, nut-less connecting rods like those on the VN2000 contribute to low vibration levels.
Five-speed transmission with smooth shift action is geared for a comfortably low rpm at highway cruising speeds.
The transmission is equipped with Kawasaki's exclusive Positive Neutral Finder. Just lift the pedal from first at a stop to find neutral easily , every time.
Like the VN2000, the 900 Classic has a quiet and efficient belt final drive.
In addition to reduced maintenance (compared to chain final drives), belt drives offer a smoother ride quality less weight and better efficiency than shaft drives.
Dual slash-cut mufflers give the VN900 a wild air. The mufflers are angled so that they look good when the bike is on its side stand.
Catalysers built into each of the mufflers reduce exhaust emissions.

Frame
Overall the VN900 Classic is longer and lower than its predecessor, the VN800.
Seat height has been lowered, giving the new Classic more of a "low rider" bias than the VN800.
The longer wheelbase (lengthened by approximately 50mm) provides even more stability when cruising and contributes to the Classic image.
The fork offset and rake geometry were set such that the bike does not self-steer. The result is light, low-effort handling when manoeuvring at ultra-low speeds

Suspension

Triangular-shaped swingarm appears to be a hardtail design, but acts on a single shock hidden beneath the seat.
Shock is preload-adjustable

Brakes/Wheels/Tires

Chrome rims are supported by 48 spokes and polished alloy hubs.

Single 300mm drilled front disc delivers impressive stopping power without hiding the front wheel's good looks.
Rear 300mm disc ensures maximum braking control.
Second only to that of the VN2000, the massive 180 mm rear tire gives the rear of the bike a powerful image. (At 180 mm, this tire is wider than most large-displacement cruiser rear tires, including all of Kawasaki's 1600cc models!)


Bodywork/Styling/Ergonomic Features

The VN900 shares many of the long-and-low styling cues from the stunning VN2000. Easy to ride and very rider-friendly, the VN900 offers the look, feel and craftsmanship found in bigger cruisers. Whether rolling down the street or parked in front of a café, this is one sharp-looking machine.
The fuel tank and fenders follow the same design theme: twin valleys running the length of the bike.
The wide fuel tank tapers at the rear, contributing to the VN900's curvaceous theme. The fuel tank's curves have constantly varying radii, giving the bike a dynamism that is both powerful and smooth. Its hand-sculpted contours are pleasing to both the eye and to the touch.
At the seat, the fender is as wide as that of the VN2000, but it like the fuel tank it tapers elegantly at the rear.
Sissy-bar backrest features "Tombstone"-style riveting.
The comfortable front seat and pillion pad are the same as those on the 900 Classic, with the addition of steel rivets.
Where the 900 Classic instrument dial features a cream-coloured backing, the 900 Classic LT speedometer's backing is black.

Comfort and Convenience

Footboards add comfort and contribute to the big bike styling.
A heal-toe shifter adds to the Cruising experience.
Kawasaki's exclusive Positive Neutral Finder allows the rider to lift the pedal from first at a stop to find neutral easily , every time.

Large-capacity 18 litre fuel tank ensures an ample cruising range.
The tank-mounted instrument console is slim and lightweight, contributing to the bike's elegant lines.
Large-faced easy-to-read speedometer features a multi-function LCD display, warning lamps – and even a fuel gauge
Large-faced easy-to-read speedometer features a multi-function LCD display, warning lamps – and even a fuel gauge
Large round multi-reflector headlamp complements the new classic bodywork and throws a broad beam for confident nighttime cruising.
Front turn signals feature an integrated lamp/stay design for easy mounting.
Push-to-Cancel Turn Signals: No fumbling, just a simple push on the switch cancels the turn signals
The combination of wide handlebars and an ideal relationship between seat, bars and footboards results in wonderfully comfortable riding position.
Ergonomically designed front bucket seat is very comfortable.
Cushy pillion pad makes it easy to share the Cruising experience with a friend.
The seat is easily removed by key, giving access to the helmet lock and tool kit.

Touring Features

Large windscreen offers excellent protection from the wind and weather.
Screen is height adjustable for rider preference.
Premium crafted leather saddlebags with steel riveting provide storage space when you want to get away for a while.
Hard inserts maintain bag shape while hidden speed latches are easy to operate.

Optional Equipment
The Optional parts include engine guards, a rear carrier to complement the sissy-bar backrest, and a light bar.

Colours
Candy Diamond Red / Ebony
Candy Imperial Blue / Metallic Moondust Gray
Metallic Dark Green / Metallic Titanium
2010 Kawasaki Vulcan 900 Classic LT – USA Specifications
MSRP $9,249 USD

Engine Type 4-Stroke, Liquid-Cooled, SOHC, 4-Valve Cylinder Head, V-Twin

Displacement 903cc / 55.1 cu.in.

Bore and Stroke 88 x 74.2 mm

Compression Ratio 9.5:1

Cooling Liquid

Fuel Injection EFI with dual 34mm Keihin Throttle Bodies

Ignition TCBI with Electronic Advance

Transmission 5-Speed

Final Drive Belt

Rake/Trail 32°/6.3 in.

Front Suspension / Wheel Travel 41mm hydraulic telescopic fork / 5.9 in.

Rear Suspension / Wheel Travel Uni-Track® swingarm / 4.1 in.

Front Tire Size 130/90-16

Rear Tire Size 180/70-15

Wheelbase 64.8 in.

Front Brake / Rear Brake Single 272mm hydraulic disc with two-piston caliper / 242mm hydraulic disc

Fuel Tank Capacity 5.3 gal.

Seat Height 26.8 in.

Overall Length 97.0 in.

Overall Width 39.6 in.

Overall Height 58.3 in.

Curb Weight 657.1 lbs.

Color Candy Diamond Red/Ebony, Candy Imperial Blue/Metallic Moondust Gray, Metallic Dark Green/Metallic Titanium

Good Times™ Protection Plan 12, 24, 36 or 48 months

Warranty 24 Months




2010 Kawasaki Vulcan 900 Classic LT – Canada Specifications
MSRP: $11,399 CDN
ENGINE
Type Liquid-cooled 4-stroke V-Twin
Displacement 903 cc
Bore and Stroke 88 x 74.2 mm
Compression Ratio 9.5:1
Valve System SOHC, 4 valves/cylinder
Fuel Injection Ø 34 mm x 2
Ignition Digital
Starting Electric
Lubrication Forced lubrication, wet sump

DRIVETRAIN
Transmission 5-speed, return
Primary Drive Gear
Final Drive Belt
Clutch Wet, multi-disc

FRAME
Type Double-cradle, high-tensile steel
Suspension, Front 41 mm telescopic fork
Suspension, Rear Triangle swingarm with Uni-Trac single shock (7-position spring preload adjustment
Wheel Travel: Front 150 mm
Wheel Travel: Rear 100 mm
Tires: Front 130/90-16M/C (67H)
Tires: Rear 180/70B15M/C (76H)
Caster (Rake) 32°
Trail 164 mm
Steering Angle (Left/Right) 38° / 38°

BRAKES
Front Single 300 mm disc with twin-piston caliper
Rear Single 270 mm disc with twin-piston caliper

DIMENSIONS
Overall Length 2,465 mm
Overall Width 1,005 mm
Overall Height 1,480 mm
Wheelbase 1,645 mm
Ground Clearance 135 mm
Seat Height 680 mm
Curb Mass 298 kg
Fuel Capacity 20 liters

DETAILS
MSRP $11,399
Colours Candy Diamond Red / Ebony, Candy Imperial Blue / Metallic Moondust Gray, Metallic Dark Green / Metallic Titanium
Warranty 24 months
Good Times Protection Plan 24 or 36 months (Kawasaki GTPP coverage begins after standard limited warranty expires)
The specifications mentioned here apply to and have been achieved by production models under standard operating conditions. We intend only to give a fair description of the vehicle and its performance capabilities but these specifications may not apply to every machine supplied for sale. Kawasaki Heavy Industries, Ltd. reserves the right to alter specifications without prior notice. Equipment illustrated and specifications may vary to meet individual markets. Available colours may vary by market.