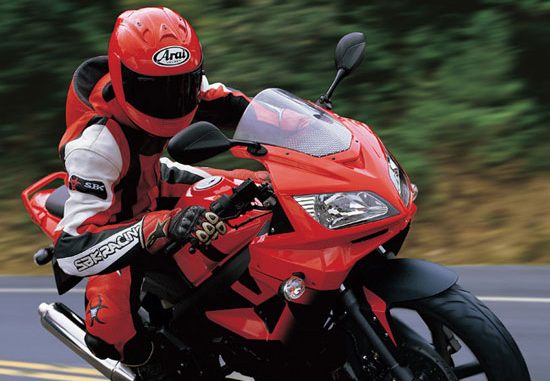 Back to 2010 Kymco Motorcycle Index Page
Click photos to enlarge.
They make great desktop images.
– 2010 Kymco Quannon 150

2010 Kymco Quannon 150
The Quannon 150 Why shouldn't your first motorcycle be a KYMCO? Sit flat footed in the saddle of the Quannon and lean forward – grab the bars and you'll notice all controls are in easy reach. Fire up the four-valve 150cc engine and get ready to feel the excitement of two wheel travel. With disc brakes all around,mono shock in the rear and 3/4 quarter fairing, this beauty has everything you'll need as a beginner rider to get you started. That should come as no surprise because, for over 45 years, KYMCO has been specializing in building small displacement motorcycles and scooters for the world market. Get on the road – get a Quannon today!
The New 2010 KYMCO Quannon 150 is an entry level motorcycle with sportbike styling that offers big performance in a small package. It's racy, lightweight design and low 31″ seat height makes it a real flat-footed confidence builder that's fun to ride and frugal to own. The Quannon 150 will sure to become a favorite among beginners with its sleek race bike look with a big bike feel without the price tag. The 150cc 4-valve highly fuel-efficient engine has all the power you'll need to get you around town with plenty of fuel to spare so you can relax and enjoy the ride.

The Quannon 150 is the sexiest KYMCO to date. This small displacement, entry level sport bike is ideal for an effortless ride. The lightweight Quannon is sure to fit perfectly into your urban lifestyle, is easy to handle and is equally light on fuel, insurance, and the environment. It is, on the other hand, loaded with great features such as a smooth five speed transmission, front and rear disk brakes for superior braking power, a digital instrument cluster, and 110/80-17 front and 140-70-17 rear tires for excellent stability and great grip. The 150cc 4-valve highly fuel-efficient engine has all the power you'll need to get you around town with plenty of fuel to spare.

Features and Benefits
5-speed transmission keeps the engine in its power band and gear changes are accomplished via traditional foot shifter and clutch

A good fit with its seat height of 31.5 inches and light weight of only 299 pounds
17" alloy wheels, 110-80-17 front and 140-70-17 rear tires, 276mm front and 220mm rear disk brakes, 5 speed manual transmission, 4 stroke 4 valve OHC engine, 9000 rpm redline, 13.5L fuel tank, wet clutch, 31" seat height, dual halogen headlights, multi function digital instrument cluster, under seat storage, lockable helmet hook, rear passenger pegs.

The KYMCO Quannon 150 is backed by a 2-year warranty and up to a 4 Year KYMCO Extended Protection Plan is also available from any authorized KYMCO dealer.


Available Accessories:

Disk Brake Lock
Wireless Third Brake Light
2010 Kymco Quannon 150 – USA Specifications
MSRP: $2,999 USD

Engine Type 4-Stroke SOHC
Displacement 149.3cc
Bore/Stroke 62×49.5
Cooling System Forced Air
Ignition Electric
Gearbox 5 Speed
Chassis Steel
Front Suspension Telescopic forks
Rear Suspension Mono Shock
Front Brake Single disc
Rear Brake Single disc
Front Wheel/Tire 110/80-17
Rear Wheel/Tire 140/70-17
Seat Height 31.5 in.
Wheelbase 53.3 in.
Fuel Capacity/MPG 3.6 gals./ Estimated 70
Weight 299 lbs.
Available Colors Blue or Red
MSRP $2,999

Analog Tachometer with Digital Speedometer, Odometer, Clock and Fuel Gaugel and a 2 Year Factory Warranty. C.A.R.B. Compliant

2010 Kymco Quannon 150 – Canada Specifications
MSRP: $3,495 CDN

Engine Type Oil cooled, 4 valve, SOHC, 4 stroke
Displacement 149.3 cc
Bore & stroke 62 x 49.5 mm
Clutch Type Wet Multi Disk
Compression ratio 11:1
Valve train S.O.H.C., chain drive
Fuel Delivery Keihin Carburetor
Ignition CDI
Transmission 5 Speed Manual
Spark plug CR8E
Emission CEPA Environmental Registered
Fuel capacity 13.5 litres
Tires 110/80-17 front; 140/70-17 rear
Front Suspension Telescopic Forks
Rear Suspension Dual Adjustable Shocks
Front Brakes Drilled Disk / Dual Piston Caliper
Rear Brakes Drilled Disk / Dual Piston Caliper
Instrument cluster Digital Speedometer, Analog Tach
Mirrors 2
Stands Centre and Side Stands
Storage compartment Small compartment under passenger seat
Complete Size (L x W x H) 2057 x 725 x 1174 mm
Seat Height 800 mm
Dry weight 137 kg
Riders 2 Riders with foldable foot pegs
Warranty Two year limited warranty
*Note: MSRP does not reflect destination or other dealer vehicle preparation charges.
Warning: KYMCO vehicles meet all applicable Federal Motor Vehicle Safety and EPA standards. Always wear a helmet, eye protection and protective clothing. Avoid excessive speed. Never engage in stunt riding. Never ride under the influence of alcohol or drugs. Take a riding skills course.


Total Motorcycle and KYMCO make every effort to present the most current specifications and model features. Changes in equipment, colors, availability and specifications may change without notice or obligation. Some models are shown with optional equipment. MSRP does not reflect destination or other dealer vehicle preparation charges.