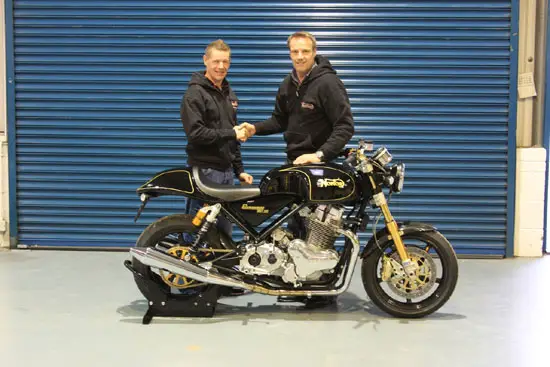 Back to 2010 Norton Motorcycle Index Page
Click photos to enlarge.
They make great desktop images.
– 2010 Norton Commando 961 SE

2010 Norton Commando 961 SE
The 961 Commando SE represents a new beginning for Norton Motorcycles. Designed and built from the ground up, this bike continues the Norton legacy of defined style and performance.
This modern roadster reflects the soul of the original machine. Classic sculptural forms are combined with raw functionalism, laying beautiful shapes over a structural frame and muscular motor; resulting in a visual language that is both sensual and purposeful. With a very narrow waist and curves in just the right places, the 961 is a bike that feels as good as it looks.
Features and Specifications
Engine: Simple and direct engineering solutions are employed to create a motor that is visually and mechanically elegant; efficiently assembled in production, and easily maintained or upgraded in the owner's garage.

Chassis: Carbon Fiber wheels reduce un-sprung weight; while 43mm, 3-way adjustable Ohlins front forks, and 4-way adjustable "piggy back" rear shocks provide an unparalleled connection with the road. Brembo Gold Line brakes combine excellent power and sensitive feedback. The chro-moly tubular steel frame and a 56.5 inch wheelbase, 24.5 degrees of rake and 4 inches of trail provide athletic handling in the mountain passes and relaxed handling in hi-speed sweepers or just along the open road. Careful engineering analysis using FEA and physical testing has been employed to optimize the design for performance and safety.

Gauges & Controls: The instruments are modern-classics; electronic control, traditional layout and modern LCD display features create an easy-to-read minimal effect. Tapered aluminum handlebars and quality switchgear round out the rider input and display components.
2010 Norton Commando 961 SE – World Specifications
MSRP: $17,899 USD

FRAME
– Frame: Steel tubular cradle with integral oil tank
– Swing arm: steel construction
– Wheelbase: 1420mm (55.9 in)
– Rake: 24.5 degrees
– Trail: 99mm (3.9 in)
– Front suspension: 43mm Ohlins RWU – Adjustable preload, compression, and rebound damping.
– Rear suspension: Ohlins reservoir-style twin shocks – Adjustable ride height, preload, compression, and rebound damping.
– Front wheel: 3.50 X 17″ BST Carbon Fibre
– Rear wheel: 5.50 X 17″ BST Carbon Fibre
– Front tyre: 120/70 X 17″
– Rear tyre: 180/55 X 17″
– Front wheel travel: 115mm (4.53 in)
– Rear wheel travel: 100mm (3.94)

BRAKES & HYDRAULICS
– Brembo 320mm semi-floating hi carbon stainless steel front discs
– Brembo 220mm rear disc
– Brembo 4 piston "Gold Line" axially mounted front callipers
– Brembo 2 piston "Gold Line" rear calliper
– Brembo "Gold line" front brake master cylinder
– Brembo "Gold line" hydraulic clutch master cylinder
– Brembo rear brake master cylinder
– Brembo hydraulic clutch actuation slave cylinder

POWER ASSEMBLY
– Engine type: Parallel twin with push-rod valve actuation, dry sump
– Displacement: 961 cc
– Cooling system: Air
– Valve Actuation: Push rod, hydraulic lifter, two valves per cylinder
– Bore x stroke: 88 mm X 79 mm
– Compression ratio: 10.1:1
– Power: 80PS @ 6500RPM
– Torque: 90Nm @ 5200RPM
– Exhaust:1 3/4″ header system with merged collector and twin silencers with catalytic converters.
– Ignition: Crank fired electronic
– Euro 3 compliant with electronic fuel injection and multiple 3 way catalytic converters

CARBON PACK
– Front mudguard
– Chain guard
– Rear wheel hugger
– Rear number plate hanger
– Headlight mounting
– Front wheel
– Rear wheel

TRANSMISSION
– Gearbox: constant mesh 5 speed
– Final drive: 525 "O" ring chain
– Wet clutch
– Electric start

ELECTRONICS & CONTROLS
– Charging system: 300 watt hi-output charging system
– Instrumentation: Norton electronic analogue speedo and tachometer with dual trip meters and 'hidden until lit' warning lights

MISCELLANEOUS
– Fuel tank capacity: 17l (4.5 US gallon)
– Dry weight: 188kg (414.5 lbs)
– Seat height: 813mm (32 in)
– Billet machined upper yoke
– Billet machined lower yoke
– Tapered aluminium handle bars
Specifications are subject to change without notice.
Media/Press Releases:
CANADA
Norton Motorcycles (Canada) Ltd is pleased to announce the introduction of the Norton Commando 961 SE to Canada at the Toronto Motorcycle Show – December 11-13, 2009.
After an absence that Norton owners would say is "far too long", Norton Motorcycles returns to Canada, with the newly engineered Norton Commando 961SE and the Norton NRV588 Rotary racer on display at the Toronto Motorcycle Show from Dec. 11 to 13th at the Metro Toronto Convention Centre.

The iconic motorcycle, once the envy of the motorbike racing community, has returned to the motorcycle scene in a way that has exceeded all expectations.

The hand built British bikes are the culmination of engineering and manufacturing excellence that is unheard of in any other motorcycle around the globe.

Norton's new owner, Stuart Garner, has amassed a motorcycle engineering team that is unparallel, including the Norton's Chief Design Engineer Simon Skinner.

Along with a stable of engineering expertise, Garner has partnered with such notable racing specialists as MCT of Menard Formula One fame, to re-engineer, develop and build engines and transmissions for the production bike, Ohlins provides the high end suspension, Brembo is supplying brakes, VDO are engineering the instrumentation and the bike rides on BST carbon fibre wheels. All of these pieces are brought together and then assembled by hand at one of Europe's most advanced machining facilities. Now you may be thinking "Aston Martin" on two wheels, and you'd be close.

Worldwide production of these units is extremely limited, with less than 20 being available in Canada.

USA
August 4, 2009 – Press Release:
Norton UK is proud to announce the appointment of South Bay Norton, Lomita, California, as their exclusive dealer/distributor for the United States. South Bay Norton is owned and operated by Matt Capri, who also operates South Bay Triumph. Matt brings over 35 years experience in motorcycling, starting with development of the BMW Motorcycle dealer network in the 70's. He has excelled in product development for BMW with the Luftmeister line of accessories and most of the high performance parts for Triumph. He has achieved many land speed records at the Bonneville Salt Flats and El Mirage Dry Lakes with both BMW and Triumph and was inducted into the 200mph club in 1993. His knowledge in these areas will be of assistance with Norton growth in the US.
August 5, 2009 – Press Release:
The new 2010 Norton 961 SE Commando pricing has been announced:
MSRP $17,899 for the spoke wheeled 961 Commando SE!
MSRP $19,499 for the carbon fibre wheeled 961 Commando SE!
August 5, 2009 – Press Release:
Cycle World Magazine will soon be road testing the new 2010 Norton Commando.
Watch for it!
October 29, 2009 – Norton motorbikes roll off production line once again
THE first Norton motorbikes at a Castle Donington factory have begun rolling off the production line, almost 20 years after they were produced in the UK.
Norton Motorcycles has said it is now set to produce more than 100 bikes a month at its Donington Park factory and could create around 100 jobs.
The last time the famous motorcycle was produced in the UK was back in 1992, when US businessman Ollie bought the firm.
Local entrepreneur Stuart Garner bought the 111-year-old Norton name a year ago and since then has been raising the profile of the Norton brand and equipping the factory.
The company has already sold 200 special edition commando bikes which were made to mark the relaunch of the brand.
It has now secured enough orders to begin full production of Norton bikes.
Mr Garner, who is chief executive of Norton Motorcycles, said: "We are building bikes now. The first bike will be delivered in two weeks' time."
This week, Mr Garner has travelled to France to sign up another distributor for Norton, as he looks to build up a global sales network.
He said: "When we sign up a distributor it boosts volumes, because there's such pent-up demand out there.
"We have 8,000 people globally who have inquired about buying a Commando. We need a distributor and dealership network to service that."
Next month, the company is expecting to boost its profile further when it unveils its 961 Commando and Cafe Racer Commando at the International Motorcycle and Scooter Show 2009 at Birmingham's NEC.
Mr Garner said production on the two bikes would start in spring or summer next year.
He said: "We have got all hands on the pump to make a good stand for the bike show at the moment.
"Once we have done that we will be able to build our weekly volumes. In the next 18 months we want to be making at least 100 bikes a month.
"The progress the company has made over the past year has been awesome. We are well ahead of where the business plan said we would be.
"We have invested millions of pounds and have taken on dozens of people in the last year and the workforce continues to expand. There's a potential for over 100 jobs here over the next couple of years."
Norton has said it plans to more than treble the size of its factory to 30,000 sq ft over the next few years if current demand continues. Mr Garner said he was unconcerned with the recession and competition from Leicestershire's other legendary motorcycle marque – Triumph Motorcycles, of Hinckley.
He said Norton and Triumph occupied two different markets. The entrepreneur, who owns other businesses in the East Midlands, secured a licence to run a Norton racing team early last year from Mr Curme.
One of Mr Garner's businesses, Spondon Engineering, of Derby, had made frames for Norton bikes in the 1980s and 1990s when they were produced in Shenstone, Staffordshire.