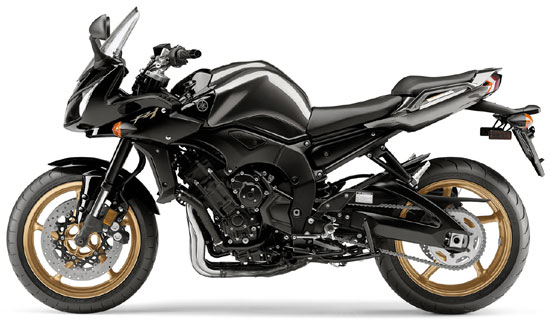 Back to 2010 Yamaha Motorcycle Index Page
Click photos to enlarge.
They make great desktop images.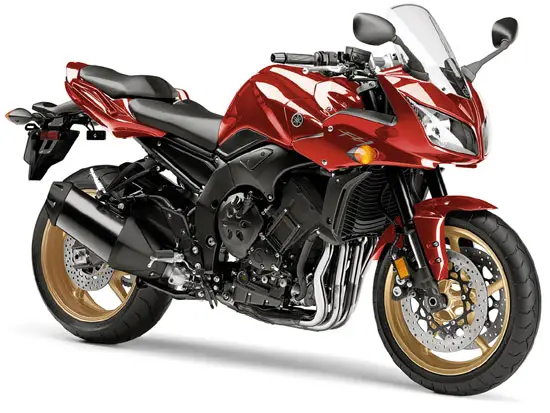 2010 Yamaha FZ1 (Canadian Colours)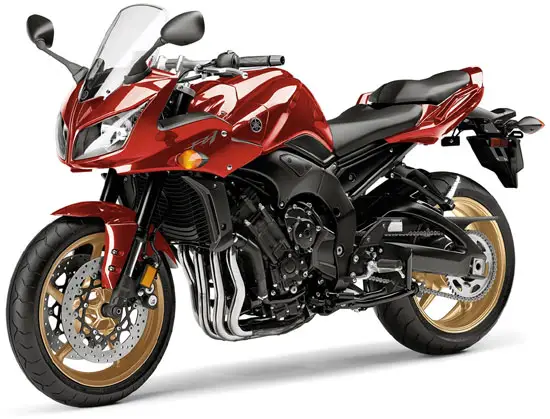 2010 Yamaha FZ1 (Canadian Colours)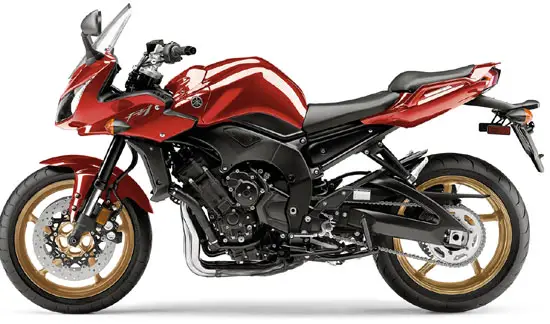 2010 Yamaha FZ1 (Canadian Colours)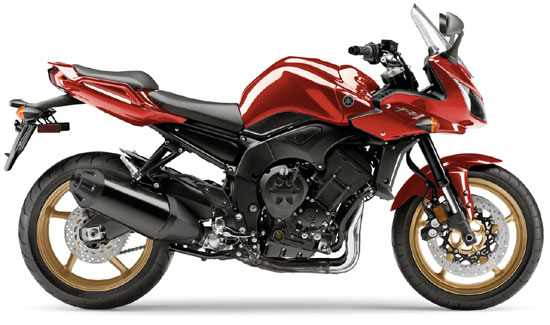 2010 Yamaha FZ1 (Canadian Colours)


– 2010 Yamaha FZ1

2010 Yamaha FZ1
Real-world performance that will make your everyday ride extraordinary.
The Yamaha 2010 FZ1 a cutting edge sport bike with a twist. Unlike most other machines in this class, the Yamaha FZ1 features a state of the art engine and chassis designs. The twist is you do not have to sacrifice performance or handling to gain excellent rider and passenger comfort… the FZ1 offers it all.
Crunch the numbers, do the math and then take a seat aboard the world's best "naked" sport bike.
Surprisingly comfortable eh? You are looking at one of the best values in Yamaha's 2010 line-up. The FZ1 offers exceptional open class performance with cutting style. R1 inspired power, fuel injection, twin spar aluminum frame and fully adjustable suspension. The FZ1 is a serious sport bike that offers an exceptionally comfortable and exciting riding experience.
Stripped down and ready to rumble.
Think of the 2010 Yamaha FZ1 as an upright Yamaha R1 ready to take on the world. There is more fuel-injected power in that smooth 20-valve four-cylinder than most riders will ever use in a sure footed chassis. It is a riders best ally, from track days, to commuting to touring.
New for 2010:

" The ECU mapping has been revised to achieve improved throttle response in the low to mid-rpm range.



Highlights:
Fuel Consumption * 15kpl/42mpg(Imp)
3rd generation fuel injected R1 powerplant
Serious sports focus with comfortable ergonomics

Features and Benefits (USA):
Key Features:

" Our ultimate street brawler brings 998cc of fuel-injected power to the fray, in a light-and-strong aluminum frame.

" Sculpted bodywork and a comfortable handlebar position for great looks and rider comfort.

" Adjustable suspension lets the FZ1 be dialed in for a wide range of uses-everything from urban assault to sport touring.

Engine:

" Compact design, 998cc DOHC 20-valve engine is tuned for tremendous mid-range punch and massive top-end power.

" Fuel injection with computer-controlled sub-throttle valves provides precise fuel/air mixture for superb power delivery across the entire rev range.

" Closed-deck cylinder block provides great strength while allowing a narrow engine in spite of big, 77mm bores.

" Narrow-angle five-valve combustion chambers produce a highly efficient 11.5:1 compression ratio.

" Carburized connecting rods with fracture split big ends produce a quick-revving engine with excellent high-rpm durability.

" High silicon-content ceramic-composite cylinder lining reduces friction and maximizes heat dissipation for consistent power delivery.

" Four-into two-into one short-style exhaust system with Exhaust Ultimate Power valve (EXUP®), a stainless catalizer and oxygen sensor. Delivers outstanding power throughout the FZ1's broad rpm range while meeting all emissions regulations.

" Race-inspired curved radiator with twin ring-style fans keeps everything cool under all conditions.

Chassis/Suspension:

" Aggressive chassis geometry with Supersport inspired 51 percent front wheel weight bias. Provides quick and nimble handling.

" Short 4.76-gallon fuel tanks allows the rider to move into a forward position. Rider forward ergonomics move the rider into a position of great control.

" Cast aluminum frame uses the engine as a stressed member. Allows for optimal rigidity, light weight and superb handling.

" Stressed-engine design holds the engine in place with six mounts, for excellent vertical stiffness and handling.

" Controlled-Fill (CF) aluminum swingarm. Lightweight and tuned for excellent handling and tire grip; looks great, too.

" Fully adjustable 43mm inverted fork and a single shock with adjustable preload and rebound damping. Tunable for sport touring or track days.

" 320mm front discs squeezed by monoblock four-piston calipers up front and a single 245mm rear disc serve up strong and consistent stopping power.

" Removable subframe for easy maintenance and detachable passenger footpegs for even more stripped-down style.

" Light, five-spoke wheels and fat radial tires, including a 190/50-ZR17 rear, complete the look and serve up the traction.

Additional Features:

" Half-cowl fairing design features aggressive eye-catching naked bike profile.

" High-tech instrument display features analog tachometer, digital speedometer, dual trip meter with miles on reserve function, odometer, water temperature and lights for neutral, high beam, low fuel and turn signals-also a fade-in lighting feature with adjustable brightness.

" Two-piece seat serves up great comfort.

" Passenger grabrails provide passenger comfort while maintaining an aggressive appearance.

" Durable O-ring-sealed drive chain provides longer chain life.

" Dual 12V 60/55-watt multireflector headlight features a sleek, profile for superb aerodynamics and visibility.

" Standard toolkit located in convenient storage compartment under passenger seat.
Features and Benefits (Canada)
Engine:
" Ultra-lightweight 998cc, DOHC, 20-valve, liquid-cooled, 40 degree inclined, in-line four-cylinder engine. The engine has been tuned to provide outstanding performance and excellent passing performance.

" The crankcases, pistons, cylinder and cylinder head are based on the 3rd generation R1 powerplant ('04 to '06).

" Combustion chamber design and squish area has been optimized for maximum sports performance. The compression ratio for the FZ1 is 11.5:1. Redline is set at 12,000 rpm and features a "soft" rev limiter to protect the engine.

" Special lightweight, high lift, high performance intake and exhaust cams help to provide incredible horsepower and fast engine response. Cam profiles and the cam timing are designed to provide for more low to midrange power (Vs R1) .

" Automatic cam chain tensioner reduces both maintenance and engine mechanical noise.

" Lightweight, 3rd generation R1 based crankshaft provides quick engine response.

" Connecting rods are carburized and use a nutless design. The lower end "cap" of the rod is made from the same piece of material as the upper portion, this design is known as "fracture splitting". This design aids establishing true big end roundness and greater precision in con rod dimensions.

" Closed deck cylinder design allows the cylinders to be spaced more closely together, allowing a narrower engine. The cylinder block is a stand-alone part. The benefit if this design is improved sealing, and easier serviceability.

" Ceramic composite cylinder "bores" are a "liner less" design with the ceramic coating sprayed directly on the aluminum block to ensure great heat dissipation for consistent power delivery, reduced friction and reduced weight.

" Short skirt, lightweight forged piston design features special ribs in the piston pin area for great rigidity.

" 3rd generation R1 inspired "stacked" 3-axis gearbox / clutch design stacks input/output shafts to create a low center of gravity and keeps overall engine size shorter front to back. As a result, the stacked design gives the engineers the freedom to place the engine in the frame for optimum front to rear weight balance and thereby maximizing handling

" Smooth shifting 6-speed transmission features optimized gear ratios for maximum performance in the "real world". 5th and 6th ratios are wider for reduced engine rpms at highway speeds for more relaxed cruising.

" Compact, heavy duty, multi-plate clutch ensures consistent, positive engagement.

" This design uses coil springs (5) and paper based fiber plates (9) to reduce weight.

" Mikuni fuel injection system is based on the 2006 R1 design, featuring 45mm throttle bodies fitted with T.P.S. (Throttle Position Sensor). This style of fuel injection uses dual valve throttle bodies with motor driven sub or secondary throttle valves for optimum throttle response.

" The actual injectors are Denso "long nose" type injectors with a high dynamic range and 4-spray holes for excellent power and response across the entire rev range.

" Specially designed 8.2-liter air box with intake air temperature sensor maximizes performance. A viscous type air filter is utilized.

" The fuel injection's lightweight Electronic Control Unit (ECU) utilizes a powerful 32-bit processor for faster control of the injection process. The compact design also reduces weight.

" Yamaha's patented Exhaust Ultimate Power Valve (EXUP) monitors engine rpm and adjusts exhaust flow for maximum performance at all rpms with no flat spots. This system also optimizes fuel economy and reduces emissions.

" 4 into 2 into 1 exhaust system features chamber-less, stainless steel exhaust pipes and a short design silencer / muffler. The header pipe length has been optimized for maximum power delivery. This system is fitted with two 3-way honeycomb catalyziers with an oxygen sensor to reduce harmful CO and HC exhaust emissions. This EXUP valve is a single axis design.

" High-efficiency curved radiator features compact dual ring-type fans for maximum cooling efficiency. This rad and fan design produces more airflow than conventional flat design rads to maintain optimum engine temperatures for consistent power output. The curved design also allows a shorter wheelbase.

" Large liquid-cooled oil cooler maintains stable lubricant temperatures for extended engine life. Convenient cartridge style spin-off oil filter.

" Convenient clutch cover sightglass ensures easy oil level inspection.

" Maintenance-free transistor-controlled digital ignition ensures great performance at all rpms.

" Air Induction System (AIS … not ram air) reduces harmful HC and CO emissions for a cleaner environment.

" Re-mapped ECU improves low to mid speed performance and provides more linear torque development.

Chassis/Suspension:

" Die cast lightweight aluminum twin spar frame provides an optimized rigidity balance for incredible sports handling. The engine is a stressed member of the chassis, allowing a lighter main frame design without sacrificing stability and light, agile handling qualities.

" The riding position which is one of the most important features of the FZ1 offers a balance between a sporty riding position and great rider comfort.

" Key chassis geometry figures include: 51% front and 49 % rear weight balance, 25 degrees of rake and 109 mm of trail. The 47 degree lean angle highlights the FZ1 sporty side.

" Lightweight, detachable rear sub frame allows easy access to rear suspension components and reduces costs in the event of a "loop-out".

" C.F. (Controlled Filling) die cast truss-type rear swingarm offers great rear wheel control and traction for razor-sharp cornering and superb stability at speed. The long 629mm arm helps to minimize the effect of the chain tension on the bike's handling.

" 43mm Kayaba inverted cartridge style fork is fully adjustable and offers 130mm (5.1″) of wheel travel. This fork features independent damping adjustments for compression and rebound via a one way port that separates the two functions. Adjustments include: spring preload, 26-way compression damping and 26-way rebound damping. The adjustable design allows the rider to tailor suspension settings to match rider weight and road /track conditions to maximize handling and suspension performance.

" Lightweight aluminum upper triple clamp features a 25mm offset for sportier handling.

" Link-type Monocross rear suspension features an adjustable Kayaba shock that allows the rider to tailor suspension settings to match load and road conditions. Adjustments include 7 – way spring preload, and 12-way rebound damping. Rear wheel travel is 130mm or 5.1″

" 320mm dual front discs are squeezed by ultra rigid R6 inspired monoblock, 4-piston calipers which provide outstanding stopping power and lever feedback. The master cylinder utilizes 16mm piston for outstanding stopping power with less lever effort.

" 245mm rear disc is squeezed by a lightweight single piston slide-type Nissin caliper with sintered metal brake pads.

" Lightweight cast-aluminum 5-spoke wheels reduce unsprung weight for great handling characteristics. The front wheel is an MT3.50-17 and is fitted with competition-spec 120/70-ZR17 tire, while the rear wheel is a MT6.00-17 fitted with a wider 190/50-ZR17 rear radial.

" Eye catching, half fairing offers surprisingly good wind and weather protection. It features R1 inspired dual "cat eye" halogen headlights.

" Conventional handlebar design features a more upright positioning for maximum everyday comfort.

" 18-liter fuel tank offers a slim design with great knee grip. The reserve portion of the tank is 3.4 litres.

" Separate rider and passenger seats offers exceptional solo or two-up comfort.

" One-piece instrumentation features analog tachometer, digital speedometer, dual tripmeters, fuel gauge, clock and new outside air temperature display. The back lighting on the instrument can be adjusted to suit the rider's preference.

Details
" Low fuel warning light

" Integrated passenger grab rails

" Adjustable, 5-position front brake lever

" Durable "O"-ring-sealed drive chain

" Lightweight, sealed low-maintenance battery

" Excessive lean angle engine cut-out switch.

" Lockable steering

The FZ1 offers a significant level of power and performance. It is not intended for novice or inexperienced riders.
2010 Yamaha FZ1 – USA Specifications
MSRP* $10,290 (Raven) Available from February 2010
$10,290 (Candy Red) Available from February 2010


Engine
Type 998cc liquid-cooled inline 4-cylinder; DOHC, 20 valves

Bore x Stroke 77 x 53.6mm

Compression Ratio 11.5:1

Fuel Delivery Fuel injection

Ignition Digital TCI: Transistor Controlled Ignition with 32-bit ECU

Transmission 6-speed w/multiplate clutch

Final Drive O-ring chain


Chassis
Suspension/Front 43mm fork; fully adjustable, 5.1-in travel

Suspension/Rear Single shock; adjustable preload and rebound damping, 5.1-in travel

Brakes/Front Dual 320mm floating discs w/4-piston calipers

Brakes/Rear 245mm disc w/single-piston caliper

Tires/Front 120/70-ZR17

Tires/Rear 190/50-ZR17


Dimensions
Length 84.3 in

Width 30.3 in

Height 47.4 in

Seat Height 32.1 in

Wheelbase 57.5 in

Ground Clearance 5.5 in

Rake (Caster Angle) 25.0°

Trail 4.3 in

Fuel Capacity 4.76 gal

Fuel Economy** 35 mpg

Wet Weight 487 lb


Other
Warranty 1 Year (Limited Factory Warranty)





2010 Yamaha FZ1 – Canada Specifications
MSRP: $ 13,199 CDN

Engine Liquid-cooled, DOHC, 20-valve, in-line four-cylinder
Displacement 998cc
Bore and Stroke 77 x 53.6mm
Compression Ratio 11.5:1
Maximum Torque 10.5kg-m (76.7 ft-lb) @ 9,000 rpm
Fuel Delivery 45 mm Mikuni throttle body fuel injection
Estimated Fuel Consumption* 15kpl / 42mpg (Imp.)
Lubrication Wet sump
Ignition / Starting Digital TCI / Electric
Transmission 6-speed
Final Drive "O"-ring chain

Suspension (Front) Adjustable inverted 43mm fork
Suspension (Rear) Fully adjustable link Monocross
Brakes (Front) Dual 320mm discs
Brakes (Rear) 245mm disc
Tires (Front) 120/70 ZR17
Tires (Rear) 190/50 ZR17

Length 2,140mm (84.3″)
Width 770mm (30.3″)
Height 1,205mm (47.4″)
Wheelbase 1,460mm (57.4″)
Rake / Trail 25° / 109mm (4.3″)
Seat Height 815mm (32.1″)
Fuel Capacity 18 litres (4 imp. gallons)
Wet Weight 220 kg (484 lb.)
Colour(s) Metallic Black
Deep Metallic Red

* Fuel economy estimates are based on US EPA exhaust emission certification data obtained by Yamaha and converted into Canadian measurements. Your actual mileage will vary depending on road condition, how you ride, maintain your vehicle, accessories, cargo and operator/passenger weight.

Specifications, appearance, and price of product are subject to change without notice.
* MSRP does not include freight, PDI (Pre Delivery Inspection), pre-rigging (boats), or taxes. Dealer may sell for less.