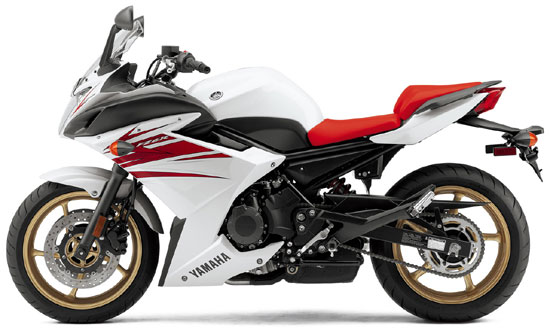 Back to 2010 Yamaha Motorcycle Index Page
Click photos to enlarge.
They make great desktop images.
– 2010 Yamaha FZ6R

2010 Yamaha FZ6R
The all-new FZ6R offers features that make it easy for beginning riders to get started.
The 2010 Yamaha FZ6R has a special ambience that makes you feel comfortable the minute you swing a leg over the seat. It is a sports bike that does not make any earth shattering claims; just a bike that will leave you smiling after each and every ride. Perhaps you are just getting started in motorcycling or have been around long enough to recognize that fun is not always determined by engine size or horsepower.
Hardcore. Not hard to afford.
The Yamaha FZ6R offers features that make it easy for beginning ridres to get started: low seat height, grips that reach back, and a torquey, 600cc engine you won't outgrow anytime soon. Add a diamond-steel frame, a sleek fairing, Yamaha R6-style exhaust and a price that makes it way more affordable that in looks.
Somewhere between cruisers and supersport bikes exists a genre simply known as "sports" bikes.
The FZ6R fits perfectly into the less intense sport bike world with its easy to control power, light weight and low seat height. A slim compact chassis complements the fuel injected engine and its very linear throttle control. No lap records here, just a bike that inspires rider confidence and is a blast to ride.
Highlights:
Fuel injected, 600cc, DOHC, 4-valve, in-line 4 tuned for fun and ease of use
Sporty styling and low seat height
Features and Benefits (USA):
Key Features:

" A rider in the market for an entry level or commuter 600cc bike doesn't have to compromise performance or style to get value. The FZ6R is a great combination of performance, handling, and exciting sport bike style, but also with a low seat height that's both adjustable to fit a wider variety of riders and also narrower where it counts to make it even easier to put both feet on the ground.

" The engine delivers smooth power just the way today's rider needs it, brisk acceleration with plenty of torque that makes it a pleasure to get around town, with lots in reserve for when you want more. This is certainly not a "no frills" motor. It's derived from the FZ6 motor, fuel injected and tuned for outstanding low to mid engine performance.

" Even if your primary goal is commuting to school or work, you want to be able to get out and have fun riding some twisty back roads. The FZ6R is ready to put a grin on your face! The diamond-shaped frame, made of high-tensile steel pipes using the engine as a structural member of the chassis, becomes the foundation for handling performance. It's designed to provide the right rigidity balance to contribute to smooth cornering performance.

" When it comes to putting power to the pavement, the new FZ6R uses nothing less than quality radial tires, 120/70R 17-inch front and 160/60R 17-inch rear. And this bike's excellent stopping performance is due to dual 298mm front discs and a 245mm rear disc, both with comfortable to use controls.

Engine:

" The fuel-injected engine in the FZ6R has been designed to meet the demands of today's motorcyclist. This engine optimizes the entire flow from the intake of the fuel-air mixture to combustion and exhaust. Even though it shares both bore and stroke dimensions with the FZ6, the cylinder head, crankcase, intake and exhaust system, as well as the clutch and shifter, were completely redesigned for the FZ6R, creating a power unit with an entirely different character.

" The 600cc liquid-cooled 4-stroke in-line 4-cylinder engine is ready to respond with smooth, linear performance when the rider twists the throttle. Maximum output is achieved at a spirited 10,000 rpm and maximum torque is obtained at 9000 rpm. Bottom line: Its outstanding "torquey" low to mid rpm engine performance is just right for someone who enjoys commuting to work or school or riding the canyons on the weekends.

" Lightweight forged aluminum pistons are used. Because the aluminum alloy is heated and formed under pressure without having to melt it completely as in conventional casting techniques, the strength of the original metallurgic matrix of the aluminum is maintained. As a result, a forged piston is stronger than a cast one and can thus be designed for lighter weight, which contributes to a reduction in vibration. In fact, many riders will be surprised at how smooth this motor is.

" The 32-bit ECU controls the four-hole, two-direction, high-dynamic-range type fuel injectors for superior injection control. By delivering the precise fuel-air mixture needed for conditions, the engine can deliver great power and fuel economy.

" Much like many of today's high end sport bikes, the FZ6R has a 4-into-2-into-1 midship exhaust. Not only does it provide a throaty, yet comfortably quiet exhaust note, the system also includes 3-way catalytic converter technology to reduce exhaust emissions.

Chassis/Suspension:

" With its exciting sport bike looks, onlookers will know this isn't just another middleweight bike. There's no mistaking Yamaha's high-performance heritage in the FZ6R.

" The seat has separate front and rear sections, and the rider's seat features an innovative height adjustment mechanism. The seat can be set 20mm – just over 3/4 of an inch – higher for taller riders, a change that can make a big difference on an all-day ride.

" The handlebar position can be adjusted 20mm forward by rotating the handlebar clamps to fine-tune rider comfort.

" The overall chassis rigidity has been designed to provide both excellent handling and all-day comfort. In order to further enhance the smoothness and comfort of the ride, the front-end dimensions a have been optimized, including a caster angle of 26° and trail of 103.5mm, contributing a bike that has great steering feeling, making the bike even more of a pleasure to ride.

" The front suspension has sturdy 41mm inner tubes, matched to a die-cast aluminum upper triple clamp and forged-steel under bracket, providing superior cushioning performance and good front-end feel. Wheel travel is a generous 5.1 inches to help soak up those bumps in the road.

" The rear suspension is lightweight and contributes to the mass centralization, and the mono-cross suspension provides excellent wheel travel, a full 5.1 inches. Superior road hugging performance has been achieved with optimally designed damping-force valves and oil channels.

" This bike boasts hydraulic disc brakes front and rear. The 298mm diameter front discs are lightweight for reduced unsprung weight, while the single rear disc is 245mm, and the brakes feature semi-metallic pads. The brakes have been designed to offer great feel and superb braking ability.

" FZ6R mounts tubeless radial tires on cast aluminum wheels. While their lightweight construction helps centralize mass, they also help contribute to agile handling.

Additional Features:

" The meter panel gives the rider plenty of feedback, including a digital display speedometer, analog tachometer, odometer/ tripmeter, fuel gauge, and water coolant gauge.
Features and Benefits (Canada)
Engine:
" Ultra-compact, 600cc, liquid-cooled, DOHC, 16-valve, slant block in-line four powerplant. This engine has been specially tuned for ease of riding with very linear power characteristics. It is loosely based on the FZ6 with revised cylinder head, crankcases, intake and exhaust systems plus a revised clutch and shifter.

" Cylinder head features the same size intake (25mm)and exhaust (22mm) valves as the FZ6 but the intake port shape has been narrowed for increased air velocity resulting in cleaner, more linear throttle response.

" Lightweight hollow camshafts feature revised lift and duration profiles (Vs the FZ6) providing excellent torque in the low and mid rpm range and also help to achieve excellent linear throttle control. Fuel economy is also optimized.

" Automatic hydraulic-type cam chain tensioner reduces mechanical engine noise and maintenance.

" One-piece cylinder and upper crankcase assembly provides superior engine and chassis rigidity as well as reducing weight.

" Ceramic composite plated sleeveless cylinder bores provide greater heat dissipation for consistent power delivery and reduced frictional power losses. Sleeveless design also reduces weight.

" Lightweight forged pistons connected to carburized connecting rods provide superior strength and reduced reciprocating mass for crisp throttle response and reduced vibration.

" "Group-Type" Mikuni 32mm throttle body fuel injection provides outstanding throttle response and excellent fuel economy. Group fuel injection divides the four cylinders into two groups (1 & 4 and 2 & 3) with two injections of fuel for every 720 degrees of crank rotation.

" Compact "high dynamic range" injectors use 4-hole / 2-direction spray type injectors for excellent throttle control, reduced emissions and great fuel economy.

" A high powered, compact 32 bit ECU controls the ignition and injection processes.

" Compact slant-block engine uses a "Tri-Axis" stacked 6-speed transmission design to create a shorter engine (front to back) which allows for optimum engine placement in the frame for a balanced weight distribution and great handling.

" "Inner push" type clutch release mechanism provides very light and smooth clutch lever action.

" Shifter layout and design provides smooth, positive shifting.

" Compact 4 into 2 into 1 "midship" style exhaust system features a 3-way catalytic converter which reduces harmful exhaust emissions (CO, HC, CO2 and NOx). The result is very clean running engine that easily surpasses strict EPA and EU European emission standards.

" This "midship" style exhaust system concentrates mass in the centre of the bike and keeps the centre of gravity low for light agile handling at any speed.

" High capacity radiator with ring-type cooling fan insures maximum cooling efficiency.

" Liquid cooled oil cooler maintains consistent oil temperatures for extended engine and lubricant life.

" Convenient spin-on type oil filter.

" Maintenance-free transistor controlled digital ignition ensures fast starts and optimum engine performance.

" Air Induction System (AIS) reduces harmful hydrocarbon and carbon monoxide (HC & CO) emissions.

Chassis

" "Diamond-type", high tensile tube type steel frame is used. The main frame tubes are 31.5mm in diameter and feature a minimum of welds and bends. Rigidity around the steering head and swingarm pivot has been optimized for excellent handling and stability.

" This frame design helps to maintain one of the lowest seat heights (785mm / 30.1″) in the 600 sports class.

" The engine is mounted to the frame in 4 locations making it a stressed chassis member and enhancing handling qualities.

" A box section steel swingarm compliments the frame and aids in providing a light handling feel.

" Detachable steel rear sub frame reduces costs in the event of a "loop-out".

" Conventional 41mm cartridge style fork provide great handling and excellent ride comfort. Plastic protectors help prevent tube damage due to stone chips. Wheel travel is 130mm (5.1″).

" "Link less" rear suspension means the rear shock mounts directly to the frame and swingarm without the use of linkages. The rear suspension system has been designed to provide a rising rate feeling without the additional weight of linkage arms and pivots. The shock features 4-way spring pre-load adjustability. Wheel travel is 130mm (5.1″)

" Dual 298mm floating front disc brakes are squeezed by a Nissin twin piston calipers. Braking performance is progressive and lever feel is excellent.

" 245mm rear disc brake with single piston caliper provides excellent stopping power.

" Full fairing offers great wind and weather protection plus a stylish new design. An inner panel around the instrument area provides a clean, quality image for the "cockpit".

" Stylish 17.3 litre (3.8 Imp. gal.) fuel tank provides an excellent riding range between fill ups.

" Lightweight 5-spoke mag wheels are fitted with Z rated radial tires which reduce unsprung weight for light, agile handling.

" Stylish two piece rider and passenger seat design offers excellent comfort. The rider portion of the seat is adjustable. The standard position is the lowest (785mm / 30.9″) position with an ability to increase the rider seat height by 20mm or approximately ¾ of an inch.

" Adjustable handlebar design. The traditional 7/8″ steel handlebars not only offer a comfortable, more upright riding position but can also be adjusted 20mm (approximately ¾ of an inch) forward by rotating the handlebar mounting brackets 180 degrees. The traditional handlebar design also allows easy replacement to a different "bend" if so desired.

" FZ1 inspired multi-function instrument assembly. Features include an analog tach, digital speedo, dual tripmeters, clock, fuel gauge and fuel reserve tripmeter plus a full range of warning lights. All new single lens 60/55 watt halogen headlight


Details:
" Adjustable front brake lever

" Convenient passenger grab rails

" 520 size "O" ring chain reduces weight

" Low maintenance, sealed battery

" Optional centre stand is available
2010 Yamaha FZ6R – USA Specifications
MSRP* $7,390 (Raven) Available from February 2010
$7,490 (Team Yamaha Blue/White) Available from February 2010
$7,490 (Pearl White/Rapid Red) Available from February 2010
$7,490 (Pearl White/Vivd Magenta) Available from February 2010


Engine
Type 600cc liquid-cooled 4-stroke, DOHC 16 valves

Bore x Stroke 65.5mm x 44.5mm

Compression Ratio 12.2:1

Fuel Delivery Fuel injection

Ignition Digital TCI: Transistor Controlled Ignition

Transmission 6-speed; multi-plate wet clutch

Final Drive Chain


Chassis
Suspension/Front Telescopic fork, 5.1-in.travel

Suspension/Rear Single shock, 5.1-in travel

Brakes/Front Hydraulic disc, 298mm

Brakes/Rear Hydraulic disc, 245mm

Tires/Front 120/70 ZR17

Tires/Rear 160/60 ZR17


Dimensions
Length 83.5 in

Width 30.3 in

Height 46.7 in

Seat Height 30.9 in

Ground Clearance 5.5 in

Wheelbase 56.7 in

Rake (Caster Angle) 26.0°

Trail 4.1 in

Fuel Capacity 4.6 gal

Fuel Economy** 43 mpg

Wet Weight 467 lb (California model: 469 lb)


Other
Warranty 1 Year (Limited Factory Warranty)





2010 Yamaha FZ6R – Canada Specifications
MSRP: $ 8,899 CDN
Engine Liquid-cooled, DOHC, 16-valve, in-line four
Displacement 600cc
Bore and Stroke 65.5 x 44.5mm
Compression Ratio 12.2:1
Maximum Torque 6.1 kg-m (44.1 ft-lb) @ 8,500 rpm
Fuel Delivery 32mm throttle body FI
Lubrication Wet sump
Ignition / Starting Digital TCI / Electric
Transmission 6-speed

Suspension (Front) 41mm fork
Suspension (Rear) Monocross
Brakes (Front) Dual 298mm discs
Brakes (Rear) 245mm disc
Tires (Front) 120/70ZR17
Tires (Rear) 160/60ZR17

Length 2,120mm (83.5″)
Width 770mm (30.3″)
Height 1,185mm (46.7″)
Wheelbase 1,440mm (56.7″)
Rake / Trail 26° / 103.5mm
Ground Clearance 140mm (5.5″)
Seat Height 785mm (30.9″)
Fuel Capacity 17.3 litres (3.8 Imp. gal.)
Wet Weight 212kg (466.4 lb)
Colour(s) Yamaha Blue
Metallic Black
White with Red
White with Black

* Fuel economy estimates are based on US EPA exhaust emission certification data obtained by Yamaha and converted into Canadian measurements. Your actual mileage will vary depending on road condition, how you ride, maintain your vehicle, accessories, cargo and operator/passenger weight.

Specifications, appearance, and price of product are subject to change without notice.
* MSRP does not include freight, PDI (Pre Delivery Inspection), pre-rigging (boats), or taxes. Dealer may sell for less.