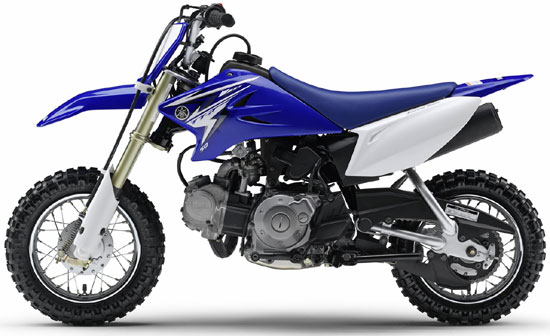 Click photos to enlarge. They make great desktop images.
– 2010 Yamaha TT-R50E

2010 Yamaha TT-R50E
Pint sized fun.
Looking every bit like one of our bigger championship winning YZ's, the 2010 Yamaha TT-R50E has fun written all over it. Whether you are 5 or the father of a 5 year old, the 2010 TT-R50E makes a great starter bike or a stylish pit bike. Let the fun begin… with the push of a button.
The smallest sibling in the TT-R family is the YZ inspired 49.5cc electric start TT-R50E.
Now you can look and feel just like one of the Yamaha factory stars with the TT-R50E. Ready to ease the new rider into the fun and exciting world of motorcycling, the smallest member of the TT-R clan sports convenient electric starting and an easy to use 3-speed transmission with an automatic clutch. Watch out, the smiles will be contagious.
Highlights:
49cc 4-stroke power
Electric starting
Features and Benefits (Canada)
Engine
" Air-cooled, 49.5cc, SOHC, 2-valve, 4-stroke powerplant produces smooth, reliable novice friendly power that eases the new rider up the learning curve.

" Convenient, push-button electric starting makes starting a snap and takes one of the hassles out of learning how to ride.

" Compact engine cases keep the engine narrow, making it easier for a smaller rider to get their feet firmly on the ground.

" Lightweight crankshaft design means crisp throttle response.

" The cylinder uses a conventional cast iron liner which means the engine can be overbored. The benefit is reduced costs in the event of a problem, plus the unit can be bored for adult pit bike use.

" Valve design features a special "carbon cutter" valve stem which helps to prevent the build up of carbon on the stem, which could cause a valve to stick. This is an important feature when a unit will be operated at sustained low speed and low rpms. Valve adjustments are via rocker arms for ease of maintenance.

" Automatic ratchet-type cam chain adjuster reduces maintenance, extends engine life and reduces mechanical noise.

" Mikuni VM11 carburetor ensures crisp throttle response and great fuel economy. It also features an electric carb heater for reduced engine warm-up time and faster cold starting. This carb heater senses ambient air temperature and therefore will not function if it is 16 degrees Celsius or warmer.

" Washable foam air filter reduces maintenance costs.

" Smooth-shifting, 3-speed transmission with automatic centrifugal clutch eases the beginner into the basics of shifting, without the complications of a clutch. The auto clutch means all the rider does is shift the foot pedal … there is no clutching involved.

" Transmission ratios have been designed to compliment the engine's power band.

" CDI ignition system delivers a hot, reliable spark, sure starts and requires no maintenance.

" Centrifugal oil filtering system is basically an automatic system that requires no maintenance.

" Lightweight, upswept exhaust system features numerous heat shields to protect young riders for hot components. This exhaust system produces a quiet exhaust note which will keep the neighbors happy. A cleanable screen-type spark arrestor protects Mother Nature from stray sparks.
Chassis/Suspension

" Rugged "mini-size" steel back bone type frame provides rugged durability whether being ridden by a child or an adult. The engine mounts to the frame at three points, making the entire chassis more rigid for superior handling.

" Triangulated steel tube swingarm is both rugged and rigid.

" Inverted 22mm Showa front fork offers a class leading 96mm (3.8″) of wheel travel providing confidence-inspiring control over rough terrain. The lower fork legs feature rugged plastic protectors that help to protect the fork legs from stone chips.

" Monocross single shock rear suspension with 71mm (2.8″) of wheel travel delivers progressive suspension performance to smooth out rough trails.

" Low 556mm (21.9″) seat height provides a handling-enhancing lower centre of gravity and allows most riders to put both feet firmly on the ground for added confidence.

" Long, motocross-style seat is low, comfortable and allows easy rider movements.

" Front and rear 80mm drum brakes deliver strong dependable stopping power. The brake design and components are the same front and rear.

" 2.50×10 front and rear knobby tires feature a 4 ply design, and offer superb traction in the dirt.

" 135mm (5.3″) of ground clearance allows the TT-R50E to tackle modest obstacles.

" Rugged YZ-inspired plastic body components resist damage in the event of a tip-over. This design gives the TT-R50E that big YZ look while also creating a narrow profile for easy rider movements.

" Key operated, handlebar mounted ignition switch prevents joy rides when an adult supervisor is not present.

" Rugged YZ style handlebar features a re-enforcing cross bar for extra strength and a foam pad to protect the rider. YZ style grips give that big bike feel.

" Special sealed battery design is low-maintenance and prevents leakage even during a tip-over.

" Serrated steel folding footpegs provide excellent footing even in wet or muddy conditions.

" Convenient handlebar mounted paddle-style choke lever is easily accessible.

" On/off/reserve fuel petcock

Details

" Throttle stop screw allows parents or adult supervisor to control the top speed of the TT-R50E by restricting how far the throttle can be opened.

" Exhaust heat shields protect young riders from hot components

" Foam handlebar pad

" Keyed ignition allows parents to control use

" Upper and lower chain guards
IMPORTANT NOTE: Adult supervision and proper protective riding gear, including a helmet and eye protection are a must when a youngster is operating a TT-R50E.
2010 Yamaha TT-R50E – USA Specifications

Model not available in the United States of America



2010 Yamaha TT-R50E – Canada Specifications
MSRP: $1,899 CDN
Engine 4-stroke, air-cooled, SOHC, 2-valve, single
Displacement 49.5cc
Bore and Stroke 36 x 48.6mm
Compression Ratio 9.5:1
Maximum Torque 0.33 kg-m (2.4 ft-lb) @ 5,500 rpm
Fuel Delivery Mikuni VM11
Ignition / Starting DC-CDI / Electric
Transmission 3-speed, semi auto (automatic clutch)
Final Drive Chain

Suspension (Front) 22mm inverted fork / 96mm (3.8″)
Suspension (Rear) Monocross / 71mm (2.8″)
Brakes (Front) Drum
Brakes (Rear) Drum
Tires (Front) 2.50-10
Tires (Rear) 2.50-10

Length 1,305mm (51.4″)
Width 595mm (23.4″)
Height 775mm (30.5″)
Wheelbase 925mm (36.4″)
Ground Clearance 135mm (5.3″)
Seat Height 555mm (21.9″)
Fuel Capacity 3.1 litres (0.68 imp. gallons)
Wet Weight 57kg (125.4 lb)
Colour(s) Yamaha Blue
* Fuel economy estimates are based on US EPA exhaust emission certification data obtained by Yamaha and converted into Canadian measurements. Your actual mileage will vary depending on road condition, how you ride, maintain your vehicle, accessories, cargo and operator/passenger weight.

Specifications, appearance, and price of product are subject to change without notice.
* MSRP does not include freight, PDI (Pre Delivery Inspection), pre-rigging (boats), or taxes. Dealer may sell for less.