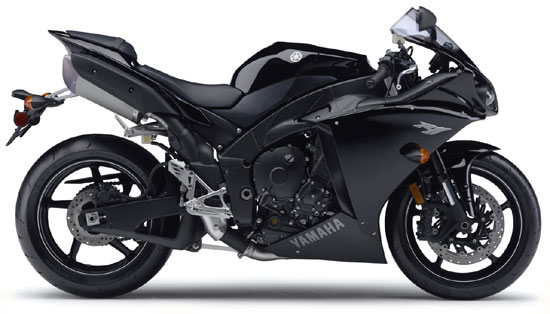 Back to 2010 Yamaha Motorcycle Index Page
Click photos to enlarge.
They make great desktop images.

2010 Yamaha YZF-R1 (Canada model above, for USA model see YZF-R1 LE)


– 2010 Yamaha YZF-R1

2010 Yamaha YZF-R1
The Bark is Bad. The Bite is Badder.
Introducing the 2010 R1 … Yamaha's technical "Tour de Force."
The MotoGP-inspired R1 is the most advanced Open-class production motorcycle.
The R1 has been designed to be the "Ultimate Cornering Master" of the open super sport class and one of the keys to incredible handling lies partly in the chassis but equally as important, in its ability to put useable power to the ground. This revolutionary cross-plane crank R1 delivers as much power as the rider wants, exactly when the rider wants it … by a simple twist of the right wrist; leaving the rider feeling like they are directly connected to the rear wheel of the new R1.
Forget everything you ever knew about the supersport liter class. The 2010 Yamaha YZF-R1 is unlike anything before. That's because it's the world's first production motorcycle with a crossplane crankshaft. The result? Incredibly smooth power delivery and outrageous torque for a rush like you've never experienced.
The 2010 Yamaha R1 represents a paradigm shift in technology, performance and controllability among litre class sport bikes. Inspired by Yamaha's M1 MotoGP race bike, this latest generation R1 features a crossplane crankshaft design with an uneven firing order to provide outstanding yet easy to control torque and an exceptionally linear throttle feel never experienced before. But there is far more to the R1 than just a revolutionary engine.
Highlights:
Fuel Consumption * 14kpl/40mpg(Imp)
New, 998cc, DOHC, 4-valve, in-line 4 with revolutionary "crossplane" crankshaft
New compact Deltabox chassis with fully adjustable suspension
* Fuel economy estimates are based on US EPA exhaust emission certification data obtained by Yamaha and converted into Canadian measurements. Your actual mileage will vary depending on road condition, how you ride, maintain your vehicle, accessories, cargo and operator/passenger weight.
Features and Benefits (USA):
Key Features:

" The YZF-R1 garnered the prestigious award as the 2009 Motorcycle of the Year from Motorcyclist Magazine. The YZF-R1 was chosen for its MotoGP®-inspired engine and chassis technology, and for its luxurious fit and finish.

" Back for 2010, the YZF-R1 is the only production motorcycle with a crossplane crankshaft. Crossplane technology, first pioneered in MotoGP® racing with the M1, puts each piston 90° from the next, with an uneven firing interval of 270°- 180°- 90°- 180°. This uneven order does an amazing thing… it actually lets power build more smoothly. That means smooth roll-on delivery out of the corners, with outstanding tractability, followed by very strong high rpm power. It's a feeling that's simply unmatched, like having two engines in one: the low-rpm torquey feel of a twin with the raw, high rpm power of an inline four. This breakthrough technology on the YZF-R1 represents a paradigm shift in both technology and performance.

" This R1 keeps all the technological superiorities developed for its predecessor: YCC-T™ (Yamaha Chip Controlled Throttle) is MotoGP® inspired fly-by-wire technology used to deliver instant throttle response. YCC-I® is Yamaha Chip Controlled Intake which is a variable intake system that broadens the spread of power. The fuel injection system provides optimum air/fuel mixtures for maximum power and smooth throttle response.

" The R1 features Yamaha D-MODE (or drive mode) with rider-selectable throttle control maps to program YCC-T performance characteristics for riding conditions. The standard map is designed for optimum overall performance. The "A" mode lets the rider enjoy sportier engine response in the low- to mid-speed range, and the "B" mode offers response that is somewhat less sharp for riding situations that require especially sensitive throttle operation. Switching maps is as easy as pushing a button on the handlebar switch.

" In keeping with this machine's exceptional cornering ability and crisp handling, the aluminum frame has been designed to offer exceptional rigidity balance. The rear frame is lightweight Controlled-Fill die-cast magnesium, contributing the optimum mass centralization. Suspension includes SOQI front forks which use one of the tricks developed for our winning MotoGP® bikes: independent damping. The left fork handles compression damping and the right side handles the rebound damping. And the rear shock adopts bottom linkage for optimum suspension characteristics.

" The bodywork does more than add break-away-from-the-crowd styling with its more serious, less busy look. The side fairing is smooth for a sleek appearance. And, instead of the usual four-bulb headlight design, the R1 has only two projector-type bulbs mounted closer to the nose of the bike. This positions ram air ducts closer in for a more compact, smooth look. In addition, the rounded lenses are unique to the supersport industry.

Engine:

" Crossplane crankshaft technology proven in victory after victory on MotoGP® machines provides a high-tech uneven firing interval. Unlike typical inline-four engine design, where the two outer and two inner pistons move together in pairs with 180° intervals, the crossplane crankshaft has each connecting rod 90° with a unique firing order of 270° – 180° – 90° – 180°. This overcomes the inherent fluctuations in inertial torque during each engine revolution, and the accompanying peaky torque characteristics. Instead, combustion torque continues to build, giving the rider more linear throttle response with awesome power and traction out of the corners.

" To maximize rider comfort as well as power output, the engine adopts a coupling-type balancer that rotates in the opposite direction as the crankshaft.

" This engine features forged aluminum pistons to take maximum advantage of the power characteristics. Titanium intake valves are lightweight.

" A forced-air intake system is adopted to increase intake efficiency by using the natural airflow during riding to pressurize the air in the air box. This contributes to outstanding power delivery characteristics in the high-speed range, while the design also helps to minimize intake noise.

" Slipper-type back torque-limiting clutch greatly facilitates braking/downshifting from high speed.

" The exhaust system is meticulously designed to enhance engine output while, thanks to its three-way catalyst technology, also reducing exhaust emissions. The silencer is a single expansion type, and the sound coming through from the unique crossplane crankshaft-equipped engine is unlike any other inline-four cylinder production supersport.

" This fuel-injected engine takes full advantage of YCC-T (Yamaha Chip Controlled Throttle), the MotoGP®-inspired fly-by-wire technology used to deliver instant throttle response. There's also YCC-I, Yamaha Chip Controlled Intake, the variable intake system that broadens the spread of power. Fuel injectors have 12 holes for optimum fuel atomization that translates to the most power from every fuel charge.

" Have it your way, thanks to Yamaha D-MODE (or "Drive Mode") variable throttle control. There are three modes that control how YCC-T responds to throttle input from the rider. The selectable "A" mode puts more emphasis on engine response in low to midrange rpm. "B" mode, on the other hand, provides less sharp response to input for riding situations that require especially sensitive throttle operation. The standard map is designed for optimum overall performance. Selecting the map you want is as easy as pressing a button on the handlebars.

Chassis/Suspension:

" The frame has a combination of uncompromising rigidity where needed along with carefully achieved flex for the precise rigidity balance this bike needs to give the rider the full benefit of its handling and engine characteristics. It is a sophisticated combination of Controlled-Fill die-cast, stamping, and gravity casting… the exact technology needed for each portion of this advanced frame.

" SOQI front forks take a page from the championship-winning design of our MotoGP® weapon, the M1. Since both forks always move together, compression damping duties can be confined to the left fork, while rebound damping is precisely handled by the right fork, reducing oil cavitation.

" The SOQI rear shock features both high and low speed compression damping plus an easy-to-use screw hydraulic adjustment for preload. This unit also adopts a pillow-ball-type joint for exceptional shock absorption, road hold feeling, and damper response. To achieve maximum performance, a bottom linkage is used to work with the rest of the chassis refinements for brilliant, crisp handling characteristics.

" Factory racers get machines tailored to their preferences. Welcome to the club. R1 has adjustable footrests, with a 15mm height and 3mm front-to-rear adjustment.

" The press-formed fuel tank has a shape developed using 3-D simulation analysis technology. The elongated shape of the tank allows it to fit neatly within the frame in a way that promotes concentration of mass.


Additional Features:

" The instrumentation includes everything a rider wants to know, including gear position.
Features and Benefits (Canada)
Engine:
" Ultra-lightweight, compact, 998cc, DOHC, 16-valve, liquid-cooled, 40 degree inclined, in-line four-cylinder engine with "crossplane" style crankshaft.

" The key components of this cutting edge engine design are the "crossplane" crankshaft and an uneven firing order. Both of these features are used on Yamaha's championship winning M1 MotoGP racer. Please note … this is not a "big bang" engine. The R1 departs from the norm for in-line 4 cylinder engines and the 180 degree alignment of the crank pins (where the connecting rods attach to the crankshaft), and locates the center two rods at a 90 degree plane from the outer cylinders. This means instead of the crank pins aligned on the same plane (a straight line drawn through the center of the crankshaft), they align on 2 planes in the form of a cross … or "crossplane". Working in conjunction with the crossplane crank is an uneven firing order. A traditional in-line 4 cylinder's firing order is normally 1,2,4,3 with a 180 degree interval. This R1 engine fires 1,3,2,4 cylinders and the firing intervals are uneven at 270 / 180/ 90 /180 degrees. What all this means to the rider is the most linear torque possible and amazing throttle control. This engine design allows a whole new level of rider – machine communication. One of the most important benefits is the outstanding cornering performance that increased engine control allows.

" The engineering goal for the R1 is controllability … not just an increase in horsepower. If that was the case, we could have simply increased the power output of the existing engine design resulting in a peaky, hard to use power band.

" The 4-valve cylinder head design features a compact combustion chamber that utilizes lightweight, trick, titanium valves on the intake side. The 4-valve design maximizes breathing efficiency and overall engine performance. This design also achieves cleaner emissions too.

" The titanium intake valves are 31mm in diameter while the steel exhaust valves are 25mm in diameter. Lightweight yet super strong VX alloy valve springs control valve movement.

" Steep valve angles, 11.5 degrees on the intake side and 12.5 degrees on the exhaust produce a compact combustion chamber.

" The lightweight titanium intake valves reduce the reciprocating weight of the intake valves allowing for higher rpms without the concern of valve float. The use of lightweight "Ti" valves has allowed the engineers at Yamaha to use a 4-valve format. In the past, the use of 5 smaller valves allowed a higher rpm limit since each of the "smaller" valves was relatively light. The use of light weight titanium now means the engineers no longer have to use the 5-valve design to achieve the same high rpms.

" Combustion chambers have been optimized for maximum engine performance. The compression ratio is 12.7:1.

" Compact automatic cam chain tensioner reduces both maintenance and engine mechanical noise.

" Short skirt, forged aluminium pistons offer light weight, fast throttle response and great reliability.

" Crossplane crankshaft features 36mm journals for increased strength, while the inertial moment of the crank has been increased by 20% versus the last generation R1.

" Connecting rods are carburized and use a nut less design. The lower end "cap" of the rod is made from the same piece of material as the upper portion and is cracked away in a process known as "fracture splitting". This process aids true big end roundness and greater precision in con rod dimensions.

" Ceramic composite cylinder "bores" are a "liner less" design with the ceramic coating applied directly to the aluminium block to ensure uniform heat dissipation for consistent power delivery, reduced oil consumption, reduced friction and reduced weight.

" Closed deck cylinder design allows the cylinders to be spaced more closely together, allowing a narrower engine.

" The cylinder block is a stand-alone piece (not integrated into the upper crank case). The benefit is reduced weight and a less tall engine which lowers the centre of gravity.

" A "coupling force balancer" is used to quell engine vibration.

" Compact ACM (alternator) is mounted directly to the crankshaft. The compact ACM uses rare earth magnets which produce more power for a given size than conventional magnets, therefore reducing size and weight.

" All Mikuni fuel injection system features twin injectors (one set of primary & one set of secondary injectors). This type of twin injector system is also used on our M1 MotoGP race bike and the R6. One set of injectors (primary) are located in the 45mm throttle bodies while the secondary injectors are located in the air box very near the computer controlled intake funnels. The primary injectors utilize 12 spray holes to maximize the fuel atomization process. The secondary injectors, located inside the air box, begin to function at mid rpms onwards to supply more fuel as required. This system is lighter and simpler than the sub motor driven secondary valve type FI system, which is no longer utilized due to Yamaha's chip controlled throttle ( YCC-T).

" The F.I. system features separate dual track TPS (throttle position sensor) and APS (accelerator position sensor) sensors

" An oxygen sensor is fitted into the exhaust collector making this a "closed loop" type FI system, which feeds back info to the ECU so adjustments can be constantly made to the fuel-air mixture for improved performance and reduced emissions.

" The benefits of fuel injection include excellent throttle response, great fuel economy, reduced emissions, stable idling and no choke to fuss with during start up.

" The fuel injection's lightweight Electronic Control Unit (ECU) utilizes a powerful 32-bit processor for fast control of the injection process. The compact design also reduces weight.

" YCC-I or Yamaha's Chip Controlled Intake means the intake funnels / stacks vary in length (2 positions) depending on engine rpm. An electronic servo motor varies the funnel length from the tall position at low to mid rpms to the shorter setting for improved high rpm power. The transition rpm between the 2 lengths is approx. 9,400 rpms. The revolutionary YCC-I provides the best of both worlds …solid low rpm torque and power combined with an amazing high rpm rush. It takes only 0.3 of a second for the funnels to move from the tall to the short position.

" Yamaha's exclusive YCC-I electric-control servo motor-driven variable intake funnel system is a world's 1st on a production motorcycle and works in conjunction with Yamaha's fly-by-wire technology and FI Systems.

" Yamaha Chip Control Throttle (YCC-T) electronically controls the throttle valves for outstanding response and improved controllability at all rpms. The YCC-T is used to provide even more control of the intake air volume for smoother torque character. Similar to the R6 design, the YCC-T features 3 – ECU's inside the main ECU to control ignition, fuel injection and the YCC-T. This special ECU is capable of responding to changes at a speed of 1000th of a second.

" The rider can "mechanically close" the throttles by simply closing the throttle twist grip.

" Long life Iridium twin electrode longer reach NGK LMAR9EJ spark plugs are used.

" Compact close-ratio 6-speed transmission features optimized gear ratios for maximum performance. The "stacked" 3-axis gearbox / clutch design stacks input/output shafts to create a low center of gravity and keeps overall engine size shorter front to back. As a result, the stacked design gives the engineers the freedom to place the engine in the "sweet spot" of the frame for optimum weight balance for awesome handling.

" The slipper or back limiter clutch assembly reduces rear wheel hop when making hard down shifts when under hard braking. Key benefit is reduced lap times and smoother control when riding aggressively during a race or track day.

" A multi plate clutch is used, utilizing coil springs and paper based fibre plates.

" "Ram Air" system "force feeds" outside air via dual ducts located beside the projector headlights into the intake system. As speed increases the air velocity in the system increases and pressurizes the air box. This "force fed" air helps the engine develop maximum power.

" Computer optimized large capacity air box maximizes performance. A viscous type, high flow air filter is utilized.

" 4 into 2 into 1 into 2 titanium exhaust system maximizes power output, reduces weight and improves aerodynamics. The dual under seat mufflers provide an aggressive sound as well as a great styling highlight. This system contains a 3-way honeycomb catalyser and an oxygen sensor. The catalytic converters reduces harmful CO and HC exhaust emissions while the oxygen sensor provides feedback to the ECU to maintain optimum fuel/air mixture at all times.

" Dual shorty, large diameter triangle shaped mufflers are a "single expansion" type that create a throaty exhaust note and help emphasize engine character. The exhaust note is much different than on previous R1 models due to the crossplane crank and uneven firing order … it sounds very similar to Yamaha's M1 MotoGP race bike.

" Compact, high-efficiency curved radiator features dual ring-type fans for maximum cooling efficiency. This curved rad and twin fan design produces more airflow than conventional flat designs to maintain optimum engine temperatures for consistent power output.

" Large liquid-cooled oil cooler maintains stable lubricant temperatures for extended engine life. Convenient cartridge style spin-off oil filter.

" Convenient clutch cover sight glass ensures easy oil level inspection.

" High performance direct ignition coils (ignition coil is built into the spark plug cap) reduce weight while iridium spark plugs and high-output magneto deliver increased spark energy.

" Yamaha D-Mode variable throttle control enables the rider to adjust the performance characteristics of the engine based on riding preferences or conditions. Standard mode emphasises the very linear throttle and torque feel of the engine. The A mode allows the rider to enjoy sportier engine performance in the low to mid rpm mode. While the B Mode reduces the power response for riding situations that require softer power characteristics. The switch mechanism is located on the RHS switch gear.


Chassis/Suspension
" Aluminium Deltabox frame has been designed to offer an optimized rigidity balance to maximize handling performance. This frame is very rigid or stiff at the head pipe, engine mounts and swingarm pivot point. In other areas, material has been carefully removed to allow "tuned flex". Finished in black, this frame boasts a compact 1415mm (55.7″) wheelbase. The swingarm pivot location has been optimized to minimize the chain tension effect under hard acceleration, providing more stable handling. The engine is a fully stressed chassis member to maximize handling. Stability, a key to great handling, is unsurpassed while the ability to hold a line under hard acceleration is excellent. This frame features a mix of gravity cast (head stock & front engine mounts & swingarm pivot area), CF (controlled filling) die cast (outer tank rails) and aluminium panels (inner tank rails). Each of these aluminium parts has different flex characteristics in order to provide the rigidity balance the engineers desired.

" The engine mounting location in the aluminium frame is different than previous R1 models. The engine incline (9 degrees) and location (12mm forward) has been changed to improve the weight balance, front to rear weight ratio and the centre of gravity.

" Detachable magnesium CF die cast rear subframe reduces weight. The detachable design allows rear shock access and is less costly to repair if accidentally damaged.

" Extra-long, lightweight aluminium "truss-type" swingarm provides great torsional rigidity for class leading handling, agility and manoeuvrability. This new lighter swingarm is made up of cast aluminium and CF die cast parts. The distance between the swingarm pivot and the rear axle has been optimized (597 mm) for excellent "turn-in" abilities and rear wheel traction.

" This Deltabox chassis offers an incredible 56 degree lean angle.

" Fully adjustable 43mm inverted fork features independent left and right damping system. The compression damping is adjusted via the left fork leg, while rebound damping is adjusted on the right fork leg. This system simplifies the flow of oil through the fork and minimizes oil cavitation (aeration of the oil) for more stable suspension performance. Front wheel travel is 120mm (4.7″). The thickness of the inner tube and the shape of the outer tube have been optimized. The adjustable design allows the rider to tailor suspension settings to match rider weight and road /track conditions to maximize handling and suspension performance.

" Bottom link Motocross rear suspension utilizes a fully adjustable piggyback-style rear shock. The bottom link design lowers the centre of gravity for excellent handling. This shock features 2-way (hi speed & low speed) compression adjustment plus rebound and spring preload adjustability too. This is a rising rate or progressive system. The adjustable design allows the rider to tailor suspension settings to match rider weight and road /track conditions to maximize handling and suspension performance. Rear wheel travel is 120mm (4.7″).

" Radial mount 6-piston calipers squeeze new fully floating 310mm dual front rotors. The result is incredible braking performance with excellent control and lever feedback. The rotors and carriers feature a new design.

" Brembo radial pump master cylinder with 16mm piston is a direct GP race innovation. The lever is adjustable for various hand sizes.

" Single piston (aluminium) slide-type Nissin rear caliper squeezes a lightweight 220mm rotor.

" Rugged yet lightweight 5-spoke mag wheels front and rear. The wheels utilize hollow "spokes" to reduce unsprung weight for superior handling. Front rim size is a MT3.50 x 17 while the rear is MT6.00 x17.

" Premium Dunlop D210 sport spec radial tires front and rear.

" 18 litre fuel tank provides excellent knee grip for hard braking and great rider manoeuvrability. The elongated shape helps to centralize mass and reduces the variance in riding feel as the fuel load (weight) changes.

Aditional Features:

" Adjustable footrests can be raised 15mm upward and 3mm backward if desired.

" Immobilizer ignition system is designed to reduce the possibility of "ride away" theft. This system must recognize the "coded ignition key" in order for the unit to start. If the immobilizer ignition does not recognize the key (or a thief's screwdriver or other type of "jimmy tool") the bike will not start even if the ignition is turned or forced into the on position. If the system does not recognize the coded chip in the ignition key, it will not allow the ignition system, fuel pump or starter motor to function.

" Race inspired fairing improves both aerodynamics and style. The fairing features a slant nose front profile for aerodynamic streamlining, with engine revealing side cut outs.

" Windshield features a "screw less" design for a cleaner, more trick appearance.

" Slim design rear tail section.

" Race inspired lightweight instrumentation includes an analog tach plus digital speedo, dual tripmeters, clock, coolant temperature and fuel trip meter. This console also features adjustable back lighting, adjustable shift light and a low fuel warning light. Other key features include a gear position indicator, accelerator opening angle indicator, engine mode indicator integrated stop watch, lap timer with split time mode and an air intake temperature display. The lap timer is controlled by the starter switch button for added convenience and ease of use

" Dual 55-watt halogen projector headlights are compact and thereby allow the ram air intake ducts to be integrated into the framework of the headlight assembly. The lights not only cast a very bright beam of light, but also add a unique styling touch.

" LED taillight reduces weight and power consumption while providing a brilliant eye catching light. The lens is white while the LEDs are red.

" The seating position offers a very sporty yet comfortable riding position.

" Lightweight forged footpegs for high strength.

" Extensive use of hollow bolts and lightweight fasteners help trim overall weight.

" Heavy-duty 50 series "O" ring drive chain.

" Low maintenance, lightweight, sealed battery.

" Convenient fold out under seat bungee cord straps.
The YZF-R1 offers a significant level of power and performance. It is not intended for novice or inexperienced riders.
2010 Yamaha YZF-R1 – USA Specifications
MSRP* $13,290 (Raven) Available from September 2009
$13,290 (Team Yamaha Blue/White) Available from September 2009
$13,290 (Pearl White) Available from September 2009


Engine
Type 998cc, liquid-cooled 4-stroke DOHC 16 valves (titanium intake valves)

Bore x Stroke 78.0mm X 52.2mm

Compression Ratio 12.7:1

Fuel Delivery Fuel Injection with YCC-T and YCC-I

Ignition TCI: Transistor Controlled Ignition

Transmission 6-speed w/multiplate slipper clutch

Final Drive #530 O-ring chain


Chassis
Suspension/Front 43mm inverted fork; fully adjustable, 4.7-in travel

Suspension/Rear Single shock w/piggyback reservoir; 4-way adjustable, 4.7-in travel

Brakes/Front Dual 310mm disc; radial-mount forged 6-piston calipers

Brakes/Rear 220mm disc; single-piston caliper

Tires/Front 120/70ZR17

Tires/Rear 190/55ZR17


Dimensions
Length 81.1 in

Width 28.1 in

Height 44.5 in

Seat Height 32.8 in

Wheelbase 55.7 in

Rake (Caster Angle) 24.0°

Trail 4.0 in

Fuel Capacity 4.8 gal

Fuel Economy** 33 mpg

Wet Weight 454 lb


Other
Primary Reduction Ratio 65/43 (1.512)

Secondary Reduction Ratio 47/17 (2.765)

Gear Ratio – 1st Gear 38/15 (2.533)

Gear Ratio – 2nd Gear 33/16 (2.063)

Gear Ratio – 3rd Gear 37/21 (1.762)

Gear Ratio – 4th Gear 35/23 (1.522)

Gear Ratio – 5th Gear 30/22 (1.364)

Gear Ratio – 6th Gear 33/26 (1.269)

Warranty 1 Year (Limited Factory Warranty)



2010 Yamaha YZF-R1 – Canada Specifications
MSRP: $16,899 CDN

Engine Liquid-cooled, DOHC, 16-valve, in-line four
Displacement 998cc
Bore and Stroke 78 x 52.2mm
Compression Ratio 12.7:1
Maximum Torque 11.7kg-m (84.6ft-lb) @ 10,000 rpm
Fuel Delivery Mikuni 45mm throttle body FI
Estimated Fuel Consumption* 14kpl / 40mpg (Imp.)
Lubrication Wet sump
Ignition / Starting Digital TCI / Electric
Transmission 6-speed

Suspension (Front) Fully adj. 43 inverted fork
Suspension (Rear) Fully adj. Link Monocross
Brakes (Front) Dual 310mm discs
Brakes (Rear) 220mm disc
Tires (Front) 120/70ZR17
Tires (Rear) 190/55ZR17

Length 2,070mm (81.5″)
Width 715mm (30.3″)
Height 1,130mm (44.5″)
Wheelbase 1,415mm (55.7″)
Rake / Trail 24° / 102mm
Ground Clearance 135mm (5.3″)
Seat Height 835mm (32.9″)
Fuel Capacity 18 litres (4 Imp. gal.)
Wet Weight 206kg (453.2lb)

Colour(s)
Yamaha Blue
Metallic Black
Bluish White
Rossi Special Edition

* Fuel economy estimates are based on US EPA exhaust emission certification data obtained by Yamaha and converted into Canadian measurements. Your actual mileage will vary depending on road condition, how you ride, maintain your vehicle, accessories, cargo and operator/passenger weight.

Specifications, appearance, and price of product are subject to change without notice.
* MSRP does not include freight, PDI (Pre Delivery Inspection), pre-rigging (boats), or taxes. Dealer may sell for less.