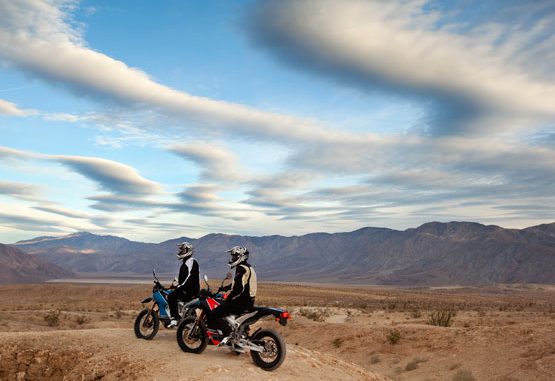 Back to 2010 Zero Motorcycle Index Page
Click photos to enlarge.
They make great desktop images.
– 2010 Zero DS

2010 Zero DS
The Zero DS combines innovation with passion to deliver the world's most versatile electric motorcycle. Designed to be agile in the dirt and quick on the street, the Zero DS represents a new kind of freedom.
Bypass the ordinary. Blast down a gravel road or a dusty trail. When you're ready, silently pass from the sublime to the civilized as you arrive at your destination. The Zero DS is tough when you demand it and distinguished when required. Its edgy, yet sophisticated, appearance is highlighted by an eye catching twin spar frame that is both rigid and lightweight.
Powered by the most advanced drive train in the industry, the Zero DS is a fully electric motorcycle that can handle any surface you can throw at it. Navigating obstacles and maintaining control is accomplished using a specially developed suspension system and a rugged wheel set. During technical maneuvers an optimized direct drive gear system delivers astonishing responsiveness with the twist of your wrist.

Features/Benefits

Development of the Zero DS
The Zero DS is built on the foundation of the Zero S and incorporates technology from our highly durable off-road motorcycles. The wheels are designed to be particularly lightweight and strong. In the dirt or on the street the dual sport tires maintain a tight grip and a specially engineered suspension system absorbs the bumps. The result is a dual sport motorcycle that is ready for any surface you can throw at it.

Frame / Bodywork
Aircraft grade aluminum is exclusively used in the construction of the lightweight and rigid twin spar frame. One look at the frame and it speaks for itself. It is aggressive, strong and one of the main reasons that the motorcycle can aggressively take on the street or dirt. Designed to have a low center of gravity, the Zero DS is highly maneuverable and responsive. The body is completed using custom injected molded plastics to give it aerodynamics and aggressive supermoto styling.
– Frame and bodywork designed from the ground up by Zero Motorcycles
– Extremely rigid and lightweight twin spar aircraft grade aluminum frame
– Custom injected molded plastics with new color graphics for aggressive styling and aerodynamics
– Designed to have a low center of gravity for better maneuverability and responsiveness


Power Pack / Electronics
Years of development and proprietary Z-Force™ technology make the Zero DS a leader in acceleration, range and longevity. Using an advanced monitoring system, each cell in the power pack is individually controlled during charge and discharge. The onboard charger integrates into this system and uses a specially developed charge profile to optimize the power pack's recharge time. Using isolated power systems the Zero DS uses a standard 12 volt current to run the dash, lighting and other on board accessories.
– Proprietary Z-Force™ power pack for increased acceleration and range
– Redundant safety features to accommodate extreme conditions
– Isolated power systems and 12 volt system for running accessories
– Onboard charger that uses a specially developed charge profile
– Keyed ignition tied to a solenoid switch for a safe and instant power up


Motor / Z-Force Air Induction
A compact and powerful motor drives the Zero DS. The new Z-Force Air Induction system allows the Zero DS to output more power from the motor by efficiently moving air through its core. Mounted low on the frame to increase maneuverability, the highly efficient motor lowers the center of gravity while providing high torque and acceleration.
– Z-Force Air Induction system allows for increased motor performance
– Powerful, low weight and compact motor
– Highly efficient and low maintenance permanent magnet motor design


Wheels and Brakes
The Zero DS wheels are engineered to minimize unsprung weight and reduce rotating mass. Designed specifically for the Zero DS, the lightweight construction includes custom hubs, spokes, and rotors. To maximize overall wheel strength the hub is configured to use straight pull spokes. The resulting wheel is lighter, stronger and more responsive.
– Specially developed high performance wheel set
– Aggressive profile dual sport tires
– Custom designed hubs for reduced weight and maximum wheel strength
– High strength/lightweight straight pull spokes
– Full float calipers
– Custom foot actuated rear and hand actuated front brake


Suspension
The suspension on the Zero DS was developed by Zero to take advantage of the motorcycles' lightweight design. Its inverted front fork is among the lightest in the industry and can be externally adjusted to dial in compression and rebound damping. A rigid double diamond rear swing arm keeps the wheel planted using a custom rear shock with a fully adjustable spring preload and easily tuned damping. The suspension is carefully tuned to absorb bumps both on and off-road.
– Rigid 9 inch(228.6 mm) inverted front fork to reduce unsprung weight
– Fully adjustable rebound and compression damping on the front
– Custom rear shock with adjustable spring preload and damping
– Unique double diamond aircraft grade aluminum rear swingarm for reduced weight and increased torsional rigidity


Dash / Lights
The dash is designed by Zero to quickly and accurately provide information on speed, charge and motor temperature. In the evening the dash lights up with the flip of a switch and is accompanied by a high intensity headlight.
– Digital and analog speed display
– Motor temperature sensor


Gearing
A clutchless one speed, the Zero DS is geared for rapid acceleration and increased efficiency. Using a direct chain drive and hardened alloy sprockets the Zero DS is able to achieve minimal frictional loss. This increases the overall range and channels power into speed. The result is a motorcycle that is quick and responsive on any surface.
– Clutchless one speed
– Geared for rapid acceleration and maximum efficiency
– Minimal maintenance

2010 Zero DS – International Specifications
MSRP: $9,995 USD (Eligible for a 10% Federal Tax Credit in the USA**)

Motor
Type Brushed permanent magnet electric
Top Speed 67 mph (105 km/h)

Power System
Type Patent-pending lithium ion array
Capacity 4 kWh (58volts @ 70Ah)
Range Up to 50 miles (80 km)* – See real world range testsRecharge time Less than 4 hours
Input Standard 110V or 220V

Drive Train
Transmission Clutchless one speed
Drive system 16T / 53T, 420 Chain

Chassis / Suspension / Brakes
Front suspension travel 9 inches (228.6 mm)
Rear suspension travel 8 inches (203.2 mm)
Front brakes 2 Piston hydraulic, stainless rotor, hand actuated
Rear brakes 1 Piston hydraulic, stainless rotor, foot actuated
Front tire 3.25-17
Rear tire 110/90-16
Front wheel 17 x 2.15
Rear wheel 16 x 3.0

Dimensions
Wheel base 57.8 inches (146.8 cm)
Seat height (standard) 35 inches (88.9 cm)
Low seat height (option) 33 inches (83.8 cm)
Rake 24 degrees
Trail 3.26 inches (82.8 mm)
Steering angle +35 Degrees, -35 Degrees

Weight
Frame 18 pounds (8.16 kg)
Power pack 95 pounds (43.1 kg)
Curb weight 277 pounds (125.6 kg)
GVWR 575 pounds (260.8 kg)
Carrying capacity 297 pounds (134.7 kg)

Economy
Typical cost to recharge Less than $.01 per mile or kilometer
*Range varies based on riding style.
**Federal Tax Credit and Sales Tax Deduction

The Zero DS is eligible for the recently passed 10% federal tax credit. This effectively reduces the purchase price of your motorcycle by $1000 and reduces the total cost to around $8,995. Some states also offer additional incentives.