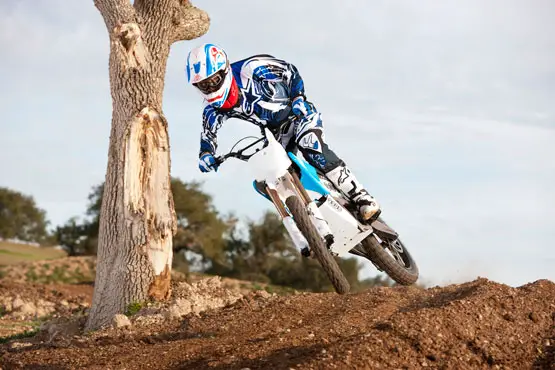 Back to 2010 Zero Motorcycle Index Page
Click photos to enlarge.
They make great desktop images.
– 2010 Zero MX

2010 Zero MX
Once you're in the air, it's all about the landing.
The Zero MX takes our revolutionary electric motorcycle technology to the track. Incredibly tough and lightweight, the Zero MX uses our newly developed suspension system to absorb aggressive terrain and give you an edge. Combined with our state-of-the-art Z-Force™ technology and ultra-light frame design, the Zero MX is agile and fast where it counts.
By developing a custom suspension system we have made the Zero MX highly responsive while maintaining an industry leading power-to-weight ratio. During aggressive riding the advanced suspension system and alloy wheels take the hits while smoothly maintaining control. Intensity combines with silence to open up a new world of riding possibilities.
Features/Benefits

Frame – Sculpted Aircraft Grade Aluminum Means Lighter, Stronger, and Faster
At the core of the Zero MX lies the ultimate dirt bike frame that we've engineered from the ground up and hand crafted using aircraft grade aluminum. The resulting combination of lower weight and higher strength means more responsiveness. In the turns and off the line this translates into greater acceleration. To make the frame even more durable each one is shot-peened and anodized.
– Hydroformed top tube for increased strength & reduced weight
– Massive swingarm for increased strength & torsional rigidity (better cornering and tracking)
– Large cylindrical swingarm cross tube for increased stiffness & suspension response
– Thru-axle rear hub for exponentially increased strength & rigidity
– Entire frame is shot-peened and anodized for resistance to corrosion and abrasion
– Organic frame gusseting for increased strength & smoother body lines
– Bodywork is highlighted with new color graphics


Motor and Energy– High Torque and Acceleration
Fueled by Zero Motorcycles' proprietary lithium ion power pack, the Zero MX delivers more torque than any other motorcycle in its class. This is made possible by our power pack's ability efficiently dump an incredibly high amount of power as soon as you punch the throttle. Using an advanced monitoring system, each cell in the power pack is individually controlled during charge and discharge. The charger integrates into this system and uses a specially developed charge profile to optimize the power pack's recharge time.
Think of it this way, fuel systems are to gas motorcycles what electrical systems are to electrical motorcycles. Where others use a small carburetor and fuel pump, we use a highly tuned fuel injection system. We've found a way of rapidly flowing more energy out of our power pack than any of our competitors. This means more acceleration and more fun.


Drivetrain – Larger Chain and Sprockets for Increased Durability & Longer Life
To accommodate the Zero MX's increased traction and ability to accelerate in the dirt we use a hardened steel 420 chain and direct drive gearing. The result is a stronger and more durable drivetrain that puts the power from the throttle directly into the dirt.
– Hardened steel 420 Chain
– Front & rear accompanying 420 Sprockets
– Larger rear sprocket mounting/bolt pattern for increased durability and better management of high torque acceleration


Handling – Faster Turns and Bigger Berms
We want you to be able to take full advantage of the rapid acceleration the Zero MX has to offer. To do this we've taken our riders' handling wish list and built in the features. The result, this electric dirt bike gives you the control you need to for the acceleration you want.
– Direct mount (to fork crown) double clam stem for increased rigidity and control
– Increased rise and reduced reach stem for better control & stability
– Wider, taller, and stronger full sized dirt bike handlebar
– Higher strength hardened race headset for longer life & smoother turning


Brakes – Stopping on a Dime in the Dirt
Because you'll be going faster and harder on our electric dirt bike we've added a few things to help slow you down. The 2010 Zero MX electric motorcycle features beefier brakes all around.
– 4 piston calipers front and rear
– 9" (224 mm) rotor in front and rear
– Increased reservoir size for more responsive braking under high strain


Instrument Panel & System Upgrades – Quick Look & Easy Access
A quick look tells you everything you need to know on the Zero MX. We've taken all the important dials and switches and securely located them in a new instrument panel. Accompanying this, is a newer wiring system for increased safety and electrical system longevity. With a bike this desirable, you'll also be excited to know that this motorcycle comes with a keyed ignition.
– Easy access to gauges and switches – 'quick look' clustered instrumentation
– "Armed" light for increased awareness & safety
– Key switch with solenoid for added safety, peace of mind, security and ease of use
– Flush mounted rockers switches for speed settings (easy/sport and 30/50mph)
– Integrated battery power connector for ease of use and durability
– Integrated battery fuse for added safety in handling and adverse circumstances


Wheels and Tires – Hook Up on Technical Tracks
The Zero MX custom alloy wheels are designed to reduce unsprung weight while not comprising on strength. During acceleration instant torque is efficiently channeled into the dirt through a beefy rear tire and directed using an equally aggressive front.
– Tall knobbed and grippy full size rear tire – 17X3.5
– Large lugged high strength rear rim 17 x 2.5"
– Thicker 32h 12g spokes
– Custom oversized & reinforced hub
– 1.6×19 front wheel
– Aggressive front tire 19×3.0

Suspension – Designed for the Track
The Zero MX uses our newly developed suspension system to absorb aggressive terrain and accommodate larger riders. Taking advantage of the motorcycle's low weight, the inverted front fork is one of the beefiest, lightest and most responsive in the industry. Riders can quickly dial it in using the externally adjustable compression and rebound damping. On the rear, our rigid double diamond swing arm keeps the wheel planted using a newly developed custom rear shock with a fully adjustable spring preload and easily tuned damping.
– Zero designed lightweight front end
– Inverted front fork to reduce unsprung weight (48 mm fork leg)
– Fully adjustable rebound and compression damping on the front
– Custom rear shock with adjustable spring preload and damping
– Unique double diamond aircraft grade aluminum rear swingarm for reduced weight and increased torsional rigidity

Extreme Package – Adding more power to already high performance
We offer an 'extreme package' for those wanting to ride even harder and faster. The upgrades include a stronger motor and a stronger/smoother front fork.
Higher Power Motor – More Acceleration & Speed
This is your motor if you're looking to leverage all the latest Zero MX features and push your motorcycle (or yourself) to the limit. It offers more torque and increased acceleration.
– Efficient German built high torque/ high power perm motor
– 10% more power than the stock motor for greater acceleration
– Greater acceleration
– Lighter weight and more compact
– Higher efficiency
Stronger & Smoother Fork – Internals are Custom Made Specifically for the Zero MX
For more aggressive riders we're offering a new stronger and smoother front fork that's fully adjustable. Using an inverted design this specially developed fork takes the pounding of the track and hides it away in custom designed springs, valves, and damping.
– Additional inch of travel on the front
– Inverted design for rigidity & increased responsiveness
– Designed for more aggressive riding
– Custom valved & sprung


2010 Zero MX – International Specifications
MSRP: $8,295 USD
MSRP: $9,950 USD for Zero MX Extreme Edition

Motor Type Brushed permanent magnet electric
Torque 50 ft-lbs (67.7 Nm)
Peak horsepower 23 horsepower
Peak electrical input 17,400 watts
Power System Type Patent-pending lithium ion array
Capacity 2 kWh (58volts @ 35Ah)
Range Up to 2 hours or 40 miles (64 km)*
Recharge time Less than 2 hours
Input Standard 110V or 220V
Drive Train Transmission Clutchless one speed
Drive system 12T / 73T, 420 Chain
Chassis / Suspension / Brakes Front suspension travel 8 inches (203.2 mm)
Rear suspension travel 8.5 inches (215.9 mm)
Front brakes 4 Piston hydraulic, stainless rotor, hand actuated
Rear brakes 4 piston hydraulic, stainless rotor, hand actuated
Front tire 19 x 3.0 inches
Rear tire 17 x 3.5 inches
Dimensions Wheel base 54.5 inches (138.4 cm)
Seat height 34.3 inches (87.1 cm)
Rake 24 degrees
Weight Frame 13 pounds (5.9 kg)
Total weight without Power Pack 126 pounds (57.2 kg)
Power pack 46 pounds (20.9 kg)
Curb weight 172 pounds (78.0 kg)
Economy Typical cost to recharge Less than $.01 per mile or kilometer
*Range varies based on riding style.