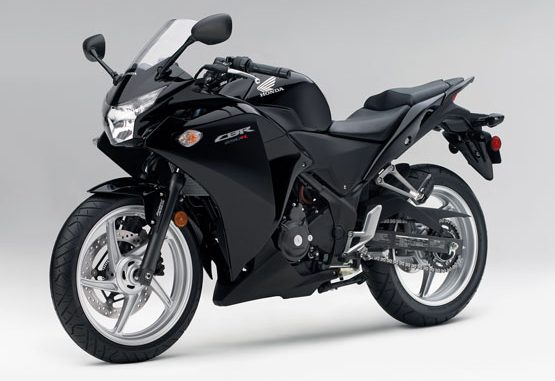 Back to 2011 Honda Motorcycle Index Page
Click photos to enlarge.
They make great desktop images.
– 2011 Honda CBR250R ABS

2011 Honda CBR250R ABS
Fun. Cool. Capable. CBR250R.
The all-new 2011 CBR250R brings a fresh take on the fun side of motorcycling, one that will appeal to a wide range of riders. Beginners and experienced hands alike will key in on the extreme versatility of this sporty, easy-to-ride and affordable new offering from Honda.

Thanks to its extremely efficient 249cc liquid-cooled single cylinder engine—an all-new design featuring a sophisticated four-valve DOHC cylinder head, engine counterbalancer, PGM-FI fuel injection and more—this dependable and lightweight machine delivers nimble handling, a broad spread of easily accessible power and low operating costs all in one. Whether the day calls for a commute to work, quick trips around town or all-day explorations in the countryside, the CBR250R offers as much fun per mile as anything around, all at a price that just about anyone can afford.

If you're looking for an affordable, smart, capable and fun way to enjoy life on two wheels—have we got a bike for you: the all-new Honda CBR250R!
The new, fuel-injected CBR250R offers everything you want in a first-time bike: Light weight. A powerband that's immensely user-friendly. Excellent fuel economy. Unmatched reliability. And a fun factor that's off the chart.
Since the new CBR250R is a Honda, it's full of features few other bikes in its class can match. And it offers a build quality that means you've got dependable cross-town or cross-country transportation.
Best of all, the new CBR250R is available in two versions: the CBR250R and the CBR250R ABS with our Anti-lock Brake System – a first for the segment and a really valuable option that both first-timers and experienced riders will appreciate.
It's finally here! The bike Canadian riders have been clamouring for since the introduction of the wildly popular CBR125R has finally been unveiled to the world. And it's a stunner. The all-new Honda CBR250RA is far removed from the sort of cut-corners, parts-bin special often found in this class – it's a true Honda sportbike loaded with sophisticated engineering and high-tech components. Check out the high-revving DOHC, single-cylinder, fuel-injected engine with its impressive power-to-weight ratio, the sensuous VFR1200-style bodywork, and the sporty chassis with Honda's Combined Braking System with ABS – the first Anti-lock Braking System ever on a bike in this class. It's all top-shelf stuff. Sure, the CBR250RA's light weight, user-friendly operation and comfortable size make it perfect for novice riders or those stepping up from the CBR125R. But if experienced riders overlook the CBR250RA because they think engine displacement is the sole measure of a motorcycle's appeal, then they'll be missing out on a bike that's destined to redefine fun on two wheels.

CBR250R

Features & Options
– 249cc liquid-cooled single cylinder engine
– Low seat height
– Programmed Fuel Injection
– Analog/Digital Instrumentation


CBR250R ABS

Features & Options
– 249cc liquid-cooled single cylinder engine
– Low seat height
– Programmed Fuel Injection
– Combined Anti-lock brake system

Available Spring 2011.
2011 Honda CBR250R ABS Features and Benefits

Light, Narrow, Low.
Because it's a single-cylinder machine, the new CBR250R is narrow, and with its low 30.5-inch seat height and light 359-pound curb weight, putting your feet down in parking lots or at stoplights can be a lot easier.

The Power of One.
The new CBR250R uses a single-cylinder engine with fuel injection, double-overhead cams and a counterbalancer. Sure that's tech talk, but the architecture offers some very real advantages. Maybe the most important is power delivery: a single offers the kind of torque and midrange power that's well suited for all levels of riders.

Stop with Confidence.
The option of Honda's Anti-lock Brake System (ABS) is a perfect matchup with a bike like the new CBR250R. ABS helps you cope with unanticipated challenges and stop with added confidence.
New for 2011
– New model
Engine/Drivetrain

The all-new 249 cc single-cylinder engine has been purpose-built for the CBR250RA, and boasts such high-performance features as dual overhead camshafts driven by a Hy-Vo-type silent chain, forked roller rocker arms, a compact four-valve cylinder head, a counterbalance shaft, and liquid cooling.

The light and compact engine contributes to the CBR250RA's nimble steering, intuitive handling and impressive power-to-weight ratio, which allows it to outperform twin-cylinder bikes of similar displacement.

Shim-style valve adjustment allows easy inspection and maintenance, although with a recommended inspection interval of 48,000 km, you'll ride a long, long time between any needed adjustments.

The engine countershaft sits lower than the mainshaft in a "stacked" formation to further reduce the engine's front-to-back dimensions.

Bore and stroke measurements are equivalent to those of the CBR1000RRA's high-performance engine.

The engine produces a remarkably broad torque curve for strong low-rpm performance, and peak horsepower kicks in at 8,500 rpm-well before the 10,500-rpm redline. This wide spread of power makes the CBR250RA easy and confidence-inspiring to ride, in both stop-and-go situations and on the highway, while also returning impressive fuel economy.*

The crankshaft runs in plain bearings for quieter operation and the big end of the connecting rod spins in a needle bearing, both contributing to the engine's high-performance credentials.

A gear-driven counterbalance shaft helps quell engine vibration for enhanced rider comfort. It's located so close to the crankshaft that the balancer weight passes between the two crank weights to keep the engine as compact as possible while improving mass centralization.

Honda's Programmed Fuel Injection (PGM-FI) continuously monitors several variables to ensure the correct fuel mixture for the current riding and atmospheric conditions, thereby delivering optimal performance and remarkably crisp throttle response over a wide range of operating conditions, plus improved fuel economy.

The PGM-FI system incorporates an Idle Air Control Valve (IACV) to smooth responses to small changes in throttle position.

The CBR250RA's engine meets both EPA 49-state and Euro-3 emissions standards by incorporating the latest in exhaust and catalyzer technology. The tri-metal catalytic converter reduces the level of hydrocarbons, carbon monoxide and nitrous oxides, while an oxygen sensor in the exhaust enables the engine's Electronic Control Unit to ensure complete combustion within the engine.

The six-speed transmission works in concert with the engine's broad power delivery to produce quick acceleration plus excellent fuel economy during highway cruising.*

*Fuel economy results were obtained by Honda under standardized testing conditions prescribed by WMTC. Tests are conducted on a rolling road using a standard version of the vehicle with only one rider and no additional optional equipment. Actual fuel consumption may vary depending on how you ride, how you maintain your vehicle, weather, road conditions, tire pressure, installation of accessories, cargo, rider and passenger weight, and other factors.
Chassis/Suspension

Diamond-shaped twin-spar steel frame plus a 37 mm front fork and Pro-Link single-shock rear suspension provide impressive handling and a comfortable ride.

The CBR250RA is the only bike in its class to offer the benefits of ABS. The CBR250RA's Combined Braking System with ABS (Anti-lock Braking System) provides sure control on even difficult road surfaces.

Curb weight of only 165 kg (364 lb) gives the CBR250RA outstanding manoeuvrability and helps instill rider confidence.

Sporty ergonomics promote a balanced seating position for optimum control and long-distance comfort.

Full-sized 17-inch cast wheels with a 110/70 – 17 front tire and a 140/70 – 17 rear tire provide big-bike feel, grip and handling traits.
Additional Features

VFR1200-style full fairing with windscreen enhances aerodynamics while also deflecting the oncoming wind for excellent rider comfort.

Multi-function digital instrument panel includes speedometer, tachometer, engine temperature display, fuel gauge, clock, odometer and trip meter.

Fuel capacity of 13 litres gives the CBR250RA a cruising range of more than 320 kilometres.

An external fuel filter maximizes fuel tank capacity while also easing fuel filter maintenance.

Grab rails on the tail section are designed to fit gloved hands, giving passengers a dedicated handhold while riding two-up.

A handy underseat storage area adds to the CBR250RA's versatility.

2011 Honda CBR250R ABS Technicals
The Honda Difference.

The new CBR250R offers the perfect balance of beginner-friendly features and the typical Honda refinement that more experienced riders will appreciate. Light weight, superb handling, excellent power and unmatched build quality and attention to detail—combine all that with Honda's famous reliability and the new CBR250R is an instant winner.
Counterbalance Shaft – Because it features a counterbalancer, the CBR250R engine is a smooth runner. You get the narrow overall width and power advantages of a single along with the smoothness of a multi-cylinder bike.
Single-Cylinder Engine – A single is the perfect choice for a bike like the CBR250R. It's light, simple, returns excellent fuel economy, and features a broad powerband with plenty of low-revving torque–just what you want in a first motorcycle.
Fuel Injection – Fuel injection means the new CBR250R starts right up, even in cold weather. Compared to a carbureted bike, it also helps reduce emissions and enhance performance and fuel economy.
Layered Style Fairing – Take a close look at the CBR250R's unique bodywork, which is designed for style and functionality. It routes airflow for both engine cooling and rider comfort, while creating a unique sportbike style.
Analog/Digital Instrumentation – The CBR250R's digital gauges with analog tachometer provides vital riding information in a styled, hi-tech instrumentation package.
Combined Anti-lock Brake System – Our Combined ABS can be a big help in making controlled stops in less than ideal conditions. Like on wet pavement, or when there's sand on the road or other debris. It's a perfect choice whether you're using your new bike as a commuter or just riding it for fun since it helps you stop with added confidence.
Disc Brakes – The new CBR250R features front and rear hydraulic discs for excellent stopping power and brake feel. The single front disc helps keep things simple and lowers unsprung weight, too.
Pro-Link Rear Suspension – The CBR250R uses a single-shock pre-load adjustable rear suspension that not only gives you a smooth ride, but helps enhance handling as well, just as on some of our larger sport models.
Low Seat Height – A low 30.5″ seat height does more than help make sure the CBR250R fits a wide range of riders. It makes it easier to put your feet down at stoplights and in parking lots–a big confidence builder.
Passenger Ready – A separate passenger seat, integrated grab rail, and standard passenger footpegs mean you can take a friend along when you go riding–another example of the CBR250R's versatility.
Underseat Storage – Removing the rear passenger seat provides a lockable area to throw a map, gloves, or a spare set of sunglasses.
---
2011 Honda CBR250R ABS – United States of America Specifications
USA MSRP – $TBA USD
ENGINE
Engine Type 249.4cc liquid-cooled single-cylinder four-stroke
Bore And Stroke 76mm x 55mm
Induction PGM-Fi, 38mm throttle body
Ignition Computer-controlled digital transistorized with electronic advance
Compression Ratio 10.7:1
Valve Train DOHC; four valves per cylinder

DRIVE TRAIN
Transmission Six-speed

CHASSIS / SUSPENSION / BRAKES
Front Suspension 37mm fork
Rear Suspension Pro-Link single shock with five positions of spring preload adjustability
Front Brake Single 296mm disc/Combined ABS
Rear Brake Single 220mm disc/Combined ABS
Front Tire 110/70-17 radial
Rear Tire 140/70-17 radial

DIMENSIONS
Rake (Caster Angle): 25.0 degrees
Trail 95mm (3.74 inches)
Wheelbase 53.9 inches
Seat Height 30.5 inches
Curb Weight 368 pounds. includes all standard equipment, required fluids and full tank of fuel-ready to ride.
Fuel Capacity 3.4 gallons

OTHER
Model Id CBR250R ABS
Emissions Meets current EPA standards. Models sold in California meet current CARB standards and may differ slightly due to emissions equipment.
Available Colors Metallic Black, Red/Silver
Note Specifications subject to change without notice.

---
2011 Honda CBR250R ABS – Canadian Specifications
Canada MSRP – $TBA CDN
Specifications

Engine Type Liquid-cooled single-cylinder four-stroke

Displacement 249 cc

Bore & Stroke 76 mm x 55 mm

Compression Ratio 10.7:1

Valve Train Chain-driven DOHC, 4 valves per cylinder

Fuel Delivery PGM-FI electronic fuel injection

Transmission Six-speed

Final Drive O-ring-sealed chain

Front Suspension 37 mm telescopic fork; 130 mm travel

Rear Suspension Pro-Link single shock with preload adjustment; 104 mm travel

Tires 110/70 – 17 front; 140/70 – 17 rear

Brakes Front 296 mm disc with CBR250RA triple-piston caliper; rear 220 mm disc with single-piston caliper. Combined Braking System with ABS (Anti-lock Braking System)

Seat Height 780 mm (30.7 in.)

Wheelbase 1,370 mm (53.9 in.)

Curb Weight 165 kg (364 lb) including required fluids and full tank of gas – ready to ride

Fuel Capacity 13 litres

Colour Ruby Red / Silver Metallic, Asteroid Black Metallic