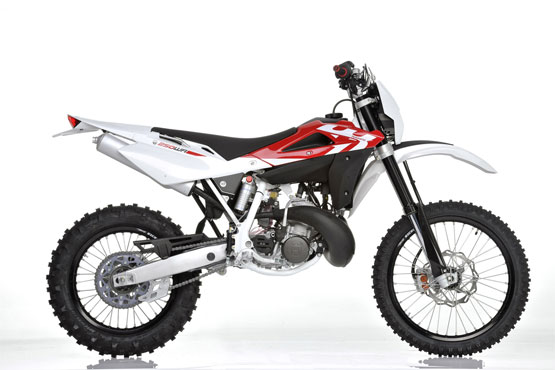 Back to 2011 Husqvarna Motorcycle Index Page
Click photos to enlarge.
They make great desktop images.
– 2011 Husqvarna WR250

2011 Husqvarna WR250 Review
WR 250 – HUSQVARNA. Light, manoeuvrable and powerful, the WR 250 is a point of reference in the Husqvarna range.

Fresh new looks courtesy of new graphics, new rear mudguard with LED rearlight and a new headlight shield plus more power, delivered in a smoother manner thanks to a new ignition system, the 2011 WR250 is pure race bike.
Manufacturer suggested retail price is 'ready to ride' excluding Government first registration fee and road fund license. Please contact your Husqvarna dealer for full on road pricing
Husqvarna continues the revewal of its range for this year. The brand new WR250 demonstrates Husqvarna's ongoing commitment to two strokes.
A series of important upgrades to the WR 250 learned from World Enduro racing have been incorporated. Compared to the 2010 models, readily visible changes include news graphics,new rear racing mudguard with an integrated LED tail light and a new reinforced mount for theheadlight/front number plate. These changes give the same race-ready look of the enduro models campaigned by World Enduro frontrunner Antoine Meo and match the looks of the rest of the 2011 Husqvarnas.
Less visible, but even more important from a technical point of view is the new Ducati Energia ignition. This ignition allows for smoother power delivery and improved performance. Husqvarna riders in warmer climates certainly appreciate the new thermostat which optimizes the working temperature of the engine.
In addition to the engine improvements, both bikes get revised rear suspension settings (based on the works bikes), as well as improved airbox.
Husqvarna and Enduro are intrinsically linked. They are connected by races, victories and mile after mile of off-road riding in the most extreme conditions. It is thanks to their years of experience that Husqvarna lead the field in this sector and continue to manufacture state-of-the-art machines.

The new 2011 range has been further improved by heeding the recommendations of official team riders such as Antoine Meo, Seb Guillaume and Bartoz Oblucki. Champion in their fields. Champions at testing.
Thanks to them, the new Husqvarna enduros now come with new suspension systems, new frames with improved handling, new exhaust pipes with improved engine response and there is also a completely new machine, the fuel-injected TE 250.

Summary of new items on enduro models for 2011:
– NEW IPD (IN–MOULD PLASTIC DECORATION) GRAPHICS ON TANK SIDES AND NUMBER PLATE HOLDER.
– NEW STRONGER, MORE FLEXIBLE PLASTICS.
– NEW 48 MM KAYABA FORKS (EXCLUDING WR 125 AND TE310).
– NEW FORK CLAMPS FOR KAYABA FORKS
– NEW MORE POWERFUL FRONT HEADLIGHT (ON TE MODELS)
– NEW REAR MUDGUARD WITH INTEGRATED RACE NUMBER PLATE AND HOMOLOGATED NUMBER PLATE. MORE
AGGRESSIVE, COMPACT LOOK.
– NEW REAR LAMP CLUSTER WITH MORE POWERFUL/BETTER-PROTECTED LED LIGHTS.
– NEW EXHAUST PIPE (WR 125 – WR 300) FOR IMPROVED POWER DISTRIBUTION
– NEW SILENCER (WR 125)
– FRAME REINFORCED IN THE MOST CRITICAL AREAS (WR125 AND ALL TES)
– REAR SWING ARM SHORTENED BY 15 MM (TE) FOR IMPROVED TRACTION AND MANOEUVRABILITY.
– NEW RADIATOR CONNECTORS AND HOSES. (TE MODELS ONLY)
– NEW MORE POWERFUL WATER PUMP (TE MODELS ONLY)
– NEW SACHS REAR SHOCK ABSORBER (WR125)
– TE 250 COMPLETELY NEW MODEL WITH FUEL INJECTED ENGINE
---
2011 Husqvarna WR250 – International Specifications
MSRP* $ See your local Husqvarna dealer for pricing.

MITO EV
CARATTERISTICHE TECNICHE / Technical data
Tab. 1227 (06/10)
Wr 250
CARATTERISTICHE GENERALI
General features
DIMENSIONI, PESO, CAPACITÀ/
Dimensions, weight, capacities
INTERASSE / Wheelbase ………………………. mm/in. 1465 / 57.7
LUNGHEZZA TOTALE / Overall lenght ……. mm/in. 2230 / 87.79
LARGHEZZA MAX. / Overall width ………… mm/in. 840 / 33.07
ALTEZZA MAX. / Overall height …………….. mm/in. 1310 / 51.57
ALTEZZA SELLA / Saddle height …………… mm/in. 975 / 38.38
ALTEZZA MIN.DA TERRA /
Min. ground clearance …………………………… mm/in. 345 / 13.58
AVANCORSA / Trail ……………………………… mm/in. 114 / 4.49
PESO IN ORDINE DI MARCIA, SENZA CARBURANTE/
Kerb weight, without fuel ……………………… Kg/lb. 103 / 227.1
CAPACITÀ SERBATOIO CARBURANTE /
Fuel tank capacity ………………………………… l 9,5
U.S. Gallons 2.5
Imp. Gallons 2.09
Q.TA' OLIO NEL BASAMENTO
Transmission oil ……………………………………. l 0,80
U.S. Quarts 0.84
Imp. Quarts 0.70
MOTORE / Engine
CARATTERISTICHE / Characteristics
TIPO / Type
MONOCILINDRICO 2 TEMPI / Single cylinder, two stroke
ALESAGGIO / Bore ………………………………. mm/in. 66.4 / 2.61
CORSA / Stroke ……………………………………. mm/in. 72 / 2.83
CILINDRATA / Displacement …………………… cm3/cu.in. 249,3 / 15.21
RAPPORTO DI COMPRESSIONE (A LUCI CHIUSE) /
Compression ratio (at closed ports) ………………………………………… 8,4:1
AVVIAMENTO / Starting ………………………… A PEDALE / Kick starter
RAFFREDDAMENTO / Cooling ………………… A LIQUIDO / By liquid
RADIATORI ACQUA / Water radiator ………. N°/No 2
DISTRIBUZIONE / Timing system
TIPO / Type
VALVOLA LAMELLARE IN ASPIRAZIONE NEL CILINDRO, VALVOLA
"H.T.S." A COMANDO MECCANICO SULLO SCARICO / Reed valve in
the cylinder and "H.T.S." valve with mechanic control on the exhaust
port
DIAGRAMMA DISTRIBUZIONE/ Valve timing
SCARICO / Exhaust …………………………………………………………………184°
ASPIRAZIONE / Intake ……………………………… LAMELLARE / Reed valve
TRAVASO / Transfer ………………………………………………………………116°
LUBRIFICAZIONE / Lubrication
MOTORE / Engine
MISCELA BENZINA-OLIO AL 2% / Fuel-oil premixture of 50:1
CAMBIO -TRASMISSIONE PRIMARIA / Transmission- primary drive
MEDIANTE L'OLIO CONTENUTO NEL BASAMENTO / By the oil
contained in the crankcase
ACCENSIONE / Ignition
TIPO / Type
ELETTRONICA DIGITALE A SCARICA CAPACITIVA CON ANTICIPO
VARIABILE / C.D.I. electronic, digital type, with variable advance
TIPO CANDELA / Spark plug type …………… "NGK" BR8EG
DISTANZA ELETTRODI / Spark plug gap mm/in0,6÷0,7 /
0.0236÷0.0275
ALIMENTAZIONE/ Fuel system
MARCA E TIPO DI CARBURATORE / Carburetor manufacturer and
type …………………………………………………………………….. "MIKUNI" TMX 38
DIAMETRO DIFFUSORE …………………………. mm/in. 38 / 1.49
FRIZIONE / Clutch
TIPO / Type
MULTIDISCO IN BAGNO D'OLIO CON COMANDO MECCANICO / Wet,
multiplate type; mechanic control
N° DISCHI CONDUTTORI / Driving disc no ………………………………………. 8
N° DISCHI CONDOTTI / Driven disc no …………………………………………… 7
TRASMISSIONE PRIMARIA / Primary drive
PIGNONE MOTORE / Engine sprocket ……… Z/Teeth 27
CORONA FRIZIONE / Clutch gear ……………. Z/Teeth 69
RAPPORTO DI TRASMISSIONE / Transmission ratio 2.555
CAMBIO VELOCITÀ/ Transmission
TIPO / Type
CON INGRANAGGI SEMPRE IN PRESA / Constant mesh gear type
N° MARCE / Speed gears no ………………………………………………………… 5
RAPPORTI DI TRASMISSIONE / Internal ratios
…………………………………………………………… 1ª/1st 2,142 (30/14)
…………………………………………………………… 2ª/2nd 1,750 (28/16)
…………………………………………………………… 3ª/3rd 1,437 (23/16)
…………………………………………………………… 4ª/4th 1,210 (23/19)
…………………………………………………………… 5ª/5th 1,053 (20/19)
TRASMISSIONE SECONDARIA / Secondary drive
PIGNONE USCITA CAMBIO /
Transmission sprocket ………………………….. Z/Teeth 13
CORONA POSTERIORE /
Rear wheel sprocket …………………………….. Z/Teeth 48
RAPPORTO DI TRASMISSIONE /
Transmission ratio ……………………………………………………………….. 3,692
CATENA DI TRASMISSIONE / Driving chain
MARCA E TIPO / Manufacturer and type …….. "D.I.D." 520V6-5/8″x1/4″;
………………………………………………………….. "REGINA" ORN-A -5/8″x1/4″
RAPPORTI TOTALI DI TRASMISSIONE / Overall ratios
…………………………………………………………… 1ª/1st 20,220
…………………………………………………………… 2ª/2nd 16,513
…………………………………………………………… 3ª/3rd 13,564
…………………………………………………………… 4ª/4th 11,422
…………………………………………………………… 5ª/5th 9,932

CARATTERISTICHE TECNICHE / Technical data
Tab. 1227 (06/10)
Wr 250
MOTOTELAIO / Chassis
TELAIO / Frame
TIPO / Type
MONOTRAVE IN ACCIAIO IN TUBI A SEZIONE CIRCOLARE; TELAIETTO
POSTERIORE IN LEGA LEGGERA / Steel single tube cradle (round
tubes); rear frame in light alloy
SOSPENSIONE ANTERIORE / Front suspension
TIPO / Type
FORCELLA TELEIDRAULICA A STELI ROVESCIATI E PERNO AVANZATO;
REGOLAZIONE FRENO IDRAULICO IN COMPRESSIONE ED
ESTENSIONE / "Upside-Down" telescopic hydraulic fork with
advanced axle; compression and rebound stroke adjustment
Ø STELI / Fork legs dia. …………………………. mm/in. 48 /1.89
CORSA SULL'ASSE GAMBE /
Travel on legs axis ……………………………….. mm/in. 300 / 11.8
MARCA FORCELLA /
Front fork manufacturer …………………………………………………"KAYABA"
SOSPENSIONE POSTERIORE / Rear suspension
TIPO / Type
PROGRESSIVA "SOFT DAMP" CON MONOAMMORTIZZATORE
IDRAULICO; REGOLAZIONE DEL PRECARICO DELLA MOLLA E DEL
FRENO IDRAULICO IN COMPRESSIONE (DOPPIA) ED ESTENSIONE /
Progressive "Soft Damp" type with single hydraulic shock absorber;
spring preload adjustment, compression and rebound adjustment
(compression stroke: double adjustment)
CORSA RUOTA / Wheel travel ……………….. mm/in. 320 / 12.6
MARCA AMMORTIZZATORE /
Shock absorber manufacturer ………………………………………….. "SACHS"
FRENO ANTERIORE / Front brake
TIPO / Type
A DISCO FISSO, TIPO "WAVE", CON COMANDO IDRAULICO E PINZA
FLOTTANTE / Fixed disc, "Wave" type, with hydraulic control and
floating caliper
Ø DISCO / Disc dia. ……………………………….. mm/in 260 / 10.24
FRENO POSTERIORE / Rear brake
TIPO / Type
A DISCO FLOTTANTE CON COMANDO IDRAULICO E PINZA
FLOTTANTE / Floating disc type with hydraulic control and floating
caliper
Ø DISCO / Disc dia. ……………………………….. mm/in 220 / 8.66
CERCHIO ANTERIORE / Front rim
MATERIALE / Material…………………………. LEGA LEGGERA / Light alloy
DIMENSIONE / Size ……………………………….. 1,60″x21″
CERCHIO POSTERIORE / Rear rim
MATERIALE / Material…………………………. LEGA LEGGERA / Light alloy
DIMENSIONE / Size ……………………………….. 2,15″x18″
PNEUMATICO ANTERIORE / Front tire
TIPO / Type ………………………………………………………. "MICHELIN" Enduro
Competition 3 / "PIRELLI" MT 83 Scorpion/Dunlop 54R-D907
DIMENSIONE / Size …………………………………………………………. 90/90-21″
PNEUMATICO POSTERIORE / Rear tire
TIPO / Type ………………………………………………………. "MICHELIN" Enduro
Competition 3 / "PIRELLI" MT 83 Scorpion/Dunlop 70R-D907
DIMENSIONE / Size ……………………………………………………….. 140/80-18″
IMPIANTO ELETTRICO / Electrical equipment
TENSIONE IMPIANTO / Voltage ………………………………………………… 12 V
POTENZA LAMPADE / Lamps wattage
FANALE ANTERIORE / Head light ……………………………………… 35 / 35 W
LUCE DI POSIZIONE / Pilot light …………………………………………………..3 W
FANALE POSTERIORE / Tail light ………………………………………………..5 W
LUCE STOP / Stop light ………………………………………………………….. 21 W
INDICATORI DIREZIONE / Turn signals …………………………………….. 10 W