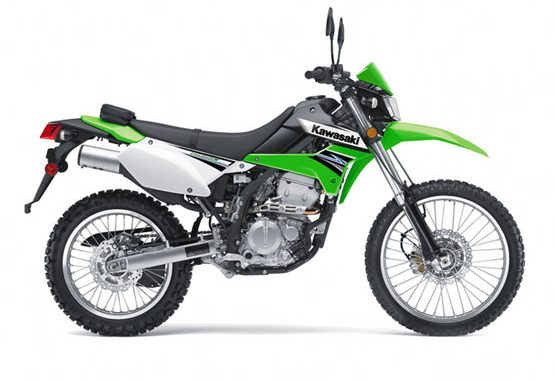 You are here: Home — 2011 Models — 2011 Kawasaki Motorcycle Models
2011 Kawasaki ER-6N
Back to 2011 Kawasaki Motorcycle Index Page
Click photos to enlarge.
They make great desktop images.
– 2011 Kawasaki ER-6N

2011 Kawasaki ER-6N
Built to get you there and back, pavement or not
When the pavement ends, the fun doesn't have to stop if you're riding the Kawasaki KLX™250S. Lights, turn signals and all the other things you need to ride on the street are here, but the KLX250S's heart belongs in the dirt. With its 249cc liquid-cooled single, long-travel suspension and rugged steel frame, this lightweight machine lets you access the best of both worlds.

That compact and powerful four-stroke single-cylinder engine fires right up through the miracle of electric starting, and it mounts nice and low beneath a lightweight, high-tensile steel perimeter frame to provide a low center of gravity and enhanced maneuvering on tight trails. A gear-driven engine balancer keeps it nice and smooth for greater comfort and less fatigue on longer rides. The 34mm semi-flat slide Keihin CVK carburetor provides great throttle response and broad, smooth power—not to mention fantastic fuel economy.

A highly refined six-speed transmission contains the right gear for everything from first-gear offroad crawling through top-gear highway cruising, with an advanced shift cam for positive shift feel and firm engagement.

The rigors of off-road motorcycling dictate additional protection for the exposed underside of the machine: The KLX250S comes standard with an aluminum engine guard to protect its crankcase during off road adventures. Negotiating tight terrain also highlights another off-road reality — heat. Dual lightweight, high-capacity Denso radiators and an electric fan provide ample cooling.
The KLX250S's straight-line stability is enhanced by use of a rigid square-section main frame, yet its short wheelbase gives it outstanding turning aptitude. Complementing the chassis is a lightweight aluminum swingarm employing a highly-rigid D-shaped cross section. KX™ racing-type chain adjusters allow for precise chain adjustments.

The KLX250S's custom spring and damping settings, with slightly less wheel travel than a dedicated off-road machine, give a more planted feel in corners and make it easier for riders to reach the ground. The 43mm inverted cartridge-style front fork features 16-way adjustable compression damping and 10.0-inches of travel; the Uni-Trak® linkage-type rear suspension has 16-way adjustable compression and rebound damping, and provides 9.1-inches of wheel travel.

Strong, 4mm-thick spokes in the 21-inch front and 18-inch rear wheels provide for excellent wheel rigidity for enhanced off-road durability. The KLX250S also stops hard, thanks to twin-piston calipers squeezing a 250mm semi-floating petal disc up front and a 240mm petal disc at the rear.
Aggressively styled bodywork finishes off this powerful and rugged package, and a custom seat stuffed with firm urethane and a carefully chosen handlebar pull it all together for long, comfortable days on the road and off it.

Riders seeking enduro handling and modern engine performance in a dual-purpose motorcycle designed for effortless street riding will find it at their local Kawasaki dealership. The KLX250S offers serious capabilities in a fun, easy-to-ride package, regardless of where the adventure takes it.

2011 Kawasaki ER-6N motorcycle model Technology
Engine


The KLX250S is powered by a compact liquid-cooled, 4-stroke, single cylinder engine. With a bore and stroke of 72 x 61.2 mm, the engine displaces 249 cc.
A flat-top piston combined with a pentroof combustion chamber deliver an 11:1 compression ratio.
The KLX250S engine features an electrofusion cylinder. The ultra-hard coating in the aluminum cylinder bore offers superior heat transfer with light weight.
The lightweight piston, piston pin, and connecting rod allow high revs.
The 4-valve DOHC cylinder head provides maximum valve area for optimum flow to boost low end torque.
Revised transmission ratios set the 6th gear ratio closer to the 5th gear ratio, facilitating smother shifting for increased performance off-road and on.
Revised change cam shape offers better shift feeling, with gears clicking into place more firmly.
The 34 mm semi-flat slide CVK carburetor with TPS (Throttle Position Sensor) receives revised settings to deliver the optimum amount of fuel at all rpm, contributing to improved response, power, and fuel economy.
A gear-driven engine balancer ensures smooth power delivery from idle to redline. On long rides, this means greater rider comfort and less fatigue.
With an electric starter and Kawasaki Automatic Compression Release (KACR), which automatically lifts an exhaust valve at cranking rpm, starting the KLX250S is a breeze.
Precise control of ignition timing by the digital, DC-current-powered Capacitor Discharge Ignition contributes to easy starts and reliability under extreme conditions.
New, dual high-capacity Denso radiators like those used on our KX motocross bikes deliver superior cooling efficiency and contribute to space and weight savings. The radiators are very slim and feature tightly packed cores and a fin design for excellent heat dispersion.
A new thin print motor powers the cooling fan.
Environmentally friendly, a pipe catalyser and secondary air injection system ensure clean emissions.
The muffler is equipped with a spark arrester, meaning the KLX250S can access designated off-road areas.

Chassis

Frame and chassis components based on the KLX300R are the source of the KLX250S's high-level of off-road performance. Performance updates for the 2009 model year increase rideability and control both off-road and on.
The KLX250's box and tubular-section high-tensile steel perimeter frame creates a slim, lightweight package. The 27.5o steering head angle and short wheelbase contribute to quick handling, while the high rigidity of the frame ensures straight-line stability.
Revised handlebar is straighter and moves the hand position up and in. The more relaxed position makes the bike easier to ride and control.
The 43 mm inverted cartridge-style front fork comes with 16-position compression and rebound damping adjustment. The cartridge provides consistent damping force by minimizing aeration of the fork oil.
Fork guards protect the inner tubes from rocks and brush.
New front and rear disc brakes offer impressive stopping performance. A twin-piston caliper grips a 250 mm semi-floating petal disc up front, while a single-piston caliper operates the 240 mm rear petal disc.
Wheel rigidity is increased care of thicker spokes (3.5 mm – 4.0 mm) contributes to lighter, smoother handling and offers greater durability for off-road riding.

All new Uni-trak linkage reduces front-rear pitching motion, resulting in increased straight-line stability and a more planted feel in corners.
The nitrogen-filled, remote reservoir rear shock has 16-position compression and rebound damping and threadless preload adjustability. Revised shock damping complements the new Uni-trak linkage.
The new lightweight, highly rigid aluminum D-section swingarm contributes to reduced unsprung weight.
New swingarm is wider to allow for greater tire selection.
New KX racing-type chain adjusters allow precise adjustment of chain slack, helping to minimise drivetrain power transfer loss.
Improved chain guide keeps the drive chain on-track in the harshest conditions.
Aluminum engine guard protects the crankcase from rocks and stones when riding on gravel or dirt roads. The 4 mm thick engine guard is both lightweight and strong.

New, all-digital instrument console gives at-a-glance information. Features include a digital bar-graph tachometer, digital speedometer, clock, dual trip meters, as well as indicator lamps for neutral, overheat, high beam, and turn signals.
New seat shape and stiffer urethane makes it easier to change seating position.
New front cowl and headlamp design give the KLX an aggressive new visage.
New off-road front fender contributes to the aggressive design.
New radiator shrouds are two-piece constructions like those on our KX motocrossers.
New off-road style rear fender is a two-piece construction.

Colours
Lime Green
Bright White

2011 Kawasaki ER-6N – USA Specifications
MSRP: $NA USD
Model not available in the USA
2011 Kawasaki ER-6N – Canada Specifications
MSRP: $TBA CDN

ENGINE
Type 4-stroke, Single
Starting Electric
Displacement 249 cc
Bore & Stroke 72.0 x 61.2 mm
Compression Ratio 11.0:1
Valve system DOHC, 4 valves, shim under bucket actuation
Carburetor Keihin CVK34
Ignition Digital DC-CDI
Cooling Liquid, twin radiators
Lubrication Forced lubrication, Semi-dry sump

DRIVETRAIN
Final Drive Chain
Transmission 6-speed, return
Primary Drive Gear
Primary Reduction Ratio 2.800 (84/30)
Gear Ratios: 1st 3.000 (30/10)
2nd 2.000 (30/15)
3rd 1.500 (27/18)
4th 1.250 (25/20)
5th 1.050 (21/20)
6th 0.952 (20/21)
Final Reduction Ratio 3.000 (42/14)
Clutch Wet multi-disc, manual, cable operation

FRAME
Type Perimeter High-tensile steel
Wheel Travel: Front 260 mm
Wheel Travel: Rear 230 mm
Tires: Front 3.00-21 (51P)
Tires: Rear 4.60-18 (63P)
Caster (Rake) 27.5°
Trail 110 mm
Steering Angle (Left/Right) 41° / 41°

SUSPENSION
Suspension, Front 43 mm inverted, cartridge-type, 16-click compression and 16-click rebound damping
Suspension, Rear Uni-Trak with fully adjustable spring preload, 16-click compression damping, 16-click rebound damping

BRAKES
Front: Type 250 mm semi-floating petal disc
Rear: Type 240 mm petal disc
Front: Caliper Dual-piston
Rear: Caliper Single-piston

DIMENSIONS
Overall Length 2,222 mm
Overall Width 815 mm
Overall Height 1,195 mm
Wheelbase 1,440 mm
Ground Clearance 280 mm
Seat Height 885 mm
Curb Mass 135 kg
Fuel Capacity 7 litres
Fuel Consumption 3.3 L/100 km (85 MPG)

DETAILS
MSRP* TBA
Colours Lime Green, Bright White
Warranty 12 months

ADDITIONAL COST OPTIONS
Good Times Protection Plan 24 or 36 months (Kawasaki GTPP coverage begins after the standard limited warranty expires)

* The Manufacturer's Suggested Retail Price does not include freight, pre-delivery inspection or applicable taxes. The final price is at the discretion of the dealer. Prices and Specifications are subject to change without prior notice.
The specifications mentioned here apply to and have been achieved by production models under standard operating conditions. We intend only to give a fair description of the vehicle and its performance capabilities but these specifications may not apply to every machine supplied for sale. Kawasaki Heavy Industries, Ltd. reserves the right to alter specifications without prior notice. Equipment illustrated and specifications may vary to meet individual markets. Available colours may vary by market.