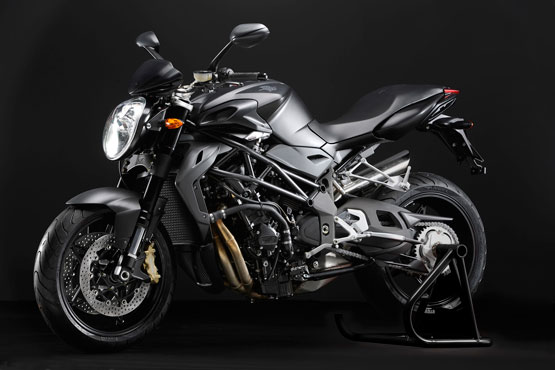 Back to 2011 MV Agusta Motorcycle Index Page
Click photos to enlarge.
They make great desktop images.
– 2011 MV Agusta Brutale 920

2011 MV Agusta Brutale 920
The MV Agusta model line-up is expanding with the introduction of the new BRUTALE and the 920 engine. This incredible naked has enamored the motorcycle world with its unique design that has been to date unequaled. Ever since its introduction the BRUTALE has continued to be the leader in both design and performance. With the launching of the new BRUTALE, the most beautiful and powerful naked is now within reach of an even larger number of riders whom have always dreamed of experiencing the emotions only the BRUTALE can deliver. A new engine, new chassis settings, a onepiece seat design with a focus on comfort, the BRUTALE offers a new interpretation of a high performance naked. A motorcycle that offers aggressive styling and raw performance matched with an intuitive chassis. A Brutale that is always incredible easy to ride and has never been this comfortable and intuitive.

On a cost per performance basis, the BRUTALE is without a doubt the new reference in the naked sport category. A technologically advanced 4 cylinder engine with radial intake and exhaust valves coupled with the same advanced engine control unit as the 1090RR together with one of the most evolved chassis's the BRUTALE is able to easily tame even the most demanding roads and racetracks.

This advanced performance is also coupled with a new look, with the color black dominating the new styling of the radiator shrouds and seat. But, looks are not everything and a major focus was also placed on rider comfort with a re-designed single seat that improves both rider and passenger comfort during every day use.

The BRUTALE project continues to remain faithful to the original objectives, MV wanted to build the most compact and light weight naked coupled with a superbike chassis together with raw engine performance that would enamor even the most demanding motorcyclist.

The principle characteristics of the new BRUTALE are:
– Four cylinder engine with radial valves
– Magneti Marelli 5SM engine control module
– Traction control with 8 levels of intervention
– Tubular steel frame coupled with aluminum side plates for maximum torsional rigidity
– Single sided swingarm with a adjustable Sachs rear shock
– Marzocchi upside down 50mm adjustable front forks
– Brembo racing radial calipers
– New single piece seat that is both lower and narrower
2011 MV Agusta Brutale 920 Features
The Design

The new BRUTALE is without a doubt Brutale, but at the same time this is a new interpretation of the most admired naked in the world. The attention to detail is what makes this new model different and even easier to use in everyday riding. The single piece seat is both more comfortable for the rider as well as the passenger, the turn signals are no longer integrated into the mirrors but have been placed in a position for better visibility during city traffic, the suspension is now softer and more comfortable. A Brutale that is easier to use than ever before but with the same maniacal attention to detail that one has come to expect from MV Agusta. Just one look at the tubular steel frame, the anodized handlebars with pivoting clamps, the pure form of design of the shift and brake levers, the single sided swingarm and unique wheels and it clear why the Brutale is the most beautiful naked in the world.

The two available color schemes are black and white. The single sided swingarm along with the unmistakable styling make this new BRUTALE unique. A masterpiece of Italian Design, the attention to detail and monochromatic color schemes helps to highlight the technical details like the over-under side mounted exhaust and the original MV Agusta frame design integrating tubular steel and aluminum side plates.

The Engine

The 4 cylinder 16 radial valve MV Agusta engine has reached a new level of evolution and technology. The 921cc, a new engine displacement for Brutale, finds the perfect balance between power and drivability. The new displacement of the legendary 4 cylinder is obtained with a new bore and stroke ratio with a focus on optimizing the power curve of the BRUTALE to be even more manageable while at the same time offering the class leading power. The new four cylinder MV Agusta matches 129 horsepower with a broad torque curve, incredible levels of power have never been this easy to control. The crankshaft of the BRUTALE is shared with the 55mm stroke unit in the 1090RR as well as the 2nd order engine balance shaft and the optimized oiling system and the oil cooled generator. The BRUTALE has a number of dedicated engine components including the new cylinder block and 73mm pistons as well as a cooling system with the radiator catch tank which is now at the same pressure as the atmosphere helping to keep the engine temperature under control even in the most extreme track or city driving conditions. The intake system breaths through a bank of 46mm Mikuni throttle bodies working together with the hyper sophisticated engine management system. The Magneti Marelli 5SM ecu controls the fuel injection, ignition and the various maps. The double engine map (Normal and Sport) allows the rider to tune the engine management system to the conditions and coupled with 8 position variable traction control the BRUTALE can be ridden to the limit while always remaining under control.

The chassis

The BRUTALE shares its chassis configuration and geometry with the 990R and 1090RR as well as most of the chassis components. The frame is a mixture of a steel trellis structure and lateral aluminum plates that has become the trademark of MV Agusta since the first application on the F4, a frame structure that has been continually copied but never equaled by other manufacturers. The chassis dimensions are the same as on the other Brutale models offering a perfect dynamic balance and a precise response to rider inputs. With a 1430 mm wheelbase, 25° steering head angle and 103,5 mm of trail the new BRUTALE offers without a doubt the best balance of agility and stability. A technical feature the new BRUTALE is a new steering head which offers optimized rigidity for this type of naked which will without a doubt become the new reference for easy handling. Coupled with the revised steering head design is new suspension valving which is both softer and smoother to give the maximum amount of feedback even to less experienced riders. But, make no mistakes, the new BRUTALE is still Brutale, thanks to the infinite amount of tuning possible with the 50 mm Marzocchi USD front forks and Sachs mono shock. With just a few clicks you can easily transform the BRUTALE into a track weapon. BRUTALE is also known for its agility: coupled with the new Pirelli Angel tires the feedback from the tarmac is always immediate and the 180/55 section rear tire aids in putting down the 129 horsepower from the MV 4 cylinder engine. Performance of a supersport and handle of a middleweight, the new BRUTALE from MV Agusta continues to redefine the naked sportbike segment.
---
2011 MV Agusta Brutale 920 – International Specifications
USA MSRP – $TBA USD
Canada MSRP – $15,595 CDN
ENGINE
Type Four cylinder, 4 stroke, 16 valve
Timing system "D.O.H.C", radial valve
Total displacement 921 cm3 (56.2 cu. in.)
Compression ratio 13:1
Starting Electric
Bore x stroke 73,0 mm x 55,0 mm (2.87 in. x 2.17 in. )
Max. horse power – r.p.m. (at the crankshaft) Full power version: 96 kW (129 HP) at 10500 r.p.m. – Lim. 11600 r.p.m. / Restricted power version: 72 kW (97 HP) at 10500 r.p.m. – Lim. 11600 r.p.m.
Max. torque – r.p.m. Full power version: 95 Nm (9.5 kgm) at 8100 r.p.m. / Restricted power version: 87 Nm (8.7 kgm) at 5500 r.p.m.

Cooling system Cooling with separated liquid and oil radiators
Engine management system Magneti Marelli 5SM ignition – injection integrated system with Mikuni throttle body; induction discharge electronic ignition; sequential timed "Multipoint" electronic injection
Clutch Wet, multi – disc
Gear Box Cassette gearbox; six speed, constant mesh
Primary drive 50/79
Gear ratio (Full power version)
First gear: Speed* 13/38 109.7 km/h (68.1 mph) at 11600 r.p.m.
Second gear: Speed* 16/34 150.8 km/h (93.6 mph) at 11600 r.p.m.
Third gear: Speed* 18/32 180.3 km/h (111.9 mph) at 11600 r.p.m.
Fourth gear: Speed* 20/30 213.7 km/h (132.7 mph) at 11600 r.p.m.
Fifth gear: Speed* 22/29 243.2 km/h (151.0 mph) at 11600 r.p.m.
Sixth gear: Speed* 19/23 265.0 km/h (164.5 mph) at 11600 r.p.m.
Final velocity ratio 15×40

ELECTRICAL EQUIPMENT
Voltage 12 V
Alternator 350 W at 5000 r.p.m.
Battery 12 V – 8.6 Ah

DIMENSIONS AND WEIGHT
Wheelbase 1430 mm (56.30 in.)
Overall lenght 2045 mm (80.51 in.)
Overall width 775 mm (30.51 in.)
Saddle height 825 mm (32.48 in.)
Min. ground clearance 140 mm (5.51 in.)
Trail 103,5 mm (4.07 in.)
Dry weight 190 Kg (418.9 lbs)
Fuel tank capacity 23 l (6.07 U.S. gal.)

PERFORMANCE
Maximum speed* Full power version: 265 km/h (164.5 mph) / Restricted power version: 245 km/h (152 mph)

FRAME
Type AlS Steel tubular trellis (MAG welded)
Rear swing arm pivot plates: material Aluminium alloy

FRONT SUSPENSION
Type "UPSIDE – DOWN" telescopic hydraulic fork with external and separated adjustment of rebound and compression damping and of spring preload
Rod dia. 50 mm (1.97 in.)
Travel on leg axis 125 mm (4.92 in.)

REAR SUSPENSION
Type Progressive, single shock absorber with rebound damping and spring preload adjustment
Single sided swing arm: materiale Aluminium alloy
Wheel travel 120 mm (4.72 in.)

BRAKE
Front brake Double floating disc with Ø 310 mm (Ø 12.2 in.) diameter, with steel braking band and steel flange
Front brake caliper Radial with 4 pistons – Ø 32 mm (Ø 1.26 in.)
Rear brake Single steel disc with Ø 210 mm (Ø 8.27 in.) diameter
Rear brake caliper With 4 pistons – Ø 25,4 mm (Ø 1.00 in.)

RIM
Front: Material / size Aluminium alloy 3.50 " x 17 "
Rear: Material / size Aluminium alloy 6.00 " x 17 "

TYRES
Front 120/70 – ZR 17 M/C (58 W)
Rear 180/55 – ZR 17 M/C (73 W)

FAIRING
Material Thermoplastic

All specifications are subject to change without notice. The above price is the Manufacturer's Suggested Retail Price. Price excludes any applicable freight, dealer setup, tax, title, or licensing fees and is subject to change. Actual dealer prices may vary.