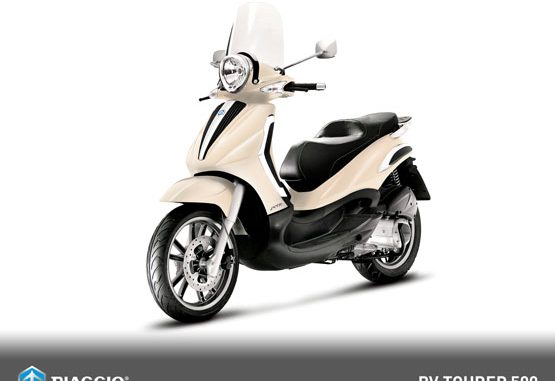 Back to 2011 Piaggio Scooter Index Page
Click photos to enlarge.
They make great desktop images.
– 2011 Piaggio BV Tourer 500

2011 Piaggio BV Tourer 500
Perfect for logging highway miles.

The BV Tourer combines high wheels and a motorcycle-style ride with the comfort and practicality of a scooter to ensure a safe and precise ride.
A scooter agile enough for the city with added power for touring capabilities, the 2011 Piaggio BV Tourer 500 is perfect for long distance rides as well as getting in and around town with power and style. Underneath the plush, split-level seat is a lockable storage compartment. Add on an optional top case and side compartments and you'll have more than enough storage for urban errand-running or long distance travels.

Key 2011 Piaggio BV Tourer 500 Key Features
– Modern Piaggio four-valve, liquid cooled, fuel-injected engines
– Large, front windshield
– Dual hydraulic shock absorber, four-position spring pre-load
– 16" front and rear tires (BV Tourer 250) / 16" front and
14" rear tires (BV Tourer 500)
– Underseat and front compartment storage

Max Speed – 99 mph
Gas Milage – 55 – 60 mpg / 26 – 28 kpl
Gas Tank: 3.49 gallons
Seat Height: 30.5″

---
2011 Piaggio BV Tourer 500 – American Specifications
USA MSRP – $6,399 USD
ENGINE TYPE Single cylinder, four-stroke catalytic Piaggio MASTER
DISPLACEMENT 492cc
BORE x STROKE 92 mm x 69 mm
MAX POWER AT SHAFT 29 kW at 7,500 rpm (39 bhp)
MAX TORQUE 43 Nm at 5,500 rpm
MAX SPEED 99 mph (159 km/h)
FUEL / TANK CAPACITY Unleaded 3.49 gallons (13.1 litres)
GAS MILEAGE 55-60 mpg
DISTRIBUTION Single overhead camshaft (SOHC) with four valves
COOLING SYSTEM Liquid
LUBRICATION Wet sump
INGINTION Electronic with variable spark advance; high energy inductive coil
GEARS CVT CVT automatic ratio variator (twist-and-go)
CLUTCH Centrifugal
CHASSIS Double cradle in high-tensile steel tubes
FRONT SUSPENSION 41 mm Telescopic Hydraulic Forks
REAR SUSPENSION Two dual effect hydraulic dampers, four-position coil spring
FRONT BRAKE Twin stainless steel discs 260 mm with fixed twin piston calipers 32-34 mm left and right respectively
REAR BRAKE Stainless steel disc 240 mm with fixed opposed pistons 34 mm
FRONT TIRE Tubeless 110/70, 16″
REAR TIRE Tubeless 150/70, 14″
LENGTH 87.2″ (2215 mm)
WIDTH 30.3″ (770 mm)
WHEELBASE 61″ (1550 mm)
SEAT HEIGHT 30.5″ (775 mm)
DRY WEIGHT 416 lbs (189 kg)
AVAILABLE COLORS Volcano Black, Pearl White

2011 Piaggio BV Tourer 500 – Canadian Specifications
Canada MSRP – $TBD CDN
BV TOURER 500
Single cylinder, four-stroke catalytic
Piaggio MASTER
492cc
3.6" x 2.7" (92 mm x 69 mm)
29 kW at 7,500 rpm (39 bhp)
43 Nm at 5,500 rpm
99 mph (160 Km/h)
Unleaded / 3.49 gallons (13.2 liters)
Electronic injection system
Single overhead camshaft (SOHC) with
four valves
Liquid
Wet sump
Electronic with variable spark
advance; high energy inductive coil
CVT automatic ratio variator
(twist-and-go)
Centrifugal
Double cradle in high-tensile steel
tubes
41 mm Telescopic Hydraulic Forks
Two dual effect hydraulic dampers,
four-position coil spring
Front: 110 / 70, 16" Rear: 150 / 70, 14"
Twin stainless steel discs 260 mm
with fixed twin piston calipers 32–34
mm left and right respectively
Stainless steel disc 240 mm with fixed
opposed pistons 34 mm
87.2" (2,215 mm) / 30.3" (770 mm)
61" (1,550 mm)
30.5" (775 mm)
416 lbs (189 kg)
EPA and CARB
Engine Type
Cylinder Capacity
Bore x Stroke
Max Power at Shaft
Max Torque
Max Speed
Fuel / Tank Capacity
Fuel Supply
Distribution
Cooling System
Lubrication
Ignition
Gears
Clutch
Chassis
Front Suspension
Rear Suspension
Wheel Size
Front Brake
Rear Brake
Length / Width
Wheelbase
Seat Height
Dry Weight
Type-Approval