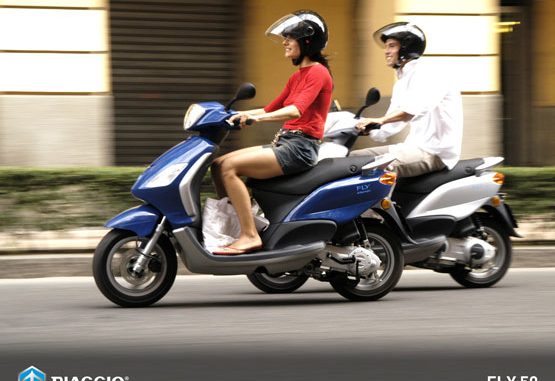 Back to 2011 Piaggio Scooter Index Page
Click photos to enlarge.
They make great desktop images.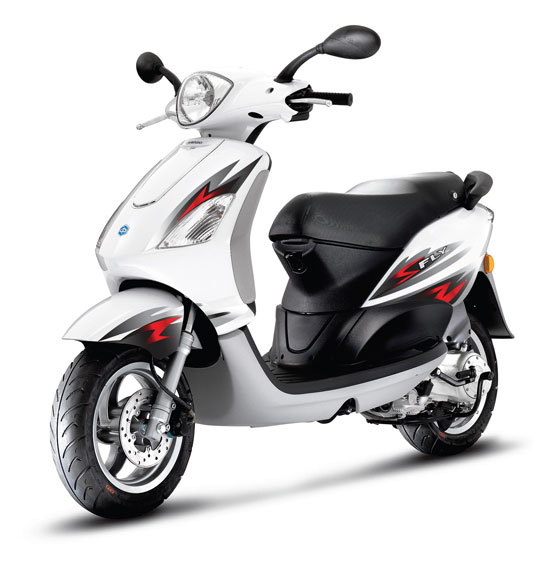 – 2011 Piaggio Fly 50 4V

2011 Piaggio Fly 50 4V
FLY 50 4V Exceptional quality with a surprisingly low price.

The Fly 50 inherits Piaggio's tradition of success, using the latest technology and design trends. The result is a reliable vehicle for everyday riding that stands out for its style, comfort and ease of use. Light, compact, and agile, the 2011 Piaggio Fly 50 is easy to use, simple to park, and offers excellent power-to-weight ratio for enhanced performance. With 12″ alloy wheels and front disc brakes it may be the best value in the market.
Key 2011 Piaggio Fly 50 4V Key Features
– Single cylinder, four-stroke Piaggio Leader engine
– Wide, streamlined front shield – aerodynamic and protective
– Grab rail, for the passanger, rounds off the design
– Low, wide alloy wheel (12") for maneuverability and stability
– Front disc brakes
– Underseat storage for helmet
Max Speed – 39 mph, 63 kph
Gas Milage – 110-115 mpg / 45-47 kpl
Gas Tank: 1.9 gallons
Seat Height: 30.9″

---
2011 Piaggio Fly 50 4V – American Specifications
USA MSRP – $2,099 USD
ENGINE TYPE Single cylinder, four-stroke Piaggio HI-PER4
DISPLACEMENT 49.9cc
BORE x STROKE 1.5″ x 1.6″ (39 mm x 41.8 mm)
MAX POWER AT SHAFT 8.5 kW at 7,750 rpm (11.6 bhp)
MAX TORQUE 3.5 Nm at 6,500rpm
MAX SPEED 39 mph (63 Km/h) mph (63 km/h)
FUEL / TANK CAPACITY Unleaded 1.9 gallons (7.1 litres)
GAS MILEAGE 110-115 mpg
DISTRIBUTION Single overhead camshaft (SOHC) with two valves
COOLING SYSTEM Forced air
LUBRICATION Wet sump
INGINTION Electronic
GEARS CVT CVT automatic ratio variator (twist-n-go)
CLUTCH Dry automatic centrifugal type
CHASSIS Tube type
FRONT SUSPENSION Telescopic Hydraulic Forks, 32 mm
REAR SUSPENSION Hydraulic single shock absorber
FRONT BRAKE Disc 200 mm, floating caliper with two pistons
REAR BRAKE Drum 140 mm
FRONT TIRE Tubeless 120/70, 12″
REAR TIRE Tubeless 120/70, 12″
LENGTH 74″ (1880 mm)
WIDTH 28.9″ (735 mm)
WHEELBASE 52.4″ (1331 mm)
SEAT HEIGHT 30.9″ (785 mm)
DRY WEIGHT 220 lbs (100 kg)
AVAILABLE COLORS Optic White, Midnight Blue, Excalibur Gray
2011 Piaggio Fly 50 4V – Canadian Specifications
Canada MSRP – $2,495 CDN
Engine Type
Cylinder Capacity
Bore x Stroke
Max Power at Shaft
Max Torque
Max Speed
Fuel / Tank Capacity
Fuel Supply
Distribution
Cooling System
Lubrication
Ignition
Gears
Clutch
Chassis
Front Suspension
Rear Suspension
Wheel Size
Front Brake
Rear Brake
Length / Width
Wheelbase
Seat Height
Dry Weight
Type-Approval

FLY 50
Single cylinder, four-stroke Piaggio
HI-PER4
49.9cc
1.5″ x 1.6″ (39 mm x 41.8 mm)
8.5 kW at 7,750 rpm (11.6 bhp)
3.5 Nm at 6,500 rpm
39 mph (63 Km/h)
Unleaded / 1.9 gallons (7.2 liters)
Carbureted
Single overhead camshaft (SOHC) with
two valves
Forced air
Wet sump
Electronic
CVT automatic ratio variator
(twist-and-go)
Dry automatic centrifugal type
Tube type
Telescopic hydraulic forks, 32 mm
Hydraulic single shock absorber
Front: 120 / 70, 12″ Rear: 120 / 70, 12″
Disc 200 mm, floating caliper with two
pistons
Drum 140 mm
74″ (1,880 mm) / 28.9″ (735 mm)
52.4″ (1,330 mm)
30.9″ (785 mm)
220 lbs (100 kg)
EPA and CARB