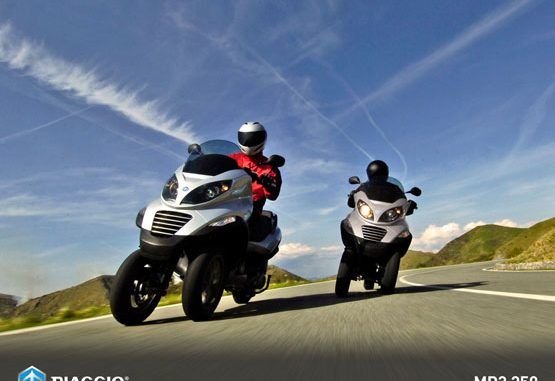 Back to 2011 Piaggio Scooter Index Page
Click photos to enlarge.
They make great desktop images.
– 2011 Piaggio MP3 250

2011 Piaggio MP3 250
MP3 250 The ultimate city navigator.

The MP3 250 redefines the entire concept of ride stability. With three ground contact points and a shock absorber on each wheel, the MP3 swallows bumps with incredible efficiency.

Key 2011 Piaggio MP3 250 Key Features
– Single cylinder, four-stroke Piaggio Master engine
– Electro-hydraulic suspension locking system
– 40-degree lean angle for ultimate maneuverability
– Underseat storage that holds 2 helmets
– 3 disc brakes

Max Speed – 77 mph
Gas Milage – 60 – 65mpg
Gas Tank: 3.2 gallons
Seat Height: 30.7″

---
2011 Piaggio MP3 250 – American Specifications
USA MSRP – $7,199 USD
ENGINE TYPE Single-cylinder QUASAR, four-stroke, four-valve, electronic injection, catalysed
DISPLACEMENT 244.3cc
BORE x STROKE 72 mm / 60 mm
MAX POWER AT SHAFT 22.5 hp (16.5 Kw) at 8,250 rpm
MAX TORQUE 21 Nm at 6,750 rpm
MAX SPEED 77 mph (124 km/h)
FUEL / TANK CAPACITY Unleaded 3.2 gallons (12 litres)
GAS MILEAGE 60-65 mpg
DISTRIBUTION Electronic injection system
COOLING SYSTEM Liquid
LUBRICATION Wet sump, 1,000cc capacity; chain-driven lobe pump; intake and delivery filters
INGINTION Port Injected Alfa/n type with closed loop system, Lambda sensor in exhaust pipe and three-way d
GEARS CVT 'Twist and go' automatic CVT, torque server
CLUTCH N/A
CHASSIS Twin cradle: tubes in high tensile steel
FRONT SUSPENSION Parallelogram composed of four aluminum arms supporting two steering tubes, cantilevered suspension – Travel: 85 mm. Electro-hydraulic suspension locking system. suspension
REAR SUSPENSION Two dual effect hydraulic shock absorbers and adjustable spring preload – Travel: 110 mm
FRONT BRAKE Two stainless steel disks, 240 mm and floating caliper with two pistons, 30 mm
REAR BRAKE Stainless steel disk, 240 mm and caliper with opposite pistons, 30 mm
FRONT TIRE Tubeless 120 / 70″ 12″
REAR TIRE Tubeless 130 / 70″ 12″
LENGTH 84″ (2134 mm)
WIDTH 29.3″ (745 mm)
WHEELBASE 58.6″ (1489 mm)
SEAT HEIGHT 30.7″ (780 mm)
DRY WEIGHT 450 lbs (204 kg)
AVAILABLE COLORS Graphite Black, Cortina Gray

2011 Piaggio MP3 250 – Canadian Specifications
Canada MSRP – $TBD CDN
Single-cylinder QUASAR, four-stroke, four-valve,
electronic injection, catalysed
244.3cc
2.8" x 2.4" (72 mm x 60 mm)
22.5 bhp (16.5 Kw) at 8,250 rpm
21 Nm at 6,750 rpm
77 mph (125 km/h)
Unleaded / 3.2 gallons (12 liters)
Electronic injection system
Liquid
Port Injected Alfa/n type with closed loop system,
Lambda sensor in exhaust pipe and three-way
double catalytic converter
Electric (freewheel) with torque limiter
'Twist and go' automatic CVT, torque server
Twin cradle: tubes in high tensile steel
Parallelogram composed of four aluminum arms
supporting two steering tubes, cantilevered
suspension – Travel: 85 mm
Two dual effect hydraulic shock absorbers and
adjustable spring preload – Travel: 110 mm
Front: 120 / 70, 12" Rear: 130 / 70, 12"
Two stainless steel discs, 240 mm and floating
caliper with two pistons, 30 mm
Stainless steel disc, 240 mm and caliper with
opposite pistons, 30 mm
84" (2,130 mm) / 29.3" (745 mm)
58.6" (1,490 mm)
30.7" (780 mm)
450 lbs (204 kg)
EPA and CARB
Engine Type
Cylinder Capacity
Bore x Stroke
Max Power at Shaft
Max Torque
Max Speed
Fuel / Tank Capacity
Fuel Supply
Cooling System
Ignition
Start
Gears
Frame
Front Suspension
Rear Suspension
Wheel Size
Front Brake
Rear Brake
Length / Width
Wheelbase
Seat Height
Dry Weight
Type-Approval