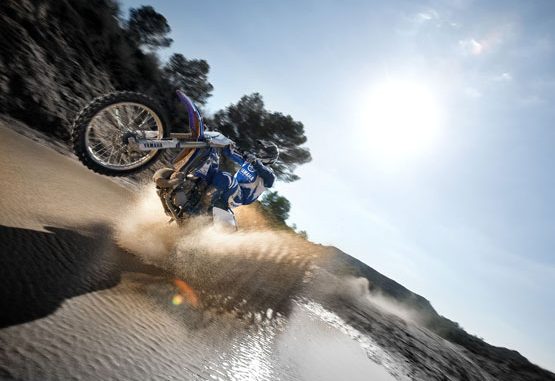 Back to 2011 Yamaha Motorcycle Index Page
Click photos to enlarge.
They make great desktop images.
– 2011 Yamaha YZ250 (2-Stroke)

2011 Yamaha YZ250 (2-Stroke)
Our legendary two-stroke YZ250 is still a winner and one of the best bikes in its class.
Last of a disappearing breed? Not at Yamaha! Choice is a good thing and the more choice the better. Perhaps a 4-stroke MX bike is not your deal, check out our 2011 Yamaha YZ250 2-stroke. It features some of the same technologies found on our 4-stroke MXers to maintain its competitive edge.
Our legendary two-stroke is more potent than ever with a light aluminum frame housing a patented YPVS Power valve-equipped engine that delivers great power-to-weight ratio.
YZ250 is ready to race out of the crate complete with ProTaper aluminum handlebar, titanium footpegs, gripper seat and Excel rims.
Highlights

Wave Style Rotors
Adjustable 48mm Inverted Fork
Light Aluminum Frame

Key Features:

Engine
" Liquid-cooled, 249cc, piston-reed-valve-inducted, 2-stroke engine is lightweight and compact. Its reputation for exceptionally broad, hard-hitting powerband continues for 2009.
" The cylinder feature a ceramic composite coating which insures uniform heat dissipation, reduced friction and a longer service life.
" YPVS power valve system features a total of three slides (one main and two auxiliary slides) which provides the benefits of both solid, low rpm power delivery and a strong top-end punch. The YPVS system varies the exhaust port height and timing based on engine rpm. The valves are also designed to match the curvature of the cylinder resulting in a strong seal, thereby providing increased power delivery.
" Keihin PWK38 carburetor with power jet and throttle position sensor (TPS) ensures precise fuel/air mixing and extra-crisp throttle response throughout the powerband.
" Special-design, 4-petal, carbon fiber reeds provide great throttle response and engine performance across the entire RPM range.
" Smooth-shifting, 5-speed, close-ratio transmission with heavy-duty, multi-plate clutch ensures optimal hook-up for outstanding acceleration and corner-exiting power. Transmission shafts utilize involute splines for smooth, positive shifting even under power.
" Quick-access, outer clutch cover provides allows for fast, easy clutch maintenance
" Digital CD ignition system delivers precise spark and monitors engine speed to ensure optimal timing for faster, stronger response during hard acceleration.
" Washable, dual-stage, foam air filter reduces maintenance costs.
" Large-capacity, dual radiators feature a 10-row core to deliver maximum cooling efficiency.
" Computer designed expansion chamber provides maximum engine performance while the lightweight, aluminum silencer is rebuildable so performance can be maintained at the optimum level and noise levels can be controlled.
" Trick, works-style clutch lever features a race-spec "barrel adjuster" for on-the-fly adjustability.


Chassis
" Lightweight, aluminum, semi-double-cradle style frame. The obvious benefit of an aluminum frame is a significant reduction in overall machine weight. Yamaha has maintained the semi-double cradle design because it offers an excellent balance between stiff lateral and torsional rigidity while offering more controlled flex in the longitudinal plane. This frame design offers the ideal "stiffness balance" which means it offers the flexibility of a steel frame with the light weight of an aluminum frame. This frame is made from a unique mix of castings, forgings and extrusions that provide stiffness where it is required and flexibility in other areas. The result is the world's lightest aluminum MX frame, which provides excellent handling, good ride quality, excellent stability and responsive cornering performance.
" Removable rear subframe is constructed of square-section, lightweight aluminum pipe. Detachable design allows easy access when servicing rear suspension components.
" Lightweight, tapered, aluminum swingarm is produced using "hydro forming", a special forming method that uses high pressure water to form shapes.
" Cast aluminum upper triple clamp and forged lower triple clamp provide both lightweight and strength for fast, precise handling.
" Adjustable handlebar mounts allow the handlebars to be moved 10mm rearward if desired.
" "Speed sensitive" 48mm, adjustable, inverted, Kayaba cartridge fork features a twin-chamber design. The twin chamber design means the damper unit is in a separate structure which prevents aerated fork oil from entering the inner damper assembly and degrading its damping abilities. Since the inner damper is pressurized, it also eliminates bubbles forming in the oil. The speeds sensitive design mean the damping force is controlled by the piston speed in the fork.
" The balance between the inner and outer fork tubes has been optimized while the Kashima coating on the pressure tank and the piston rod reduce friction for smoother suspension performance. The cylinder diameter is 24mm for excellent primary cushioning while low friction oil seals provide reduced stiction for a smoother stroke.
" This fork also features a Transfer Control Valve (TCV). The TCV enhances the damping force of the inner damper from mid stroke to full stroke and improves bottoming characteristics. The benefit of TCV is more precise control throughout the full stroke range.
" "Kashima coating" is applied to the fork tubes to reduce friction for smoother suspension performance. Front wheel travel is 300mm (11.8″).
" Front fork adjustments include: 20-way compression damping and 20-way rebound damping. Optional fork springs are available through Genuine Yamaha parts.
" "Wrap-around" plastic fork protectors provide excellent protection from dirt, mud and stone chips. The "self-supporting" design reduces friction for smoother fork operation.
" Monocross link rear suspension system features a fully adjustable, Kayaba, piggyback shock which provides 315mm (12.4″) of wheel travel and features separate adjusters for high- and low-speed compression damping. Adjustments include: spring preload, 20-way rebound damping, 20-way low-speed compression damping and 2 turns of high speed compression damping. The damper rod diameter is 18mm in diameter, while Kashima coating is used in the shock body and sub tank to reduce friction and improve suspension performance during a long moto. The Kayaba shock utilizes a full rebound oil lock system for excellent suspension function and great ride quality.
" Super lightweight, "Beta" titanium shock spring. This spring reduces weight by over 500 grams versus a conventional steel spring. A reduction in "unsprung" weight causes a dramatic effect on suspension performance. This titanium spring provides outstanding strength, and durability, combined with reduced weight.
" 250mm floating front disc brake features a "wave" style rotor (disc) which reduces weight and improves styling.
" Compact Nissin twin piston front caliper utilizes lightweight aluminum pistons. The braking performance is excellent with great feel and control. This is the same caliper as our 4-stroke YZ-F models.
" "Shorty" style front brake lever is adjustable to fit various hand sizes.
" 245mm rear disc brake with single piston caliper uses an integrated master cylinder (fluid reservoir is integrated into the top of the master cylinder) for strong stopping power with excellent feel and control.
" "Wave" style rear rotor (disc) reduces weight and improves cooling while also adding a special styling highlight too.
" The single piston rear brake caliper features a rugged plastic caliper protector, while the lower edge of the disc is protected by a lower disc guard.
" Specially designed "Sun Star" rear sprocket increases the contact area between the sprocket and chain rollers, thereby reducing the load on the chain and increasing the service life of both chain and sprocket.
" Lightweight, 21″ front and 19″ rear Excel rims provide exceptional durability and help reduce unsprung weight for optimal suspension performance and handling.
" Pro Taper handlebars with reinforcing crossbar and foam pad provide excellent durability and reduced weight.


Details
" "Flat-design" seat features multi density foam that provides good initial softness / comfort and then increases the firmness as more pressure is applied. The "pebble" or "gripper" finish on the top and side surfaces provides excellent rider grip and durability.
" Seat, handlebar and fuel tank ergonomics provide excellent freedom of movement for the rider.
" Large fuel cap and filler hole ensures easy opening and fast, hassle-free refueling.
" Lightweight, wide titanium footpegs provide excellent grip and ground clearance.
" Cleated, rear brake lever and folding shift lever tip offer superb grip and exceptional durability.
" Stainless steel, inner clutch cable provides excellent strength, smooth action and long life.
" Repackable exhaust silencer means a rider can maintain optimum engine performance and reduced noise levels.
2011 Yamaha YZ250 (2-Stroke) – USA Specifications
MSRP* MSRP* $7,150 (Team Yamaha Blue/White) Available from September 2010


Engine
Type 249cc liquid-cooled 2-stroke; reed-valve inducted

Bore x Stroke 66.4 x 72.0mm

Compression Ratio 8.9~10.6:1

Fuel Delivery Keihin® PWK38S

Ignition CDI

Transmission Constant-mesh 5-speed; multiplate wet clutch

Final Drive Chain Drive


Chassis
Suspension / Front Speed-Sensitive System inverted fork; fully adjustable, 11.8-in travel

Suspension / Rear Fully adjustable single shock, 12.4-in travel

Brakes / Front Hydraulic single disc brake, 250mm

Brakes / Rear Hydraulic single disc brake, 245mm

Tires / Front 80/100-21-51M

Tires / Rear 110/90-19-62M


Dimensions
Length 85.7 in

Width 32.6 in

Height 51.4 in

Seat Height 39.1 in

Wheelbase 58.3 in

Ground Clearance 15.0 in

Fuel Capacity 2.1 gal

Wet Weight*** 227 lb


Other
Warranty 30 Day (Limited Factory Warranty)

2011 Yamaha YZ250 (2-Stroke) – Canada Specifications
MSRP: $8,399 CDN
Engine 2-stroke, liquid-cooled, reed-valve, single
Displacement 249 cc
Bore and Stroke 66.4 x 72 mm
Compression Ratio 9.2~10.9:1
Fuel Delivery Keihin PWK38S
Ignition / Starting CDI / Kick
Transmission 5-speed
Final Drive Chain

Suspension (Front) Adjustable 48 mm inverted fork / 300 mm (11.8″) travel
Suspension (Rear) Fully adjustable link Monocross / 315 mm (12.4″) travel
Brakes (Front) 250 mm floating disc
Brakes (Rear) 245 mm disc
Tires (Front) 80/100-21
Tires (Rear) 110/90-19

Length 2,184 mm (86″)
Width 827 mm (32.6")
Height 1,309 mm (51.5")
Wheelbase 1,481 mm (58.3")
Ground Clearance 385 mm (15.1″)
Seat Height 997 mm (39.3")
Fuel Capacity 8 litres (1.8 imp. gallons)
Wet Weight 103 kg (226.6 lbs)
Colour(s) Yamaha Blue

* Fuel economy estimates are based on US EPA exhaust emission certification data obtained by Yamaha and converted into Canadian measurements. Your actual mileage will vary depending on road condition, how you ride, maintain your vehicle, accessories, cargo and operator/passenger weight.
Specifications, appearance, and price of product are subject to change without notice.
* MSRP does not include freight, PDI (Pre Delivery Inspection), pre-rigging (boats), or taxes. Dealer may sell for less.