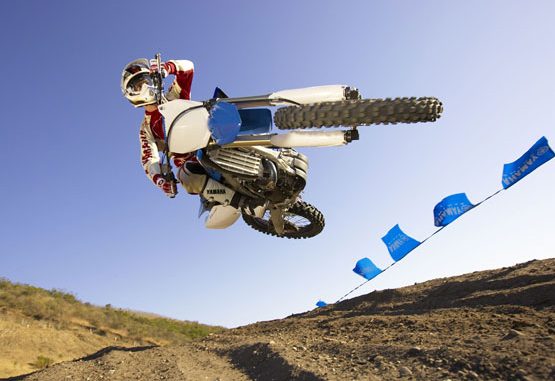 Back to 2011 Yamaha Motorcycle Index Page
Click photos to enlarge.
They make great desktop images.
– 2011 Yamaha YZ250F

2011 Yamaha YZ250F
Bilateral Beam frame and compact chassis delivers superb rigidity and balance for unmatched handling
Key development concept behind the 2011 Yamaha YZ250F is excellent cornering and handling performance, to deliver a bike that's so intuitive it knows what you are thinking, before you do.
You may not find "flickability" in the dictionary, but we measure it by how easily the machine does what the rider wants.
By that definition, what the rider wants is the YZ250F. The Bilateral Beam frame delivers superior cornering speed and stability, while the fuel tank is nestled close to the center of gravity for light handling. This bike is so intuitive it dives for apexes exactly when you tell it to, and changes lines as quick as you can think of them.
Highlights

Bilateral Beam Frame
Adjustable 48mm Inverted Fork
Titanium Valves

Key Features:

Engine
" Liquid-cooled, 250cc, DOHC, 5-titanium valve, 4-stroke engine features a 13,500-rpm redline.
" Short skirt forged piston reduces weight and vibration, plus offers excellent durability.
" The 13.5:1 compression ratio provides fast, controlled combustion and excellent engine performance.
" Optimized 5-valve (3-intake & 2-exhaust) combustion chamber design provides the most efficient intake and exhaust flow for maximum power.
" Titanium valves decrease weight by more than 40% over a conventional steel valve train and reduce reciprocating mass for faster-revving.
" Aluminium valve retainers reduce inertial mass for faster throttle response
" "Load reduced" valve springs reduce the amount of force required to open the valves and thereby minimizes power losses associated with friction and improves torque in the low and mid ranges.
" Special chromium nitride coating on the tips of the intake valve stems reduces wear.
" The lightweight "liner less" aluminium cylinder features a ceramic composite coating which insures faster, more uniform heat dissipation, reduced friction and a longer service life.
" Cylinder design features cutaways that allow the air trapped under the piston to enter a side chamber (or cutaway) to reduce horsepower-robbing "pumping losses."
" Lightweight engine crankcase also utilizes special cutaways to reduce "pumping losses." The crankcase cutaways match the cutaways in the cylinder for maximum efficiency.
" Lightweight magnesium cylinder head cover.
" Dry sump lubrication system uses a remote oil tank reservoir positioned in front of the engine. This compact oil tank features a partition in the centre of the tank that improves the air-oil separation function. This tank is positioned low in the chassis which centralizes mass and lowers the centre of gravity for exceptional handling and a light feeling.
" Oil volume in the engine has been optimized to reduce weight and "oil drag" related power losses.
" 5-speed transmission features "involute splines" on the transmission axles to ensure smooth shifting and instant hook-up under power.
" Lightweight engine counterbalancer reduces vibration for improved rider comfort and less rider fatigue.
" Multi-plate wet clutch provides an easy clutch lever pull and great clutch feeling.
" Lightweight, "quick-access" outer clutch cover provides fast, easy access for clutch maintenance.
" Compact design automatic cam chain tensioner reduces maintenance and mechanical engine noise
" Keihin FCR-MX37 flat-slide carburetor with throttle position sensor (TPS). The carb features an accelerator pump for excellent throttle response.
" The air box features a straight design "boot" between the air box and the carb for optimum air flow.
" Washable, dual-stage, foam air filter.
" No fuss auto decompression system means fast, easy starting. The YZ250F restarts in any gear.
" Convenient, handlebar-mounted hot start lever ensures fast starts when the engine is hot.
" CD ignition system delivers a precise spark and monitors engine rpm to insure optimal timing for fast, strong response at all rpms.
" Direct ignition system means the ignition coil is integrated into spark plug cap to reduce weight and complexity.
" Compact, lightweight, single core, dual radiators provide outstanding cooling efficiency. The location of the rads has been optimized for maximum airflow and protection in the event of a crash. They also help to reduce the center of gravity and centralize mass.
" Lightweight titanium exhaust header pipe reduces weight, improves performance and allows hassle-free replacement of the oil filter.
" The lightweight exhaust system utilizes a 4-stage expansion format that improves the cylinder filling induced by the exhaust pulse effect, resulting in excellent power characteristics.
" Rigid mount muffler assembly features an internal diffuser pipe and noise reducing "punched hole pipe" to achieve maximum performance with reduced noise levels. The muffler can be repacked to maintain peak performance.
" Trick, oversized "barrel adjuster" on the clutch lever perch allows on-the-fly clutch adjustments.

Chassis
" Compact "bilateral beam" aluminium frame centralizes mass for exceptional handling and cornering ability. This 250cc class specifically designed frame consists of forged, extruded and panel aluminium parts. This frame is more compact than the last generation and offers significantly improved rider – machine communication" (a.k.a. feedback). The key goal of this chassis is fast, easy cornering … one of the keys to winning races. Note: the YZ250F frame is unique, and is not shared with any other model.
" The rigidity balance of this "Bilateral beam" frame has been optimized and features increased lateral and torsional rigidity compared to the last generation frame. It also contributes to a feeling of lightness, agility and traction.
" The head pipe (steering head), wheelbase, caster and trail dimensions are optimized to accentuate the engine and frame characteristics. The benefit is incredible turning ability and quick, stable handling.
" Removable rear sub frame is constructed of square-section, lightweight aluminium pipe. Its detachable design allows easy access when servicing rear suspension components.
" Lightweight, tapered, aluminium swingarm is produced using "hydro forming", a special method that uses high pressure water to form shapes. The swingarm design provides great overall chassis "balance" for precise cornering and a light handling feel.
" Forged aluminium upper triple and lower triple clamps reduces weight and improve strength.
" Pro Taper handlebars are one of the most sought after style of bars. The Pro Taper bars provide excellent strength and durability. Foam handlebar pad is included.
" Adjustaable handlebars offer a total of 4 different handlebar positions available (thanks partly to the offset design of the aluminium handlebar clamps) with an adjustment range of 30mm, to suit a wide variety of riders.
" 48mm, adjustable, inverted, Kayaba cartridge fork features a twin-chamber design. The twin chamber design means the damper unit is in a separate structure which prevents aerated fork oil from entering the inner damper assembly and degrading its damping abilities. Since the inner damper is pressurized, it also prevents air bubbles forming in the oil. Front fork adjustments include: 20-way compression damping and 20-way rebound damping. Optional fork springs are available through Genuine Yamaha parts.
" The 48mm inverted KYB fork also features a Transfer Control Valve (TCV) system. The TCV enhances the damping force of the inner damper from mid stroke to full stroke and improves bottoming characteristics. The benefit of TCV is more precise control throughout the full stroke. The TCV is located on the upside of the spring and its function is controlled by piston speed, not piston position … hence the term "Speed Sensitive fork".
" Front wheel travel is 300mm or 11.8″
" Large "wrap-around" plastic fork protectors provide excellent lower fork tube protection. The "self-supporting" design reduces friction for smoother fork operation.
" Monocross link rear suspension system features a fully adjustable Kayaba, piggyback shock which features separate adjusters for high- and low-speed compression damping. Adjustments include: spring preload, 20-way rebound damping, 20-way low-speed compression damping and 2 turns of high speed compression damping.
" The shock uses an 18mm diameter piston rod. Kashima coating is used in the shock body and sub tank to reduce friction and improve suspension performance during a long moto. The Kayaba shock utilizes a full rebound oil lock system for excellent suspension function and great ride quality.
" Rear wheel travel is 307mm (12.1″).
" 250mm floating front wave-style disc reduces weight and is squeezed by a Nissin twin piston caliper.
" 245mm rear disc brake features a lightweight "wave-style" disc and a single piston Nissin caliper.
" Compact and lightweight rear master cylinder is an integrated design (fluid reservoir is integrated into the top of the master cylinder) for strong stopping power with excellent feel and control.
" Eye catching, compact body work includes front number plate, front fender, rad shrouds, fuel tank, side panels and rear fender which enhance the lightweight feel and look of the YZ250F. This "minimal " bodywork is a flat design, allowing fast, easy rider movements. The ergonomics provide a natural and roomy riding position. The body has been designed to maintain it good looks throughout the life of the machine.
" The lightweight, plastic resin 6.4 litre fuel tank compliments the chassis and its location helps to centralization tank mass. Its compact design allows excellent rider mobility.
" The seat surface texture has been designed to give a grip when needed, yet still allow easy rider movements. The "gripper" style seat cover has been designed to resists clogging with dirt or mud to ensure long lasting good looks.
" Lightweight Sun Star rear sprocket.
" Lightweight, 21″ front and 19″ rear Excel rims provide exceptional durability and help reduce unsprung weight for optimal suspension performance and handling.
" Rear wheel assembly uses a large 25mm diameter axle and a rear hub design which features a second bearing on the sprocket side for increased rigidity and durability.


Details
" Rugged polypropylene engine and integrated water pump protector plate reduces weight.
" "Shorty" adjustable front brake lever. Adjustment range is 5.5mm.
" Convenient oil sight glass window
" Heavy duty plastic rear caliper and lower rear disc protectors.
" Large fuel cap and filler hole ensures easy opening and fast, hassle-free refuelling.
" Lightweight, extra wide foot pegs are 5mm higher and provide excellent grip and improved rider comfort.
" Lightweight header pipe heat shield.
" Serrated rear brake pedal for extra grip
" Folding gear shifter tip
" Stainless steel inner clutch cable provides excellent strength and durability.
" Lightweight chain guide / support helps reduce chance of chain derailment. It also helps protect rear sprocket from damage too.
" Heavy duty rubber swingarm protector
" Heavy duty DID 520 drive chain
2011 Yamaha YZ250F – USA Specifications
MSRP* $7,250 (White/Red) Available from September 2010
$7,150 (Yamaha Blue/White) Available from September 2010


Engine
Type 250cc liquid-cooled DOHC 4-stroke; 5 titanium valves

Bore x Stroke 77.0mm x 53.6mm

Compression Ratio 13.5:1

Fuel Delivery Keihin® FCR MX37

Ignition CDI

Transmission Constant-mesh 5-speed; multiplate wet clutch

Final Drive Chain Drive


Chassis
Suspension / Front Speed-Sensitive System inverted fork; fully adjustable, 11.8-in travel

Suspension / Rear Fully adjustable single shock; 12.0-in travel

Brakes / Front Hydraulic single disc brake, 250mm

Brakes / Rear Hydraulic single disc brake, 245mm

Tires / Front 80/100-21

Tires / Rear 100/90-19


Dimensions
Length 85 in

Width 32.5 in

Height 51.3 in

Seat Height 38.9 in

Wheelbase 57.7 in

Ground Clearance 14.8 in

Fuel Capacity 1.7 gal

Wet Weight*** 224.8 lb


Other
Warranty 30 Day (Limited Factory Warranty)

2011 Yamaha YZ250F – Canada Specifications
MSRP: See your local dealer for pricing.

Engine 4-stroke, liquid-cooled, DOHC, 5-valve (titanium), single
Displacement 250cc
Bore and Stroke 77 x 53.6 mm
Compression Ratio 13.5:1
Fuel Delivery Keihin FCR-MX37 flat slide w/throttle position sensor
Lubrication Dry sump
Ignition / Starting CDI / Kick
Transmission 5-speed
Final Drive Chain

Suspension (Front) Adj. 48mm, inverted fork / 300mm travel
Suspension (Rear) Fully adj. Monocross / 307mm travel
Brakes (Front) 250 mm, floating disc
Brakes (Rear) 245 mm, disc
Tires (Front) 80/100-21
Tires (Rear) 100/90-19

Length 2,159 mm (85″)
Width 825 mm (32.5″)
Height 1,303 mm (51.3″)
Wheelbase 1,466 mm (57.7″)
Ground Clearance 375 mm (14.8″)
Seat Height 988 mm (38.9″)
Fuel Capacity 6.4 litres (1.4 imp. gallons)
Wet Weight 102 kg (224.4 lb)
Colour(s) Yamaha Blue
Yamaha Black

* Fuel economy estimates are based on US EPA exhaust emission certification data obtained by Yamaha and converted into Canadian measurements. Your actual mileage will vary depending on road condition, how you ride, maintain your vehicle, accessories, cargo and operator/passenger weight.
Specifications, appearance, and price of product are subject to change without notice.
* MSRP does not include freight, PDI (Pre Delivery Inspection), pre-rigging (boats), or taxes. Dealer may sell for less.