Click photos to enlarge.
They make great desktop images.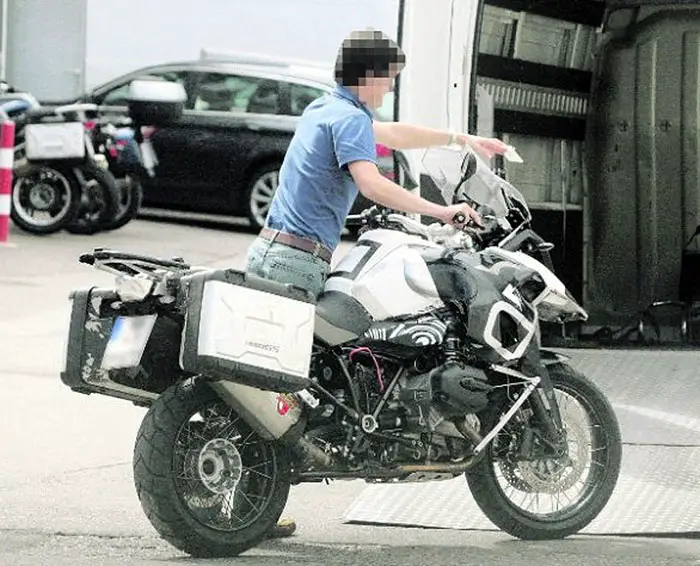 2012 BMW R1200GS water cooled engine spyshot
– 2012 BMW R1200GS water cooled engine spyshot

2012 BMW R1200GS water cooled engine spyshot
Are the iconic BMW air-cooled boxer engines going water cooled?
The proof is in the pudding, as they say. Tell-tale mechanical details like an exhaust port at the base of the engine and a hint of a radiator fan show a water cooled engine design.

The 2012 BMW R1200GS water cooled boxer is sure to pick up a few extra horsepower to add to it's existing 110hp of the air-cooled engine version. BMW and BMW riders will also benefit from a water cooled engines by reduced noise, lower emissions and less vibrations which all equal better rider comfort.
The new 2012 BMW R1200GS will also receive a new drive train, significant chassis updates and updates to the final shaft drive and exhaust. Expect to see the exhaust canister swap sides on the bike with the shaft drive. You will also notice radial-mount calipers in the spy shot, and if they stay, the GS will also get updated brakes.

Stiff competition in adventure tourer models and increased popularity of this style of motorcycle over the years has led to a "technology race"; with the updating of the Suzuki V-Strom, Triumph Tiger, Yamaha Super Terene, Ducati Multistrada and it's a race BMW will try hard to win.
Stay tuned to Total Motorcycle to see what will become of BMW's adventure into boxer water cooling and if future models leave air-cooling behind…