Back to Total Motorcycle Dunlop Tire/Tyre Guide
Click photos to enlarge.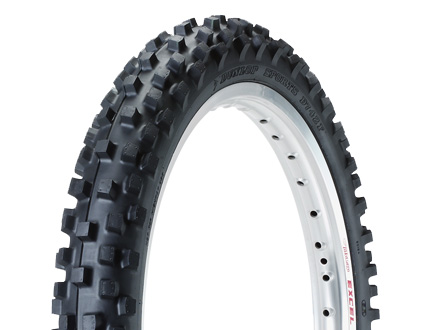 Dunlop D742F
– Dunlop D742F
The new D742F front tire features a mixed-concept tread pattern and a new rubber compound designed to handle a wide range of riding conditions in medium-hard-to-medium-soft terrain

Off-Road

The 2004 season witnessed incredible results from Dunlop riders: Team Honda's Ricky Carmichael achieved the impossible once again by posting the perfect undefeated season en route to the 250 national motocross title aboard Dunlop tires. Add to that another Baja 1000 win by Johnny Campbell and Steve Hengeveld, desert titles by Kawasaki's Destry and others at the 22nd AMA Loretta Lynn's Amateur National Championships, and it's clear to see the off-road advantage lies with Dunlop.



FEATURES
The D742F tread pattern is designed to handle an amazingly wide range of riding conditions, encompassing medium-hard-to medium-soft terrain.
New mixed-concept pattern features increased open space around the tire center, along with added land ratio around the shoulder area to boost cornering stability.
The D742F rubber compound delivers superb grip on hard-to-medium and loamy soils, while also boasting exemplary durability.
New tire casing design features a two-ply carcass to further enhance tire performance over an unusually wide variety of track conditions.
New, wider 90/100-21 front D742F provides a larger footprint for enhanced traction, and fits on standard 1.6-inch rim.
Sizes
 

SIZE

LOAD/ SPEED INDEX

SIDEWALL

PART #

APPLICABLE RIMS


RECOMMENDED RIM

OVERALL DIAMETER

OVERALL WIDTH

FULL TREAD DEPTH

MAXIMUM LOAD @ PSI

  D742 Front

 80/100-21

 51M

 BW

 3318-26

 1.60

 27.91

 3.70

 15/32

 

 90/100-21

 57M

 BW

 3318-10

 1.60

 28.03

 3.66

 14/32

 

BW = Black Sidewall