You are here: Home — Tire/Tyre Guide — Michelin — Michelin Anakee
Michelin Anakee
Back to Total Motorcycle Michelin Tire/Tyre Guide
Click photos to enlarge.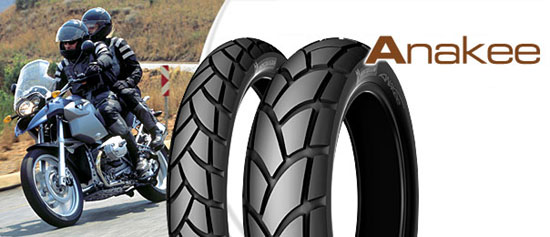 Michelin Anakee
– Michelin Anakee
FEATURES
The ultimate adventure touring tyre
Superb traction on dry and wet surfaces
Great handling at low and high speeds
The Michelin Anakee is the ideal companion for big-bore adventure touring bikes. With its large tread blocks, the Anakee exhibits extraordinary road manners thanks to its silica-charged tread compound and reinforced carcass construction. Its stability and control on dirt roads is just as impressive. With the Anakee, Michelin has pushed back the horizon for adventurers.


TECHNICAL

– The Anakee's silica-based rubber mix is a significant improvement over its predecessor, the T66 .

– Variable tread depth from the center to the shoulder promotes uniform wear patterns.

– Open tread pattern delivers impressive traction on dirt roads.




Usage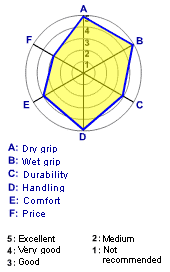 Track use : 1/5
Highway : 4/5
Sport riding : 5/5
Commuting : 5/5
Sizes

FRONT
100/90 H 19
110/80 H 19 R*
110/80 V 19 R*
90/90 S 21
90/90 H 21

REAR
120/90 S 17 R*
130/80 S 17 R*
130/80 H 17 R*
140/80 H 17 R*
150/70 H 17 R*
150/70 V 17 R*

R* : Radial