You are here: Home — Tire/Tyre Guide — Pirelli — Pirelli Diablo Rain
Pirelli Diablo Rain
Back to Total Motorcycle Pirelli Tire/Tyre Guide
Click photos to enlarge.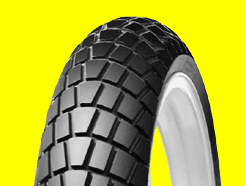 Pirelli Diablo Rain Front
– Pirelli Diablo Rain
FEATURES

PERFECT TYRE FOR RAINY SBK TRACK, also amazing for Supersport and Superstock bikes. In 2005 two completely new tyres with three dedicated new compounds.

– Directional grooves and block design are extremely effective, offer perfect water drainage and increase the safe feeling of the rider and the controllability of the bike on a wet track.
Completely new front SCR2 compound introduction and improved SCR1 compound developed in World Superbike and Supersport Championship permits top performances in wet conditions and different track surface characteristics.
– New 2004 blocked pattern introduced with the latest rain compounds. This has vastily increased the wear qualities of the "Block" tread design making this profile an ideal soulution for extremely wet conditions.
– New 2004 improved rain stripe pattern profile has been developed in World Championship Supersport giving a wider range of application. A more linear profile has improved grip in full wet conditions without jeopardizing the excellent side grip qualities of the Pirelli Dragon tyres. Available also in SCR3 compound to permit new levels of durability in different track surfaces.



Alternative Tyres

– DRAGON SLICK
– DIABLO WET


Sizes
Front: DIABLO RAIN
120/70R17NHSTL/004 SCR1 DBRAIN
120/70R17NHSTL/004 SCR2 DBRAIN
120/75R420NHSTLSCR1 DBRAIN
120/75R420NHSTLSCR2 DBRAIN
120/75R420NHSTLSCR3 DBRAIN

Rear: DIABLO RAIN
180/55R17NHSTL/223 SCR1 DBRAIN
180/55R17NHSTL/223 SCR2 DBRAIN
160/60R17NHSTLSCR1 DBRAIN
160/60R17NHSTLSCR2 DBRAIN
195/65R420NHSTLSCR1 DBRAIN
195/65R420NHSTLSCR2 DBRAIN
195/65R420NHSTLSCR3 DBRAIN