You are here: Home — Tire/Tyre Guide — Pirelli — Pirelli Dragon MTR02
Pirelli Dragon MTR02
Back to Total Motorcycle Pirelli Tire/Tyre Guide
Click photos to enlarge.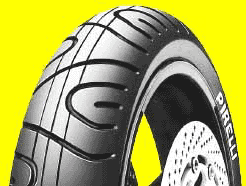 Pirelli Dragon MTR02 Front
– Pirelli Dragon MTR02
FEATURES

Sporty radial tyre FOR UNLIMITED RIDING FUN ON LIGHT MOTORBIKES (up to 210 km/h).

– Three LONGITUDINAL GROOVES for better dumping performance.
– SOFT COMPOUND for grip at racing level.
– SINGLE RADIUS CONTOUR for perfect straight and cornering stability.


Alternative tyres
– DIABLO

Sizes
Front: MTR01
120/60R17TL 55H MTR01
110/70R17TL 54H MTR01
120/70R17M/C 58H MTR01
120/70R17TL 58H MTR01

Rear: MTR02
150/60R17M/C 66H MTR02
150/60R17TL 66H MTR02
160/60R17TL 69H MTR02