You are here: Home — Tire/Tyre Guide — Pirelli — Pirelli MT21 Rallycross
Pirelli MT21 Rallycross
Back to Total Motorcycle Pirelli Tire/Tyre Guide
Click photos to enlarge.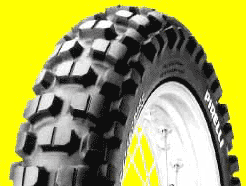 Pirelli MT21 Rallycross Front
– Pirelli MT21 Rallycross
FEATURES

Off-road tread pattern with STREET HOMOLOGATION (DOT approved).


– STIFF CARCASS for high stability and cornering precision.
– Tread pattern OPTIMISED FOR USAGE IN DIRT AND GRAVEL ROADS, cross-country racing and desert tours.
– SPECIAL OFF-ROAD COMPOUND for off-road lasting performances and knobs tearing resistance.


Alternative tyres
– SCORPION MT90 A/T
– MT70
– MT40 TRAIL
Sizes
Front: MT21 RALLYCROSS
110/80-18M/C 58P MT21
120/80-18M/C 62R MT21
120/80-19M/C 63R MT21
140/80-18M/C 70R MT21
120/90-17M/C 64R MT21
120/90-18M/C 65R MT21
130/90-17M/C 68P MT21
130/90-18M/C 69R MT21
100/100-18M/C 59P MT21

Rear: MT21 RALLYCROSS
110/80-18M/C 58P MT21
120/80-18M/C 62R MT21
120/80-19M/C 63R MT21
140/80-18M/C 70R MT21
120/90-17M/C 64R MT21
120/90-18M/C 65R MT21
130/90-17M/C 68P MT21
130/90-18M/C 69R MT21
100/100-18M/C 59P MT21