You are here: Home — Tire/Tyre Guide — Pirelli — Pirelli MT40 Trail
Pirelli MT40 Trail
Back to Total Motorcycle Pirelli Tire/Tyre Guide
Click photos to enlarge.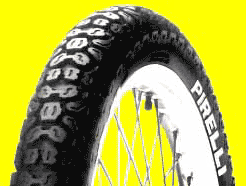 Pirelli MT40 Trail Front
– Pirelli MT40 Trail
FEATURES

Dual-purpose tyre with knobbly tread pattern FOR BEST "OFF" PERFORMANCE.


– STRONG PUNCTURE RESISTANT CARCASS for safe off-road usage, able to withstand hardest rocky terrain·
– OPTIMISED COMPOUND for wet and dry performance, perfect grip during braking and superior tread life for on road use.


Alternative tyres
– SCORPION MT90 A/T
– MT70
– MT21 RALLYCROSS


Sizes
Front: MT40 TRAIL ON/OFF FR
2.75-21 45R MT40F
3.00-21 51R MT40F

Rear: MT40 TRAIL ON/OFF
120/80-18M/C 62S MT40
4.00-18 64T MT40
4.10-18 60R MT40
4.60-17 62R MT40
90/90-18M/C REINF 57P MT40