You are here: Home — Tire/Tyre Guide — Pirelli — Pirelli SL60
Pirelli SL60
Back to Total Motorcycle Pirelli Tire/Tyre Guide
Click photos to enlarge.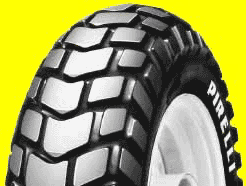 Pirelli SL60 Front
– Pirelli SL60
FEATURES

AGGRESSIVE ON-OFF TREAD PATTERN for scooter of 10″ and 12″.


– Enduro tread pattern to assure EXCELLENT TRACTION on every surface.
– STIFF CARCASS to ensure handling and good cornering stability.
– Available in all BOOSTER/TYPHOON style scooters sizes.
Alternative tyres
– SL90
– MANDRAKE MT15
– SL36 DJ
– SL26
– SL38 UNICO
– SC30

Sizes
Front: SL60
120/80-12TL 55J SL60
130/80-12TL 60J SL60
120/90-10TL 57J SL60
130/90-10TL 61J SL60

Rear: SL60
120/80-12TL 55J SL60
130/80-12TL 60J SL60
120/90-10TL 57J SL60
130/90-10TL 61J SL60