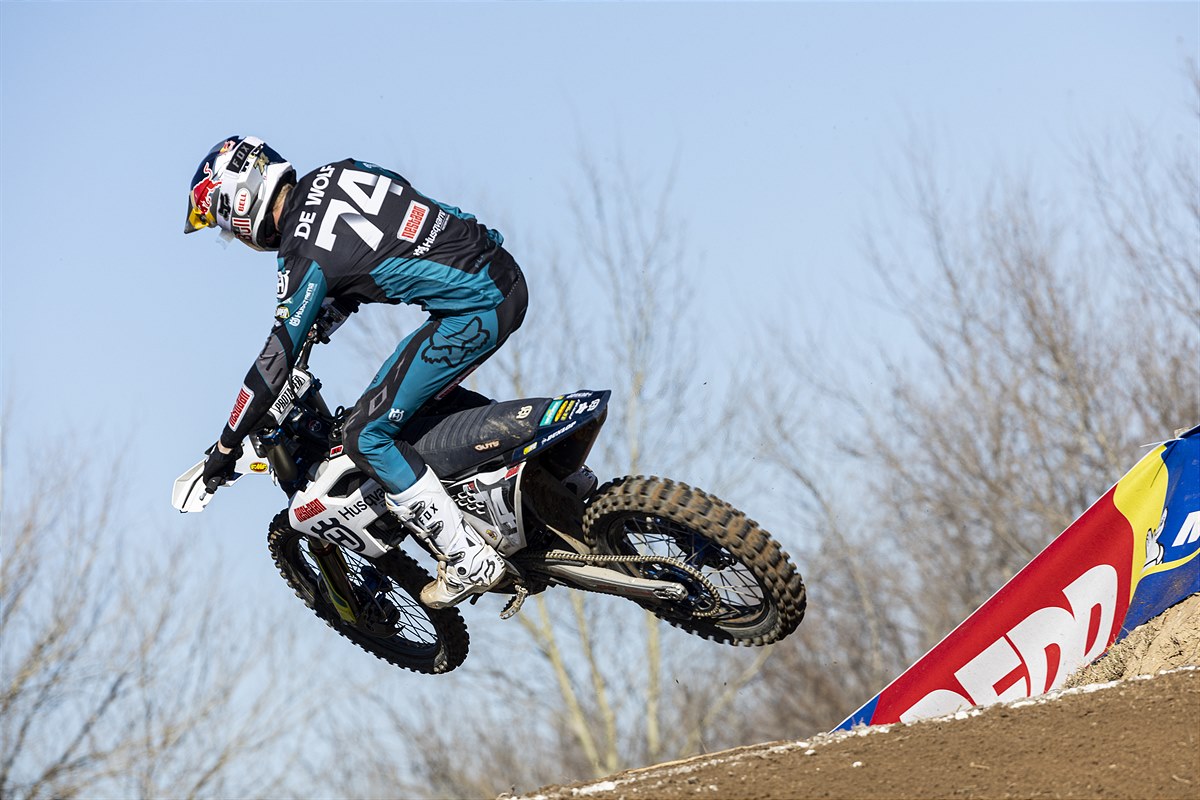 Nestaan Husqvarna Factory Racing ramped up their preparation for the 2023 FIM Motocross World Championship by lining up in the RFME Spanish Motocross Championship at the hard-pack circuit of Montearagon. Lucas Coenen and Kay de Wolf sat behind the starting line and enjoyed success in their first competitive outing of the term.
Lucas Coenen, making his debut aboard the Nestaan Husqvarna Factory Racing FC 250, was just incredible across the weekend and gained some valuable momentum as he works towards his first campaign as an MX2 rider. Using the power within his steed to claim two good starts, he won moto one with an advantage of fourteen seconds and then won moto two by eight seconds. Not only did he stand atop the podium, but he also gained some knowledge to apply in testing.
The Spanish adventure was a little more eventful for Kay de Wolf, who had a fall on Saturday. The mistake meant that he had to start from the far outside in Sunday's motos, but he did well to progress to third in moto one and second in moto two. Sadly, he was demoted to fifth in that first moto and therefore occupied third in the overall classification via 5-2 moto scores. '74' got to experience many different challenges in the pre-season shakedown.
The next appointment for the Nestaan Husqvarna Factory Racing team is the first stop of the 2023 Internazionali d'Italia term in Ponte a Egola, where the duo will continue to work on their respective strengths and weaknesses ahead of the Grand Prix of Patagonia-Argentina on March 12.
Lucas Coenen: 
"It was a good weekend. We made a lot of progress and saw some hard work from the winter pay off. I was second off the start in both of the motos today, then took the lead quite quickly and controlled things from that point. It was a great way to start the year and I want to continue this form in Ponte a Egola in Italy next weekend."
Kay de Wolf: 
"It was a difficult day, as I had a big crash yesterday and was very sore. I was happy to walk away from that one! I did not have the best gate pick today, because of that, and had a lot of work to do, but it was good practice. I finished third in the first race and then got docked a couple of positions, then I finished second in moto two. It was not a bad day."
Results – 2023 RFME Spanish Motocross Championship, Round One
1. Lucas Coenen (Husqvarna) 50pts
; 2. Samuel Mattias Nilsson Bustos (GASGAS) 40pts; 
3. Kay de Wolf (Husqvarna) 38pts
1. Lucas Coenen (Husqvarna) 34:27.053
; 2. Samuel Mattia Nilsson Bustos (GASGAS) 34:41.652; 3. David Beltran Yague (KTM) 35:21.077… 
5. Kay de Wolf (Husqvarna) 34:48.887
1. Lucas Coenen (Husqvarna) 33:39.707; 2. Kay de Wolf (Husqvarna) 33:48.274; 3. Sacha Coenen (KTM) 34:10.507