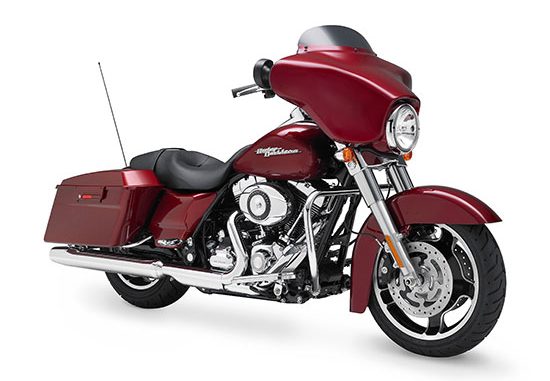 Back to Motorcycle Review Page

The 2010 Harley-Davidson Street Glide
Page 8 of 12
<< Page Back – Page Forward >>
Switching up to the Street Glide.

 
 

..

..
 

2010 Harley-Davidson Street Glide FLHX
Inspired by the street, but still ready for the long road

 
 
On this trip I wanted to try out the 2010 Harley-Davidson Street Glide tourer so I traded up the 2010 CVO Fat Bob for it. The Street Glide is a minimalist tourer but with the same fuel tank found on it's full featured tourer brothers. It also has saddlebags, a full fairing with a slim windshield, highway pegs and a radio. It is the most affordable tourer model Harley-Davidson offers and its not much more than the Dyna Wide Glide. (+$4,500 USD/$5,350 CDN).
Tourers have their place in the motorcycle world: they offer comfort, fuel range, convenience and luxury not found on other motorcycle styles. All this comes at a compromise of weight, size and price. Getting the balance right is the keystone of making just a good tourer great. Harley-Davidson has been making modern tourers (as we know them today) since 1980 with the 1980 Harley-Davidson FLT Tour Glide. Today, Harley-Davidson has 8 tourer models such as the 2010 FLTRU Road Glide Ultra, FLHR Road King, FLHRC Road King Classic, FLHTC Electra Glide Classic, FLHTCU Ultra Classic Electra Glide, FLHTK Electra Glide Ultra Limited, FLHX Street Glide and FLTRX Road Glide Custom. Today, touring is a big market for Harley-Davidson and one they want to make as good as possible for their riders.
 
 

..

..
 

1980 Harley-Davidson FLT Tour Glide
Harley-Davidson's first modern tourer

 
 
As Harley-Davidson states: "The redesigned 2010 Street Glide is a bagger with hotrod soul, with minimal trim and chrome, lowered suspension, and black slotted aluminum wheels. Inspired by the street, but still ready for the long road. The innovative Harley-Davidson Touring chassis is based on a single-spar, rigid backbone frame and a stout swingarm developed to withstand the demands of long-haul touring riders and today's more-powerful engines." That pretty much sums it up.
The Street Glide and Dyna Wide Glide have something in common: they are "raw" Harley-Davidson motorcycles, ones that you can ride as-is or use as a blank canvas to customize, upgrade and personalize very easily. Harley-Davidson offers more parts and accessories than any other motorcycle manufacturer and our Harley-Davidson rep did say "the average Harley-Davidson owner spends as much money in parts and accessories for their H-D as the bike originally cost." Can you believe that?
 
 

..

..
 

2010 Harley-Davidson Street Glide FLHX
Just a little oil leak, nothing serious.

 
 
The Street Glide was a nicer ride than the Dyna Wide Glide on the highway. The seat was more comfortable, the riding position more upright, the saddle bags offered very useable space and the fairing was a welcomed wind block. The highway pegs were a great way to sit back, stretch my legs and relax. The engine was powerful enough (although the 110 would have been much nicer) for highway passing. And unlike the other two Harley-Davidson's was perfectly fine being run at very low speeds and in top gear (6th). The radio was a very nice feature but when traveling in the mountains you can't get any radio stations thus an XM or satellite radio would be a welcomed addition. The other reviewers who rode this model previously did say they had to have the radio near maximum to hear it from the wind noise on the highway.
The more I rode this bike the more I enjoyed it. But I can narrow it down to two items I would like to fix: the suspension (again) and the windscreen. I don't know what it is about the suspension on Harley-Davidson's but the travel just isn't there to absorb big bumps in the road. The Street Glide has the best suspension out of the 3 H-D's tested (Dyna Wide Glide, CVO Fat Bob and this model) but it still felt basic. Regarding the windscreen, the fairing was excellent in blocking the wind, rain and cold, but the small slim windscreen on top of it added a lot of wind buffeting and because the windscreen is nonadjustable there is not much you can do about it. A fairing is essential to a touring motorcycle but this one is so close to being perfect that the slim windscreen can ruin it at times.
The 6 gal. (22.71 L) fuel tank, comfortable seat, riding position and price is the best part of this model.
Would I buy it? I'm not 100% sold on it. I would have to try out the other Harley-Davidson tourers first before I put my money down on a Street Glide. Harley-Davidson makes many good tourers and I'd want to ride a few others before making my decision if a Street Glide would be for me.
 
 

..

..
 

Best Western Siding 29 Hotel
Rider and Wallet Friendly.

 
 
As we pulled into Banff, Alberta I was feeling a bit sad as it was the last night we had with the riding group. Tomorrow morning we would be setting off for Calgary and from there going our separate ways on flights across the globe.
<< Page Back – Page Forward >>
---

Harley-Davidson
If you would like Total Motorcycle, North America's leading motorcycle information website to do a test ride and ride review of your motorcycle or scooter models just contact us for information or to book a date, location and time. It is a great way to promote your model and your company to over half a million visitors worldwide each month for no cost! Contact us today to inquire.
---