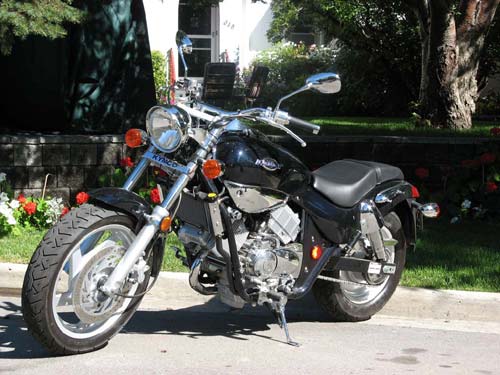 Back to Motorcycle Review Page
---

KYMCO Venox 250 Cruiser Review
Rider Test & Review 1 – Rider: Mike
Page 2 of 8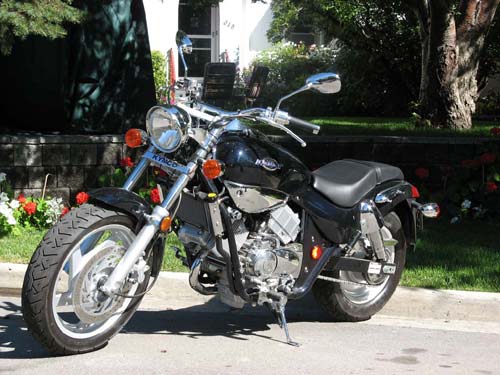 "It's a banquet full of surprises, thankfully all of them good, that will keep you coming back for seconds…" – Mike
At first I was a little apprehensive; test ride a 250 cc cruiser? It definitely wasn't the engine that worried me, but at 6'4″I was concerned whether I could even fit on the Venox!
Seeing the Kymco Venox 250 for the first time stopped me in my tracks. This is not at all what I was expecting. Thinking a small cc engine equalled small bike, the Venox gave me it's first of many surprises. Momentarily stunned, I was thinking… "Wow, it's big. It looks like a full sized cruiser. Where was the small 250cc bike I was expecting? Why doesn't this engine look as small as I thought it would?" Getting on the Venox 250 gave me my next surprise, which was at my height I could actually sit on the Venox and fit it quite comfortably!
Thumbing the starter button the bike continued the banquet of surprises as the 249cc V-Twin engine sounded much more big V-Twin like than I would have imagined. Whatever Kymco did, they did it 100% right in the sound department. At idle the little engine sounds just like a mid sized V-Twin engine with attitude; give it a little gas and it's quite impressive. The 250cc engine could easily pass for a 750cc V-Twin as it definitely looks and sounds the part.
The Venox 250 uses what I'd call a mid sized cruiser frame with touring ergonomics. Kymco might be a little late to the cruiser manufacturer's party but they learned before they leapt and entered in style.
..

..

Stylish solid rear wheel rim
Further surprises were the stylish solid rear wheel rim, chromed radiator, the dual stacked chrome exhausts, large front disk brake and a big comfy cruiser seat that you could sit on all day without complaint that there was actually enough room to sit a passenger in comfort as well.
Exploring the fit and finish further I noticed the quality was impressive for such a low price point (and don't forget it is a price point motorcycle). With just enough chrome, custom details and a blue metallic flake on black paint job, it looked awesome! At a price of only $5,500 (Canadian MSRP) it is only $600 more than the Honda Rebel 250 or Suzuki 250 Marauder. With the features KYMCO is offering, it is definitely worth a look at.
Taking the cruiser on the road I noticed this engine has some torque. The Venox 250 isn't your granddaddy's cruiser as it can actually go when you twist the throttle. The Venox I'm sure secretly thinks it's a sportbike as peek power comes on at 10,500 rpm, a rpm domain reserved for the fast and furious type of engines. If you ride it like a sportbike engine you won't be disappointed.
The V-Twin is a happy revving little monster that is geared tall for minimum use of the shifter. That's good because one of the issues with a smaller bike is its small power band and the need to use the shifter to find the sweet spots of power. The taller gearing also helps lower the rpm of the engine and I found that I would short-shift to hear the sweet low sound of the V-twin below me.
Cruising down the boulevard, not only are you looking good on your new Venox 250 but you have some very good acceleration if you need it as well. That's due to the quick revving nature of the V-Twin Kymco used on the Venox. The 8-valve, DOHC, 249cc, liquid cooled, V-Twin engine Kymco claims Max Power 27hp @10500 and Max Torque 14 @ 8000. I found the Kymco 250cc V-Twin more powerful than I expected and I would shift out of first gear around 30km/h, out of second gear at 60km/h, and out of third gear at 100km/h. This not only kept the bike happy, but the Venox rewarded me with great acceleration. I found fourth gear good for above 100km/h highway riding and fifth gear (top gear) to be a decent highway cruising gear as long as the road was pretty level. Tapping the bike down a gear or two helped facilitate highway passing.
The Venox 250 weights in at 190kg (419lbs), has a long 63″ wheelbase and a low 29″ seat height. This is great as it not only means that the majority of riders can flat foot and it also looks like a much bigger bike than it is due to its length. I feel this is important because it removes the stigmatism of owning a small bike because it doesn't look small (even the engine looks big). The low seat height and lightweight nature inspires confidence that is important to any new rider. Learning on a mid-sized motorcycle like this is good because upgrading later to a bigger sized engine cruiser means you won't need to get used to a bigger bike's dimensions.
..

..

Disc brake front
Stopping is strong due to a disc brake in the front and drum in the rear. A rider can stop the bike very quickly without locking up the rear (or the front). We had no issues with the front brake and once the rear brake was properly adjusted it worked even better. One thing I did notice was the rear drum brake offered a stainless steel braided brake line, which is an upgrade to the normal rubber brake lines normally found on most new models.
The 5-speed gearbox is smooth and precise and helpful as it will let you know when you are in fifth or first because it prevents you from shifting to a non-existent gear.
Another added bonus that the Venox offers is it is a very balanced motorcycle and not top heavy (even with a full tank of gas). I found riding slowly in rush hour traffic (below 10km/h) was very easy to do and would definitely help a new rider (and also make them look like a seasoned pro!). The Venox also handles well; with its twin shock and sport-like suspension, the Venox can carve through the corners comfortably at speed without a hint of hesitation.
As with smaller cc engines, downshifting a gear or two to pass is required on a highway is normal. While the Venox can pass other vehicles on the highway it is not the quickest over 120km/h so pick your passing locations with care. On a rough pavement highway at 120km/h the sport-like suspension that works so well in the city can become a little harsh on the body. The Venox 250 cruiser is a little out of its element on high speed highways as it is most comfortable and fun under 100km/h or on secondary highways.

With the Venox delivering 61 mpg and holding 14 litres (3.7 gal) of fuel, cruising range is over 363 km (226 miles) of relaxed touring comfort. Riding for distances in the 350 km range is achievable thanks to the ergonomics of the Venox and the wonderful comfy seat. There are even pegs on the rear to mount saddle bags or attach a couple of bungee cords to easily take your stuff with you.
..

..

Well designed engine covers makes the 250cc V-Twin look much bigger than it really is.
So what is with the engine looking so big? Kymco used a smart little trick to make the 250cc V-Twin look bigger by wrapping the engine in a fake engine case. They wanted to make it look as real as possible and concentrated on the small details to make the fake engine cases look like a real engine. Not only does it look great but you also need to get within a few inches to see that they are fake cases at all! To complete the look of the Venox 250 being a midsize cruiser, Kymco also did not to add the branding "250" to any part of the motorcycle, further adding to its size mystery.
The Venox 250 really stands out and buyers will be quite happy with their purchase. I feel the Venox's quality will bring a lot of brand loyalty from buyers. They will be going to their Kymco dealers looking for a larger version of the Venox 250 to purchase as their next bike. Unfortunately Kymco does not currently produce a 500 or 750 yet but hopefully they will consider it for the future. Another suggestion I would make would be to have lots of chrome accessories available for the bike, as cruiser riders love to customize their motorcycles with pride.
Overall, the Venox 250 is a wonderful city bike and boulevard cruiser. It has the looks, the sound and the style that makes people watch you go by or come up to you and talk to you about your bike. At $5,500 the competition should be taking notice of Kymco's first motorcycle offering. It's a banquet full of surprises, thankfully all of them good, that will keep you coming back for seconds…
See your Kymco dealer to learn more or for a test ride of their new Venox 250 V-Twin cruiser. The dealership we dealt with to test ride the Venox in Calgary, Alberta was:
Motor City Fun Inc.
Jose Sousa
#1, 3650, 19th Street NE
Calgary, Alberta, Canada
T2E 6V2
Phone: (403) 219-8838
Fax: (403) 219-8825

Kymco Canada
E-mail: customerservice@Kymco.ca

Page 1 • Page 2 – Page 3 – Page 4 – Page 5 – Page 6 – Page 7 – Page 8
If you would like Total Motorcycle, North America's leading motorcycle information website to do a test ride and ride review of your motorcycle or scooter models just contact us for information or to book a date, location and time. It is a great way to promote your model and your company to over half a million visitors worldwide each month for no cost! Contact us today to inquire.
---