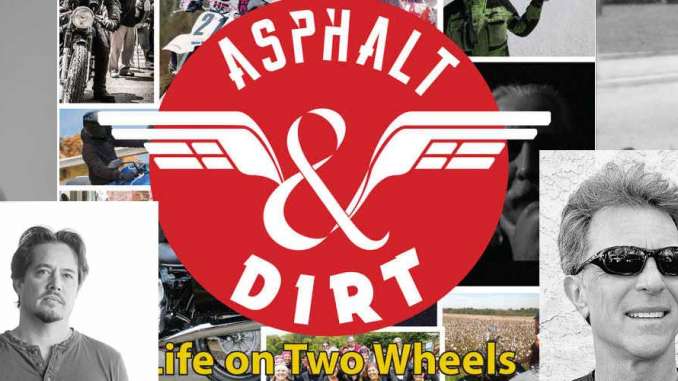 Asphalt & Dirt Book Review by Eric Leaverton.
One of the things you learn early on when you get involved with motorcycles as a hobby is that there are as many ways to enjoy motorcycles as there are kinds of motorcycles to enjoy, and no two riders are the same. Outlaw (or outlaw-adjacent) cruiser riders in dusty leather with patches and rockers and Zippo™ lighters. Track-day adrenaline junkies in textile bodysuits with padded gauntlets, their two-wheeled projectiles bristling with manufacturer decals and wide-angle video cameras. Custom builders with short ponytails and engineering degrees, tirelessly tinkering away at a two-wheeled work of art destined for the glossy pages of a magazine. Distance, dirt, drift, and drag. Economy, ecology, history, infamy and notoriety. Enthusiasts all, but each a little different.
In Asphalt & Dirt, Aaron Heinrich has done a remarkable job of highlighting just how diverse our culture and community is. Comprising fifty-two unique, compelling profiles, Aaron introduces us to a myriad cast of characters and illustrates their journeys into, through and around the motorcycling world. His subjects run the gamut from world-renowned to painfully obscure, and we find ourselves consuming just as much history as biography. We learn who the "rockers and mods" were and step over the hallowed threshold of the Ace Cafe. Together we discover that there is such a thing as a 2-Up land speed record, and that a woman holds it. A true entrepreneur teaches us what is most important when considering children's motorcycle apparel. Movie stars and machinists tell us stories about wrestling and racing, and we'll learn just what can happen when our pillion passenger gets a little too "handsy" for the open road. From biker brawls in London pubs to months-long treks over the Asian continent on a Honda Cub, we are absolutely inundated with a thousand flavors of motorcycle, and somewhere therein we see ourselves, our own journey, our own goals. We are introduced to ourselves in the stories of fifty-two beautiful, captivating individuals who are just like us in a hundred little ways.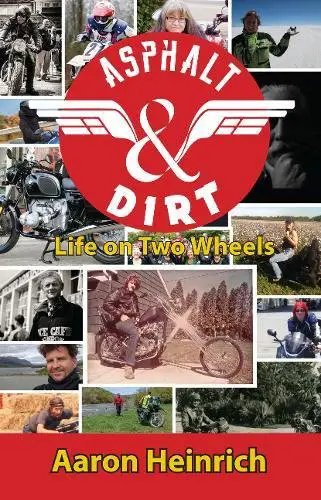 Heinrich presents each literary portrait in a casual, upbeat prose accessible to veterans or newbies alike. Each profile stands alone as a self-contained snapshot, leaving the reader free to bounce around as their whim dictates without detracting from the overall presentation. Asphalt & Dirt is a book that will wait patiently for you on the nightstand or in the magazine rack, offering each profile in four to six pages of rapid-fire biography. A single black-and-white photo accompanies each profile and I found myself occasionally wanting more visuals, and although more photos would enhance the depth of each chapter they would detract from the portability of the book. It would be nice to see a "coffee table" edition of Asphalt & Dirt, hardbound with glossy pages and color photos of the people, their bikes, and anything else relevant to the story. This book as presented is well worth the asking price, but I'd happily pay $35 or more for a more complete, substantial presentation.
Ultimately, Heinrich has compiled for us an engaging, exciting and illuminating body of work. Light-hearted, humorous and infinitely diverse, this book will leave you contemplating where your own two-wheeled journey could take you. For all these reasons, we've awarded Asphalt & Dirt our coveted Editor's Choice Award!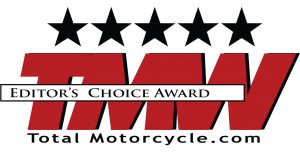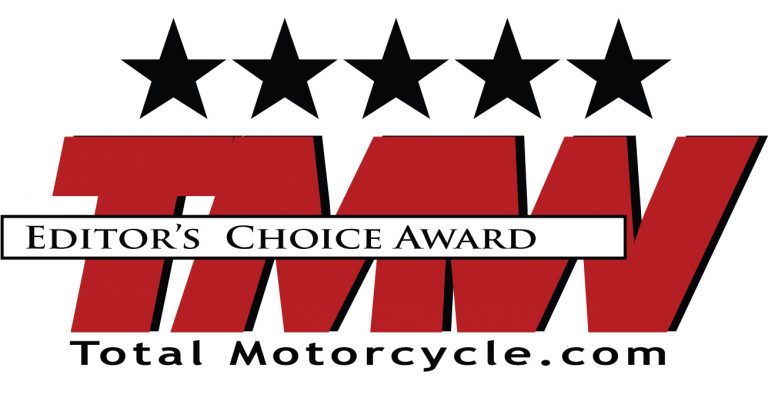 Published by Road Dog Publications, Lake Wales, Florida
Copyright Aaron Heinrich, 2016
Author Aaron Heinrich.
ISBN 978-1-890623-53-1
359 pages
$16.30 (as of 10/21/2017, paperback)
About the Reviewer 
Eric Leaverton is a management and labor relations specialist from the city of Harrisville, Utah, United States. He is an avid reader of fiction and non-fiction, and in his spare time enjoys riding motorcycles with his wife and raising their three children. Eric is also a product reviewer and field correspondent for Total Motorcycle Web.