You are here: Home — Total Motorcycle Shop — Motorcycle Books and Magazines
The Total Motorcycle Shop
-= Motorcycle Books and Magazines =-
Our exclusive list of places we recommend to you to shop online from.
You are in: Motorcycle Books and Magazines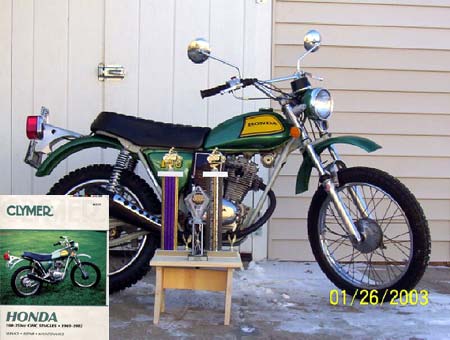 Photo & Bike Credit: Michael Zweifel – 1972 Honda SL100 K2 featured on Clymer Repair Manual
offers unmatched value and selection. No matter what you are looking for, how rare it is, hard to find, old or new eBay will have it for YOU. Register, Browse, Shop, Bid and Buy on the eBay closest to you: USA, United Kingdom, Canada, Australia, Italy, Netherlands, Belgium and eBay India. Not a member of eBay yet? Discover for yourself how easy it is to get started.
Register, Browse, Shop, Bid and Buy at the eBay of your choice…
Total Motorcycle Magazine Rack We have searched and found the very best deals on all your favorite motorcycle magazines. Save upto 80% off many of them and get a lower price than even the magazine can offer directly to you! I personally saved an $10 a year over my renewal rate! So can you. 23 Titles to choose from: American Rider, Cruising Rider, Cycle Canada, Cycle World, Dirt Bike, Dirt Rider, Hot Bike, Hot Rod Bikes, MX Racer, Moto Journal, Motocross Action, Motorcycle Cruiser, Motorcyclist, Racer X Illustrated, Rider, Road Racer X, Road Rider, Robb Report Motorcycling, Sport Rider, Street Chopper, Super StreetBike, TransWorld MOTOcross
Chapters Indigo.ca Chapters.Indigo.ca is the leading Canadian destination for online shoppers seeking books, videos and DVDs. Committed to providing a convenient and hassle-free e-commerce experience, chapters.indigo.ca offers a secure shopping environment, easy-to-use search tools and industry leading customer service. Updated with new bestselling books, music, DVDs and gift products every day, Chapters.Indigo.ca is Canada's greatest online shopping destination. Chapters.Indigo.ca continues to lead online commerce in Canada with outstanding customer benefits:
Free Shipping on orders over $39
34% off on books over $25
Same-day shipping in the GTA
Bargain books priced at up to 80% off
45% off Globe & Mail Bestsellers

Click here to search for books, magazines, music, DVD's and more at Chapters.Indigo.ca
MagMall will fascinate you with their huge selection of over 1,000 popular titles in dozens of categories of interests. Motorcycle magazines at 79% off such as Cycle World, Dirt Rider, Hot Bike, Hot Rod Bikers, Motorcycle Cruiser, Motorcyclist Magazine and Rider Magazine. Shop and compair MagMall magazine prices. Get $5 off coupon by clicking here.

Click here to visit MagMall and get great deals on your motorcycle magazines plus $5 off
Motorcycle Superstore caters to the needs of all types of motorcycle enthusiasts: sportbike, off-road and cruiser. We currently offer the largest variety of motorcycle helmets and apparel on the internet. We offer model specific parts and accessories to expand our product range. Motorcycle Superstore also includes ATV, Snowmobile and Watercraft products to further broaden our appeal. Many of your current users will be interested in purchasing products at Motorcycle Superstore and that means commissions for you.
Click here for the largest selection, lowest price and free shipping at Motorcycle Superstore
Bike Bandit Parts "The Web's Largest Powersports Store". They stock 7 million discount motorcycle parts, OEM parts, aftermarket parts, replacement parts, performance parts, tools and manuals. BikeBandit has served thousands of satisfied customers for more then 30 years; BikeBandit really knows how important great service is, and they really live up to what they promise. BikeBandit also offers a very easy to use ordering system which makes it very easy for you to find the parts that you need within a few clicks on the mouse their online store is designed to make your shopping experience fast, convenient and worry-free. No more trying to explain complicated parts over the phone… you pick 'em…we ship 'em…it's that simple
Click here to search over BikeBandit list of motorcycle manuals and more

JC Whitney is the single largest cataloguer of automotive parts, accessories, manuals and related items in the U.S.A. Get the latest accessories and parts and great prices! JC Whitney covers BMW, Buell, Ducati, Harley-Davidson, Honda, Indian, Kawasaki, Moto Guzzi, Polaris/Victory, Suzuki, Triumph and Yamaha motorcycles, ATV's, Dirt Bikes and more… JC Whitney has been around for a long time and is a very recognised name in the industry.Visit JC Whitney and save a lot of money!
Click here for JC Whitney, the largest cataloguer of parts, accessories, manuals and more
AutoBarn Parts is a premier site you can buy from with confidence. We offer thousands of top rate products and services that are sure to please even your most discriminating buyers. Auto Barn has been serving the automotive enthusiast and professional installer since 1957. AutoBarn.com now brings our experience, service, and tremendous inventory to customers across the United States. Our 50,000 square foot warehouse stocks over 35,000 name-brand parts, manuals and accessories making us one of USA's largest auto parts & accessories retailers and wholesalers. Check out their DAILY Barn Burner Specials and Monthly Coupon Deals!
Click here for AutoBarn Parts repair manuals and more for every vehicle
Welcome to our new redesigned and updated
Total Motorcycle Shop!
Our Total Motorcycle shop carries everything for the beginning biker to the experienced motocyclist. No matter what type of motorcycling you enjoy, you will find great deals on motorcycle accessories, motorcycle parts and motorcycle clothing.

Even if you ride a scooter, an ATV or a snowmobile, you will find sale and discount items here for you too.
No matter what manufacturer of bike you own (BMW, Buell, Duacti, Harley-Davidson, Honda, Hysung, Kawasaki, KTM, Moto Guzzi, Suzuki, Triumph, Ural, Victory or a Yamaha) or style of motorbike it is (street, sport, supersport, classic, cruiser, custom, dual-sport, standard, naked, off-road, dirt, MX or enduro) you will find the Total Motorcycle Shop useful, helpful and a great way to save money to spend on even more stuff!
You will find: motorcycle apparel, batteries, books, boots, clothing, helmets, gloves, exhaust systems, gear, leather and textile jackets, full leathers, luggage, parts, accessories, security, spares, suits, tires (tyres), motor bike loans, insurance, magazines, manuals, and even clearance and free stuff from many of the online shopping stores inside.
Worried about the cost of shipping? Don't be as the majority of the online shops offer free shipping to Canada, USA, Australia, UK and many other countries around the world and offer BIG disounts just to get your business.
Easy and convenient to use there is no need to pay a lot more for your parts, clothing and accessories at the local dealership, junk yard or breakers.
Remember, when you want a deal on motorcycle products, let our Total Motorcycle Shop be your first stop.accessory, north america, helmet, Street, track, exhaust, can, jacket, free, part, uk, ebay, shop, touring, tour, riders,
---