You are here: Index — Motorcycle Photo Gallery — Main Gallery
Motorcycle Photo Gallery
~ Main Gallery ~

Motorcycle Photo of the Month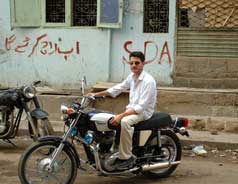 News: New Photo Gallery
(Version 3) Launched

New Photo Gallery Version #3. (CLICK HERE): We have re-launched our new photo gallery. Now you can:
– See thumnails of each photo and thumbnails of recent photo posts!
– Upload your own photos straight from your computer.
– Add your comments on any photos.
– Edit/Delete/Modify your photo(s).
– Do a text Search.
– See how many times your photo has been viewed.
– Rate photos and so much more!

We have integrated our Photo Gallery into our forum for your convenience. To post a photo, you must register (quick and easy), but as a guest you can view photos and messages if you don't want to register.
What about the Old Photo Galleries? Our old gallery will be archvied, so if you have photos in our old gallery, please re-post them in our new photo gallery so everyone can keep enjoying them.
OLD PHOTO GALLERY 2003-2009
OLDEST PHOTO GALLERY 2000-2003
Will you still be accepting photos into the Old Photo Gallery? No.
To see our new posted motorcycle photos in our new gallery, you no longer need to come to this page. Just go to our Forum from now on. 🙂
——–=——–
Motorcycles are a great source of joy and pride, not only to ride but to look at as well. Our Motorcycle Photo Galleries contain photos submitted from around the world to our site from enthusiasts like yourself to share with others. To them, their motorcycle is more than just a means of transportation, it is a reflection of themselves.
You do not need to be a professional photographer, or have the newest and biggest bike on the block. If you are proud of what you ride and want to share it with others, then Submit your favourite photo(s) of you bike today to reserve a place for it in our motorcycle photo gallery. All types, makes, years and models of motorcycles are accepted.
Make sure the photo(s) are of high quality.

Make sure to include your information:

– Your Name (First and Last)

– Your Home (City/Town, State/Province, and Country)

– Your Motorcycle (Year, Make and Model).

*- About You: E-Mail and Website addresses

*- Motorcycle Information: Anything you think would be interesting for others to read.

*Optional: include this in your email so I know you want it included with your photo.
Ready to add your motorcycle to our Motorcycle Gallery?
Click HERE to submit your motorcycle photos and information
 

Example of a Good Listing to follow:

A: eg. 1997
B: eg. Honda
C: eg. Hawk CB400
— If you write it like this: 1997 Honda Hawk CB400 is saves me time —
1: Your Email (let me know if you want to include it)
2: Your motorcycle/personal website (same as above)
3: Special Icon: Website Supporter
4: Special Icon: Photo of the Month
5: Information/Foot notes about your bike
All makes, models, and years accepted into the gallery. Photos may be edited for size. We reserve the rights to limit number of photos per bike.