You are here: Index — Motorcycle Photo Gallery — Gallery Number Fourteen
Your Bike Photos
~ Gallery Number Fourteen ~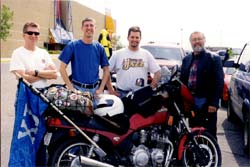 Below is a gallery of bike photos submitted to our site to share from around the world. We would be happy to post your motorcycle photos up in our Galleries.
Click here to go to our NEW GALLERY URL today.
1980 Honda CB650 Custom
Bob Gilmour – Brockville, Ontario. Canada

1970 suzuki T500
George Pullen III – Rayland, Ohio. USA

1982/1983 Honda GL500 Silverwings
George & Maida Pullen
– Rayland, Ohio. USA

1972 Honda CB500
Shawn M. Pullen – Rayland, Ohio. USA

1981 Yamaha XJ750 Maxim
James Hindmarsh – Pittston, PA, USA

Foot Notes:
2001 triumph trophy 1200 – 2500 miles in four days through colorado. TOP

---

1995 Kawasaki GPZ1100 -Purchased new in July 1997. Has 72,000 k's up now. Mod's include Corbin seat (6/10), GenMar bar risers (10/10) and GelGrips. TOP

---

1984 Kawasaki GT750 – Purchased in March 2003 with 42,000 k's on the clock. Surprisingly good tourer, with a very smooth engine for an air-cooled bike. A keeper. TOP

---

2000 Kawasaki ZRX1100 – This photo was taken about an hour after picking the bike up from the dealer. Bought new in April 2000, sold Feb 2001. Travelled 13,500 k's. Great bike. Needed more torque and more supple suspension . TOP

---

1997 Kawasaki ZX6E – Photo taken in the badlands of South Dakota. TOP

---

1994 Harley-Davidson Road King FLHR Custom – Think about this, you would own the only one in the world. You would never have to look for it in the parking lot either.

Custom 1994 HD ROADKING customized in 1997. Only one like it in the world. I built the bike in 1997 using a western theme. Two Tone green, tank & fenders are hand painted,"not airbrushed" custom made horseshoe floor boards and shifting levers, custom made grips, tan seat & saddle bags.Font wheel is an Halmark diamond 80 spoke self-balancing. Rear wheel is a chrome mag type. All steel braided cables. The bike has been lowered approx. 3″ front & back. Engine is an 80 CI with S&S "Hot Set Up" dyno-ed @75HP. Thunder Header exhaust. TOP

---
All makes, models, and years accepted into the gallery.