Back to 2010 Honda ATV Quad Models Index Page
Click photos to enlarge.
They make great desktop images.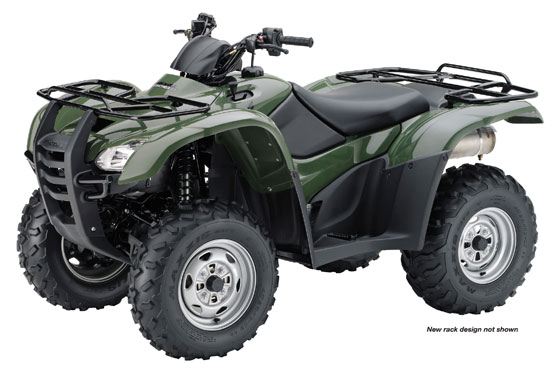 2010 Honda FourTrax Rancher AT TRX420FA
– 2010 Honda FourTrax Rancher AT TRX420FA

2010 Honda FourTrax Rancher AT TRX420FA
FourTrax Rancher AT/FourTrax Rancher AT with Electric Power Steering
The FourTrax® Rancher® AT brings a true automatic five-speed transmission to the popular Rancher lineup that gives the rider the option to choose between a fully automatic mode and Electric Shift Program (ESP®), which allows for easy pushbutton shifting. Consider also an independent rear suspension, selectable 4WD/2WD TraxLok® and a rugged torque-sensitive front differential plus a variation with Electric Power Steering (EPS), and it's clear there's no better choice for reliable and rewarding ATV recreation.
There's a simple reason why Honda's Ranchers have long been the best-selling line of ATVs in America. First, of course, is the fact that they're Hondas, with all the legendary dependability and quality our name guarantees. Then there's the lineup itself, captained by the amazing flagship machine you see here: the Rancher AT. Built around the same class-leading 420cc engine as its sibling Ranchers, the AT takes it up a notch or two, pushing the performance and capability envelope to all-new heights with features like plush Independent Rear Suspension (IRS), Electric Power Steering (EPS), Programmed Fuel Injection (PGM-FI), and a revolutionary, twin-clutch-equipped automatic five-speed transmission that's arguably one of the slickest- and quickest-shifting gearboxes on dirt. It's versatile, too, as the Rancher AT lets you choose between going fully automatic or shifting via the push-button Electric Shift Program (ESP).
Is there a better, more capable midsize-class ATV than the Rancher AT? The answer to that should be automatic.

Important Safety Information
Recommended for riders 16 years of age and older. Honda recommends that all ATV riders take a training course and read their owner's manual thoroughly.

The First of Its Kind. The Quickest, Too.
Exclusive to the Rancher AT, Honda's revolutionary automatic five-speed transmission features a twin-clutch design that ensures slick, lightning-fast shifts and optimal power transfer.
Twice the Performance. Half the Effort.
Honda's Electric Power Steering (EPS) features sophisticated torque sensors that measure how much force you're applying and then tailor how much extra assist you need.
Independent Rear Suspension.
The Rancher AT's independent rear suspension (IRS) features a double wishbone design that maintains rear wheel alignment for a smoother, more surefooted ride over all kinds of terrain.
Features/Benefits
New for 2010
– Improved rack design for easier lashing of cargo.
– New seat with increased foam for improved comfort.
Features
– Multi-function LCD digital instrumentation is compact, tough and waterproof, featuring large readouts for gear position, speedometer, odometer, resettable tripmeter and hour meter. Instrument housing includes indicator lights for Reverse, Neutral, water temperature, PGM-FI, 4WD and Power Steering (for EPS model).
– Large cargo racks front and rear carry payloads of 66 and 133 pounds, respectively.
– Heavy-duty trailer hitch with 850-pound towing capacity.
– Unique rear-opening storage compartment allows access when rack is loaded.
– Twin-headlight system with 30-watt bulbs features multi-reflector lenses for optimal light distribution.
– High-visibility, long-life LED brake light and taillight.
– Optional waterproof accessory socket provides 12-volt, 10-amp power with a built-in temperature-type fuse.
– Specially designed floorboards allow the rider's feet to grip the footrests while helping keep away mud and debris.
– Full-length synthetic lower skid plate with integrated front brush guard.
– Stainless-steel exhaust system includes a USDA-qualified spark arrester/muffler designed for quiet operation without wool packing for long-lasting performance.
– Assembled in Timmonsville, South Carolina.
– Transferable one-year limited warranty; extended coverage available with a Honda Protection Plan.
Engine/Drivetrain
– Rugged OHV liquid-cooled fuel-injected 420cc longitudinally mounted engine allows direct driveshaft alignment to both front and rear wheels for maximum drivetrain efficiency (see 2009 Technology Section).
– Overhead-valve engine design provides compact engine dimensions for excellent ground clearance.
– High-capacity oil system features a high-flow filter and a two-rotor pump to provide oil for the engine and the pressurized transmission clutches.
– Programmed Fuel Injection (PGM-FI) system provides crisp performance, excellent economy and trouble-free operation in cold conditions and varying altitudes (see 2009 Technology Section).
– Lightweight, automatic transmission offers five-speed auto shifting or pushbutton manual shifting with Honda's Electric Shift Program (ESP). After the heavy-duty centrifugal clutch engages, two Electronic Control Module (ECM)-controlled clutches mounted in the gearbox upshift/downshift to provide smooth, lurch-free shifts. When descending hills in automatic mode, the transmission downshifts, providing excellent engine braking (see 2009 Technology Section).
– If rider forgets to downshift when stopping in ESP mode, the transmission downshifts to Third gear to prevent engine lugging.
– Excellent fuel economy results from the transmission's high efficiency.
– TraxLok 4WD/2WD selector lever allows 4WD or 2WD operation (see 2009 Technology Section).
– Large 7.2-liter airbox with washable, reusable foam air filter provides more air to the engine for increased performance.
– Powerful 371-watt AC generator.
Chassis/Suspension
– Rugged frame and suspension provide an exceptional 9.1 inches of ground clearance.
– Independent double-wishbone front suspension uses premium shock absorbers to provide 6.3 inches of wheel travel for a plush, comfortable ride.
– Honda's double-wishbone Independent Rear Suspension (IRS) provides 6.3 inches of wheel travel and minimizes geometry variations as the suspension travels through its stroke, maintaining rear wheel alignment, contributing to responsive overall handling and reducing tire wear and maintenance intervals.
– Revolutionary Electric Power Steering (EPS)
– Dual hydraulic front and single rear disc brakes provide exceptional stopping power and feature brake pads that minimize wear from dust and sand.
– Rear center disc brake and self-adjusting mechanical rear parking brake are mounted on the rear driveshaft, contributing to the AT's considerable ground clearance.
Honda Genuine Accessories
– Flag Kit.
– Recoil Starter.
– 12-Volt Accessory Socket.
2010 Honda FourTrax Rancher AT TRX420FA – USA Specifications
US MSRP* $6,899 USD
Model: TRX420FA9 / TRX420FPA9 (with EPS)
Engine Type: 420cc liquid-cooled OHV semi-dry-sump longitudinally mounted single-cylinder four-stroke
Bore and Stroke: 86.5mm x 71.5mm
Induction: Programmed Fuel Injection (PGM-FI), 34mm throttle bodies
Ignition: Full-transistorized type with electronic advance
Starter: Electric with optional auxiliary recoil
Clutch: Automatic
Transmission: Automatic (TRX420FA9) / ESP five-speed with Reverse (TRX420FPA9)
Driveline: Direct front and rear driveshafts
Suspension
Front: Independent double-wishbone; 6.3 inches travel
Rear: Independent double-wishbone; 6.3 inches travel
Brakes
Front: Dual hydraulic disc
Rear: Single hydraulic disc
Tires
Front: 24 x 8-12
Rear: 24 x 10-11
Length: 80.9 inches
Width: 46.1 inches
Height: 45.8 inches
Seat Height: 32.4 inches
Ground Clearance: 9.1 inches
Wheelbase: 49.4 inches
Turning Radius: 10.5 feet
Fuel Capacity: 3.5 gallons, including 1.0-gallon reserve
Colors: Red, Olive, Natural Gear® Camouflage
Curb Weight*: 623 pounds / 642 pounds
*Includes all standard equipment, required fluids and full tank of fuel–ready to ride.
Meets current EPA and CARB off-road emissions standards.
Recommended for riders 16 years of age and older.
2010 Honda FourTrax Rancher AT TRX420FA – Canada Specifications
Canadian MSRP* NA CDN
Model not available in Canada